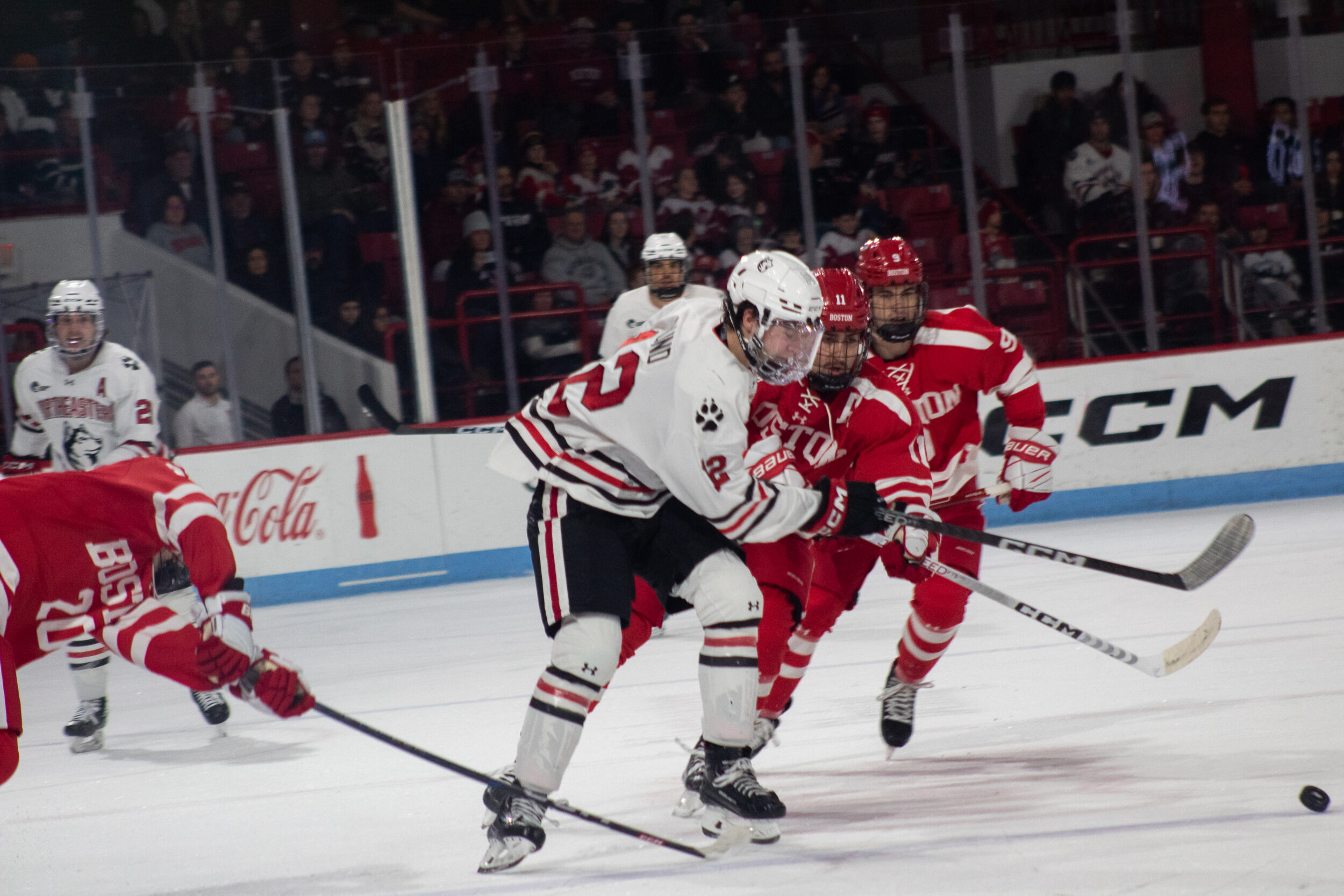 BOSTON — This time around, there were no buzzer-beaters, miracles, or late-game heroics for Northeastern.
Boston University's Lane Hutson delivered the game-winner on Saturday, sealing a 4-3 overtime victory for the Terriers in front of Northeastern's largest home crowd of the year. The Huskies had a third period lead, but couldn't hold on late against a talented and experienced opponent.
But make no mistake — this weekend was an overwhelming success for Northeastern. While Huskies couldn't muster a go-ahead goal at the end of Saturday's contest, Northeastern still comes away with four points out of a possible six this weekend after their 2-0 win over BU on Friday.
"Two good teams kind of going toe to toe, and I think we showed when we play a certain way and play the right way, we're going to have a chance to beat anybody," said Northeastern head coach Jerry Keefe.
Headed into the weekend, Northeastern's only Hockey East victories were against Vermont, Maine, and New Hampshire — easily the three weakest teams in the conference. They'd suffered one-goal losses to quality opponents in Providence and UMass Lowell and tied Boston College, but badly needed to rack up league standings points against good competition.
BU is among Hockey East's best squads, and Northeastern's ability to handle the Terriers' dynamic speed and sharp passing all weekend was a promising way to close out the first-semester conference slate. With their next Hockey East game against UConn at the Frozen Fenway on Jan. 7, Northeastern now has six nonconference games coming up. Here are five thoughts from the Huskies' encouraging weekend:
Hunter McDonald has arrived
Freshman defender Hunter McDonald's eye-popping eight blocks on Friday night was a good embodiment of his grit and physicality. It's somewhat to be expected of his 6'4", 207-pound frame and tough-nosed play-style; as a 20-year-old freshman and Flyers' draft pick, McDonald leading the team in blocks (his 31 blocks are 12 more than anyone else on the team) isn't necessarily surprising.
But what's been both surprising, and highly encouraging for the Huskies, is McDonald's mobility across all 200 feet of the ice. His hustle and aggression on the backcheck and his down-ice skating is impressive given his stature, and he's active with his stick, poke-checking and intercepting passes with precision.
"Big Mac, that's a big lift for our group," Keefe said after McDonald's big performance on Friday night.
Likewise, the confidence is building offensively for McDonald, who fired three shots from the point on Saturday — including one that led to a Sam Colangelo tip-in score in the third period. His offensive work has complimented his increasing role on special teams, where he's now taken over full-time on the Huskies first penalty-killing unit alongside Jeremie Bucheler. With a young defensive core playing undermanned without veteran Tyler Spott, McDonald coming into his own midway through his first semester of college hockey is a big progression for Northeastern.
First-line Fontaine?
If there's one thing that's gone right for Northeastern through the team's first 14 games, it's Gunnarwolfe Fontaine's big junior-season leap. His excellent decision-making, skating both with and without the puck, and craftiness to come up with loose pucks are each skills Fotnaine showed glimpses of in previous seasons, but he's now put it all together.
Fontaine tallied his fifth goal of the season in the second period on Saturday, set up by a beautiful feed from center Justin Hryckowian on the fastbreak, to add to his team-high 11 assists.
With star left wing Aidan McDonough out of the lineup on Friday due to a one-game suspension, Keefe elevated Fontaine to the top line alongside Hryckowian and sophomore Matt Choupani. But with McDonough returning on Saturday, Keefe notably kept the left-shot Fontaine on the top line, bumping him to right wing for the first time this season.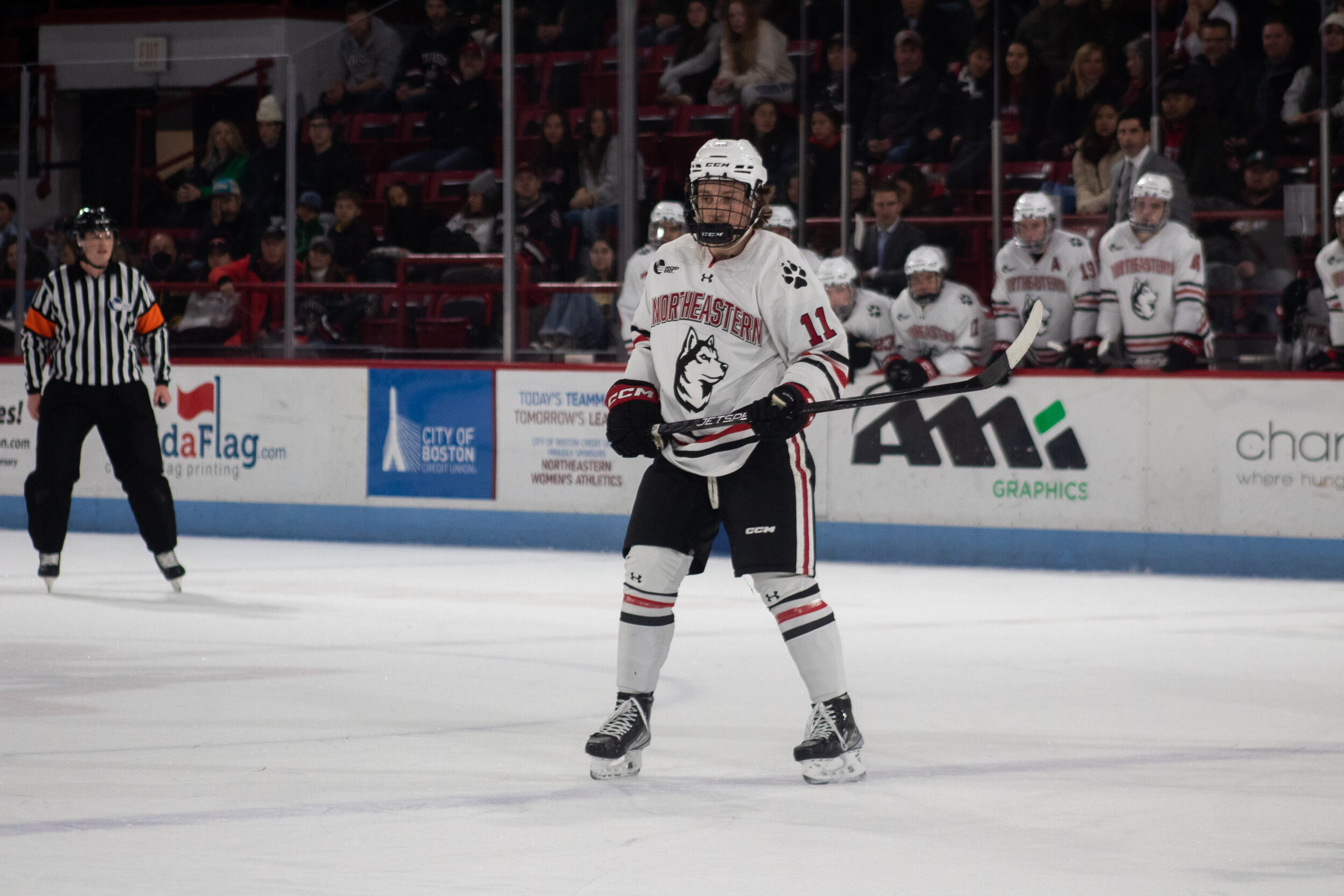 Keefe has been tinkering with the third forward opposite Hryckowian and McDonough for weeks — it was Cam Lund for the first month of the season, and has been Sam Colangelo since, prior to this weekend. While both Lund and Colangelo shoot right, a better fit on paper, it's potentially worth keeping Fontaine on the opposite side regardless. Some of Fontaine's best play last season came playing on the right side along with McDonough and since-departed Ty Jackson, so it's perhaps worthwhile to give Fontaine a longer chance to gel on the top line.
Devon Levi doing Devon Levi things
There is little to write about Levi that hasn't been said before, but his performance against the Terriers this weekend only further underscored his value to the team. His 41-save shutout on Friday was among his most statistically impressive performances at Northeastern. Both Levi and his counterpart this weekend, BU goaltender Drew Commesso, were dynamic in net. Both made a pair of highlight-reel saves in overtime, before Hutson eventually beat Levi on a 3-on-1 rush.
Levi's .942 save percentage through 13 starts is the third-best mark in the country — though the two goaltenders above him, St. Cloud's Dominic Basse and UConn's Logan Terness, are each in timeshares and have played seven and eight games, respectively. Among full-time starting netminders, Levi blows away the rest of the country with his performance thus far; and much like last season, Levi is second in the country in total saves this season with 403.
The Huskies' 31.6 shots allowed per game is the highest mark in Hockey East, and that's manageable so long as Levi continues to perform as the best goalie in college hockey. And why would anyone expect anything but that?
Encouraging weekend for the penalty kill
BU's power play entered the weekend at an impressive 23.4% success rate, but went 0-for-8 on the man advantage across Friday and Saturday's contests. It helps when your goaltender can make nine shorthanded saves across those eight kills without letting any slip through, but the PK unit's success stretches beyond Levi.
The depth of the Huskies' penalty killing forwards is striking. Savvy veterans Jakov Novak and Matt DeMelis are each incredibly adept at forcing turnovers and stalling time on the kill, and are complemented by Hryckowian and freshman Jack Williams, who've both made tremendous strides. That's in addition to the PK defenseman, where both the aforementioned-McDonald and Bucheler did a much better job this weekend being physical at the netfront and forcing Terrier attackers to the outside.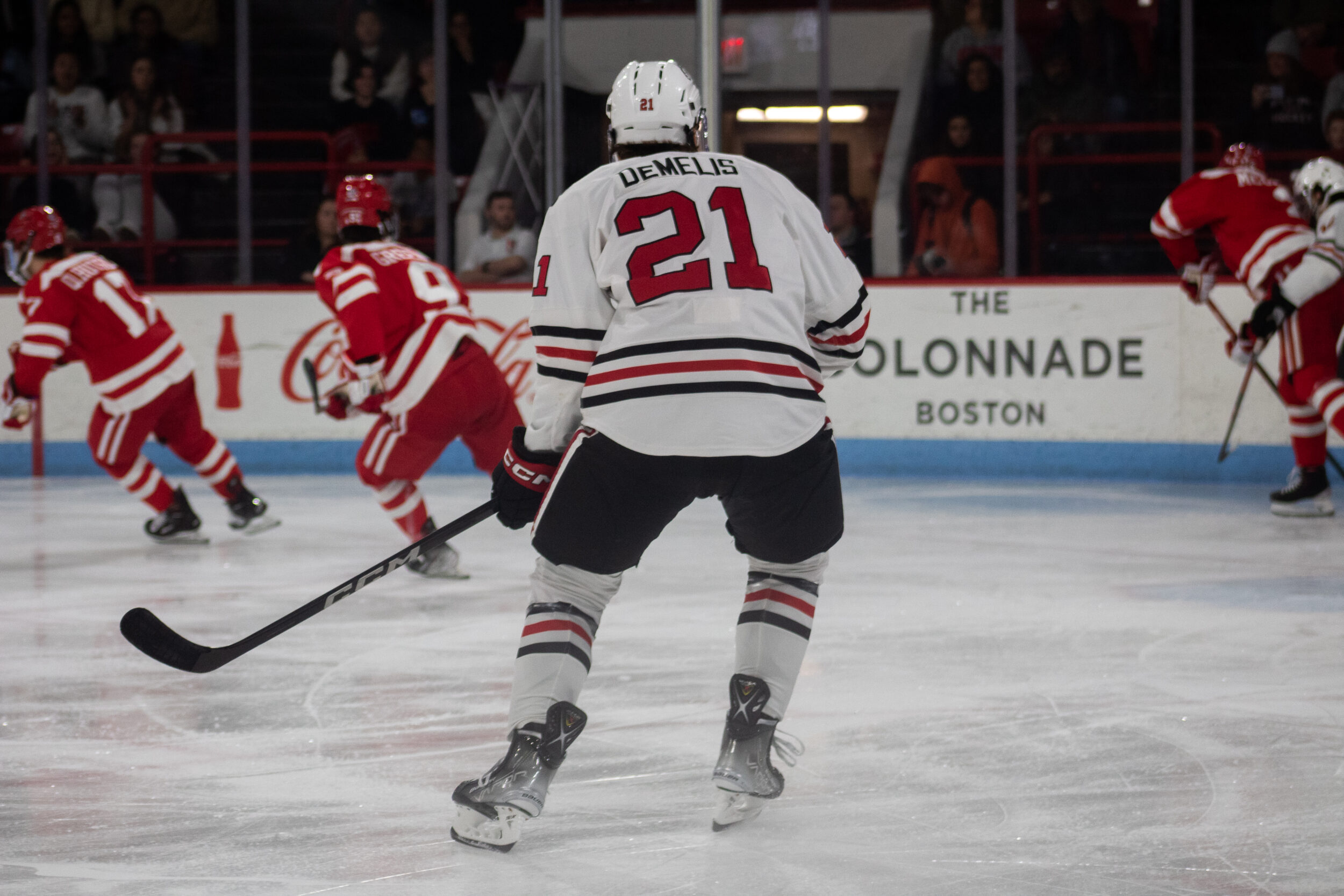 The Huskies' PK was the third-best in the nation a year ago with an 89.7% kill rate, and while the unit has taken its lumps this season without Jordan Harris, Tommy Miller, and assistant coach Mike McLaughlin, this weekend solidified that Northeastern's kill, which is currently the third best in Hockey East at 86%, is progressing how Keefe wants.
Nonconference tests give Huskies new opportunity
Northeastern has played just one nonconference opponent this season (the Oct. 18 meeting with Boston College was technically a nonconference game, but against a familiar Hockey East rival), which was LIU on opening night. Now, the Huskies will be on the road for the next month-and-a-half, starting with Western Michigan in a nonconference meeting at Bridgestone Arena in Nashville next week. It's a chance to see where Northeastern stacks up against good competition out west — and to get revenge for last year's devastating NCAA tournament defeat.
"I think our guys are just excited to play a good opponent in a really nice building," Keefe said of next week's meeting.
The Huskies then head to upstate New York for a meeting with middling Union, and travel locally to face Atlantic Hockey opponents Sacred Heart and Bentley, before a New Year's Day clash with a formidable Harvard squad.
WRBB Sports will have coverage live from Bridgestone Arena for Northeastern's meeting with Western Michigan. Mike Puzzanghera and Matty Wasserman will be on the call Friday at 7 p.m.