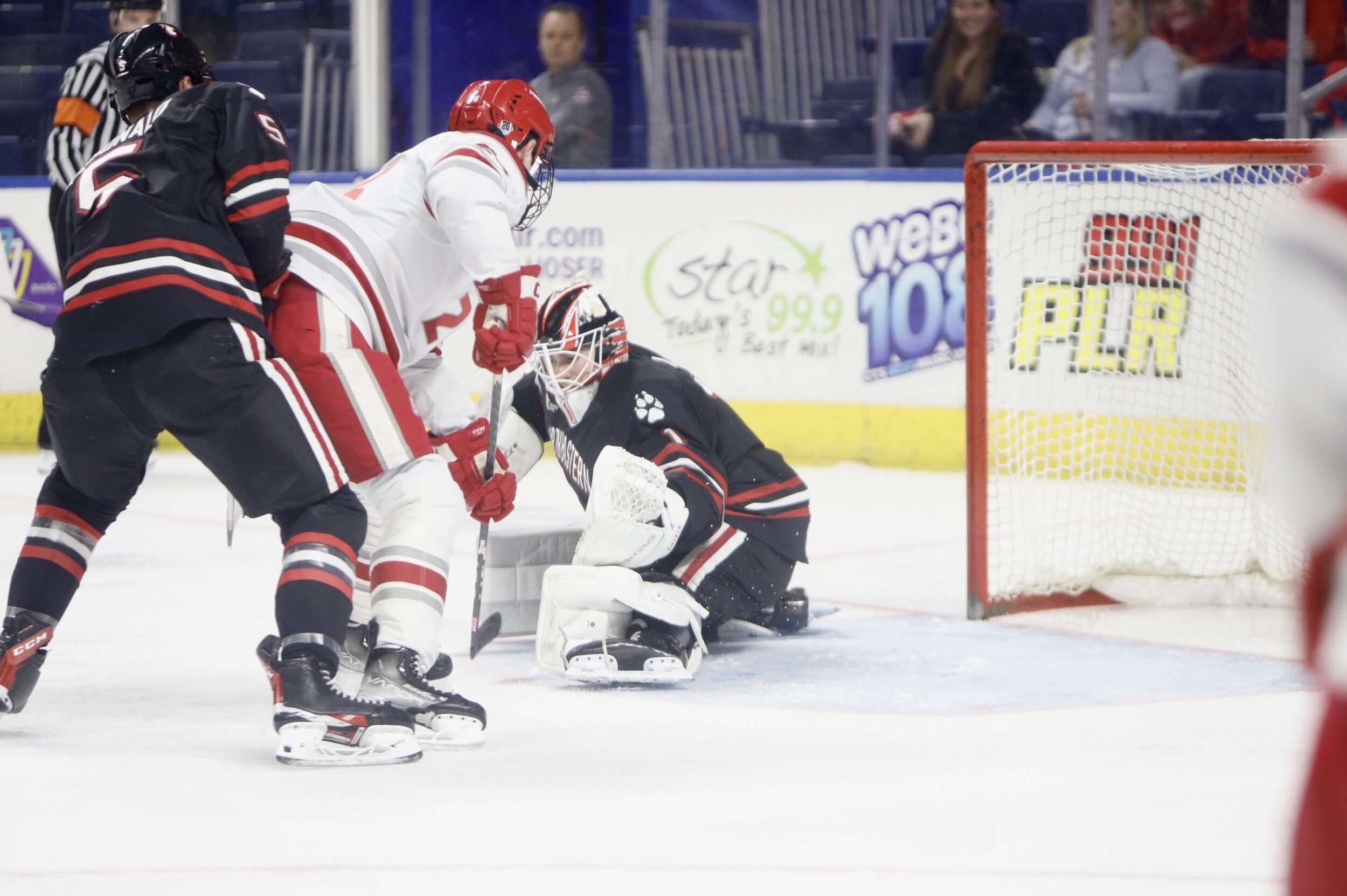 BRIDGEPORT, Conn. — The cavernous Total Mortgage Arena was eerily silent, just as it had been all night long. With their heads hung low, the deflated Huskies skated slowly from the center-ice handshake line back to the locker room, where a long, ruminating three-hour bus ride back to Boston soon awaited them.
Perhaps it was fitting that Northeastern's most debilitating loss in recent memory happened in front of just a handful of fans, against an opponent they'd never before lost to in program history. Perhaps it made sense, with just 105 games of combined experience between their six defenders in the lineup, that an injury-ridden defense would struggle against a savvy, veteran opponent that refused to beat itself. Perhaps this team was never destined to reach the lofty, Frozen Four-caliber expectations levied upon them in the preseason, and it just took two months for everyone to realize it.
But it's hard to imagine how things could be much worse right now.
Northeastern was defeated 4-2 by Sacred Heart on Tuesday night, in an upset loss that sent shockwaves through an already-reeling program. The Huskies' December nonconference slate, against four opponents with an average Pairwise ranking of 43, was supposed to be the "easy" stretch of the schedule. It was billed as a welcome time for Northeastern to get their season back on track against lesser competition, before gearing up for a second-semester gauntlet in Hockey East.
Instead, the Huskies lost to a middling Union team on Saturday, and followed it up with an even worse performance on Tuesday against mid-major Sacred Heart. The Pioneers outshot Northeastern 31-29, and stymied each of the Huskies five power play opportunities. With their backs against the wall, Northeastern simply failed to show up against an opponent it's far superior to on paper. The loss is the Huskies' fourth straight, and drops their record to 7-7-3, with just one victory over a team currently in the top half of Pairwise.
"It's not an easy game, sometimes it's not a fair game," said Northeastern assistant coach Jason Guerriero. "But at the same time, we've got to be willing to work for the 60 minutes, not just in little spurts. It's just not good enough."
Sacred Heart is far from a bad team, and the return of star forward Ryan Steele from a month-long injury provided the Pioneers with a big offensive boost. Former Huskies Neil Shea and Julian Kislin, each now vital pieces for SHU, delivered stellar performances against their former team. Shea's empty-net goal to seal the Pioneers' victory with 57 seconds remaining capped one of the most memorable nights of his career, and also an important win for SHU.
"They battled hard, they bent at times, battled through some adversity and stuck with it together," said Sacred Heart assistant coach Scott McDougall. "Together they got this win, which was a great win for this program."
But still, the Pioneers entered Tuesday's game with a 7-7-1 record, and just recently snapped a five game losing streak, which included a loss to Pairwise No. 56 Bentley. Yes, they are an upper-echelon team in the Atlantic Hockey conference, but it's still a one-bid league that lacks any NHL-caliber talent. In their two games against other Hockey East opponents this season — Providence and Merrimack — the Pioneers were outscored by a combined total of 9-1.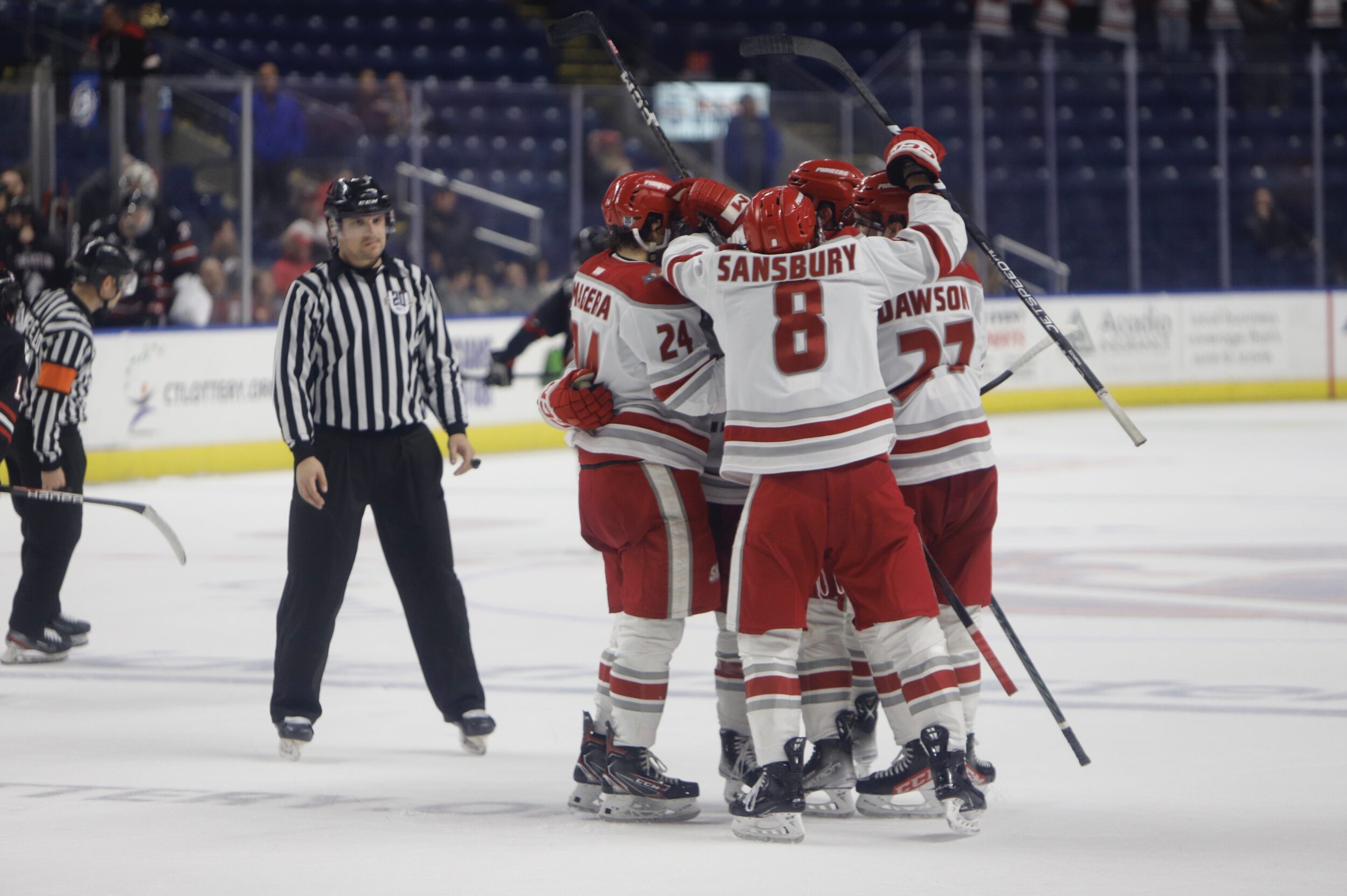 Regardless of the perceived talent gap between the two sides entering the matchup, Sacred Heart dictated the pacing and play style for nearly the entire game. The Pioneers knew exactly what their team was, and also what it was not. They didn't try to match blow-for-blow with Northeastern; the Huskies are bigger and stronger along the boards. They didn't try out-skate Northeastern or push the pace; the Huskies are quicker in transition. Instead, SHU deployed a crafty, possession-based approach, and dominated the netfront battle in front of Devon Levi. It was enough to muster three even-strength scores against a Huskies team that lacked a counter-punch.
"I think at the end of the day, it comes down to just playing heavy and playing hard," Guerriero said. "It's about winning your one on one battles and sticking to it."
Sacred Heart's senior goaltender Luke Lush entered Tuesday's game with a mediocre .905 save percentage in 14 starts, but he was brilliant against the Huskies — similar to how Union's Connor Murphy played on Saturday. Lush made 27 saves, including a highlight-reel stop of Cam Lund on a 2-on-1 rush in the early third period. Facing good goaltending makes things more difficult for a struggling offense, but doesn't explain performances like this. Northeastern has the NCAA's best goalie on their side, so it's hardly an excuse.
Of course, the injury-related absences of each of Northeastern's three experienced defenders — Jayden Struble, Jeremie Bucheler, and Tyler Spott — must be acknowledged as a major factor in this game. It's not reasonable to expect freshmen Hunter McDonald and Vinny Borgesi, who've played 16 games of college hockey apiece, to play enormous minutes in the same way four-year veterans Struble and Bucheler can. Sophomore Cam Gaudette and junior James Davenport, the Huskies eighth and ninth defenders on a fully-healthy roster, were forced into sizable roles on Tuesday, including penalty kill and 4-on-4 minutes.
"It is what it is," Guerriero said of the injured defenders. "If we get those guys back, we get them back. That's great. If we don't, we gotta push forward and figure out a way to win a hockey game."
Perhaps this loss doesn't happen with Struble, an all-Hockey East level defender when at his best, on the ice. Bucheler's vital role on the penalty kill and all-around steadying presence was also sorely missed against the Pioneers, all of which is fair.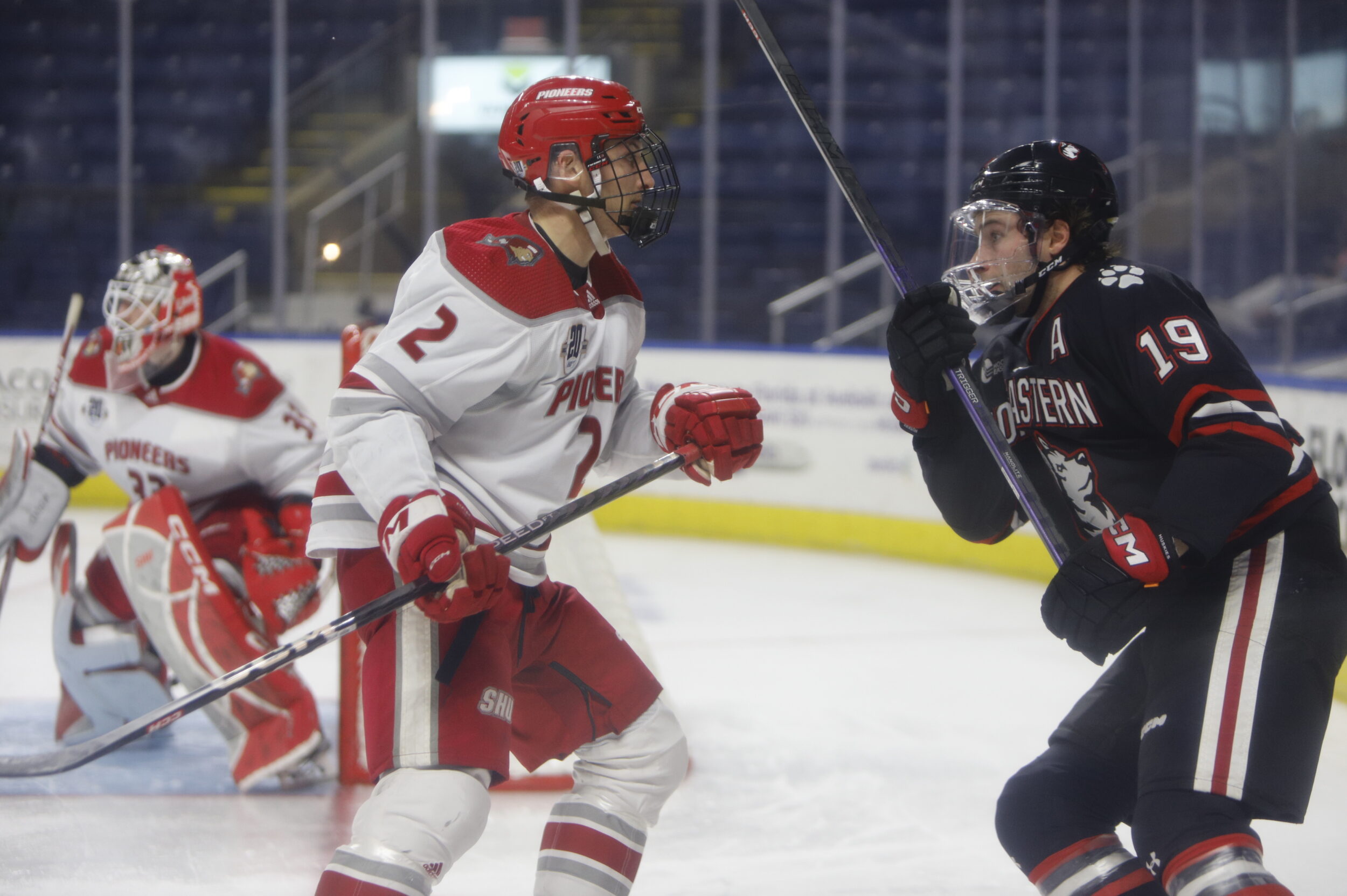 But the offense, now fully healthy with the return of graduate transfer Liam Walsh to the top nine, needs to produce at a substantially higher level. Sam Colangelo's score late in the first period, his fourth of the season, was a great example of the Huskies pushing the puck in transition and rifling a quick shot from the circle. It's something Northeastern needs to be doing more of offensively, especially to capitalize on the skill-heavy style of Colangelo, Jack Hughes, and Cam Lund, among others.
With 12 days until their next game, the Huskies will have plenty of time for self-reflection on how to rebuild their season from the ground-up.
"As coaches, we have our systems we teach, the way we want to play and we got to stick to that structure," Guerriero said. "But sometimes, it comes down to the guys in the room needing to man up and play the right way and hold each other accountable as much as the coaches hold them accountable."
That player leadership will be tested hard. Aidan McDonough turned down the Vancouver Canucks last offseason for one more year at Northeastern, to become the captain, leader, and superstar of a team he hoped was good enough to contend for a championship. And while that vision certainly hasn't materialized yet, how he and the team's other veteran leaders approach this low point will say just as much as leading a team that's winning every night.
"It's adversity, that's the game," Gurriero said. "Everybody goes through it, and maybe it's a good time that we are going through it now. But we'll learn from it and move on."
Now down to No. 28 in Pairwise following the defeat, the Huskies' outlook is somewhat bleak. Yes, the climb back up will be steep, but this team still has that same elite-level talent that made them so highly thought of in the preseason, if they can find a way to put it together. It's a big if, but not behind the realm of possibilities.
For now, the dark, rainy bus ride home from Bridgeport can serve as a starting point for a team that needs to pick itself up from a stunning low point. It's lonely at the bottom, but the time to rise up must begin now.
Northeastern is back in action on Sunday, Dec. 18 against Long Island University in East Meadow, New York. WRBB Sports will have live coverage of the game.