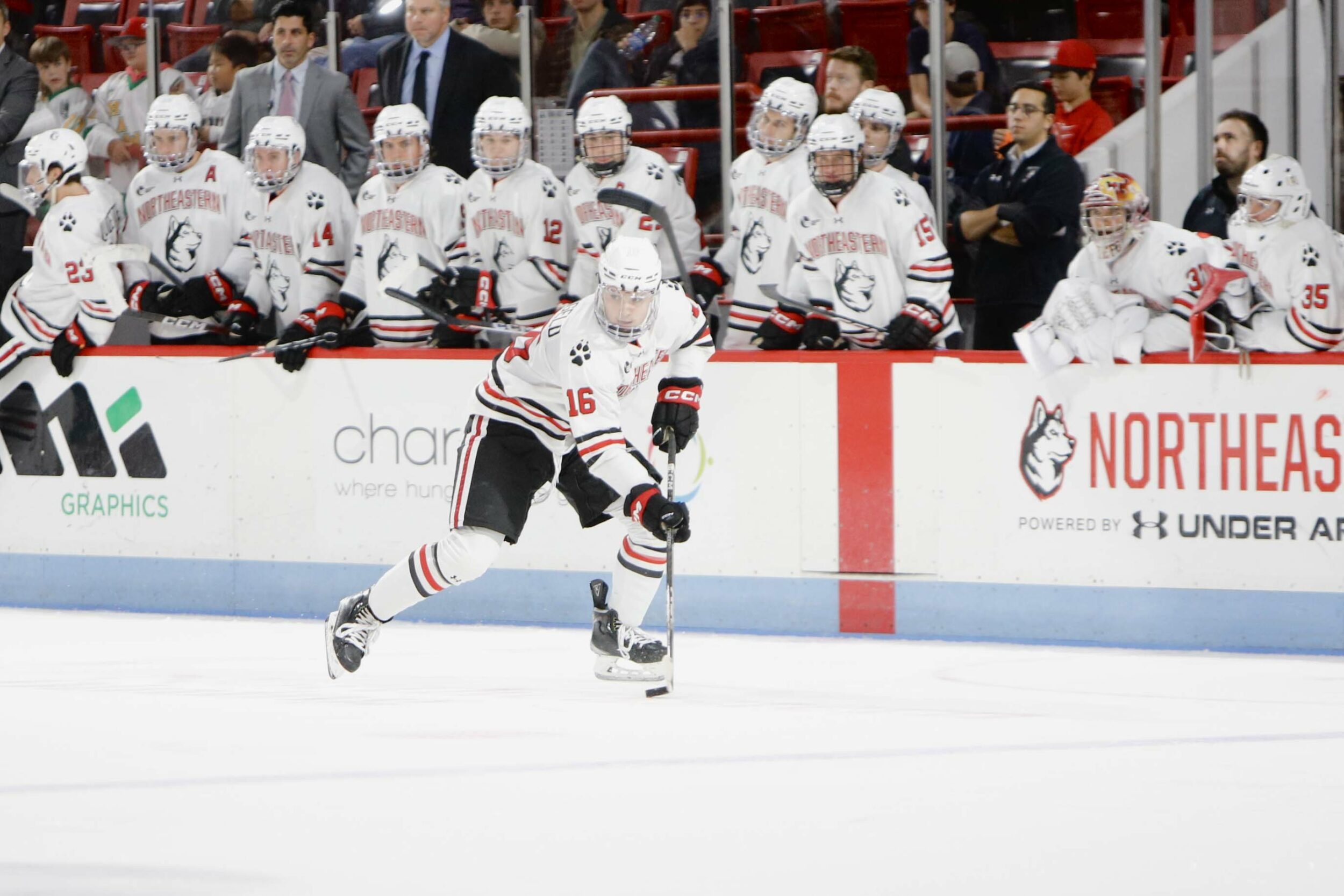 EAST MEADOW, N.Y. — You could practically hear the sigh of relief from Northeastern's bench as Sam Colangelo's wicked wrister sailed into the back of the net.
Sunday followed an all-too-familiar script for the Huskies, who blew a three-goal lead in the third period thanks to more sloppy play and poor discipline. But Colangelo saved Northeastern from a complete disaster, launching an overtime winner to secure the Huskies' first win in a month. 
It wasn't pretty, but the Huskies survived. Somehow.
Northeastern's nail-biting 4-3 victory over LIU was mostly a game to forget. The Huskies took nine penalties, including a major assessed to star defender Jayden Struble for contact to the head, which got him ejected in the second period. The Sharks outshot the Huskies 36-28, and overcame their major talent deficit with tenacious effort and physical defensive play.
But for a reeling Huskies squad in desperate need of a victory to close out the first semester, style points are secondary. The team needed something to get their ailing season back on track, and a road win against a feisty opponent does just that.
"Obviously disappointed to give up a lead," said Northeastern head coach Jerry Keefe. "When you're struggling to win hockey games, up 3-0, you've got to find a way to close it out, and better that we did."
It was the two sides' fourth meeting in the past calendar year, and the result was a chippy, physical contest. LIU finished the game with over 17 minutes of power play time, but Northeastern's penalty kill held strong by holding the Sharks to just one power play score.
"Playing shorthanded the whole game, and you lose your No. 1 defenseman for the bulk of the game, you're asking a lot of younger guys to play [big] minutes," Keefe said. "And it's happened to us the last four games, and it's not gonna help us win hockey games."
Discipline has been a recurring issue for the Huskies throughout the first semester, and something the team must clean up to turn around their season in the second half. Northeastern is in the top 10 nationally in penalty minutes per game; last season they were in the bottom 10. Against LIU, the Huskies got away with it largely unscathed, but it won't be the case against better teams.
But with all those issues lingering, Northeastern still has hope to get things back in order. Even before Struble's ejection, the Huskies were again undermanned defensively, playing without injured veterans Jeremie Bucheler and Tyler Spott. Their extended absences have placed enormous pressure on freshmen Vinny Borgesi, Hunter McDonald, and Jackson Dorrington to play huge minutes early in their college careers, and each has filled in admirably. In key news, Keefe said he expects the defense to return to full strength for the Huskies' next game against Bentley. 
And while the Huskies defense has battled health issues all semester, the offense has been plagued by talented pieces struggling to put it all together. On Sunday, Colangelo and linemate Jack Hughes each put together arguably their most complete performances of the semester, and helped carry Northeastern to the victory. In addition to Colangelo's overtime winner, both he and Hughes scored less than a minute apart from each other in the second period to extend the Huskies' lead.
It's no secret this first semester has been somewhat disappointing for both players, who entered the season with huge expectations and delivered shaky results thus far. Both are former second-round NHL draft picks and have loads of talent, but have combined for just 20 points through the team's first 18 games. Harnessing those next-level traits, such as Hughes' quick hands and razor-tight agility in space, or Colangelo's deadly wrister and vision, is still a work in progress at the college level. 
"We need Hughes' line to be really good. They've got the ability to be a top line in Hockey East, and we're going to need them to be," Keefe said. "I liked Jack Hughes' game a lot tonight, I thought he played with a lot of jump tonight."
Colangelo's overtime score marked his third goal in the past two games. But more importantly than even the goals themselves is how each of those scores have materialized, with Colangelo taking charge up the wing and firing shots from the circles in transition — where his accurate wrist shot is most dangerous.
"He's a goal scorer, and goal scorers are sometimes streaky," Keefe said of Colangelo's recent hot stretch. "But that's really good for his confidence."
The Huskies offense has been producing 3.17 goals per game this season, which is actually higher than last year's 2.54 mark. That's been carried by the consistent play of McDonough and Hryckowian on Northeastern's top line, which again resulted in a beautiful transition goal for McDonough in the first period of Sunday's game. The duo has combined for 46 points in the first semester, and both sit in the top 15 nationally in points per game. For the Huskies to reach their ceiling offensively, it's the pieces behind them — such as Hughes and Colangelo — who must play more consistently.
Sunday's game was much like the Huskies first semester itself: There was plenty that needed to be cleaned up, but also flashes of the elite talent that made this team so tantalizing on paper to begin with. It wasn't the semester Northeastern had envisioned when the season began, but their 8-7-3 record and No. 26 Pairwise rankings means things are far from over.
The Huskies will have a 10 day break, before squaring off with another bottom-10 Pairwise opponent in Bentley. Then, the schedule will become an absolute gauntlet in January, starting with a meeting against Harvard on New Year's Day, followed by back-to-back series with top-15 squads UConn and Merrimack.
"We play a lot of teams ahead of us, which is good for us. That's where you want to be," Keefe said. "All of our goals are still in front of us, but, you know, we got to be better."
On Sunday, Northeastern's climb back from the bottom began. It wasn't pretty, but season turnarounds aren't won in front of the bright lights. It's these moments that will come to define the Huskies' season.
The Huskies will have a short Holiday break, before headed to Waltham, Mass. to face Bentley on Dec. 28. Stay tuned for WRBB Sports for coverage of the action.