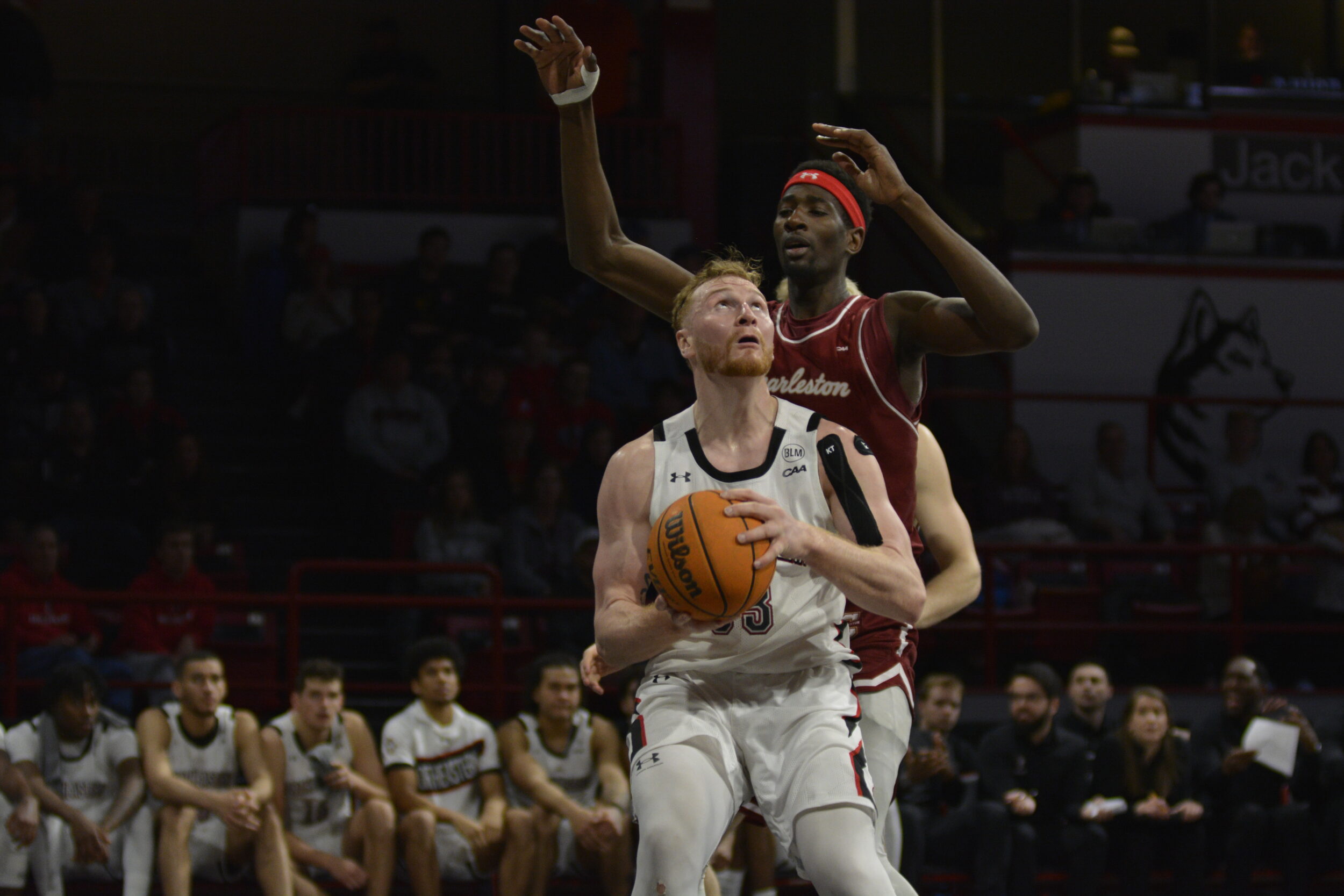 BOSTON — It just wasn't Northeastern's afternoon.
The Huskies hung with the No.18 Charleston Cougars for about 13 minutes and trailed by just one possession with seven minutes remaining in the first half. However, poor shooting across the board for Northeastern prevented them from continuing to race the powerful Charleston offense. By halftime, the deficit was 16, and it only ballooned further from there. Ultimately, after about 10 minutes of garbage time, Northeastern fell by a score of 87-61.
Northeastern came into the game riding high off of two straight wins, including a dramatic comeback victory at Matthews Arena against Delaware and a dominant win over Stony Brook on the road. Charleston made that streak look like nothing, however, bringing a 19-game win streak and No.18 rank in the national AP poll with them to Boston.
Charleston started quickly, getting nine quick points from senior point guard Ryan Larson to take an 18-8 lead. After Larson sat down, Northeastern began to get back into it, cutting the deficit to just two due to Charleston's only cold shooting stretch of the afternoon. But the Cougars quickly turned things around, showing off their depth as bench players Pat Robinson III and Ben Burnham orchestrated a 12-0 run.
"They just had that kind of ability where they bang three threes in a row, get an offensive rebound, we take a timeout and the game kind of slips away," said Huskies coach Bill Coen. "I think we were ready to hang around, stay around and then there's a couple turnovers that turned into points and threes, a missed shot, a quick transition and a shot goes up and they are able to take a big lead."
Northeastern bounced between playing offensive-focused lineups featuring players like junior forward Coleman Stucke and senior forward Chris Doherty and defensive-focused lineups that subbed in top defenders like freshman guard Harold Woods and junior forward Alex Nwagha. Coen hoped these offensive lineups could match the scoring output of the Cougars and the defensive ones could stop their trademark transition buckets — neither came to fruition.
"We didn't get a ton of scoring from our frontcourt," said Coen. "They had three guys that they could run at Chris [Doherty], they had strong-bodied guys that they could play on [Jahmyl Telfort] and limit his effectiveness. So those two guys are our primary scorers, and you have to look for other guys who aren't as accustomed to carrying that load. I think for us it's just a growth period, we started out the game trying to be elite in defensive transition, elite in rebounding, and taking care of the basketball. They scored 60 points in those areas, so we didn't really accomplish many of those pregame goals against a really good team."
The one bright spot for Northeastern was Doherty. The big man picked up three fouls in the first half, but avoided the unnecessary fouls to which he is prone to in the second half. He was also able to work against Charleston's big men, exploiting one of the Cougars' few weaknesses: their lack of a center who can match Doherty's strength in the post.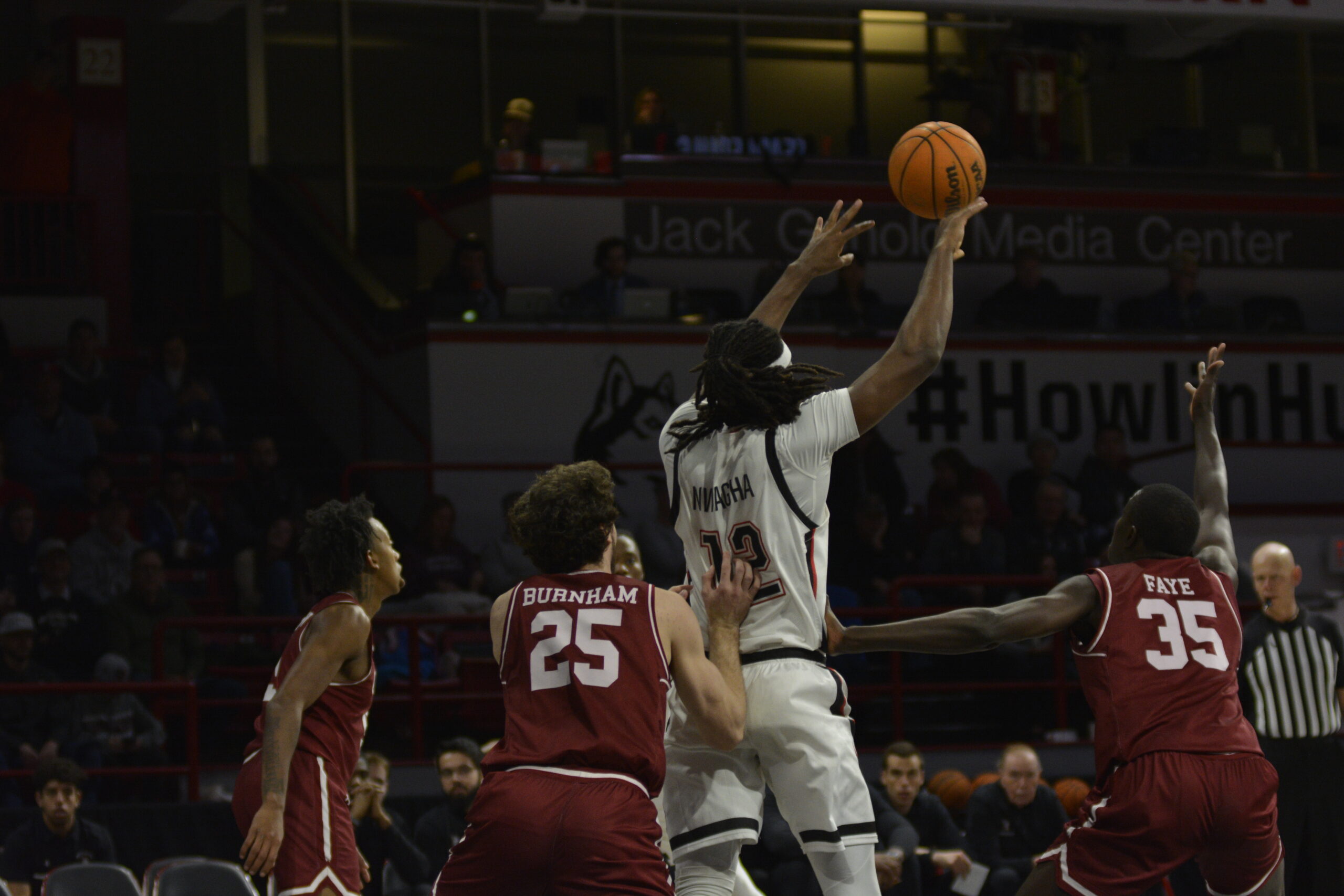 "We thought going in that Chris had a favorable matchup there," said Coen. "I thought we had trouble getting him the ball, and foul trouble is something that's plagued him. He's a physical guy, I understand it's tough to referee him but he gets himself in a spot where it's a bang-bang call. We're just a different team when he's off the floor, so we gotta do a better job trying to protect him so he doesnt get in foul trouble."
In the last 10 minutes of the second half, Coen waved the white flag, subbing in four freshmen at the same time and later reserve sophomore guard To Randriasalama. In the last few minutes, freshman guards Rashad King and Jared Turner became small bright spots for the Huskies, both shooting 4-7 from the floor. Turner also tallied three triples to raise his already impressive 48% mark for the season. Doherty was the only other player who shot 50% or better for Northeastern.
Charleston kept their foot on the gas all the way until the final minute, gashing the inexperienced freshman and sophomore defenders in transition and building up an impressive 87 points to reach the game's final score of 87-61.
The Huskies will try to regroup against CAA preseason favorite Towson, as they play at the Tigers on Thursday Jan. 26. WRBB Sports will have written coverage after the game. The Huskies wrap up their road trip with a rematch against Delaware on Jan. 28, before returning to Matthews arena on Feb. 4 to face Elon.