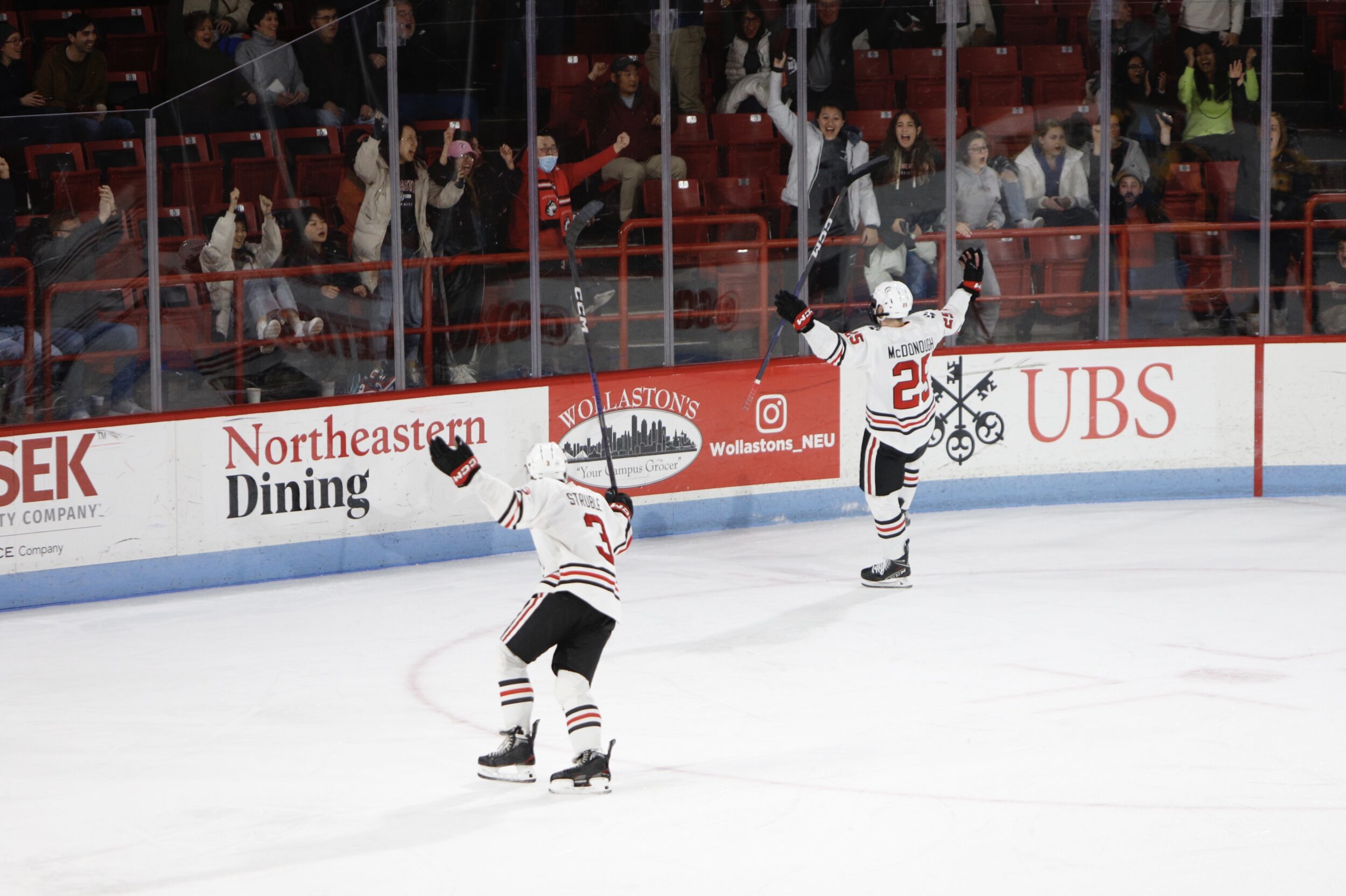 BOSTON — After the previous night's rout of No. 11 Merrimack at Lawler Rink, Northeastern proved their second-half resurgence was for real. But on Saturday, in their first game at Matthews Arena in 62 days, the Huskies also proved something else required of NCAA-tournament caliber teams: Even while not at their best, they found a way to beat a good opponent.  
Though Merrimack outshot the Huskies 37-24 and controlled much of the possession time, the Huskies emerged with a 1-0 victory behind senior captain Aidan McDonough's go-ahead score with 1:32 remaining in the third period. It was nearly-identical to the goal he scored against the Warriors last season with 0:09 seconds remaining to clinch Northeastern the regular season Hockey East title. McDonough's late-game winner was enough for the Huskies to win their fourth straight game, and climb into sole possession of first place in the league standings.
Saturday's game started in a nearly opposite fashion to the one Friday night. Merrimack jumped on what seemed to be a lower-energy Northeastern team, outshooting the Huskies 9-3 in the first eight minutes of play.
"I thought we were a step slow tonight," said Northeastern head coach Jerry Keefe. "I thought we held the middle down pretty well, but I didn't think we killed plays quick enough tonight. There was more zone time, I thought we got caught out there defending tired a lot."
Northeastern soon found themselves in a situation they have become all too familiar with, as the high tempers from the first matchup in the series flared once more. Twelve minutes into the first period, sophomore forward Matt Copponi chased a puck toward junior netminder Devon Levi. Copponi's heavy pressure caused him to nearly collide with Levi, and McDonough laid a heavy check on Copponi in retaliation, sending the husky to the penalty box on a roughing call.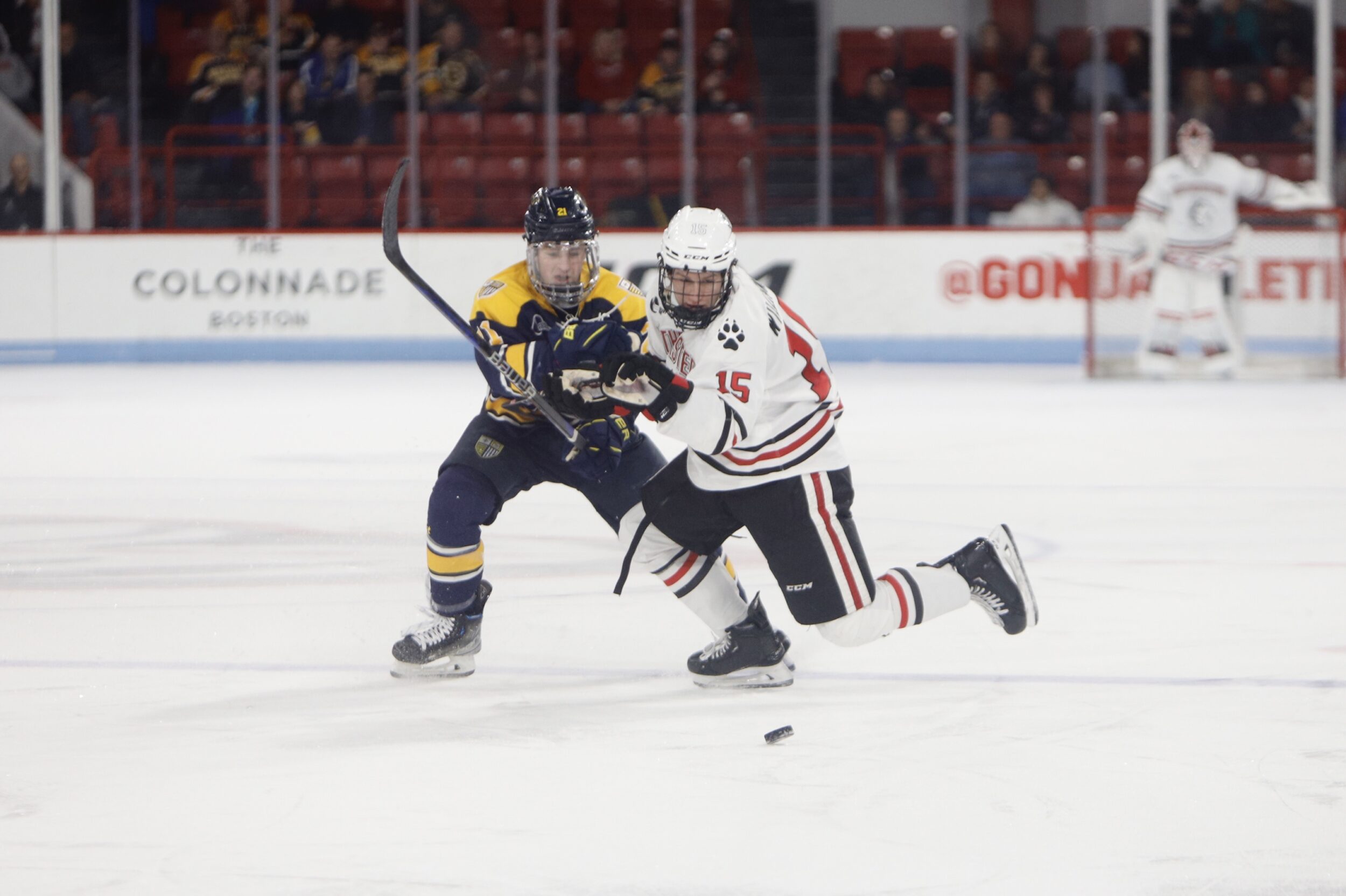 The Huskies, whose 85.3% penalty kill ranks 9th in the nation, stepped up to the challenge and deftly defended against a much weaker Merrimack power play, as the Warriors were only able to send a single shot towards Levi in their entire two minutes on the advantage.
The rest of the first period was contentious between both teams. A strong hit from behind by freshman defender Trevor Griebel forced Merrimack to kill a penalty of their own. However, as weak as the Warriors' power play looked, Northeastern seemed to be even worse. Junior forward Alex Jeffries made a short-handed charge towards Levi, and although he was shut down, it was the best attempt on net in the entire two-minute penalty from either side.
The first period drew to a close at a deadlock, which persisted into the second. The Huskies began to slightly catch up in the shot tally, reaching 15-14 in favor of Merrimack five minutes into the period. But the Warriors turned on the jets and swiftly pulled away, their offense firing on all cylinders. They outshot Northeastern 9-3 in the remainder of the period, playing clean hockey to go along with their heavy offensive pressure.
Both goalies were outstanding all night long, with junior Zachary Borgiel laying out in his crease to stop seemingly every Huskies' opportunity. Levi pulled off similar showstoppers himself, the netminders keeping their teams at an impasse on the scoreboard all throughout the second frame.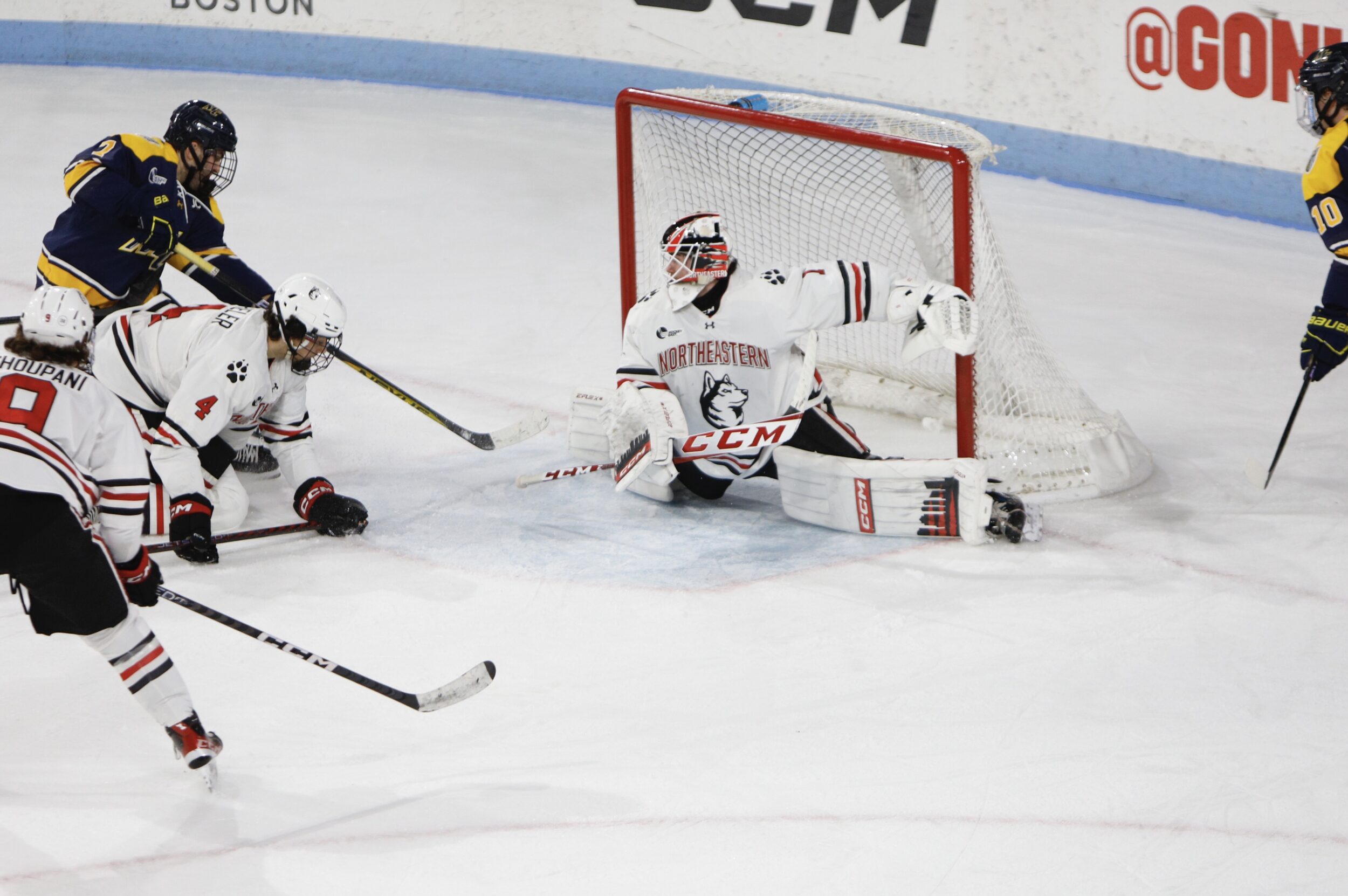 The third period progressed in a similar manner as the previous 40 minutes, with both offenses held stagnant by fantastic work in goal. Three minutes in, Jeffries headed to the box on a tripping call, giving Northeastern a chance to build momentum on the power play. But once again, the Huskies were unable to generate any consistency, unable to muster up a single opportunity for themselves.
As the period progressed both sides would each have one more opportunity on the power play due to tripping calls on graduate student forward Tristan Crozier and freshman defender Hunter McDonald. Both sides seemed to find more success than they had in previous chances, getting three shots each, but still, Borgiel and Levi were stone cold, neither netminder seeming fazed.
The game clock ticked down more and more, and with a minute and a half left, Northeastern finally made their move. Graduate student forward Liam Walsh, a former Warrior himself, skated the puck into Northeastern's offensive zone to the right of Borgiel. After recovering from being bodied off the puck, Walsh skated beyond the goal line, where he looked up and saw McDonough streaking into the faceoff circle. Walsh made a precise pass to his captain, and McDonough slammed a one-timer past the shoulder of Borgiel, giving the Huskies a late-game lead.
"Sometimes your best players, they have to make a play," Keefe said. "It was a great play by Walsh, but [McDonough] just hammered the puck like he can. We needed him to do that tonight."
It would be a deja vu moment for McDonough, who also harkened back to the similar moment from the tail end of last season.
"Very similar," McDonough said, describing the two moments. "Same thing, the puck was on the wall, a great pass from a teammate, this time it was Liam Walsh, same exact shot. I just tried to get it off as quick as I could."
Northeastern was able to close the game out, their victory at home marking their fourth in a row. After struggling through the first half of the season, the Huskies, now sitting atop the Hockey East table with a two-point lead, want to prove that the team that everyone expected them to be at the start of the season is still there.
"We weren't hiding from anything from the first half," McDonough said. "The coaches, us players, we all knew we had to be better, and we all knew it's not up to our standards. Since Christmas break, we started building and building, and we know we have the type of team that when we start to get going that we can play the right way and figure things out, that it's going to go in our favor."
Northeastern will continue their homestand in 10 days, as cross-town rival Boston College visits Matthews Arena Jan. 31, followed by a battle at home with familiar opponent UConn Feb. 3. The Huskies will look to continue to prove their hot streak is for real as they aim for a second consecutive Hockey East regular season title.
WRBB will bring coverage of the Huskies' Jan. 31 matchup with Boston College, going live for puck drop at 7 p.m.