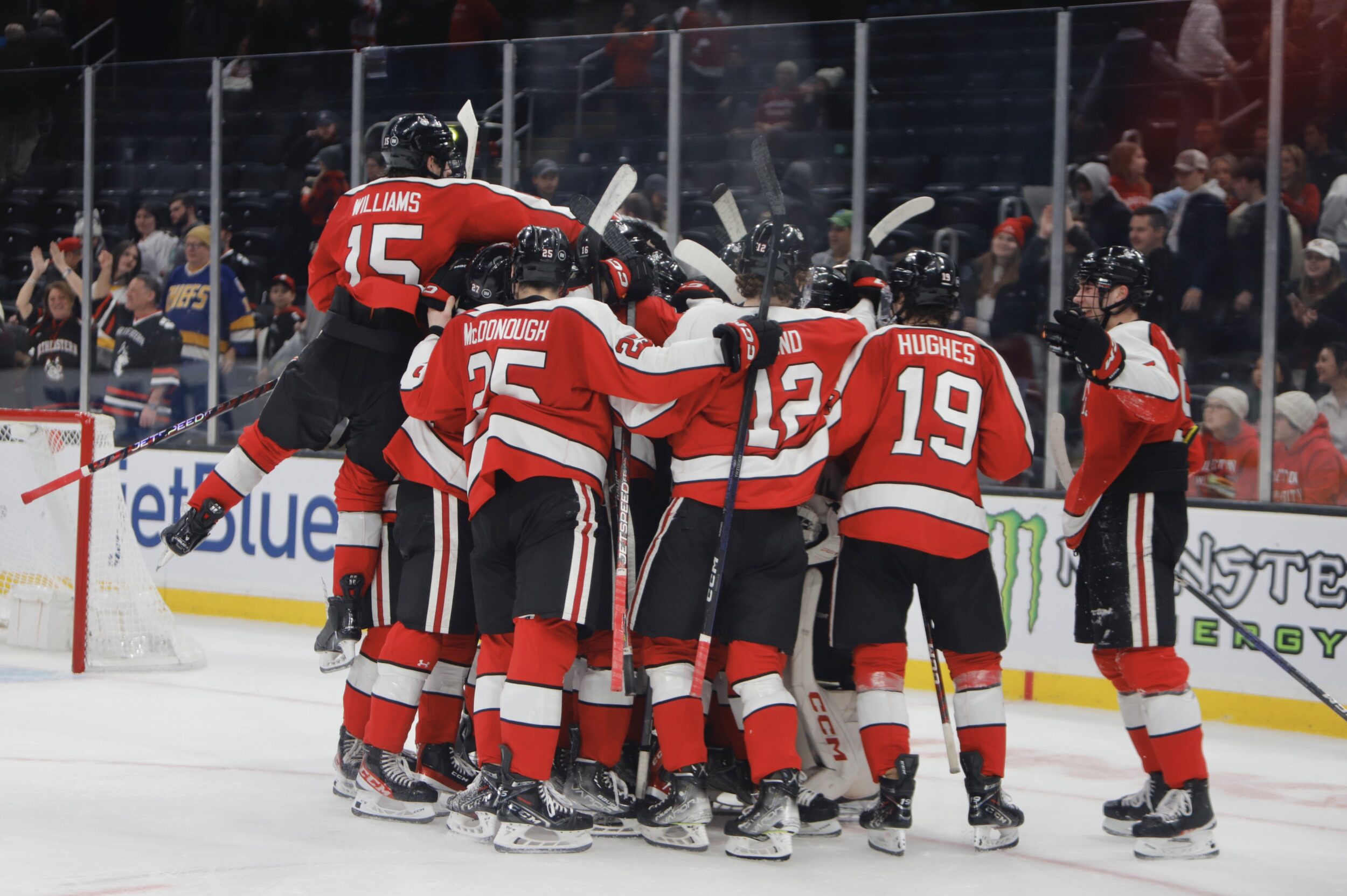 BOSTON — Of all 19 skaters in the Huskies' lineup, bruising 6'4" defender Hunter McDonald is just about the last guy you'd expect to skate the length of the pond for a game-sealing score.
But with Northeastern desperately trying to fend off BU at 6-on-5 in the closing seconds, it was McDonald's poke check and coast-to-coast finish into the empty net — his first NCAA goal — that capped the Huskies' most impressive victory of the season, on the biggest stage of the season.
In many respects, McDonald's heroics perfectly encapsulated what Northeastern's 3-1 win over No. 3 Boston University in the Beanpot semifinal was all about.
To defeat the Terriers, Northeastern was going to need more than just Aidan McDonough's scoring prowess or Devon Levi's mastery in net. Yes, the Huskies' stars delivered as usual on Monday, but Northeastern also needed moments of unexpected brilliance, like McDonald's game-ending score. It needed a top-to-bottom emphasis on checking hard and forcing the puck away from the Terriers' talented skaters in transtion, and discipline from defenders who've struggled to stay out of the box all season long. It needed sharp passes from forwards who'd been prone to bad turnovers, and attention to detail when the team's consistency had waned time and time again.
Every single player had to step up, and almost everything had to go according to plan. And because of a team-wide, top-to-bottom effort, the Huskies will be playing for their fourth Beanpot championship in five tries next Monday night against Harvard.
"We knew we were gonna have to play 60 minutes to win that game, and I give our guys a lot of credit because we made a commitment to defending tonight," said Northeastern head coach Jerry Keefe. "[BU is] a heck of a team, so we knew they were gonna push in the third … but we made a commitment to blocking shots, making sure we're getting pucks out. It was a big win." 
The Terriers' entered Monday as the NCAA leaders in scoring and shots on goal, but from the start Northeastern's emphasis on clogging passing lanes and blocking shots proved extremely effective. The Huskies threw BU off their game with 21 blocked shots, including six from McDonald, who's now up to a team-high 70 blocks on the year. The last time BU's opponent blocked 20 shots in a game was in fact also this same Northeastern team, in their 2-0 victory back on Nov. 18. 
More than almost any other team the Huskies' have faced this season, the Terriers stir offense from their defenders and drive long shots to the net to create chances in front. Northeastern's elite ability to block and clear-out pucks in the slot, combined with Levi's quality rebound control in traffic, meant that Northeastern effectively shut down BU's bread-and-butter in the offensive zone. It forced BU forwards like Devin Kaplan, Ryan Greene, and Jeremy Wilmer, who each entered Monday riding hot streaks, into some of their least effective games of the season.
"The defense, I thought we had to do a job tonight," McDonald said. "We had to defend well, prevent them from doing what they do, kind of roll around. I thought we did a great job of that."
While the defense stood tall, the Huskies' scoring began with exactly who you'd expect: McDonough, who delivered his Hockey East-leading 18th goal set up on a beautiful feed from freshman Vinny Borgesi.
The play was a microcosm of Northeastern's offensive game through the first two periods, as freshman Jack Williams connected on a cross-ice pass to Borgesi, who whipped a second high-quality pass over to McDonough. Anecdotally, the Huskies' success rate on passes appeared as good in the first 40 minutes on Monday as any point this season, which both fueled their offensive looks and shielded possession away from the dangerous Terriers' attack.
"Just a great play by Vinny," McDonough said. "He got to the middle of the ice, drew a couple guys to him and just hit me. I just tried to get it on net as quickly as I could, and I had about half of the net open."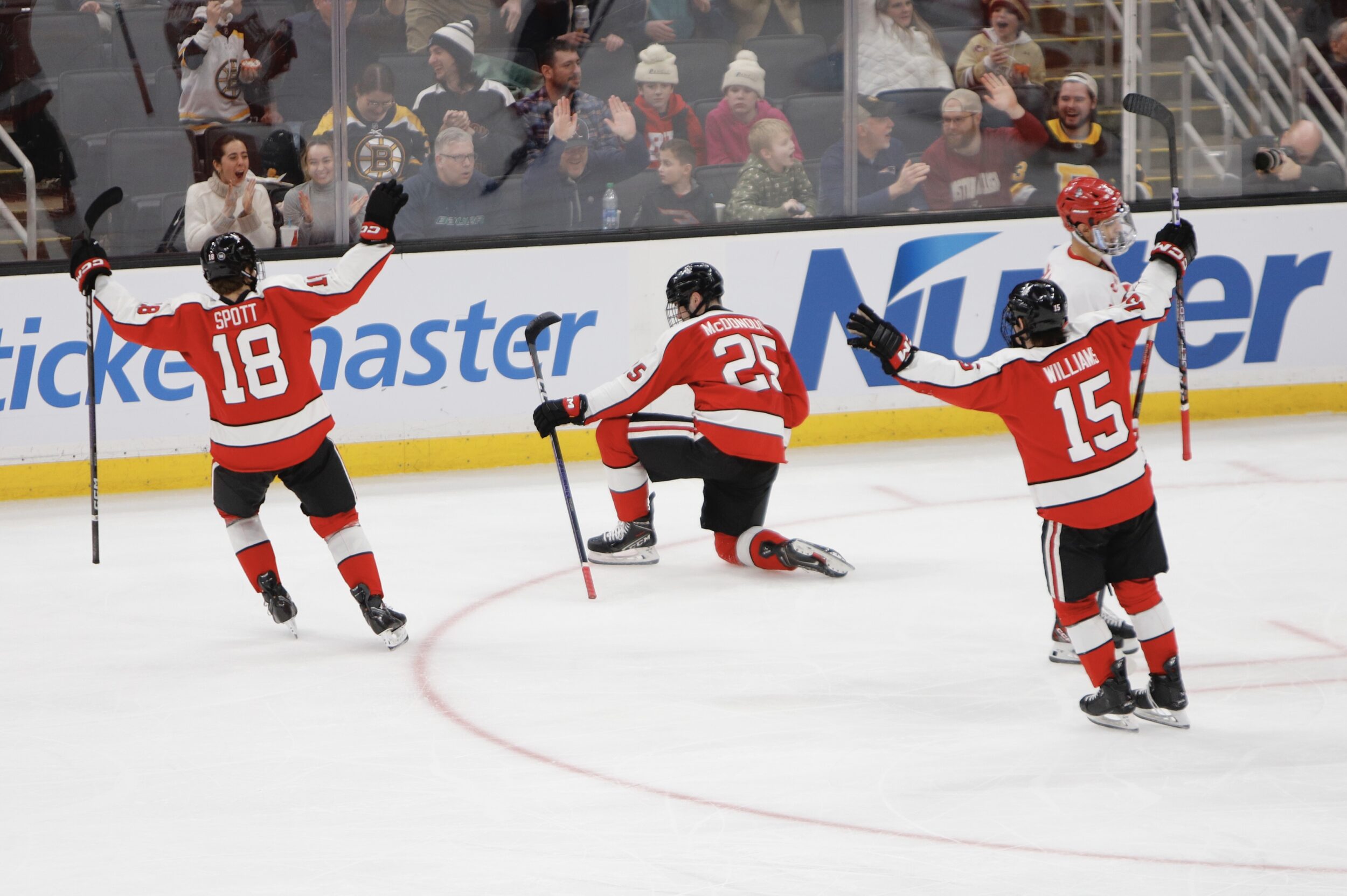 Early in the second period, Jakov Novak added to the Huskies' lead on just about as easy a goal as you'll find, after BU netminder Drew Commesso failed to control a point shot from Jeremie Bucheler off his right pad, and the rebound spilled right out to Novak. Commesso still played well in this game — highlighted by an incredible diving save to rob Riley Hughes in the second period — but it's those type of goals that separate him and an elite college goaltender like Levi on the other side.
Northeastern gave up just 17 shots on goal in the first two periods and few were high-danger looks, but ceded 17 in the third period alone. The Huskies didn't ask too much of Levi early on, but needed every bit of his dominance in the third period when BU's offense finally started to come alive.
"He was really good when we needed him to be tonight," Keefe said of Levi. "I thought our first two periods, we did a really good job of locking things down, and they obviously made a heck of a push in the third, and he was there to make a couple outstanding saves when we needed it."
Monday was arguably the best defense Northeastern has played in front of Levi this season, both closing down in tight and breaking out of the defensive zone. In addition to McDonald, fellow freshmen Borgesi and Jackson Dorrington each had one of their most well-rounded performances of the season, as did veterans Bucheler, Tyler Spott, and Jayden Struble, who strung together quality shifts both at 5v5 and on the penalty kill.
"We talked about it's just us in this room, and we have an opportunity not many people have. So let's do it for each other," McDonough said. "I think the guys really bought in when it comes to blocking shots. Dev is gonna stop any puck he sees, so we try to make it easy for him."
Though it was tough sledding at the time, the massive minutes and experience the freshmen received back in December while the D-core battled injuries is now paying dividends with a fully-healthy lineup. The Huskies' margin for error was razor thin against a BU squad with three dangerous lines, and every single player stepped up that needed to.
"Our d-core, getting our three seniors after they were injured back in December, and then also getting some games played underneath them — You can see they are locked in pretty good right now," Keefe said. "And then our three freshmen that have been playing all year, they got a lot of experience when our seniors were out."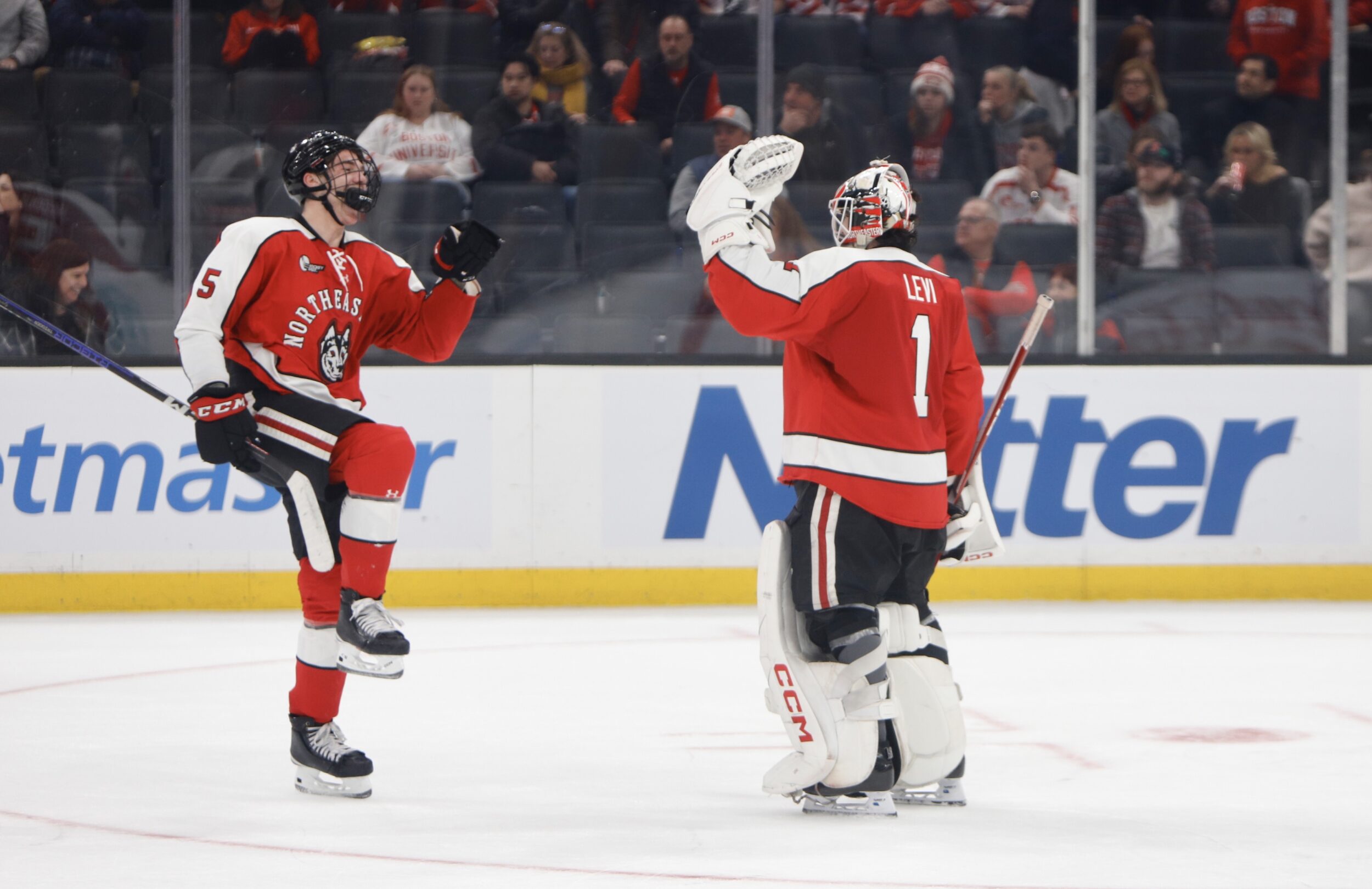 Beyond the scope of the Beanpot, this win was enormous in the larger picture of Northeastern's season as well. It's their sixth victory in seven games, but none have come against teams as good as BU. Northeastern moves up to No. 16 in Pairwise, and now will have a chance to avenge their gong show of a loss to Havard back on New Year's Day with a Beanpot title hanging in the balance.
On Monday, the Huskies had to dig deep under the bright lights of the Beanpot, against the best opponent remaining on its schedule. What they found was a team — not some star players, but a true team — that proved it could hang with college hockey's best.
WRBB Sports will have live coverage of next Monday's Beanpot final between Northeastern and Harvard from TD Garden. Matty Wasserman and Khalin Kapoor will be back on the call.