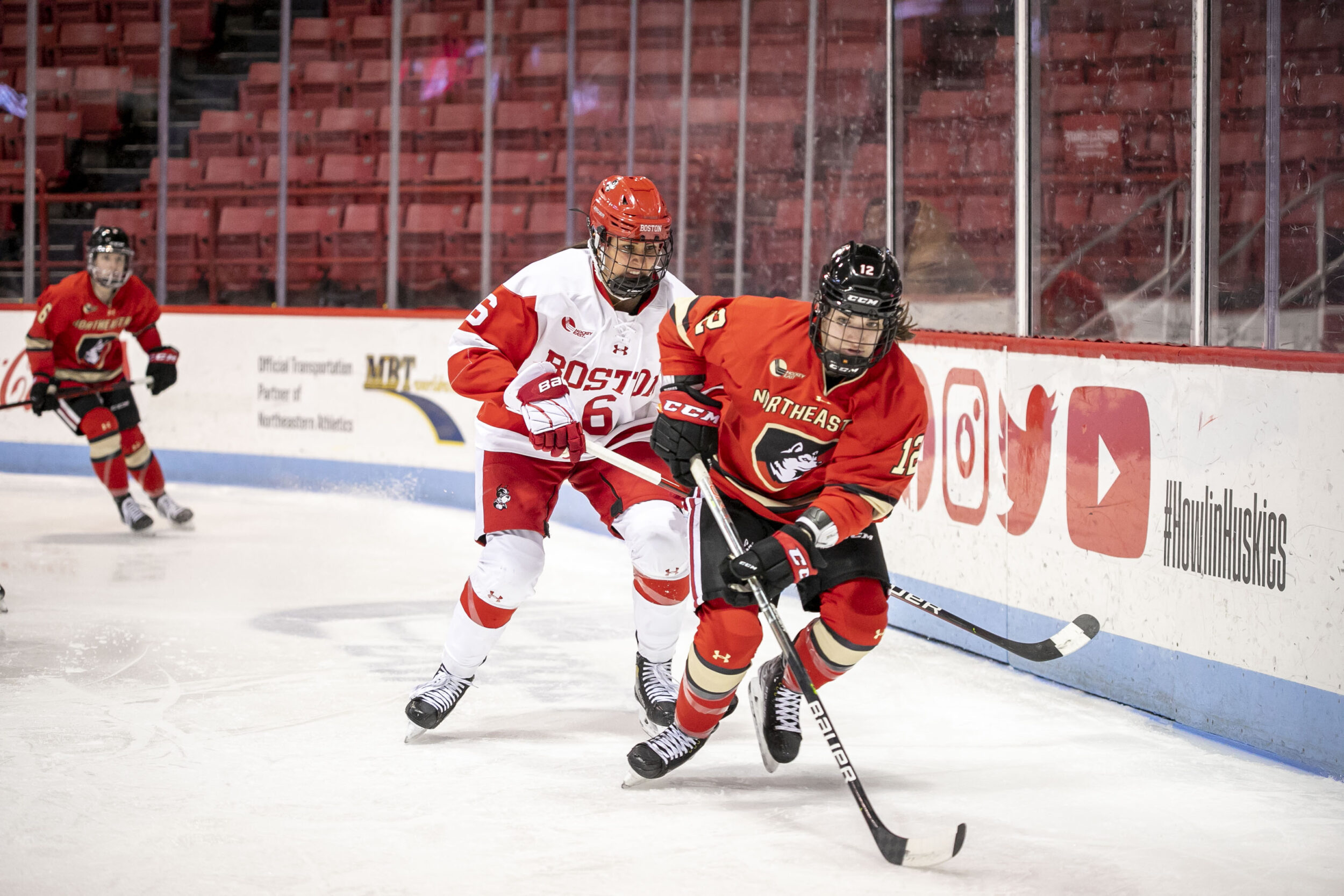 The last time the Beanpot was played at Conte Forum, it did not go well for Northeastern.
Back in 2018, the Huskies were unable to record a single win in the event, dropping the opener 5-2 to Boston College before losing out in the consolation match 4-3 against Harvard.
Now in 2023, it's no secret that Northeastern is the heavy favorite, especially against opponents who have either been struggling heavily throughout the regular season or who have been hot and cold over the last month. However the semifinal matchup with a Boston University team who has been on the upswing over the last few weeks could pose a problem to their title dreams.
The Terriers and Huskies have matched up once so far this season, a 6-0 Northeastern victory at Matthews Arena on Jan. 8. Since then, BU has gone 3-1-3, and in each of the three ties they've come away with the extra point in the shootout. Their sole loss was a 2-1 OT defeat at the hands of Holy Cross on Jan. 13.
Northeastern has gone a perfect 6-0-0 since that matchup, allowing just three goals while scoring 20.
From the start of the Jan. 8 game, the Huskies ran the show. They jumped out to the lead off a goal from graduate student forward Alina Müller just 3:17 into regulation and the team never looked back. By the end of the second it was 5-0, prompting BU head coach Brian Durocher to pull graduate student netminder Andrea Brändli in favor of sophomore Callie Shanahan for the final frame.
Brändli and Shanahan have shared time in the BU net after the former's transfer for Ohio State this season. Numbers wise, Brändli has been the more solid option in goal. Through her 18 starts she's posted a save percentage of .938, only allowing nine goals over her last six games. With her most likely to start on Tuesday, if BU can limit shot volume there's a chance they can keep Northeastern off the board for decent stretches of time.
The shot count was the main issue that plagued BU the last time against Northeastern, where they only put 18 on net. This season the Huskies have averaged 39 shots per game, helped by the 43 they piled on the Terriers.
Opposite Brändli, it will undoubtedly be senior Gwyneth Philips between the pipes for Northeastern. The shutout against BU was her sixth of the season, and since then she's added three more. Named a semi-finalist for the goaltender of the year award on Thursday, Philips as of Feb. 5 leads the NCAA in a variety of statistics – save percentage (.960), goals against average (0.79), shutouts (9), and wins (25). She's also second in goalie winning percentage with a .911, beat out only by Yale's Pia Dukaric.
Her play has been nothing short of spectacular this season, especially since the Huskies returned from a month-long break between December and January — she has only allowed three goals in seven 2023 starts.
Some of that can be credited to a defense that only allows an average of 20 shots per game. Led by senior Megan Carter and junior Lily Yovetich, who have solidified themselves at the top pairing, the Huskies have only allowed 0.86 goals per game, the lowest in the NCAA. In comparison, BU's 2.52 goals against per game is good for 19th nationally.
If there's any place the Terriers can sneak in goals, it's on the power play. Their 18.2% conversion rate is 2oth in the nation and fourth in conference, and is bolstered by five goals on the advantage on 18 attempts over the course of their current unbeaten streak. Senior forward Julia Nearis is the biggest scoring threat on the advantage, with five of BU's 14 power play goals coming off her stick.
Northeastern's power play is operating at a 22.9% conversation rate, which is sixth nationally and first in Hockey East.. They've also scored four times on the advantage in their last four matchups. In those games, the Huskies had 25 chances – this is a team that can draw penalties in all zones. Even if they can't convert on the power play, they maintain control of the puck for the majority of the time with the extra skater, effectively running out the clock.
When playing short handed, BU has struggled mightily. Their 79.3% kill rate is second from the bottom of Hockey East, only above New Hampshire. Their last time at Matthews Arena they killed off just one of the two power plays they gave up, and allowed the Huskies to fire eight shots in just 2:46 of time on the advantage.
Northeastern's PK is top of the conference and fourth in the nation at 92.4%, helped by a top unit of Carter, Yovetich, Müller, and graduate student forward Chloé Aurard. The last of whom has scored three short handed goals including most recently against the aforementioned UNH on Feb. 2. For context, the team has not given up a goal on the penalty kill since the Nov. 19 matchup against Holy Cross, and has surrendered just six in total through 27 games.
Müller and Aurard alongside linemate and fellow graduate student Maureen Murphy are the top three scorers for the Huskies with 41, 40, and 39 points respectively. The trio lead the conference in scoring and all are in the top ten nationally. Their combined 51 goals is still less than half of the teams total of 110 on the year.
It's a three headed monster up front for Northeastern, and it's practically impossible to hold them off the score chart entirely. However if for some reason they are contained, head coach Dave Flint and his staff have a variety of options below them to continue to run down their opponents.
Forward Katy Knoll currently is tied with Müller for the lead in goal scoring on the team at 17. The senior has been having a breakout season with a career high of 28 points, good for a point per game pace. Senior Peyton Anderson has been contributing as well after being bumped up in the lineup, especially on the power play where she's scored five of her eight goals.
Sophomore Taze Thompson has five points in the first seven games of 2023, including a goal against BU back in January. And let's not forget about the scoring coming from the defense thanks to Carter, graduate student Maude Poulin-Labelle, and junior Abbey Marohn. Carter has goals in each of the last two games including the opener against UNH on Thursday.
Then there's Lily Shannon, who's had one of the more underrated seasons thus far for the Huskies. The freshman forward was placed on the Rookie of the Year watchlist after putting up seven goals and 20 points over her first 27 games 0f collegiate play. On a team as deep as Northeastern's, Shannon has been moved up and down the lineup, and still manages to produce regardless. An Andover, MA native, she's definitely one to keep an eye on as she takes the ice in her first Beanpot tournament.
Shannon is not the only Rookie of the Year candidate who will dress for Tuesday's contest, as BU defender Brooke Disher has notched 12 points through 27 games. Disher ranks sixth in scoring on the Terriers, only behind senior captain Nadia Mattivi in points by a defender.
Scoring is very clearly not BU's strong suit this season. Overall the team has managed to net just 59 goals, and while the defense and goaltending have helped them keep their opponents to 70 goals in total, against the high powered Husky offense BU isn't a perfect match.
Nearis leads the team in both goals (10) and points (19) after finishing in second last season with 21. Sophomore forward Christina Vote has 16 points and both junior forward Lacey Martin and Mattivi round out the top trio with 15 points each.
Junior forward Catherine Foulem is another name to remember, as she's contributed five points over the last three games. Most recently in the game against UConn on Thursday she tied the game with 1:25 left in regulation which helped BU go on to steal the extra point in the shootout.
On paper and by the numbers this appears like a game Northeastern can easily take advantage of to run up the score and secure a spot in the final round. Though there is something to be said about the hot hand and a team turning it around – which BU appears to be doing.
If there's anything the Terriers are going to do, it's play Northeastern hard. But if there's anything the Huskies are known for, it's shutting down their opponent and effectively running them out of the building.
We'll just have to see how it shakes out on Tuesday.
Those at WRBB have been tasked with their predictions for the opening round of Northeastern v. BU. Here's some of what our staff had to say:
Kayla Shiao: 4-1 for the Huskies. Brändli is good for a while but the floodgates open in the third.
Justin Diament: Northeastern wins 5-1. Game is 1-1 after one, but the Huskies quickly pull away in the second and it's never close again.
Xinyun (Jessie) Wang: 6-0 Northeastern, with goals from Aurard, Carter, Müller, Murphy, Thompson, and Mia Brown
Khalin Kapoor: 5-1 Huskies over BU
Daisy Roberts: Also 5-1 Huskies. Two from Müller, three assists for Murphy, Aurard on the power play and the remaining two goals go to Poulin-Labelle and Shannon.
Catherine Morrison, Peyton Doyle, and Adam Doucette: 4-1 Northeastern victory
Matty Wasserman: 4-2 win for Northeastern, BU will keep it tighter than expected, but the Huskies talent will prevail in the third period.
Tune in for full coverage from Conte Forum on 104.9 fm on Tuesday. Emma Sullivan and Catherine Morrison will be on site as the Huskies and Terriers faceoff at 4 p.m.