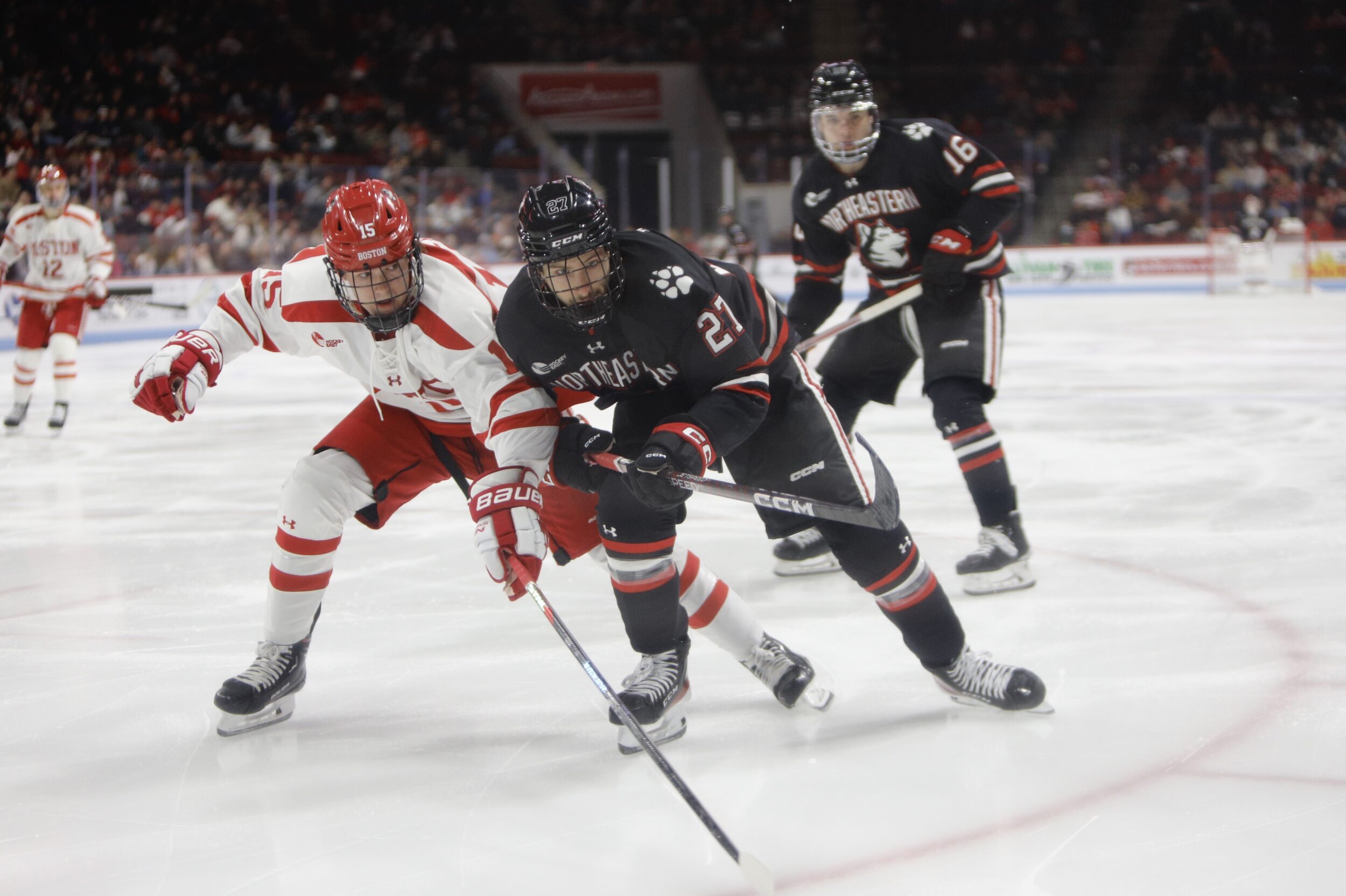 It feels like a distant memory, but the Huskies' stunning upset loss at Bentley in late December and subsequent beatdown by Harvard on New Year's Day was only one month ago. Then, Northeastern's nightmarish 1-6 skid appeared to be the nail in the coffin for a once-promising season gone horribly wrong. 
But behind a defense that's finally healthy, star forwards delivering clutch goals, and the NCAA's best goalie performing up to snuff, the Huskies' have now won five of their past six games, and finally showed glimpses of why this team had such high expectations to begin with.
Northeastern enters Monday's Beanpot semifinal matchup against Boston University with a 13-10-3 record and No. 20 Pairwise ranking, placing them just outside the tournament bubble with eight regular season games remaining. At their lowest, the Huskies were down to No. 42 in Pairwise in late December, but the recent hot streak means an NCAA tournament berth and Hockey East title both remain within reach.
Northeastern has defeated solid Hockey East squads with high-end players throughout this winning stretch, but none have the consistency and top-to-bottom roster talent of the Terriers, who are currently ranked No. 3 in Pairwise and have cemented themselves as one of the nation's top teams under first-year head coach Jay Pandolfo.
When the two sides squared off in a late-November weekend series, the Huskies scrapped out a 2-0 victory in the Friday game at Agganis Arena, and lost the Saturday rematch in 4-3 overtime heartbreaker at Matthews Arena. BU has won 13 of its 15 games since, and is currently riding a seven-game winning streak headed into Monday's tilt at TD Garden.
The Terriers have eight players averaging at least 0.8 points per game — for reference, Northeastern has four — and four of those eight BU players are freshmen. Seniors Matt Brown and Wilmer Skoog lead the team in goals with 12 and 11 respectively, and are staples on the top line much akin to Aidan McDonough and Justin Hryckowian for Northeastern. For the majority of the season, BU has rolled out a "kid line" of three freshmen — Jeremy Wilmer, Ryan Greene, and Quinn Hutson — who have combined for 23 goals and each have above 20 points this season.
BU is rightfully the favorite in this matchup, but is far from invincible. Northeastern has plenty of momentum itself, and positive trends in recent weeks bode well for their chances of pulling an upset on the biggest stage of the season thus far. Let's jump right into the four keys for Northeastern to advance to the Beanpot championship.
Key No. 1: Devon Levi will be Devon Levi, but what will BU receive from Drew Commesso?
Neither Devon Levi nor Drew Commesso have actually played in the Beanpot before, since both took a temporary absence from college hockey last February to participate in the Beijing Winter Olympics while the Beanpot took place, and the event was canceled altogether in 2021. But the two supremely talented junior goalies will come to define this matchup, much as their backups did in last year's event.
Let's begin with Levi, who to the surprise of no one has fully rebounded from his first-semester funk to again tear through college hockey. Over the seven-game span from Nov. 15 to Jan. 1 when Northeastern went 1-6, Levi let up 25 goals with a save percentage of .861%. In the six games since, he's allowed just nine goals on 211 shots, good for a .957 SV%.
Levi's workload has certainly not diminished of late, even as the wins have begun piling up. The Huskies are averaging 35.16 shots on goal allowed per game over their past six outings, which isn't a great number on the surface. No team ever wants to allow shots, but it's important to remember the potential correlation between Northeastern's defensive statistics and Levi being the one in net, at least to an extent.
"If he sees the shot, he's going to save it 99% of the time," said senior defender Tyler Spott of his approach to playing with Levi at the Beanpot Media Luncheon. "If we just clear the lanes and get guys out of the net front, he's going to make the save. As a team perspective, it allows us to play on our toes having him back there. If you make a mistake, you know he's going to bail you out."
In Northeastern's victory over BU in November, Levi posted a 41-save shutout, one of the best statistical performances of a career filled with them. Perhaps Northeastern won't need Levi to be a superhero on Monday, however he'll see a ton of shots and Northeastern simply cannot win if he doesn't shoulder an enormous load.
On the other side, Commesso has just as much talent as Levi, and at times will look just as impressive. Few goalies are selected in the top two rounds of the NHL draft, and Commesso, drafted 46th overall by Chicago in 2020, is the rare exception for a reason. He allowed one goal on 41 shots against Boston College last weekend, displaying his outstanding athleticism and quick burst moving across the crease that few goaltenders at this level possess.
But for all the talent and future NHL potential, there's still the reality of Commesso's .909 save percentage this season, which is roughly on par from his freshman and sophomore campaigns as well. He is inconsistent night to night and occasionally will let easier goals slip in that elite-level goalies like Levi just simply do not. He let up six goals to Maine two weeks ago, and he's only tallied above 30 saves twice this entire season. Which version of Commesso Northeastern sees on Monday will go a long way in determining the outcome of this game.
Key No. 2: Can the Terriers' offensive-minded defenders be contained?
The above title is perhaps an oxymoron, because of late nobody has successfully contained BU's stud freshman defender Lane Hutson. Outside of Michigan's Adam Fantili, almost no freshman in the NCAA has been as productive as Hutson this season — he's currently fifth among all NCAA skaters with an average of 1.40 points per game. He's riding an eight-game point streak, a five-game multi-point streak, and he just hung four assists on Maine Friday in a dominant performance.
Hutson fell to the second round of the NHL draft (selected 61st overall by Montreal this past July) because he's undersized at only 5'9", but he possesses elite playmaking and puck-handling skills that likely haven't been seen in a Hockey East defender since Cale Makar's reign at UMass. He's already scored an overtime winner against Northeastern earlier this season, and shutting him down needs to be the focal point for Northeastern from the start.
On top of Hutson, the Terriers' other elite offensive-defender is senior captain Dominick Fensore, who returned from a three-game injury absence on Friday against Maine. Fensore is averaging 0.83 points per game, but has really grown as a distributor and all-around creator at the offensive blue line in his senior season. Even despite those games missed, he leads BU in total shot attempts (166) and shots on goal (87), just as he did a season ago.
Hutson and Fensore won't play on the same pairing or see the ice together often, but it's rare neither will be involved in the action at any given point. Sophomore Ty Gallagher and imposing 6'7" junior Cade Webber are also talented defenders who play well off the star blue-liners.
Both because of the Terriers' system and personnel, BU drives much of its offensive creation from the blue line and will look to carry the puck through its defenders much more than most teams. In the aforementioned Saturday night game earlier this season, Northeastern did not do nearly a good enough job forcing the puck elsewhere: Hutson and Fensore each scored a goal in that game, and combined for 21 of the Terriers' 63 total shot attempts. That won't be a winning formula on Monday.
Key No. 3: Aidan McDonough and Justin Hryckowian must deliver
It's not groundbreaking analysis that Northeastern's two best forwards must play well in order for the Huskies to win, but when 37% of a team's goals come from two players on the same line, the importance is especially heightened. In fact, since the Huskies' victory over LIU on opening night, either McDonough or Hryckowian has scored in every single one of the Huskies' wins this season.
McDonough had been riding a five-game goal streak prior to Tuesday, and has come through in the Huskies' biggest moments time and time again through his senior season and entire Northeastern career.
Along with McDonough's Hockey East-leading 17 goals, Hryckowian has turned into arguably the most well-rounded center in the conference in his sophomore season. His clutch game-tying score late in the third-period against UConn was yet another example of his potency for scoring off rebounds and causing chaos in front of the net, which has been essential to Northeastern's success all year long.
In addition to his scoring production and chemistry with McDonough, Hyrckowian's faceoff success rate is up among the top in the nation at 59.3%, and I'd be willing to bet other advanced metrics not publicly available also skew similarly in his favor. He's so in tune with the system and conformable both on and off the puck that it often appears the game just moves at a slower pace for him, allowing his anticipation and playmaking skills to work their magic.
Though other forwards have also stepped up for Northeastern of late, it's awfully hard to envision a scenario where Northeastern wins this game without a score (or multiple) from McDonough or Hryckowian.
Key No. 4: Whose power play will step up?
One reason why Northeastern was successful against BU earlier this season was special teams, where they killed off all eight Terrier power plays over two games.
BU's power play enters Monday at 21.6% success rate, and while that number is just a shade above average, the Huskies' 85.3% penalty kill is third best in Hockey East and has dominated in recent weeks. That's in large part due to just how much Hryckowian and freshman Jack Williams have improved at the top of the penalty kill, and veteran defenders Spott and Jeremie Bucheler also making huge impacts after missing over a month each in the first semester.
BU's power-play personnel has remained consistent almost the entire season, effectively splitting their first and second power-play unit between a senior group and freshmen group. Fensore is an experienced and effective quarterback on the top of the unit, and he'll look to feed it down low to Matt Brown much like Northeastern does with McDonough.
On the Huskies' side, they failed to score on the power play in Friday's loss to UConn, despite having five opportunities and registering 10 shots on goal. Particularly the top unit did an excellent job cutting down on turnovers and not forcing bad passes, something that bodes well despite the results not being there.
"I liked the looks we were getting," Keefe said after the game. "[McDonough's] unit, they got the majority of the time tonight because they were in their zone the whole time. So, sometimes it's just going in the net. I thought we did a lot of good things on the power play tonight."
On the power play, McDonough has seven scores and leads the team with 31 shots on goal this season. The ability of Gunnarwolfe Fontaine to efficiently sauce a horizontal pass to McDonough or lug the puck down low to Hryckowian curling around on the cycle will be key in the Huskies' power play success.
BU has just a 77.7% penalty kill, which is the lowest mark in Hockey East. That number fits with what you'd expect, since BU's strength defensively isn't straight-up play in the defensive zone. The combination of a Huskies' power play on the verge of a breakout and a vulnerable Terriers' kill means the man advantage could be a big chance for Northeastern to build some cushion on Monday.
So, who will win?
This will likely be a close game, as most Beanpot contests tend to be. Northeastern has already proved they can match up well with this BU squad, and will ride their positive momentum and improved play into Monday. The Huskies will need to be almost at their best to win, but it absolutely can happen. My prediction: BU will win this game 3-2 in regulation, but I can certainly foresee a close victory for the Huskies. Let's hear what the rest of the WRBB staff has to say:
Justin Diament: 3-1 BU. Levi saves 40 shots but it isn't enough to stop the Terrier barrage. Final score is an empty netter for BU.
Xinyun (Jessie) Wang: 4-2 Northeastern. McDonough, Hryckowian, Colangelo score and Levi makes 38 saves.
Kayla Shiao: 3-2 BU. Levi is good, Northeastern scores first, but the Huskies fall apart in the third.
Daisy Roberts: 3-2 BU. Fontaine scores first, BU scores 3 unanswered, McDonough gets one in the second half of the third but NU can't pull it together enough to win.
Adam Doucette: 3-2 Northeastern. Levi comes up big, McDonough gets one, and commesso lets in a soft one.
Emma Sullivan: 3-2 Terriers. McDonough scores one on the power play but it's not enough. Also someone attempts the Michigan.
Zach Lyons: 3-2 Northeastern. Levi back stops with another 40+ save performance, Jack Williams scores, Colangelo scores, and McDonough nets the game winner.
Catherine Morrison: 2-1 BU.
Peyton Doyle: 1-0 Northeastern.
Khalin Kapoor: 4-3 Northeastern.
Amelia Ballingall: 6-2 BU.
WRBB Sports' Khalin Kapoor and Matty Wasserman will have live coverage of the Beanpot semifinal between Northeastern and BU from TD Garden, beginning with a pregame show at 7:30 and game action at 8:00. You can listen on 104.9 FM in Boston, or anywhere at wrbbsports.com/listen-live.