BOSTON — On an emotional day honoring two players whose time with Northeastern is coming to an end, the Huskies provided what could be a glimpse of the future in a comfortable 69-57 win over William & Mary.
Prior to the game, redshirt senior forward Chris Doherty and junior forward Coleman Stucke were honored as part of Northeastern's Senior Day ceremonies, along with manager Patrick Isberg. Both players would be eligible to return next season, but opted to move on after graduating (in Stucke's case, a year early).
Despite being a focus of the festivities, Doherty came off the bench Saturday afternoon, with junior forward Alexander Nwagha taking his place as a starter. Freshman forward Jared Turner was also back in the starting lineup for the first time this calendar year, taking Stucke's place after he exited Thursday's game with a sprained ankle. Stucke participated in the pregame ceremonies but did not dress and had to watch the contest from the bench.
"[Stucke] tried, he did everything, it was 24 hours in the training room," said Northeastern head coach Bill Coen. "Hopefully he can get healthy this week, contribute this weekend, and then be 100% by the tournament."
Meanwhile, freshman guard Rashad King made his second-straight start at the point guard position, after scoring a season-high 10 points on Thursday.
With all the lineup shuffling, though, it was junior guard Jahmyl Telfort, the only Husky to start every game of the season, who got Northeastern going Saturday. Telfort was responsible for nine of the Huskies' first 12 field goal attempts, and over that span scored nine of Northeastern's first 16 points, getting his team out to an early 16-2 lead.
Turner got off to a hot start as well, perfect from beyond the arc in the first half for the second game in a row. The freshman went 2-for-2 from deep and made a couple of jumpers as well, driving the ball at times and showing a dimension to his game not often seen from the spot-up sharpshooter.
On the defensive end, the Huskies did a good job protecting the interior and stifling the Tribe attack. Sophomore forward Gabe Dorsey, the best three-point shooter in the CAA, was out with an injury for the fourth consecutive game, so the Tribe looked more to the inside, particularly junior forward Ben Wight. Wight came into Saturday off a pair of 20-point performances, and went 3-for-5 from the inside in the first half, but the rest of his team could not get it going on the drive.
Outside of Wight, William & Mary went 1-for-6 on two-pointers in the first half. The Tribe could not fill the absence of Dorsey from the perimeter either, as they shot just 27% from three on the game.
Another key to Northeastern's first-half success was outrebounding William & Mary 21-10, with six of those boards coming from Nwagha, and four from redshirt junior guard Joe Pridgen. The Huskies took advantage of another injury for the Tribe in this facet of the game, as junior forward Noah Collier, the team's leading rebounder, was also out Saturday.
Telfort continued his contributions in the second half, rattling off six consecutive points to push the Northeastern lead to 21. However, the Huskies took their foot off the gas a bit late in the game, surrendering a 13-1 run and nearly allowing William & Mary to get within single digits. Instead, freshman guard Masai Troutman answered with a fadeaway jumper, followed by a transition drive that earned him a trip to the foul line. A couple of threes from Telfort followed for insurance, and despite making just one field goal in the final five minutes of play, Northeastern held on for the double-digit victory.
"I thought we were stuck in neutral a little bit," Coen said. "We fouled and they made a little bit of a run and good teams are going to do that, well-coached teams are going to do that. But I was pleased with our response. … We got the game back under control and that's the kind of maturity you're looking for in your team at this point in the season: finish business."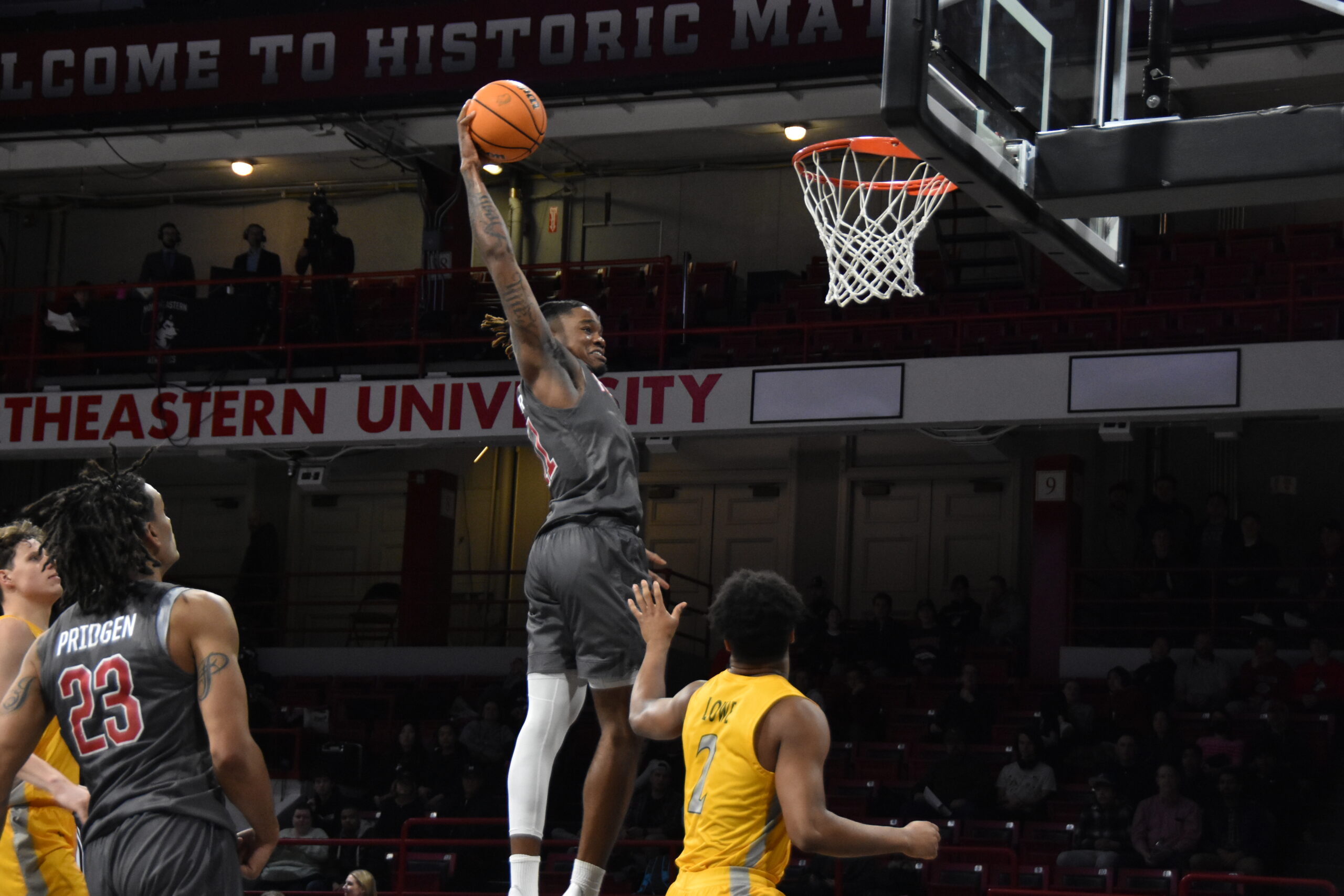 Telfort finished the game with 28 points, his third-highest scoring performance during his three seasons with the Huskies.
"[Telfort] is such a calming influence," Coen said. "As everybody knows, we have a young team and we can be combustible at times. And sometimes with young players, it rolls over, we compound some mistakes and it goes from one play to the next. But Jah's the stopper in that regard. He's able to step up, make a defensive play or an offensive play when we need it, settle down our lineup with his communication. He's got all the experience."
With Doherty coming off the bench and Stucke on the sidelines, all the key players in Saturday's game could return next season, meaning this contest could be a preview of future Huskies teams.
"Alex played really, really well today and has in Chris's absence, whether it was over in London or early in the season when Chris missed some games," Coen said. "He sets the tone, particularly on the defensive end. … All those other guys are returning, whether it's Joe, Jah, or the young freshmen, and we just have to continue to get better."
Turner finished with a season-high 31 minutes, and King got his most playing time since 2022.
"We've made a conscious effort to get [the freshmen] early playing time in the season and I think you're seeing that pay a little bit of dividends," Coen said. "Jared Turner is not playing like a freshman anymore. Rashad King is not playing like a freshman. Masai Troutman … came in, had a couple of big buckets and got us back on. Those guys have all made some big strides and were in a contributing role today."
To close out the regular season slate, Northeastern will visit Drexel and Hofstra next week, aiming to avoid the play-in game in the CAA tournament. Saturday's win will certainly help, as it put them ahead of William & Mary in the standings.
"Obviously extremely pleased and proud of the result of the game, but more importantly, it's Senior Day and that's always an extremely important day in our program to recognize guys that have come in and put their bodies on the line, committed their time and energy," Coen said. "There's nothing better than winning on Senior Day and having family here and celebrating that with a smile. So, just grateful for that."
The Huskies head down to Philadelphia as they face Drexel on Thursday night. WRBB's Jack Sinclair will have written coverage on our website.