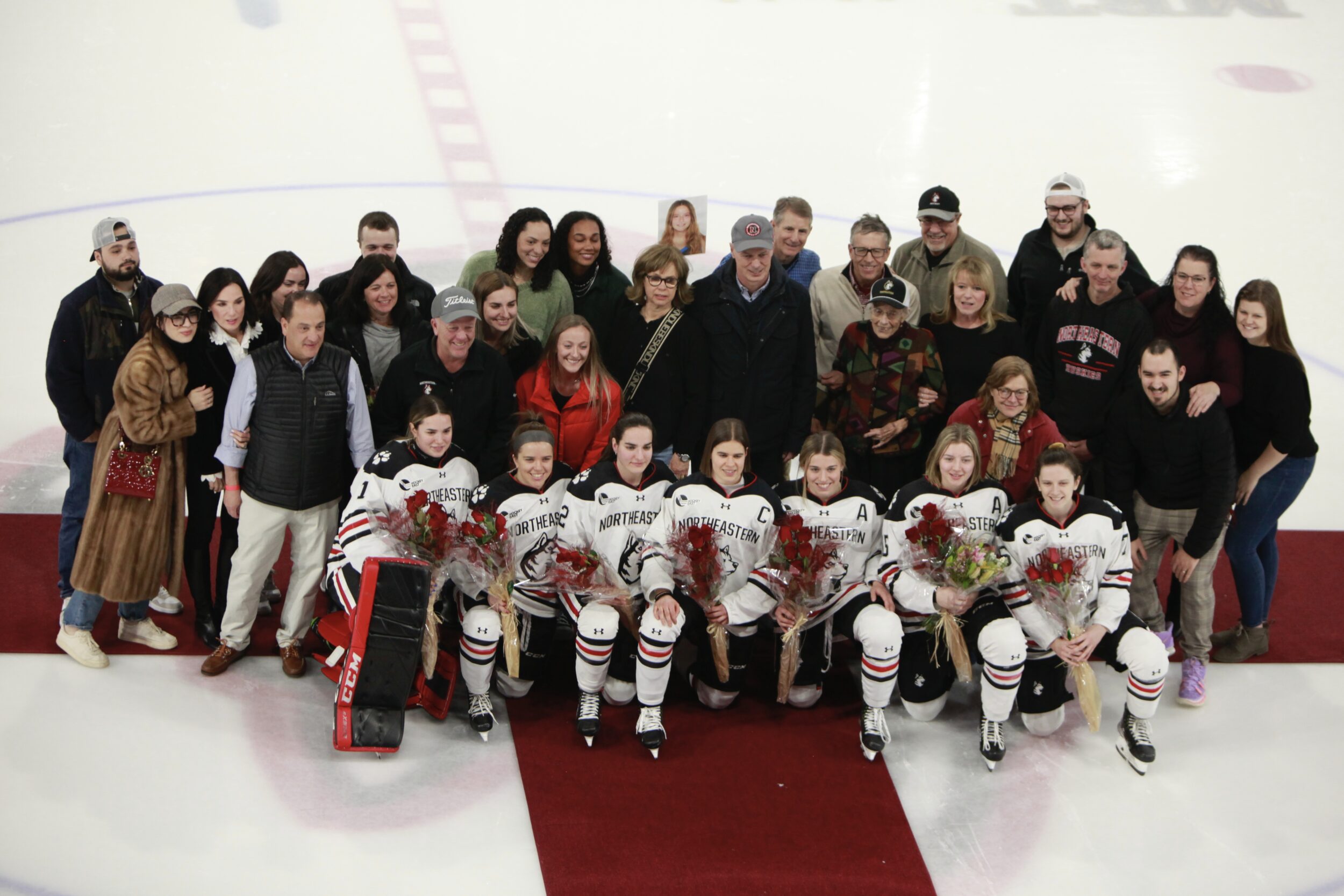 BOSTON — Saturday was an emotional night at Matthews Arena, but one also full of happiness for the Northeastern women's hockey team, as they won 4-0 over Boston University on home ice to finish the regular season.
"Obviously excited for our seniors to send them out in their last regular season game," said Northeastern head coach Dave Flint after the game. "I thought it was a slow first period. These games are always tricky because emotions run high, focus isn't always there."
The Senior Night emotions seemed to affect the Huskies a bit, as they only had eight shots on goal through the first period, which is not the usual strong and dominant performance seen from this team. Northeastern had an early power-play opportunity, as BU's freshman defender Brooke Disher was sent to the box for hooking.
The Huskies did not score on the original Disher penalty, however their second power play came at 9:45, when Disher took another for tripping. Northeastern grasped this power-play opportunity 23 seconds in, when senior center Katy Knoll scored a back-handed goal with the assists from graduate student captain Alina Müller and linemate Maureen Murphy. It also marked Murphy's 100th career assist, and Knoll's 18th goal of the season.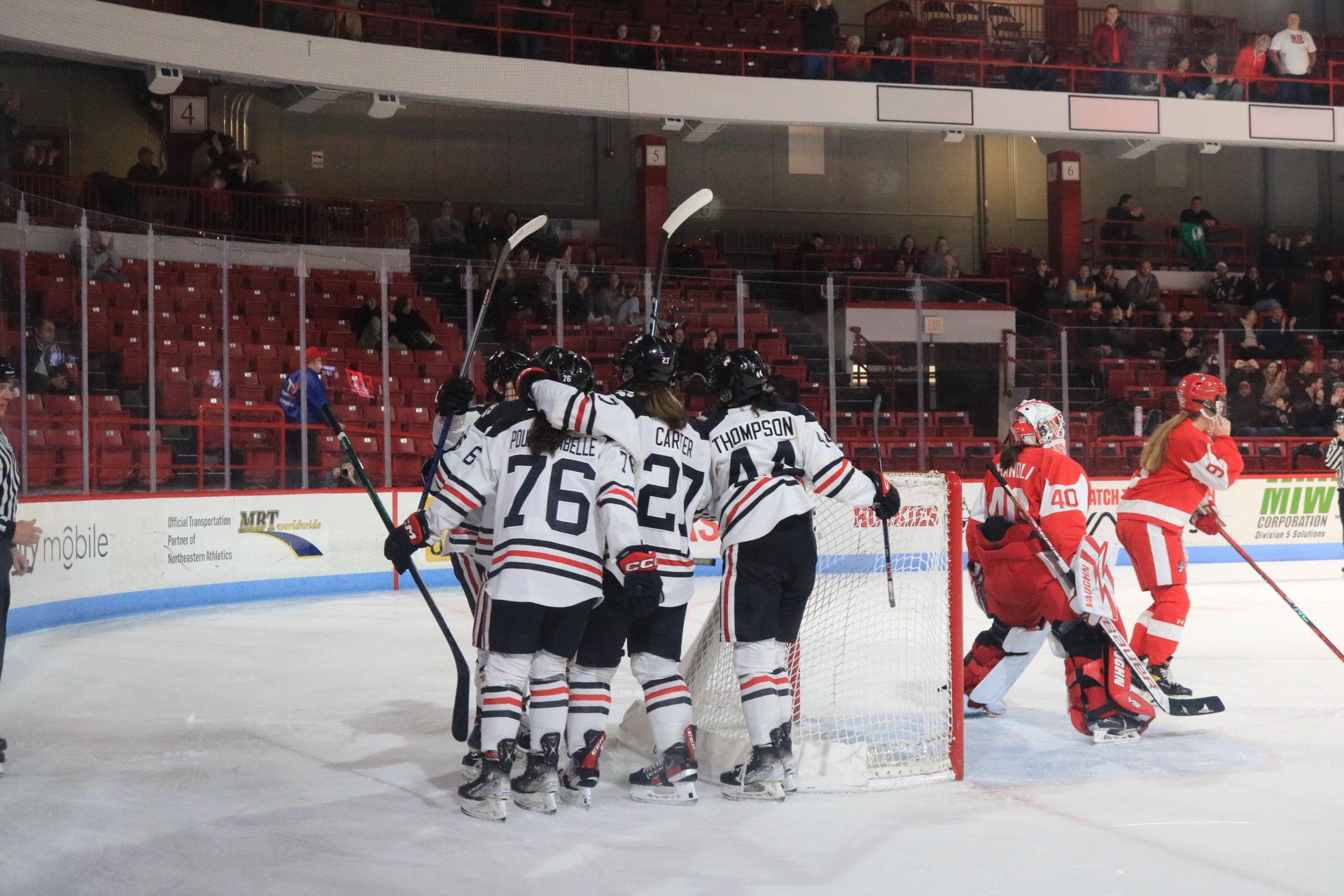 "[Knoll's] been great," Flint said. "She doesn't get the support cast of being on that first line, but she's on the first power-play [unit], and she comes up with big goals. 18 goals has kind of been a breakout year for her. We've asked her to play left wing, right wing, center. She's played all over the place, and she's really stepped up."
The Huskies also had a good penalty kill, after sophomore forward Skylar Irving took a penalty for hooking.
Northeastern showed how strong they are during the second period with 26 shots on goal to BU's three. Junior forward Molly Griffin helped the Huskies take a 2-0 lead at 3:30, with a deflecting in front off a shot from junior defender Lily Yovetich.
Then, the ice became fierce, as there were six penalties in total from both schools. With 3:55 remaining in the second period, the Terriers' junior forward Madison Cardaci was sent off from the ice for high sticking that gave the Huskies another power play. Graduate student forward Mia Brown scored with the help from Irving and graduate student defender Maude Poulin-Labelle.
"We've been having some pretty good success with our unit," Brown said. "That's pretty much just grinding it out, getting people in front of the net, and that's exactly what we did. [Irving] shot it really hard and it bounced right off her, and I just had to tap it in and make sure that their goalie couldn't spin around."
The Huskies increased the score off a goal from senior forward Peyton Anderson, marking her ninth goal of the season — a new career high. Freshman forward Lily Shannon assisted on Anderson's goal.
Senior goaltender Gwyneth Philips made 21 saves. With 3:27 remaining in the third period, during play, senior goaltender Alexa Matses switched into the Northeastern net. Both senior goaltenders worked hard to preserve the shutout.
Although this senior night was filled with intensity between the opposing players, the mutual respect between the two programs' longtime coaches was equally apparent. BU head coach Brian Durocher will retire after his 18th season, with Saturday marking his last game of the regular season in his historic career.
"He's been a good friend of mine and a mentor," Flint said. "I told him yesterday 'I'm a little jealous. You get to play more golf' and he's going to get to see his grandkids more."
Losing 12 seniors last year, senior leadership is especially important going into playoffs.
"The message I would give to the younger players is … soak it all in, but also know you belong there. … I know end-of-season is crazy. If you use all your adrenaline early in the day, if you have big games, you'll be toast when the game comes around. So my message is always just kind of stay calm. It's just another game. Just do what you know how to do and you'll be fine."
The Huskies will be back in action next week for the Hockey East quarterfinals on Feb. 25. WRBB will have coverage when the puck drops at 2 p.m. at Matthews Arena.