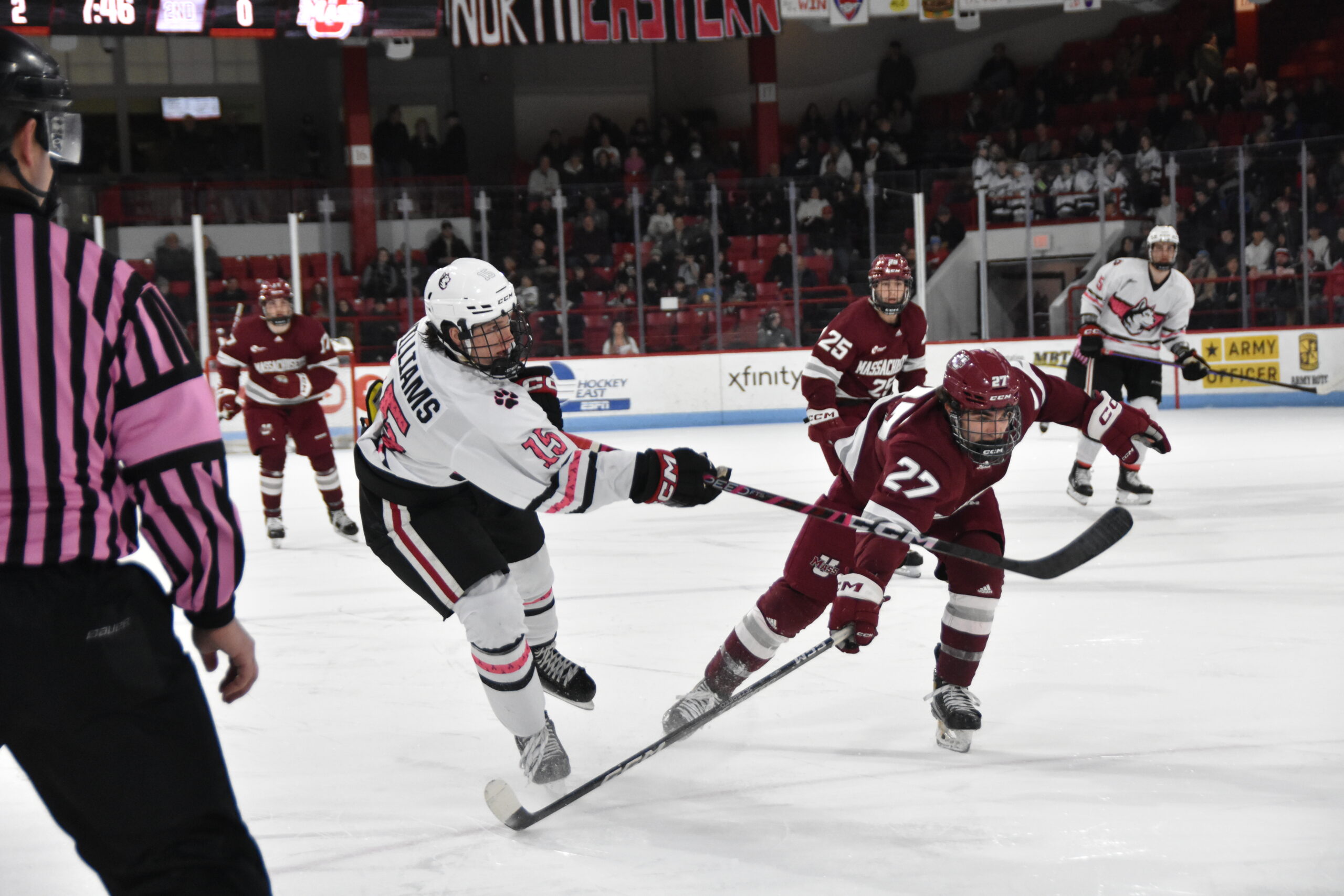 BOSTON — After a disappointing loss against UMass on Friday night, Northeastern returned to their winning ways in Saturday's rematch at Matthews Arena, taking home a 4-0 win.
Junior Devon Levi ended the game with his sixth shutout of the season, putting up a strong fight against his opponents. Even after multiple UMass power-play scares, he remained strong and kept his guard up, skillfully blocking every shot despite battling physical issues throughout the night.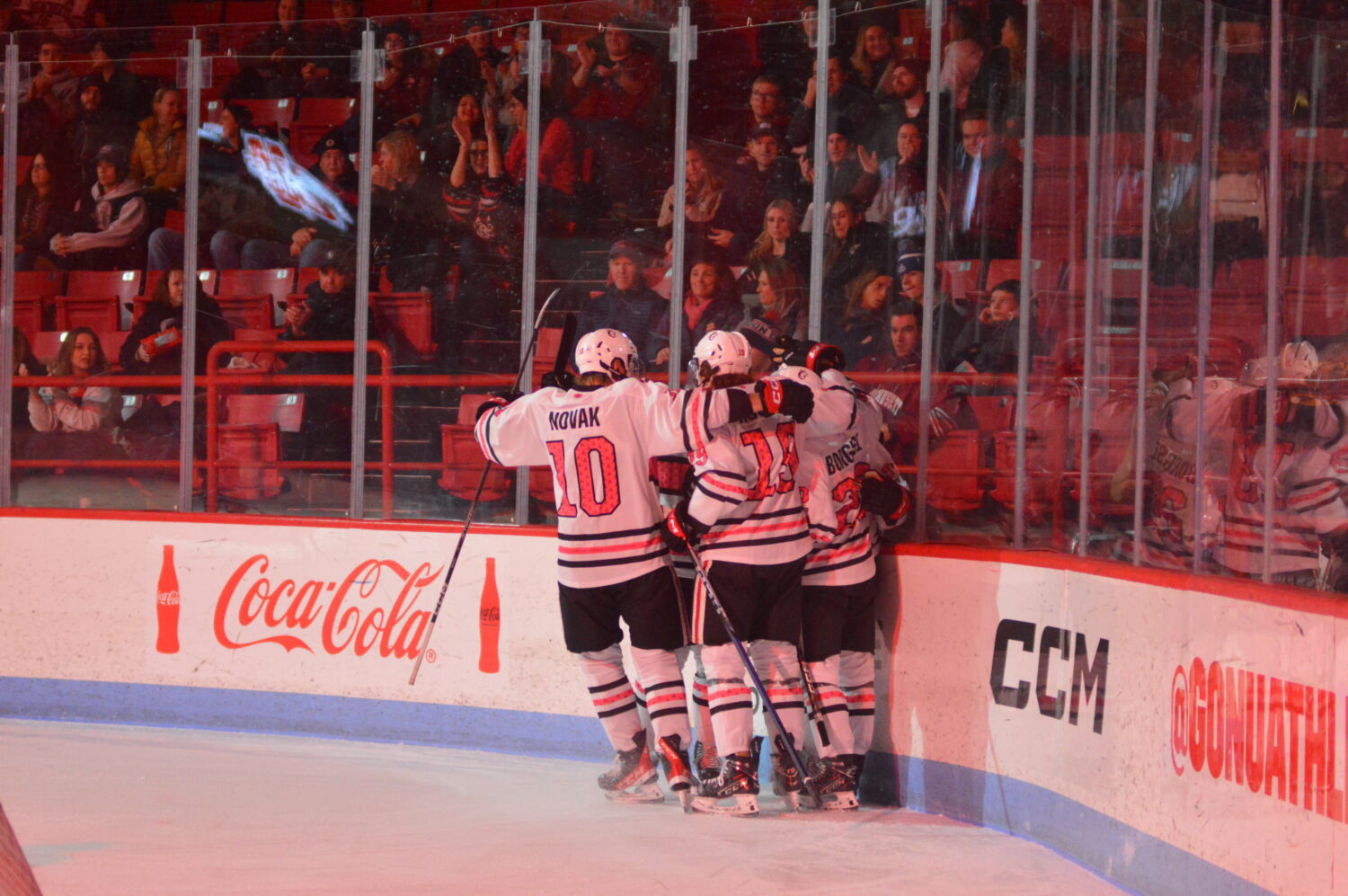 "He was playing on pure adrenaline, didn't feel well, and was dehydrated, but it just shows the character. He knew the importance of the game, and he was outstanding," said Northeastern head coach Jerry Keefe.
The game started strong, as UMass senior forward Jerry Harding received a penalty for roughing and landed in the box. Even so, junior goalie Cole Brady aided the Minutemen's strong penalty kill, leaving the game scoreless with a clutch save.
"You can't win if we don't score a goal, and we left them up. We hung him out to dry in a couple of rushes," said UMass head coach Greg Carvel.

Northeastern entered a dangerous zone at 12:01 when Northeastern sophomore forward Matt Choupani earned a holding penalty and gave UMass a moment to put them forward in the game.
Needless to say, it did not faze the Huskies. In fact — it left them more motivated. Jack Williams scored a short-handed goal, bouncing off the post and landing beautifully in the net. With the help of graduate student forward Jakov Novak defending against the opposition to allow the shot, the Huskies were up on the board first.
Williams, a forward in his freshman season with the Huskies, has now tallied six goals and 10 assists on the season. He's already delivered valuable production in his first year, and his play should only get better in the coming seasons.
One goal was enough to give the Huskies momentum. They killed off the remaining time on Choupani's penalty, and retained their lead for the remainder of the first period.
After being back on the ice for 14 seconds, Northeastern went on the kill thanks to a hooking penalty assessed to sophomore forward Justin Hryckowian. While UMass had a chance to regain momentum, they had just one shot on goal on that power play. Levi and the kill defense held strong against the Minutemen that came into the game third nationally in power-play percentage.
Novak passed the puck cross-ice to sophomore forward Jack Hughes, who tapped it to double the Huskies' lead. Senior forward Riley Hughes was also credited with an assist.
Northeastern was out for blood after its Friday UMass battle at the Mullins Center and stayed on their toes. With 1:45 left in the second period, sophomore forward Lucas Mercuri received a penalty for interference after knocking Matt DeMelis' stick from his hands. Jack Hughes led the Huskies to another goal as he passed to junior forward Sam Colangelo who scored off his own blocked pass attempt.
Entering the third period, the game remained largely back-and-forth until senior forward Aidan McDonough grabbed the puck from UMass and set up junior forward Gunnarwolfe Fontaine to add a tally to the Northeastern total and set the game at 4-0.
"We knew this was a big game, and I'm just really proud of those guys for the effort that they gave tonight," Keefe said.
Northeastern will look to face UMass Lowell on Friday. WRBB will have coverage from the Tsongas Center at the 7:15 p.m. puck drop.