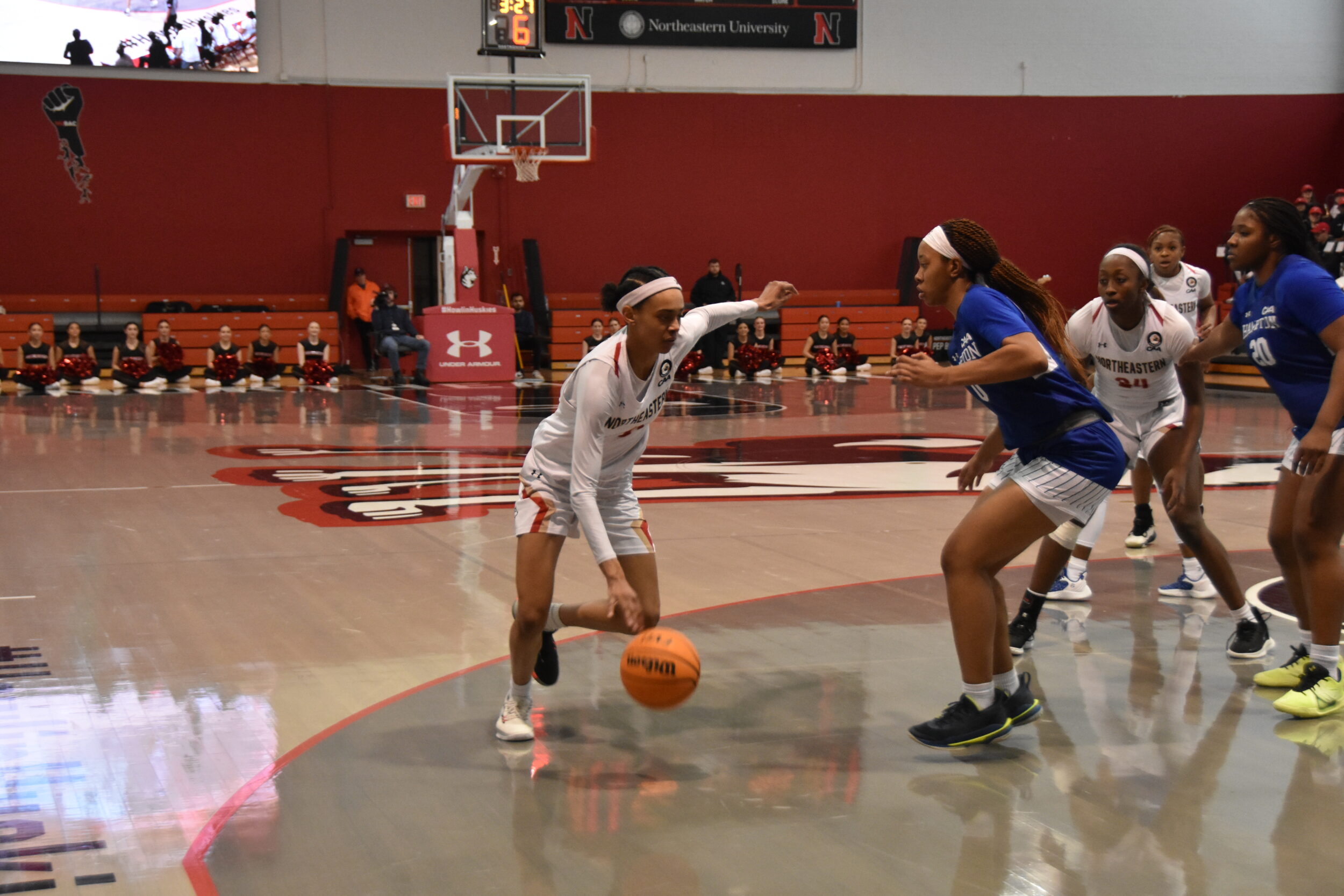 BOSTON — Northeastern earned a convincing victory over Hampton on Sunday, with a final score of 79-46. The blowout victory featured standout guard performances from Senior Day honorees JaMiya Braxton and Anna Boruta.
In their previous matchup this season, Northeastern beat Hampton 72-67 in a tightly contested game. Now riding the waves of their five-game win streak, paired with Hampton coming off a narrow loss to Stony Brook, the Huskies were hoping for a more emphatic win in the home matchup.
Northeastern started the game off strong, outscoring Hampton 23-6 in the first quarter. The team's offense was led by junior forward Deja Bristol, who hit three of her four shots in the quarter, highlighted by an assertive put-back to help the Huskies build their early lead. Boruta also made the most of her opportunity in her first career start, as both her and Braxton hit their 3-point attempts to build on the lead.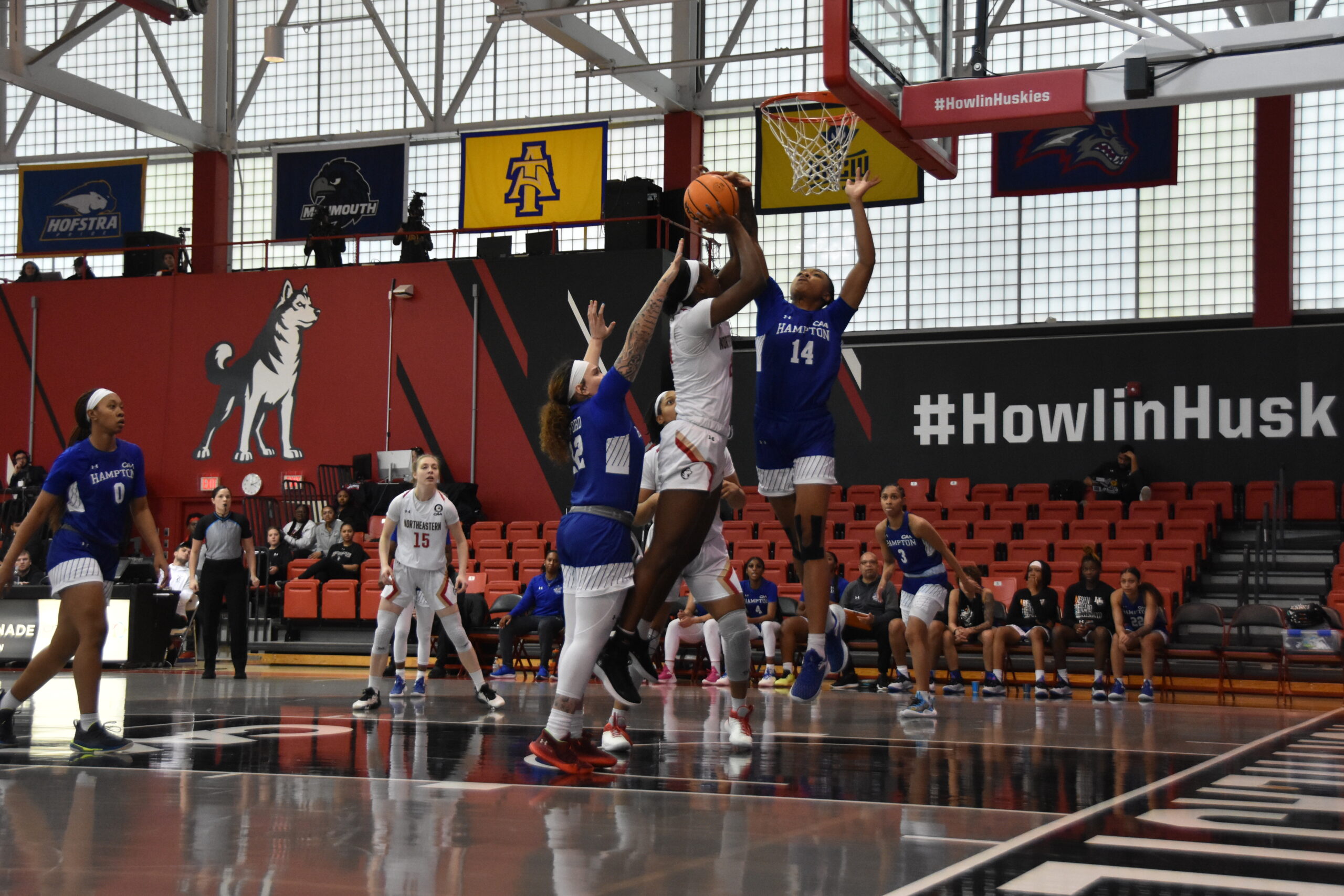 Hampton tried to mount a comeback in the second quarter, outscoring Northeastern 15-10. The quarter was characterized by several turnovers and missed shots by both teams. The Huskies started the quarter with a bad pass turnover from sophomore guard Gemima Motema, which resulted in a Hampton steal, though they failed to capitalize on the turnover with a missed fastbreak layup. \
The opening possession became the trend as Northeastern struggled with turnovers and fouls throughout the quarter — leading to nine free throws by Hampton, compared to zero in the first quarter. However, Northeastern managed to stay in the game with a string of high-quality scoring chances, including a successful and-one by Bristol and key three point-shot from junior guard Derin Erdogan.
"Hampton is a talented team," said Northeastern head coach Bridgette Mitchell, "They're always going to bring the pressure defensively. And so it was really important for us to have composure and to play with poise and confidence against that pressure. And I thought that after that time, I would have thought we eased into it a bit and were able to execute how we wanted to offensively."
The Huskies again looked sloppy to begin the third quarter, but finally took control of the game following a quick time out from Coach Mitchell. Braxton continued to lead the way offensively, adding another seven points, including a layup and one more three-pointer. Boruta also had a strong quarter, going 2/2 from beyond the arc, with the crowd erupting after each of her shots in the seniors' last home game. Fellow senior guard Jaelyn Batts made her contributions in the third, scoring nine points on three attempts and netting five of those points at the charity stripe in as many tries.
"[Boruta] you know, she bleeds red and black," Mitchell said, "She's been here from the start of her career through the coaching change with me and she's just a really positive energy…so it's no surprise that she had a lot of people to show up here for her during her senior night. She just gives that energy. It's infectious."
The fourth quarter saw Northeastern maintain their lead, outscoring Hampton 20-12 to seal the victory. Braxton finished the game with a team-high 17 points, while Boruta added a career high 11 points and five assists.
For Hampton, junior forward Nylah Young led the team with 13 points, while sophomore guard from Chandler, Arizona, Victoria Mason added eight points and three assists. However, the team struggled with shooting throughout the game, making just one of their 10 three-point attempts.
The victory moves Northeastern's CAA record to 11-5 on the season and second in the conference, while Hampton falls to 7-9.
"We're gonna just continue to put our heads down and play," Mitchell said when asked about the team's six-game win streak. "We're focused on the next one, because each team in our league requires a different skill. Right, requires a different scheme and a different plan. So we're taking each game as that, so focusing on that and the outcome will be whatever it is."
Before the game, the two seniors were honored by the team and fans in attendance. The game may have been just one more on the schedule for Northeastern, but for Braxton and Boruta, it was a special moment to reflect on their time with the Huskies and look forward to the future.
Northeastern's next game will be on the road as they head down to South Carolina to take on Charleston. WRBB will not have live coverage of the game, but will return to the airwaves for the Huskies' first game of the CAA tournament.