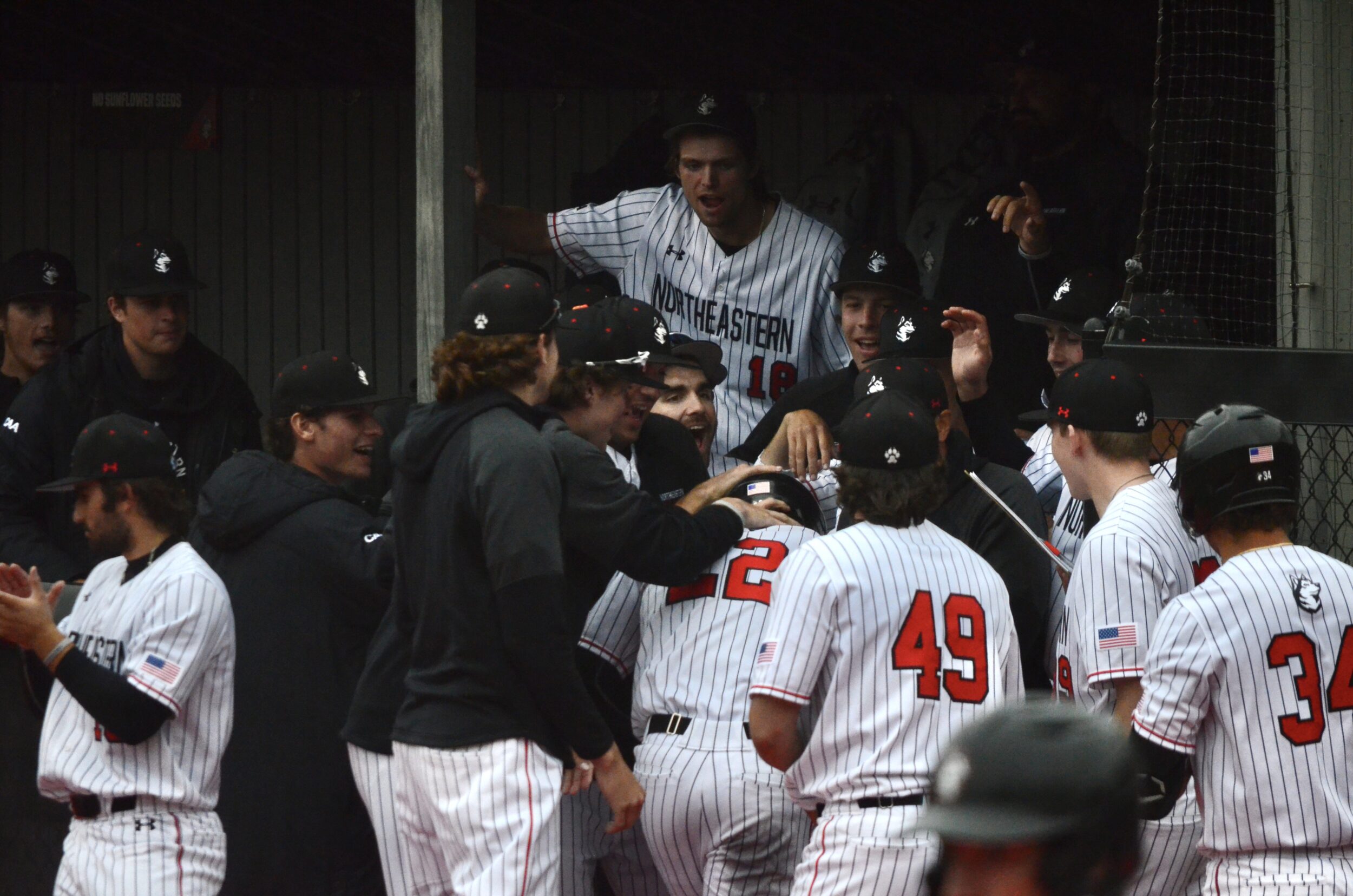 Story by Jack Sinclair and Khalin Kapoor
In their first taste of conference play this year, Northeastern was handed a series loss on the road by Elon at Latham Park.
The Huskies won 6-2 on Friday behind a dominant outing from junior right-handed starter Wyatt Scotti, who spun seven innings of two-run ball while striking out six and allowing just four hits. Redshirt senior third baseman Danny Crossen went 3-4 and scored two runs to lead the offense.
Northeastern then got swept in a doubleheader on Saturday, first losing 4-3 in 10 innings, then losing 2-1 later in the day. Their record now stands at 10-3 going into a difficult weekend series against NC A&T.
Let's break down each of these games.
Game one
With Scotti on the mound for the CAA opener, unlike his previous three starts this season, he got off on the wrong foot. Elon struck first, as redshirt junior Tanner Holliman singled up the middle, driving in a pair of runs in the bottom of the second inning.
The Huskies did not take kindly to this early score from the Phoenix, and the top of the third saw the Northeastern offensive machine awaken.
Graduate student first baseman Tyler MacGregor opened the scoring for the Huskies with an RBI single. An inning later, senior shortstop Spenser Smith reached on a fielder's choice, which saw the Phoenix make a throwing error, allowing Crossen to score and tying the game at two apiece.
The Huskies' offense was still chipping away in the top of the fourth, with junior Greg Bozzo singling to left field for an RBI to give the Huskies the lead.
After his early misstep, Scotti was able to settle in and found his strikeout stuff. He would match his season high tally of punch outs with six on the day. His final line for the outing would be 7.0 innings pitched, four hits, two earned runs, and no walks.
Freshman outfielder Cam Maldonado kept the offense rolling in the top of the sixth, with a big RBI single that scored senior utility player Alex Lane.
In the same inning, Bozzo reached base on an error, scoring Crossen in the process. The Huskies now held on to a solid 5-2 lead.
Junior infielder Luke Beckstein added some insurance, with a sacrifice fly to left field that scored Harrison Feinberg, bringing the Huskies' margin to four runs.
Right-handed freshman Charlie Walker came in to relieve Scotti in the eighth, and was just as lights out as his predecessor. There were no threats to Northeastern's lead, as he closed out the game from there and secured the 6-2 victory.
Game two
The opening game of Saturday's doubleheader was a back and forth affair in which the Phoenix outlasted the Huskies in 10 innings.
Northeastern scored first in the top of the second inning with a bases-loaded walk by Beckstein to make it 1-0, but sophomore outfielder Mike Sirota struck out to end the inning without putting any more runs across. It was an early missed opportunity for the Huskies in a game that was full of them.
Junior righty Eric Yost got the start for Northeastern and continued his season's struggles, allowing three earned runs on seven hits in five innings pitched. After a breakout 2022 where he posted a team-low 2.48 ERA, Yost has allowed 18 earned runs in 17.1 innings and has yet to pitch past the fifth in any game this year.
In the bottom of the second, Yost gave up a two-run home run to redshirt junior infielder Tanner Holliman to make it 2-1 in favor of Elon. Holliman would homer again off Yost in the fourth after Crossen hit a game-tying solo shot in the third to put the Phoenix up 3-2.
Redshirt junior righty Jake Gigliotti came in the game to relieve Yost in the sixth, and shut down Elon's offense. He finished his outing with five strikeouts over four scoreless innings, only allowing three hits. Gigliotti is quietly on a 7.1 inning scoreless streak dating back to Northeastern's first series of the season.
Maldonado hit a solo homer to tie the game back up at three in the seventh, but that was all the offense the Huskies could muster for the rest of the game. In the bottom of the tenth inning, junior first baseman Cole Reynolds walked it off for Elon with a solo shot off right-handed senior Nick Davis for a final score of 4-3.
Game three
Right after getting walked off 45 minutes prior, Northeastern immediately allowed Elon to get out in front in the second game of the doubleheader.
Freshman right-hander Aiven Cabral gave up a leadoff homer to Kenny Mallory Jr. on just the second pitch of the game. He settled down from there, finishing his day with seven strikeouts over five innings of two-run ball, but was saddled with the hard-luck loss.
This was Cabral's second career start, and he has gone five or more innings in each. His season ERA sits at 1.93, and he has 17 strikeouts in 14 innings pitched. It looks like Cabral has cemented himself as Northeastern's third starter.
While Northeastern totaled 10 hits in the game, they were unable to break through against Elon freshman starter Justin Mitrovich. The Huskies hit into three double plays in the first five innings and were unable to get clutch base hits with runners in scoring position.
Maldonado made things interesting in the ninth inning with a bases-loaded sacrifice fly to cut the deficit in half, but Northeastern could not capitalize after that. Smith struck out with runners at the corners, and Beckstein struck out two batters later with the bases loaded again to end the game.
It was a tough loss for the Huskies in a game where their pitching kept them in it time and time again. It was unexpected for a mid-level team like Elon to give Northeastern this much trouble, but it was only the first CAA series of the season, so there is plenty of time for the Huskies to bounce back.
Takeaways from the series
While the result of the series was disappointing, there are still many positives to take away. First off, the Huskies' pitching excelled. It started with Scotti's dominance in game one, continued with Gigliotti's excellent four innings in relief in game two, and ended with Cabral notching a solid start in game three.
Furthermore, Crossen has continued his torrid streak. In the series, he went 7-12 with four runs scored, one home run and one stolen base. He accounted for 30% of the Northeastern's total hits and 40% of their runs scored throughout the weekend.
After a disappointing season in 2022, Crossen is back as a star bat in the middle of Northeastern's order. He is leading the team in hits (21) and total bases (35), and is second in OPS with 1.144.
However, Northeastern's lack of power this weekend is a bit concerning. After mashing 23 home runs in their first 10 non-conference games of the year, the Huskies only managed two round-trippers against Elon. This is a trend that was also seen last year, with Northeastern only managing eight home runs in 24 conference games.
The Huskies have a chance to bounce back after this down weekend when they return to Boston for their home opener against CAA newcomer NC A&T. While the Aggies have had a respectable 8-7 start this year, they went 3-21 in the Big South last season and currently have a team ERA of 6.07.
WRBB sports will have the call live from Friedman Diamond for every game of Northeastern's home-opening series against NC A&T. It kicks off Friday, with Jack Sinclair on the broadcast at 2 p.m.