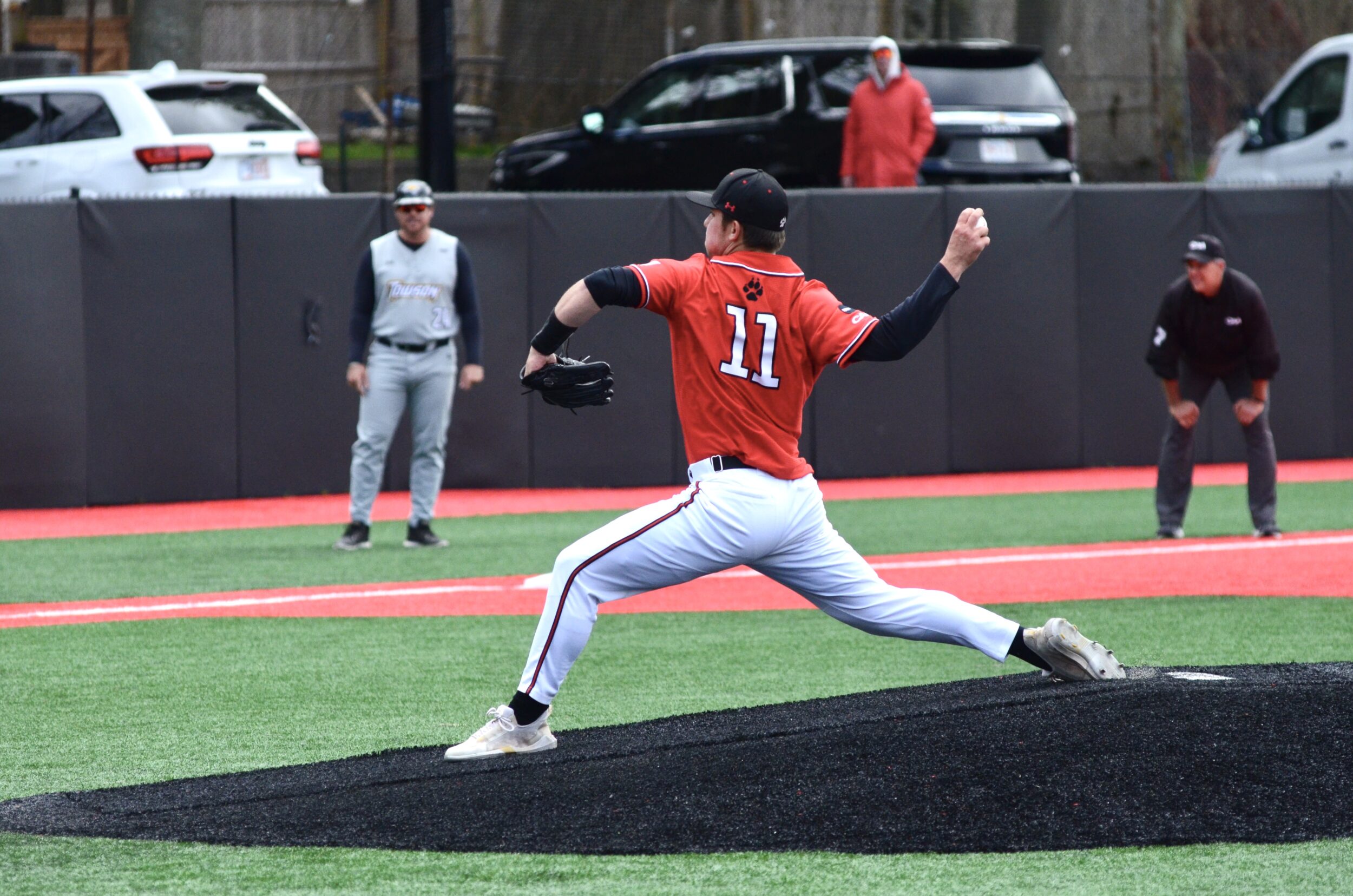 After an underwhelming 2022 regular season, Northeastern hit their stride in the playoffs and came inches away from winning the CAA tournament. Ultimately, a walk-off hit-by-pitch would be the dagger in the Huskies' championship hopes, as they barely missed out on the conference title, held now by the Hofstra Pride.
Since then, there have been some significant changes to Northeastern's roster, lineup, and rotation. The team has started the season on a hot streak, going 9-1 in non-conference play to kick off the year before dropping two of three games last weekend to Elon to open CAA play.
As CAA play begins and the Huskies aim to find their way back to NCAA Regionals this season, let's take a look at who departed the team, who stuck around, and who joined the roster, as well as what this all means for the team's success this season.
The Departures
On the pitching side, the Huskies lost two of their top four starters to the 2022 MLB Draft, with Cam Schlittler and Sebastian Keane both getting picked by the New York Yankees in the seventh and eighteenth rounds, respectively.
After a standout freshman season for Schlittler, who posted a 1.88 ERA in the 2021 season, notching 85 strikeouts in 76.2 innings, he took a bit of a step back in his second full year with the team. Even still, he maintained a very solid season, his 3.53 ERA and .229 BAA getting him enough credit to be picked up by the pros.
Keane came into Northeastern's program as a highly-touted prospect, initially drafted by the Boston Red Sox in the eleventh round of the 2019 MLB Draft out of high school, but chose to honor his commitment to the Huskies. He struggled to find his rhythm on Huntington Avenue though, with a career ERA of 4.98 and batters hitting .295 against him in the 2022 season.
Last year's closer Thomas Balboni also left after being selected by the San Diego Padres in the fifteenth round of the 2022 draft. Like Schlittler, Balboni had a standout 2021 but regressed a bit in 2022, his ERA moving from 1.86 to 4.29. He was a solid late-inning option for the Huskies last season, recording a team-high seven saves and striking out 25 in 21.0 innings.
The Huskies' offense lost some firepower as well. Jeff Costello, a regular starter in right field, graduated at the end of the year. His 58 hits and 31 RBIs on the season both led the team, and he provided a strong veteran presence on a younger roster.
Other big names to not return to Northeastern's lineup are J.P. Olson, Corey DiLoreto, and Max Viera. Olson was one of three catchers to get starts for the Huskies, starting 38 games behind the plate and posting a season batting average of .270. DiLoreto was one of the few power bats in Northeastern's lineup, his .729 OPS ranking third on the roster for eligible players, and his 30 RBIs tied him for second on the team.
Viera's biggest asset on the field was his speed, as he stole 17 bases on 18 attempts last year, just one behind now-sophomore utility man Justin Bosland for the team lead. However, his defense left much to be desired, with other roster departure graduate student Buddy Mrowka stepping in for Viera in the later games of the season, likely due to Viera's team-leading 13 errors.
Costello's graduation is easily the biggest loss for Northeastern's offense, his consistency and power last season proving to be very necessary to a Huskies roster that struggled to muster up quality at-bats. And on the pitching side, both Schlittler's and Keane's presence in the starting rotation will certainly be missed greatly.
The Returners
Even with a good amount of departures, due to the younger nature of the roster, the Huskies had quite a few names stick around for the 2023 campaign as well.
The return of a healthy Mike Sirota to the lineup has been a very positive sight to see this year. After a blistering start to last season, the center fielder's average of .326 and OPS of .922 both led the team. However, injuries plagued his rookie year, and he was only able to appear in 37 of Northeastern's 61 games. Sirota hasn't missed a beat in his sophomore season though, as he leads the team this year in runs scored (20) and ranks second in home runs (4) through the first 13 games.
Northeastern's infield also remained relatively stable over the course of a year, as redshirt senior shortstop Spenser Smith, junior second baseman Luke Beckstein, and redshirt senior corner infielder Danny Crossen returned this season.
Crossen, in particular, has taken a massive step forward at the plate. His batting average has moved from .194 last season to a red-hot .396 to start this year and he currently leads the team in hits (21) and total bases (35). His OPS has also more than doubled, growing from .562 to 1.144. His return to the lineup was already appreciated, but he is hitting like an entirely new player this year, which has surely helped the Huskies' strong start to the season.
Smith and Beckstein are also reliable returners, batting .269 and .256 on the season so far, respectively. The middle infield remaining stable will also prove to be helpful on the defensive side, with Beckstein and Smith ranking first and second on the team in assists with 35 and 21.
On the bump, the Huskies also retained some strong pieces, with junior ace Wyatt Scotti and junior breakout star Eric Yost continuing to maintain their roles as starters.
Over Scotti's 14 starts last year, he held a .96 WHIP and a 2.88 ERA, his 65 punch-outs sitting second on the team, only behind Schlittler's tally of 85. This season, he looks to be just as solid, with his ERA currently sitting at 3.27 and leading the team in strikeouts with 19 over a team-high 22.0 innings.
On the other hand, Yost has struggled to find the form he held last season. His 2.48 ERA and .226 BAA led all Northeastern starters last year, striking out 58 batters in his 61.2 innings of work. Heading into his junior season, expectations were high for the righty, however early struggles have tarnished the start of his campaign. His 9.35 ERA right now is a huge step back from last year, and opposing batters are hitting .388 against him. However, if Yost can tap into the potential he showed in the 2022 season, he could prove to be a very strong asset for the Huskies.
Northeastern has kept around most of their bullpen pieces from last season, with redshirt senior Nick Davis, graduate student Jordy Allard, redshirt junior Jake Gigliotti, and sophomores Brett Dunham and Jack Beauchesne sticking around, among others. In particular, the latter three players will be taking on a larger role in the pen than they held last season, with Beauchesne and Dunham having already met their appearance totals from last year, three and four respectively, just 13 games into this season, with four appearances each thus far.
Northeastern's pitching depth was never really a problem in the 2022 campaign, and the returning relief arms will certainly help keep it a non-issue. On the starting side, Yost and Scotti's returns are both very welcome, but Yost will need to find last year's form to keep his spot in the rotation safe. On the offensive side, the Huskies have plenty of returning players, and as they each show their improvement from last season, it's no wonder that Northeastern has been finding success in the early days of 2023.
The Newcomers
To help fill the gaps in the roster, head coach Mike Glavine brought in both young rookie talent and veteran transfers, both of which are finding lots of success this year for the Huskies.
The pitching staff has found an influx of four arms that have looked strong at the start of the season, two graduate transfers and two incoming freshmen.
Veterans Griffin Young and Patrick Harrington have shown their arrival in Boston for their last year of college eligibility will be a positive one for the Huskies. Young, who previously played for Wheaton College, seems to be Glavine's go-to closer as of right now. His .77 WHIP and two saves lead the team, and his 18 strikeouts and .137 BAA in his 14.1 innings of work rank second.
Likewise, the Assumption University transfer Harrington currently holds a 1.50 ERA and 1.17 WHIP through his 6.0 innings thus far. He has also not allowed an extra-base hit through his four appearances. As the year goes on, these numbers will likely look a bit less inflated, however, Harrington seems to be the real deal as an option for some relief innings.
Two youngbloods are also making their mark on the mound in Aiven Cabral and Charlie Walker. Cabral's first three appearances of the year came out of the bullpen, but he made his first collegiate start Saturday, Mar. 11, where he pitched five innings of two-run ball, punching out seven in the process. It was a very solid starting point for the rookie, who has not yet allowed a walk through his 14.0 innings this season. Time will tell if Cabral will end up cementing a spot in the rotation this season.
Walker has been a phenom coming out of the pen: his .90 ERA and .118 BAA are currently the best on the team. He also holds a .80 WHIP and is tied for the most pitching appearances made this season (7) with Young.
The Huskies' offense has also gotten a huge boost from new names to the lineup. With four transfers making regular appearances in the starting lineup as well as two freshmen breaking through, the batting order looks very different this year, in a good way.
Freshmen Cam Maldonado and Carmelo Musacchia have both made early impacts at the plate. Maldonado's batting average of .400 leads the team and Musacchia's ranks fourth, sitting at .355.
The two differ in their level of power, with Maldonado displaying more strength this season. He has homered twice thus far, slugging .657 and holding an OPS of 1.093. Whether or not the newbies will be able to maintain their high level of contact remains to be seen, but they have looked incredibly promising at the start of the year.
The transfers are what have truly made the difference for Northeastern's hitting, though. Tyler MacGregor has slotted in perfectly into the infield, filling the first base spot while shifting Crossen over to third. The Columbia graduate transfer leads the team in doubles (4), and his 18 hits rank second on the team.
Senior Alex Lane has also been a key piece for the Huskies. He leads the team in RBIs (18) and has a sky-high OPS of 1.095. Coming from Bryant University, he has also displayed much-needed power at the plate, slugging .681 and leading the team with five home runs.
The only player who is slugging higher than Lane this year is redshirt freshman Harrison Feinberg, who joined Northeastern from USC. Feinberg leads the team with a 1.145 OPS and is the highest-slugging regular starter, that number sitting at .733.
Rounding out the high-impact transfers is junior catcher Jimmy Sullivan, one of the players who has stepped into the role of backstop this season. He has scored 10 runs on nine hits, ranks third on the team in walks (7), and is tied for third with Crossen and Feinberg in home runs (3). Sullivan, who played for UMass Lowell for the past two seasons, will help fill the roster hole in the number two position quite well.
With the high influx of new faces in the batting order, as well as some instant-impact arms, Glavine certainly seems to have hit the nail on the head with the players he brought into the fold this season. The team has already shown massive signs of improvement over the last year, and the incoming names are a large part of that.
What this all means
Northeastern's biggest issue in the 2022 campaign was easily their lack of power at the plate: they ranked dead last in the CAA with a slugging of .338 and only hit 27 home runs as a team throughout their 61 games played. This proved to be their downfall, as they could not muster up big hits when it mattered during the playoffs.
This season, with a whole new Huskies roster, the team seems to have turned over a new leaf, and in a major way. They are currently slugging .527 as a team, which now leads the conference, and have already hit 25 home runs in just 13 games. This is an astronomical step forward from their 2022 numbers, and although it cannot be expected that they will be able to maintain their torrid hitting, the signs of improvement are certainly there and it provides a lot more hope as conference play has just begun.
The Huskies have taken a bit of a step back in their base running, but that is likely due to the fact that they no longer need to rely on their speed to generate runs. With the bats not connecting last year, much of Northeastern's offense came on the base paths. They stole a conference-high 107 bags on 140 attempts. This season, they are more average in that regard, one of four teams in the CAA with 17 stolen bases as of now, but that should not be a worry, considering they have jumped from the worst-hitting team to the best in one short campaign.
On the pitching side of things, the Huskies were the strongest in the conference last season, leading the CAA in both team ERA (3.63) and BAA (.236). This year, although they are not maintaining the top form held in 2022, the numbers are not so shabby, sitting fourth in both ERA (4.34) and BAA (.270).
The one caveat to this is the starting rotation. Scotti is easily locked in as one of the starters this year, and it seems as if Yost will have a few more opportunities to try and settle down to find last season's form. Outside of them, though, three other players have all received starts, and it is unclear as of now who will be the one to secure the third consistent rotation spot.
Redshirt junior southpaw Matt Downing has gotten three nods, while Cabral and Gigliotti have received one each. And following Cabral's solid outing this past weekend, it remains to be seen if he will move forward as the Huskies' third starter. Gigliotti has also shown potential over his past few seasons in Boston, so his name is certainly in the mix as well.
Having just as much pitching depth as last year and a complete turnaround in their offensive production, Northeastern's ceiling is very high. With an encouraging start and plenty to build on, their CAA title quest and NCAA tournament hopes are looking more like a possible reality.