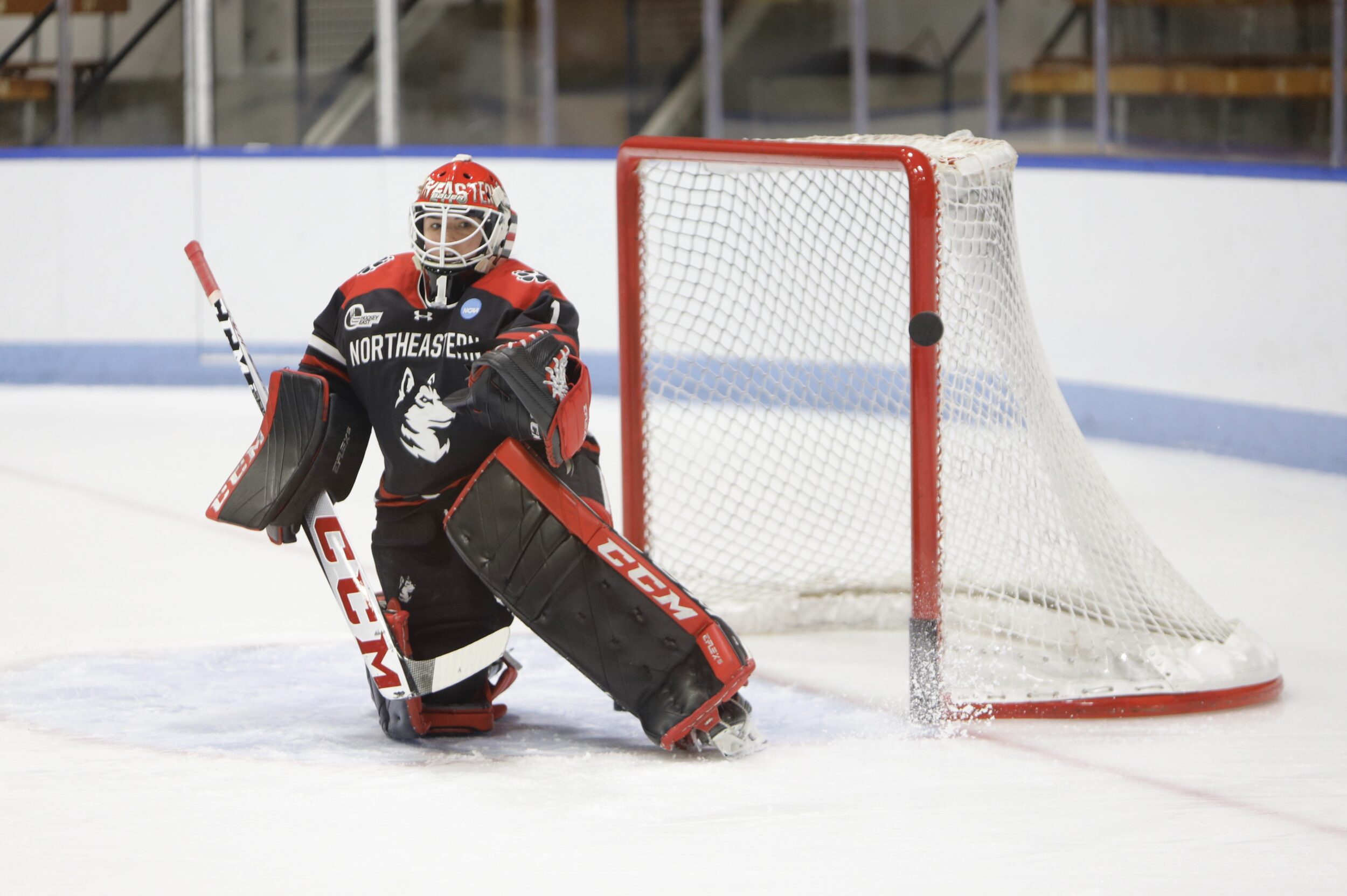 Riding high from their recent win over No. 4 Yale, No. 5 seeded Northeastern will make their third consecutive Frozen Four appearance Friday against the top-ranked team in the nation, Ohio State. The Buckeyes have maintained their No. 1 ranking since late November, and shape up to be Northeastern's toughest opponent this season on paper.
Let's take a closer look at how two of the nation's top teams will match up with each other.
Offense
Both Northeastern and Ohio State have high-powered offenses;The Huskies average 39.5 shots and 3.9 goals per game, with OSU just ahead of them with 41.7 shots and 4.26 goals per game, second nationally and only sitting behind No. 2 Minnesota.
Even with Northeastern's top line of graduate students Alina Müller, Maureen Murphy, and Chloé Aurard combining for 169 points this season, the Huskies have been receiving much-needed contributions from across the lineup in recent weeks. Third-line freshman center Lily Shannon was the first to break through in the quarterfinals game, after a feed from sophomore Skylar Irving put Shannon in the perfect position to score.
"It's a dream come true," Shannon said. "I know for the older girls, it's not their first time, so they're kind of like the leaders in this whole situation. The freshmen especially, we're just following their lead."
The older players' feel their experience on the Frozen Four stage provide them a major leg up on their appearances in past seasons.
"Two years ago, we definitely felt like new freshmen on the block," said Murphy. "Never having been to the Frozen Four, we were wide-eyed and bushy-tailed. This year, it was never really a doubt that we thought we could get back to that point."
The Huskies have fallen short of the championship in their past two attempts, something the Buckeyes have not experienced. They are the current title holders and will look to claim back-to-back championships, aiming to be the first team since Clarkson – who won in both 2017 and 2018 – to do so. The Buckeyes' win last year was the first in program history, also holding the same three-year Frozen Four streak as Northeastern.
Their offense flows mainly through senior forward Jennifer Gardiner, graduate student forward Emma Maltais, and graduate student defender Sophie Jaques. Gardiner leads the team with 56 points, although Jaques is the team leader in goals with 24.
Jaques is one of the top, if not the top, offensive-minded defenders in the nation. She is also a top-three finalist for the Patty Kazmaier Award, and she leads the team with 225 total shot attempts. Whereas Northeastern's defenders are typically more defensively-minded, Jaques' highly offensive style of play brings a whole new dimension to the Buckeyes' scoring. Opposing teams can't rely on keeping them to the perimeter, with Jaques being such a threat from the blue line.
Against the Buckeyes, opponents have blocked an astonishing 829 shots, in comparison to the 588 blocks Northeastern has had to face. That high number from the OSU side is likely due to the nature of their shots from distance and play style at the perimeter of the offensive zone. This could play into the hands of the Huskies, who have shown a great ability to cut off shooting lanes throughout the season.
Possession will also be a key factor in the matchup, with Northeastern typically being a possession-based offense. Ohio State is a high-pressuring team, and in order for Northeastern to maintain control of the puck, they will need to be able to handle the intense Buckeyes' forecheck and backcheck.
"The team that makes the least amount of mistakes is probably going to be the team that walks away with it," said Northeastern associate head coach Nick Carpenito. "Making sure we're sharp in that aspect is going to be really important for us. That's pretty much what we're working on: making sure our [defense] can handle the pressure on retrievals and that the forwards can handle pressure in the neutral zone."
Defense
Megan Carter leads the Huskies' defensive core, and is joined on Northeastern's top pairing by junior Lily Yovetich, who has made massive strides this season — going from being scratched from the lineup altogether early in the season to defending against the highest-scoring forwards in the country with seeming ease.
Aside from Northeastern's top pair, the Huskies have seen other young defenders take major steps forward. Junior Abbey Marohn leads the team with 58 blocks on the season, and sophomore Tory Mariano ranks third with 43. Alongside last year's Hockey East Co-Defender of the year, graduate student Maude Poulin-Labelle, and freshman Jules Constantinople, the question of the state of the Huskies' defense has well been answered by now.
With opposing teams only scoring 0.9 goals against Northeastern per game and making 4.2% of their shot attempts, it's safe to say that if any defense can contend with the Buckeyes' scorers, it is this one.
On the opposing side, Ohio State is no slouch either. Opponents have a shooting percentage of 8.5% and average 1.79 goals against the Buckeyes. Aside from Jaques, graduate student Madison Bizal is one of the top defenders in the nation, her 72 blocks putting her seventh nationally and first among all teams in the Frozen Four.
OSU head coach Nadine Muzerall is also not afraid to employ creative tactics in her defensive strategy. The Buckeyes have been running four defensive pairings and one less forward instead of the typical three for many of their games this season, which they have the freedom to do due to Jaques' high offensive production as a blue-liner.
Goaltending
Although both teams are matched fairly evenly when looking at the skaters, the goaltending is what really makes Northeastern stand out, and why an upset could be in the cards. The Huskies have handed the reins over to senior Gwyneth Philips, who stepped into the very large shoes Aerin Frankel left behind.
But Northeastern has looked better than ever in net, Philips having a standout season and earning the national Goaltender of the Year award. Her .961 save percentage and .81 GAA lead the nation, and she made a career-high 38 saves in the NCAA quarterfinals game against Yale. She has started all 37 games for the Huskies and ranks second in the country with 10 shutouts.
"You never really see [Philips] get overambitious in net," said Carpenito. "She's really efficient, really athletic. Sometimes, you'll see her make an athletic save here and there, but because of her efficiency and because she's always in a really good spot, you don't necessarily see a ton of that out of her because she doesn't have to."
The one caveat in all this for Northeastern is their opponent's strength throughout the season. Ohio State, playing in the WCHA, has been facing high-shooting opponents all season, whereas Northeastern has not gotten that nearly as much playing in Hockey East. But as Philips proved in the quarterfinals game against Yale, she remains level-headed in net regardless of the opponent's shot total and can shut down the highest-intensity offenses in the country.
Ohio State does not match up nearly with their goaltending. Their go-to netminder has been junior Amanda Thiele, who has made a start in 24 games. Thiele holds a .910 save percentage and allows 1.92 goals per game on average.
But again, the strength of an opponent is always something to consider, and it is important to keep in mind that Thiele's numbers are posted against a league in the WCHA that takes significantly more shots than Hockey East. However, Northeastern has proven time and time again that their offense is more than capable of keeping up with other top teams in the nation – they hit 30 shots in their win against Yale.
Thiele is a solid option in net, but it's no question that Northeastern holds the advantage in the goaltending matchup between the two teams.
The Takeaways
This will certainly be the most difficult matchup of the season for Northeastern, their lack of experience playing against western hockey teams is something to consider when imagining the outcome of the game. But the Huskies proved against Yale, who was ranked No. 2 for a large portion of the season, that they could hold their own against top teams, and it would be a mistake to count them out.
The two teams match up fairly evenly, with Ohio State holding a slight advantage on the offensive side but Northeastern counteracting that with their goaltending. And as the Huskies are riding a 22-game winning streak, they have boatloads of momentum on their side as they aim to get back to the title game and win the program's first-ever national championship.
"[Ohio State is] a really fast and hardworking team," said Murphy. "Being able to counter that and make quicker decisions has been a highlight from the coaching staff in practice. That will be key to handling them. I think it will definitely be an adjustment in the first period, but after that, we'll be all set."
The puck will drop in the Frozen Four at 3:30 p.m. WRBB Sports will provide full radio coverage of the matchup, with Catherine Morrison and Daisy Roberts on the call.