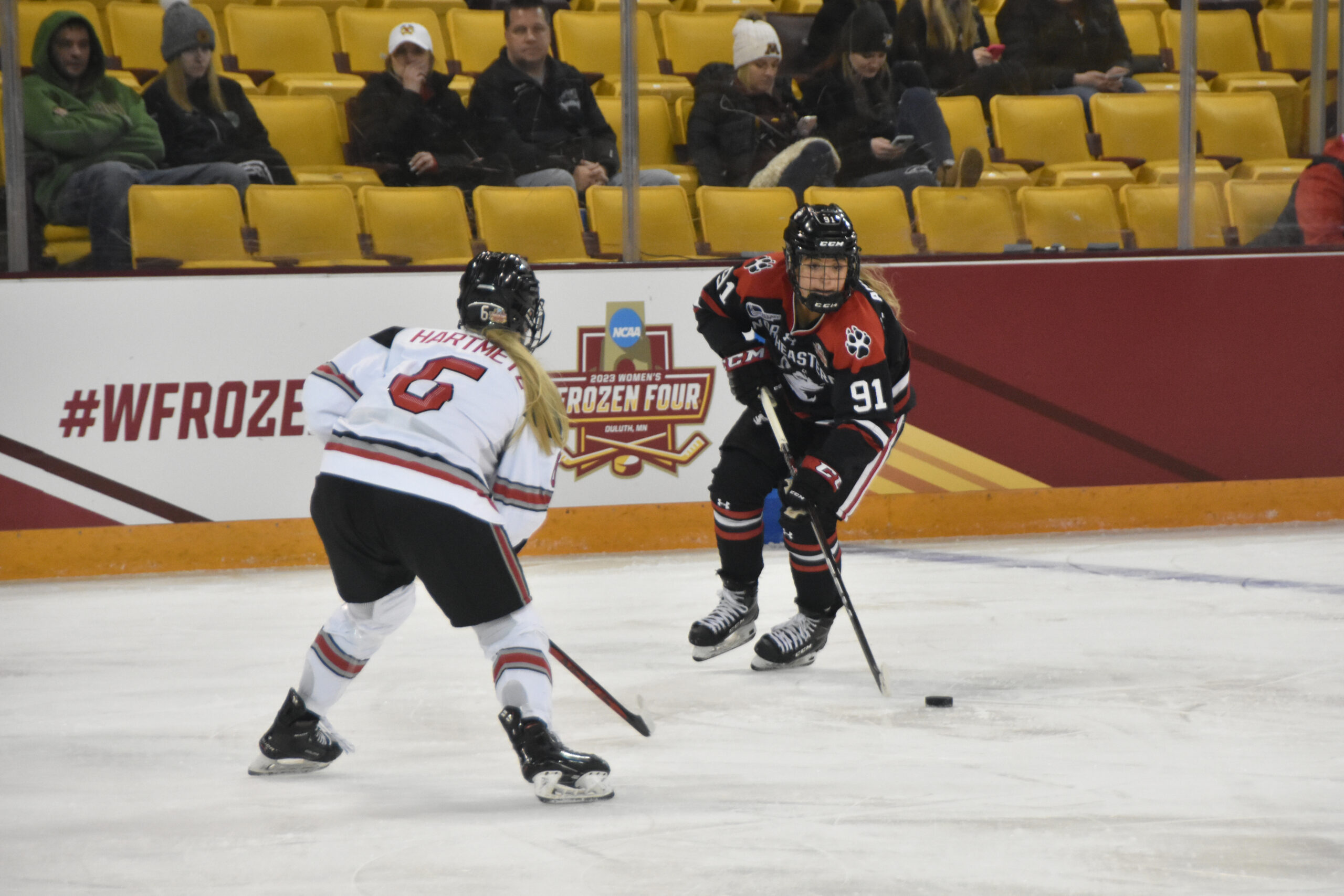 DULUTH, Minn. — Northeastern knew it would face its toughest opponent yet in the top-seeded Ohio State University, as they hunted for an upset to reach the NCAA finals. Ultimately, OSU outplayed Northeastern in every aspect of gameplay, easily routing the Huskies 3-0 and marking the Buckeyes' second consecutive championship appearance.
The game was in the hands of the Buckeyes from the get-go. They outshot Northeastern 18-3 in the first period alone, starting on a 12-shot unanswered streak before Northeastern could even record their first.
Less than two minutes into the period, Ohio State made its first impact. Junior forward Makenna Webster backhanded a puck to senior forward Kenzie Hauswirth at the edge of the faceoff circle. Hauswirth sent in a backhanded shot toward senior netminder Gwyneth Philips, who was able to pad the puck away, but freshman Sloane Matthews was charging into the crease and capitalized on the rebound, placing the puck into the back of the net to give OSU the early lead.
"I was definitely a little nervous before the game, but immediately, when I stepped out on the ice, everything just went away and I really dialed it in," Matthews said. "Kenzie gave me a great shot off the pad, and I just whacked it, hoping it would go in, and it went in."
Northeastern was on the back foot the entire period, unable to generate any offensive consistency. Instead, they tried to create fast break attempts and were nearly successful when graduate student forwards Chloé Aurard and Maureen Murphy combined for a clean passing sequence to get around Buckeyes junior goalie Amanda Thiele.
Unfortunately, earlier in the play, graduate student forward Alina Müller had taken down graduate student Sophie Jacques in the Huskies' defensive zone, and as the two fell down to the ice, just before Aurard and Murphy began their rush, Müller's hand grazed the puck. OSU head coach Nadine Muzerall challenged the goal call on the ice, and the officials deemed that Müller had made a hand pass to Aurard, neutralizing the potential comeback threat.
"I saw the play, I immediately said to my assistant coaches, 'They're probably going to challenge this,'" said Northeastern head coach Dave Flint. "At the end of the day, they saw it in slow motion, felt that it was the right call, and we've got to live with it. Unfortunately, it didn't go our way."
The second period continued how the first had started, with the puck possession heavily controlled by Ohio State. The game had been called cleanly thus far, but both teams were playing very physically, and it finally boiled over in the second period. Five minutes into the frame, Matthews took a cross-checking penalty, and just 30 seconds later, graduate student forward Paetyn Levis got called for tripping, giving Northeastern a minute and a half of a 5-on-3 advantage on the ice.
Even with the heavy advantage, though, Northeastern could not muster up any offense. They only recorded three shots in the whole timeframe, and the Buckeyes' penalty kill, which ranked 24th in the country heading into the game, was able to hold off the nation's sixth best power play.
"We do tweak our penalty kill based on the power play of our opponents," Muzerall said. "We know they like to do switches up top, and we're going to give them that all day long. We didn't care about that, but there couldn't be any through passes. … I was very proud of their stick positioning and their blocking shots."
After Ohio State killed off its two penalties, it seemed to only fuel them more, as their offense laid heavy pressure on Philips, forcing her to make some sprawling athletic saves to keep Northeastern within striking range. She could only hold off OSU's high-powered offense for so long, though, as a centering feed from senior forward Jennifer Gardiner found the stick of a waiting Webster, who fired a point-blank shot into the top corner of the net, doubling the Buckeyes' lead.
As the period continued, Ohio State got a power-play opportunity of its own, with junior defender Lily Yovetich taking a body checking minor. Northeastern was able to clear the penalty, but still faced mountains of pressure from the ever-present Buckeyes, who outshot the Huskies 20-3 in the second frame, an even wider margin than the first.
With just over a minute remaining in the stanza, Levis charged into the offensive zone and sent a shot Philips' way, the goalie able to pad it away. But graduate student forward Emma Maltais was first to the rebound and laid it off to senior defender Hadley Hartmetz, who was waiting at the blue line. Hartmetz fired a howitzer toward Philips, who was screened in front by both Northeastern and Ohio State bodies. Philips didn't spot the puck in time, and it sailed into the back of the net, giving OSU a 3-0 lead and a solid grip on the semifinal victory.
It would be the first time throughout the entire season Philips would allow more than two goals. Throughout the span of the game, she faced a career-high 53 shots from OSU, saving 50 of them. Even with the loss, Flint had high praise for the national goaltender of the year.
"It's a lot of pressure," Flint said about Philips taking over the starting goaltender job from Aerin Frankel. "She handled it like a champ. If you told me she was going to put up the numbers she put up, I've always said she was good, but they were out of this world. She showed it tonight, why she's the best goaltender in the NCAA. It could have been 6-0. She really stepped up this year and is going to be a big part of next season."
The third period marked a greater push from the Huskies, getting two more chances on the power play to break through and more than doubling their shot total, recording eight in the third frame; they combined for seven in the first two. But ultimately, they were never able to muster up any offensive threats, held scoreless for the first time since Nov. 15, their most recent loss. The semifinal loss marked the end of Northeastern's 22-game win streak.
Ohio State proved why they were ranked No. 1 heading into the tournament with their performance at AMSOIL Arena. The one question that many might have had about their roster strength would have been their goaltending, and Thiele silenced all her doubters as she pitched her fourth shutout of the season.
"It all starts from the backbone of your team," Muzerall said. "Amanda brought us to the mountaintop last year. … [She] was fantastic, very composed and calm, and that's what you need. Her agility and athleticism with calmness is rare, so we're very fortunate that she came to us."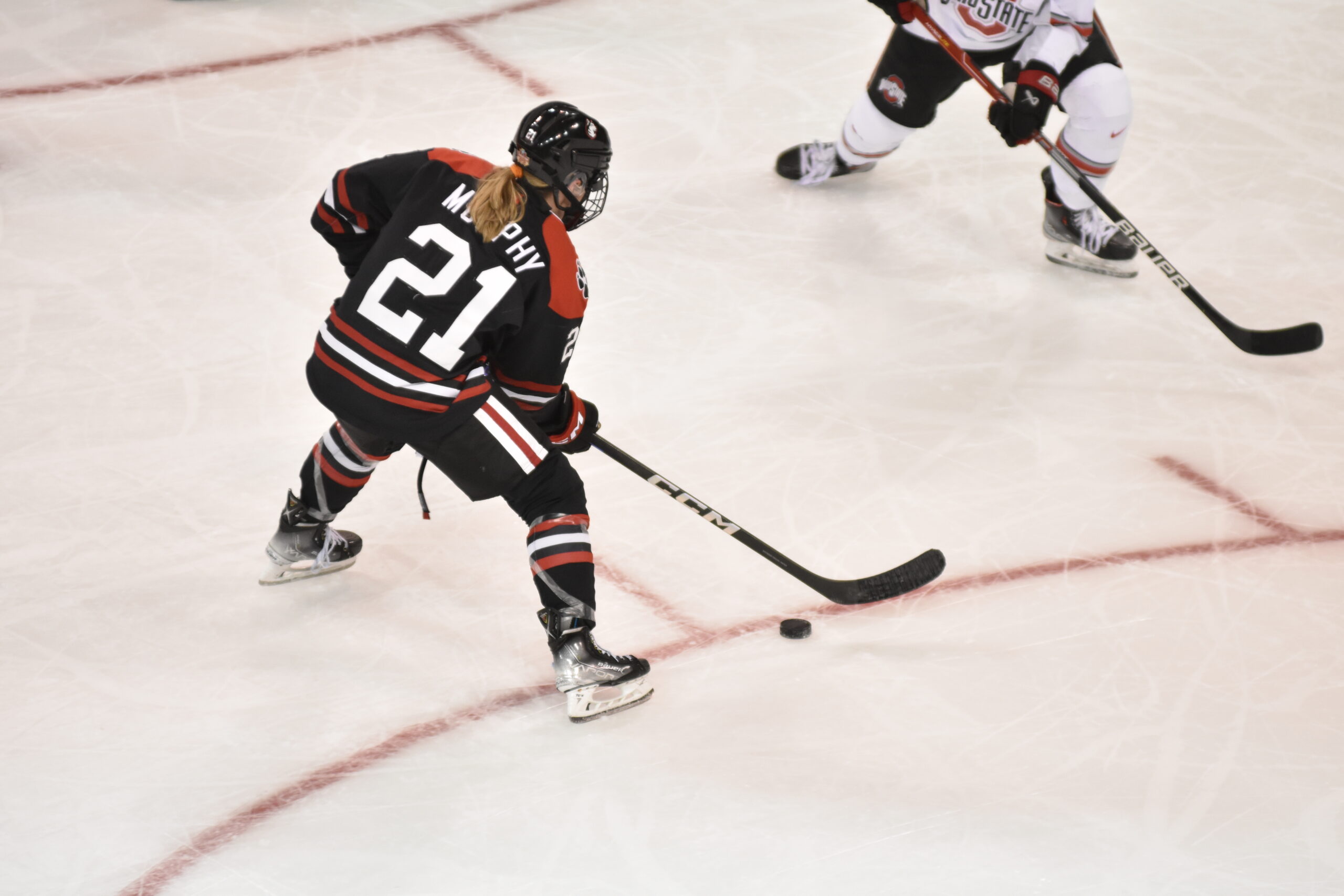 The contributions of Northeastern's graduating class to their program cannot be understated. Although they did not end their time as Huskies the way they had hoped, the future leadership of the roster had high praise for their teammates.
"It stings, seeing them end their careers at Northeastern like that," said senior defender and assistant captain Megan Carter. "You wish you could have done a little bit more, but we love them so much, and they've left such a huge impact on our program that will last a very, very long time. We're forever grateful for that."
Ultimately, the high-intensity close-out style of Ohio State's gameplay was too much for Northeastern to handle.
"[We were] in a track meet that we just couldn't keep up with," Flint said.
As Northeastern's season has finally come to a close, WRBB will continue coverage of off-season transactions as they occur on our website.