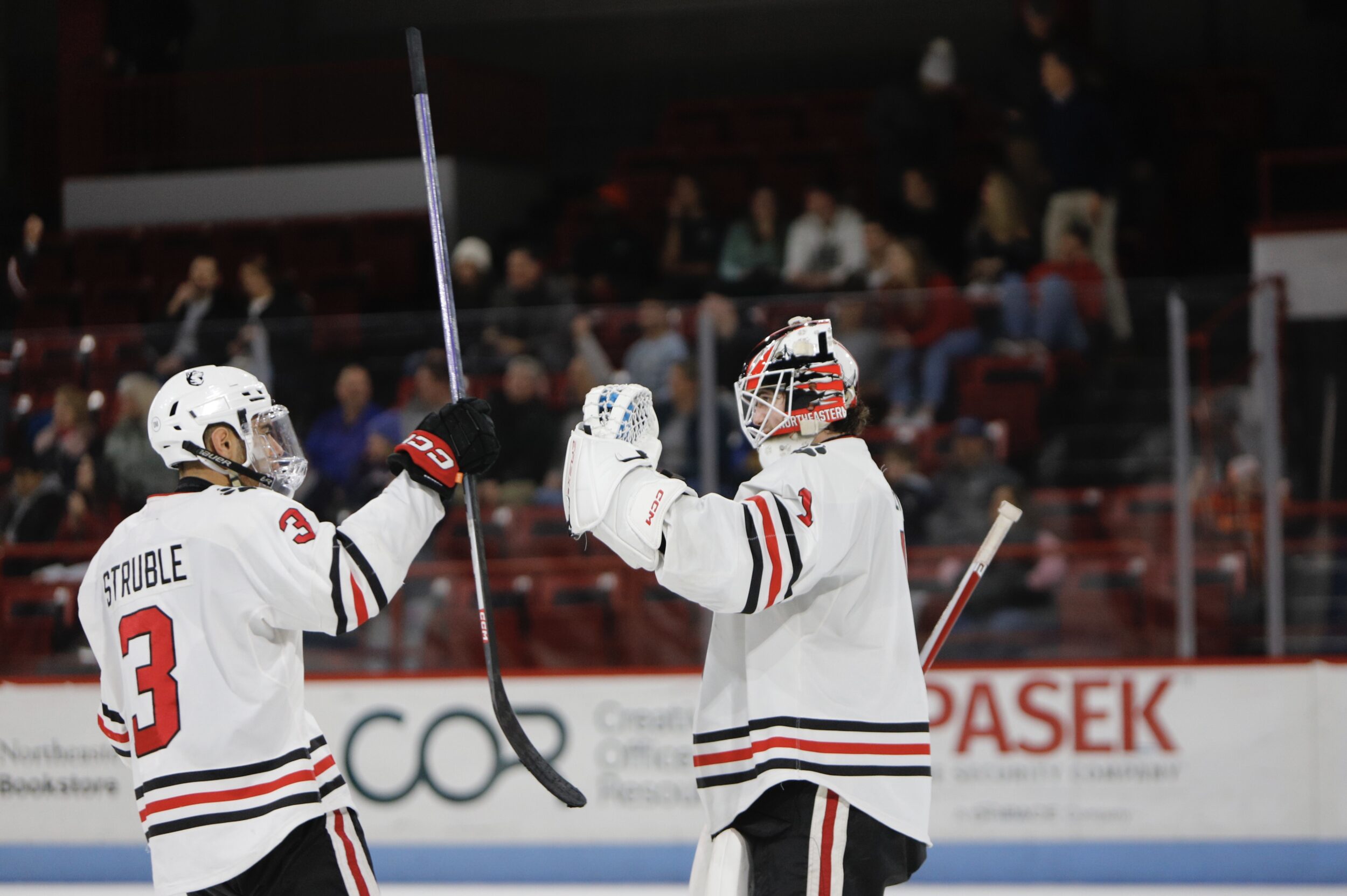 Welcome to the 2023 men's hockey offseason live tracker! After a disappointing finish to the 2022-23 season and a long list of expected departures, the Huskies' roster will look much different next season. We'll be updating this page as news breaks all offseason long, so make sure to check back here for the very latest.
March 20: Princeton defender Pito Walton to transfer to Northeastern
After a slew of veteran Northeastern skaters have entered the portal in recent days, Jerry Keefe made his first addition of the offseason on Monday, adding Princeton defender Pito Walton for his graduate season per Mark Divver of the New England Hockey Journal.
After losing senior defenders Jayden Struble, Jeremie Bucheler, and Tyler Spott, Northeastern needed to add a veteran blue liner to the roster this offseason. The young returning core — highlighted by rising sophomores Hunter McDonald, Vinny Borgesi, and Jackson Dorrington, and incoming freshman Michael Fisher — is extremely talented and has high upside, but was far from complete without another reliable, veteran presence who can play in Hockey East right away.
Walton, the Tigers' captain this past season, is just about as good of a one-year defensive addition as Keefe could have found in the portal, and figures to bring instant credibility and leadership to the defensive room.
On the ice, Walton is a sturdy 6'2", 195 pound defender who scored 21 points in 32 games for Princeton this season, after tallying 17 points across his first two full seasons (Like all Ivy League schools, Princeton's 2020-21 season was canceled outright.) Princeton was just 8-14 in the ECAC this past season and a dreadful 27-60-7 across Walton's three seasons there, but with a better situation and pieces around him, he should be an impactful player from the moment he steps on campus this summer. — Matty Wasserman
March 20: Sam Colangelo, Jack Hughes, Chase McInnis enter portal on first day for undergraduates
Forwards Jack Hughes, Chase McInnis, and Sam Colangelo are all in the transfer portal seeking new homes for 2023-24, per the Grand Forks Herald and numerous other reports.
Hughes put up 32 total points over his freshman and sophomore seasons, though he never fully lived up to his second-round draft pedigree at Northeastern. Likewise, Colangelo was another second-round NHL pick that arrived on campus with big expectations, and put up 54 points across 72 games over his three seasons. He battled injuries in his freshman and sophomore seasons, and struggled with consistency despite obvious talent throughout. He posted 24 points while finally playing a full season this year, which was the fourth-highest mark on the team.
McInnis spent the latter half of this past season injured, and couldn't quite find a solid spot in the lineup over his two years at Northeastern. — Emma Sullivan
March 15: Riley Hughes enters portal for graduate season
After two years as an assistant captain at Northeastern, Riley Hughes entered the transfer portal for his graduate year, per Gopher Puck Live.
The forward recorded two goals and four assists in 32 games this season, primarily playing on the Huskies' third and fourth lines. He posted 32 points across 118 games at Northeastern, and leaves behind his sophomore brother Jack Hughes, who is likely to remain on the Huskies' roster next season. — Kayla Shiao
March 15: Jayden Struble signs two-year ELC with Montreal Canandiens
Senior Jayden Struble, after deciding to return for a fourth season at Northeastern last offseason, has signed a two-year entry level deal with Montreal.
The defender was a two year letter-wearer for the Huskies, and played in 105 games for the program between 2019 and 2023. While he battled injuries, especially this last season, Struble was a key contributor on the blueline – with 48 career points – and was a spark on the ice thanks to his physical style of play and fearless attitude. A second round pick from 2019, Struble will hope to take advantage of a rebuilding franchise as he enters the developmental pipeline.
Struble follows former Northeastern captain Jordan Harris to Quebec, after the latter signed with the team last spring. However, a reunion on the blueline will have to wait, as Struble's deal isn't set to start until the 2023-24 season. — Emma Sullivan
March 13: Tyler Spott enters portal for graduate season
After a well-respected four-year career at Northeastern, senior defender Tyler Spott will seek his graduate season of eligibility elsewhere, per Gopher Puck Live.
Though never a flashy player or high-octane point-producer, Spott has been a true developmental success story at Northeastern. He played 112 games for the Huskies, and evolved into a steadying penalty kill presence and smart, well-balanced player with a knack for coming up with the puck in the D-zone — all traits any team in need of defensive depth would seek in a graduate transfer.
It will be interesting to see where Spott lands next season. A high-major contending team in need of defensive depth and reliability could use him much like Northeastern, as a reliable defender who can plug holes as needed. Or, he could take a similar approach to last year's NU graduate transfer Julian Kislin (and Spott's former D-partner), who took on a larger role at a lower-tier school in Sacred Heart. — Matty Wasserman
March 13: Aidan McDonough signs two-year ELC with Vancouver Canucks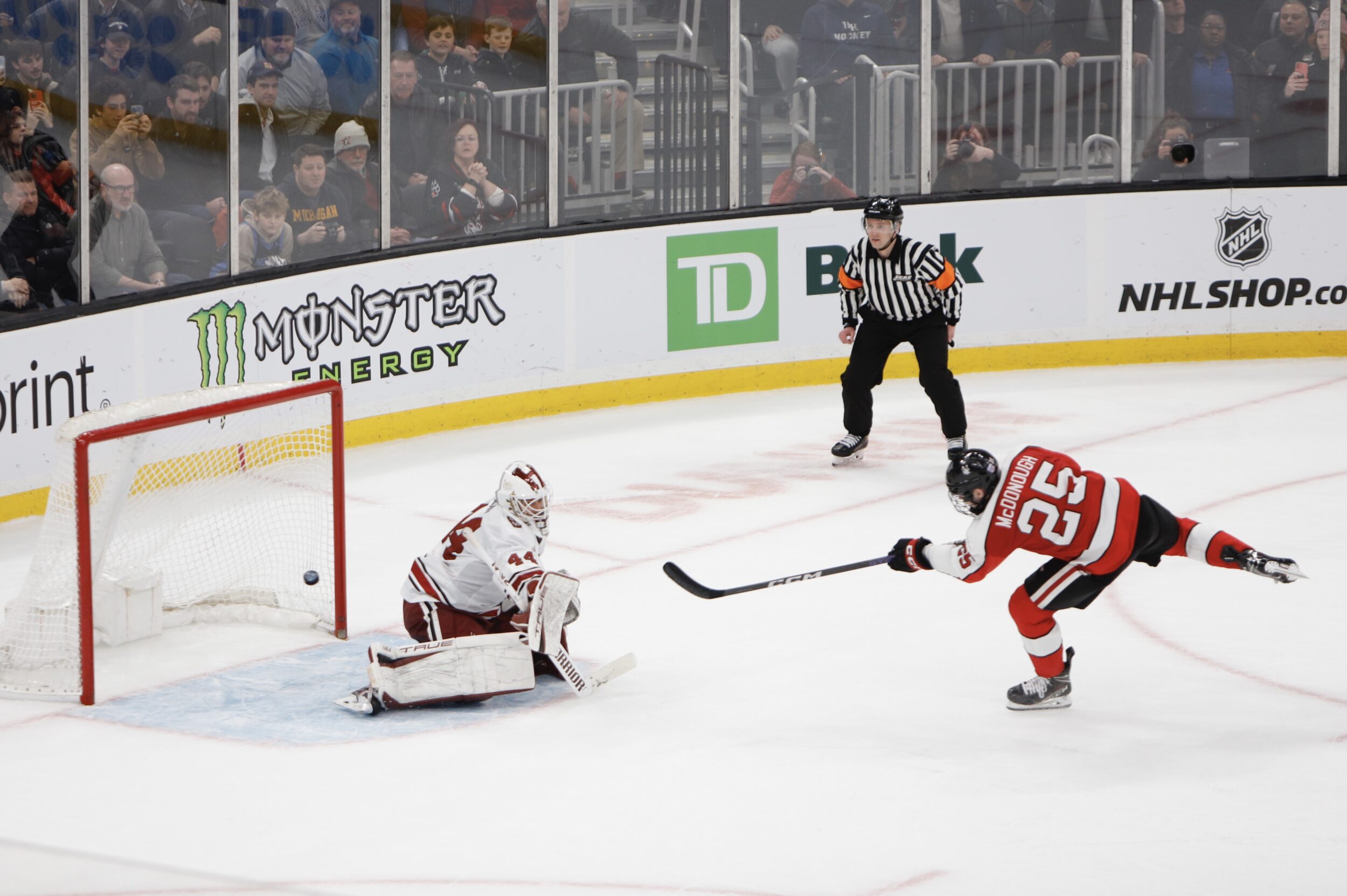 After turning down Vancouver's offer last offseason to return to Northeastern for his senior year, senior captain Aidan McDonough made no mistake about his intentions this time around.
McDonough, the Canucks seventh-round draft pick in 2019, inked a two-year entry level contract with the team Monday, just two days after the Huskies' season-ending loss to Providence in the Hockey East quarterfinals. With Vancouver (28-32-5) out of contention, it likely means McDonough will play the final month of the regular season at the NHL level and enter the team's development pipeline headed into next season.
He finishes his Northeastern career with 124 points (66-58-124) in 124 games, and will be remembered both as one of the school's elite goal scorers, and a true leader and standard-bearer for Jerry Keefe's program. — Matty Wasserman
March 12: Cam Gaudette first NU player to transfer portal
The Huskies' first domino to fall this offseason comes from sophomore defender Cam Gaudette, who entered the transfer portal per Gopher Puck Live. Gaudette only played 16 games for the Huskies over two seasons — mostly stuck as the eighth or ninth defender on the roster — and played only once in the second semester this season after the Huskies' defensive core returned to full strength.
With obvious family ties to NU from Hobey Baker-winning brother Adam, Gaudette never found a consistent rhythm at Northeastern. Still, he profiles as a well-sized, physical defender who could find a groove and consistency with more regular playing time. He'll be 23 years old at the start of next season, and still has two years of eligibility remaining. — Matty Wasserman