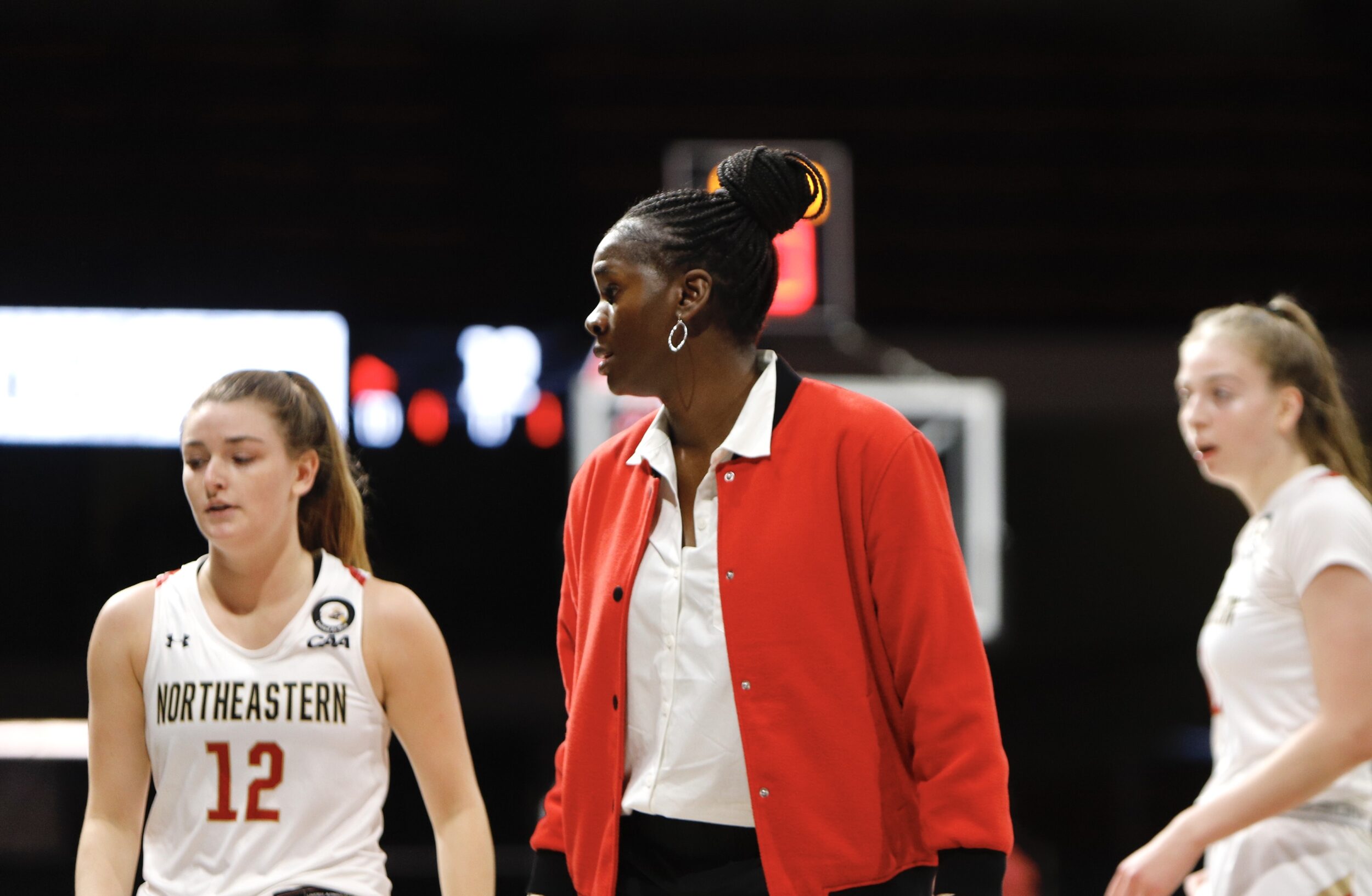 After two seasons as Northeastern women's basketball coach, Bridgette Mitchell is departing for the same role at Fordham, Northeastern announced in a press release Friday.
Mitchell arrived at Northeastern in 2021 without head coaching experience, and inherited a long-struggling program with two winning conference records over the previous 20 years. After being picked to finish last in the CAA ahead of her debut season, Mitchell guided NU to a 14-18 (8-10 CAA) record and sixth place league finish.
Then, after losing four starters and turning over more than half the roster in the ensuing offseason, Mitchell's aggressive approach in utilizing the transfer portal culminated in a 19-12 (13-5 CAA) record and share of the league title this past year. It was the program's best conference record and first regular-season title since joining the CAA in 2005, and Mitchell was honored as CAA Coach of the Year for her efforts.
"I would like to thank Bridgette for her two years of service to Northeastern," said Northeastern Athletic Director Jim Madigan in a statement. "I wish her continued success in the future."
Part of Fordham's appeal to Mitchell is the ready-made roster with recent success — a stark contrast from the ground-up rebuild Mitchell faced upon arrival at Northeastern. The Rams were 19-13 (10-6 A-10) under interim head coach Candice Green this past season, and have a long winning tradition and history of success in women's basketball.
Green took over last July after longtime head coach Stephanie Gaitley stepped down, and despite her success as acting head coach and vocal support from her players, she was not awarded the permanent head job — paving the way for an outside hire to take over like Mitchell.
The A-10 is still a mid-major conference, but an obvious step up in prestige and talent from the CAA. With Northeastern's program limitations and the CAA's lesser place in the Division I landscape, keeping a coach of Mitchell's caliber around long-term was always going to be extremely difficult for NU. If she finds similar success at Fordham, it seems like only a matter of time until she's a power five head coach — a far easier leap from the A-10 than the CAA.
What this means for Northeastern's 2023-24 season
The Huskies appeared likely to return nearly every key piece from last year's roster, with the exception of graduating seniors JaMiya Braxton and Anna Boruta. Most importantly, NU's top scorer and reigning All-CAA first teamer Derin Erdogan, who transferred in from Arizona last offseason, was slated to return, as well as multi-year starter and CAA third team selection Gemima Motema.
But now, next year's highly promising squad enters a potential state of transition, as would be expected with any coaching change.
However, a key NCAA rule change this offseason may keep some top returning players from transferring out. Per a widely-reported memo sent out to schools, the NCAA no longer considers a coaching change grounds for a hardship waiver. Effectively, this means players who have already transferred schools once — which does not come with a sitting-out penalty — would be forced to sit for a year were they to transfer a second time, and a coach departure is not deemed an exception to that rule. For Northeastern, this specifically applies to key returnees Erdogan, Jaelyn Batts, Deja Bristol, and Hallie Idowu, each of whom transferred in this past offseason from other schools and have used up their one-time "free" transfer.
Anything else would be pure speculation at this point; however, the transfer portal will certainly be worth monitoring in the coming weeks, and the Huskies' roster will likely have some changes come the start of next season.
What this means for Northeastern's program
Though Mitchell's tenure only lasted two seasons, her long-term impact on the program is enormous. Her infectious energy and tenacious approach made her beloved by players, and injected a newfound life and spark to Northeastern women's basketball that was sorely needed.
The culture shift also proved itself in on-court results: Mitchell is the first coach to depart NU with a winning record (33-30) since the program's all-time wins leader Joy Malchodi (280-276) retired in 2000 after 19 seasons.
As Northeastern now begins its search for a new head coach, there's no question Madigan has a better job to sell prospective coaches than what Mitchell inherited two years ago. For one, the potential high-end players set to return makes this less of a full-scale rebuild for a new coach, but rather a foundation to build sustainable success.
And perhaps even more importantly, Mitchell proved you can build a winner in women's basketball at Northeastern. There are plenty of valid reasons why the program had been largely dormant for decades before her arrival — namely the area's talent limitations and local competitors for the same crop of players, the CAA's odd geographical landscape, and fan support and amenities — but Mitchell dampened many of those concerns with her success in the portal and ability to successfully market and brand the program. And the athletic department, to their credit, has been willing to invest the resources necessary to help the program succeed.
"We are confident that we will quickly identify the next leader who will continue the upward trajectory of our program," Madigan continued in his statement, "and I look forward to working with them to keep raising the bar for our women's basketball program, both on the court and in the classroom."
So while the seemingly-inevitable day Mitchell departed Northeastern arrived sooner than many expected, the bittersweet moment also serves as a reminder of her lasting impact on Northeastern over 24 months. She may well be the Huskies' greatest coach that never was, destined for huge success only to depart before seeing the end-result through.
But when the Huskies' women's basketball program finally gets their long-awaited conference title and first NCAA tournament berth since 1998 — be it in one year, five years, or 20 years — Mitchell will always be an important piece of the journey that put NU women's basketball back on the map.