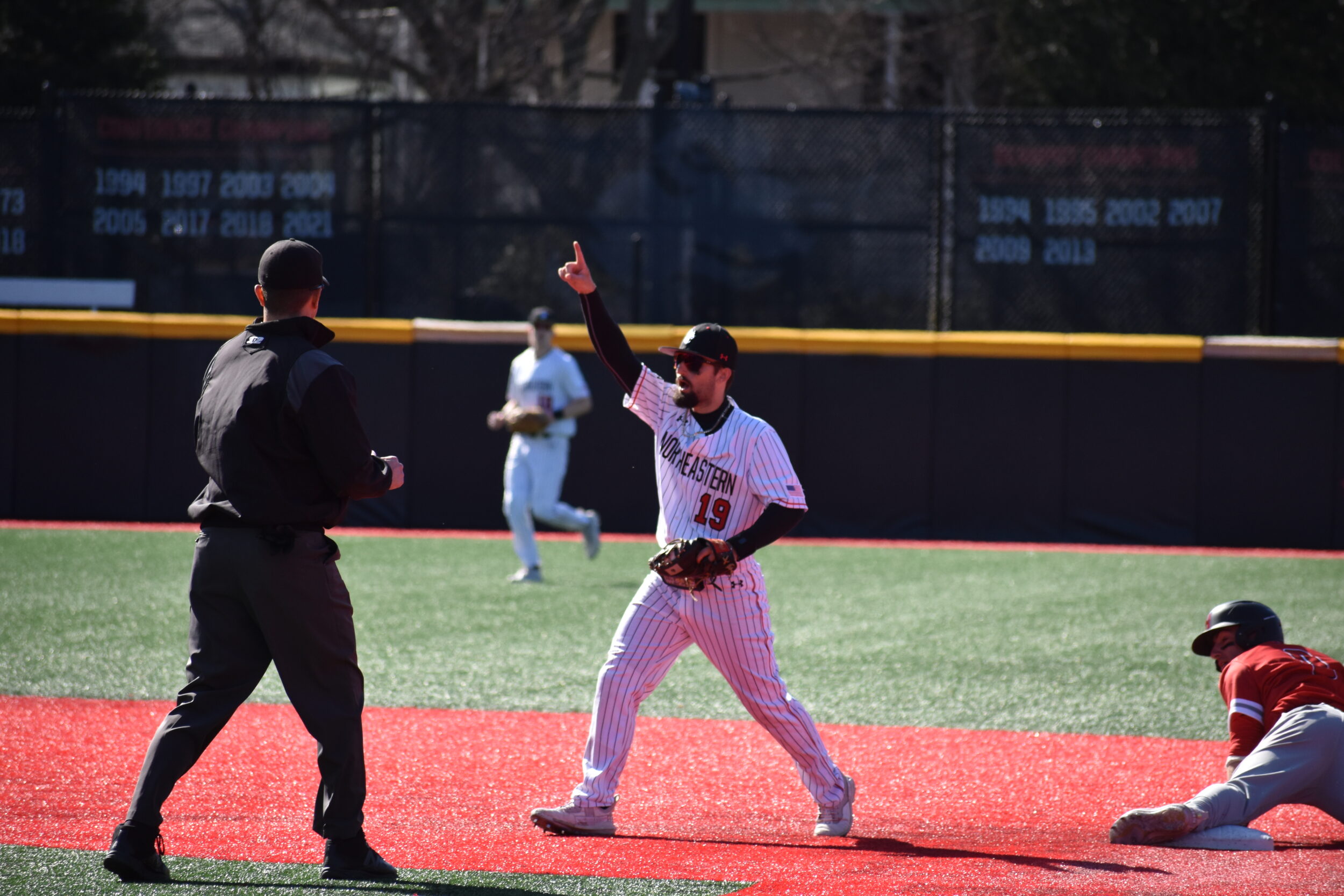 By Matty Wasserman and Justin Diament
BROOKLINE — After Aiven Cabral's impressive starting pitching performance Friday led Northeastern to a 6-1 victory in the series opener, the Huskies' bats propelled the team to a doubleheader sweep of Hofstra on Saturday: In Game 1, Northeastern's six-run 6th inning helped secure a dominant 14-5 win, and in Game 2, the Huskies hit five home runs en route to a 8-1 victory.
With the successful weekend against the Pride, Northeastern's record climbed to 32-7 overall and 13-5 in league play — second in the CAA behind UNCW. They now have five days off before welcoming in last-place Towson (3-13 CAA) to Friedman Diamond, and then travel to transitioning-Division III program Stonehill before a pivotal series at UNCW the following weekend.
Now riding a five-game win streak, here's a recap and analysis from each of Northeastern's two Saturday victories:
Game 1
Coming off his best outing of the season against Stony Brook (8.1 innings, 4 hits, 6 strikeouts), junior Eric Yost was not quite as sharp Saturday, allowing 11 hits and four runs over six innings. But with 18 innings needed from his pitching staff across both games, Yost's ability to push through his early struggles and deliver length was crucial for head coach Mike Glavine and preserving the bullpen arms.
"Eric battled, he did a really nice job," said Glavine. "[Hofstra] came out and got us [in the first inning], but Eric settled in and gave us what we needed — we couldn't have a short start, we needed some innings, and he competed and came out and gave us what we needed."
Northeastern's offense gave Yost plenty of help from the get-go, scoring four runs in the first inning off Hofstra junior Tristan Nemjo. The first run was tallied via a Danny Crossen solo home run, which was the first of his two hits, two RBIs, and two runs scored in the game for the senior.
"Danny is that guy," Glavine said. "He's the steady guy that makes us go — nothing flashy, just always there and your favorite kind of player to coach because you plug and play and let him do his own thing. He's always in the right spot at the right time and he's a great teammate."
In addition to clutch hitting, the Huskies' offense was boosted by uncharastically-poor fielding by Hofstra. The Pride entered Saturday with a CAA-best 27 errors on the year, but committed three in Game 1 alone, including two by second baseman Santino Rosso.
In the sixth inning, the Huskies eighth and ninth hitters set the table against Nemjo, forcing Hofstra coach to pull his starter in favor of long-reliever John Mikolaicyk with the bases loaded.
The decision proved costly, as the first four hitters Mikolaicyk faced each notched RBI hits. The result was a six-run sixth inning, and the Huskies extended their lead beyond the Pride's reach.
With the game well within Northeastern's control, one more important piece of note came in the top of the ninth inning: After junior Michael Gemma started the ninth inning and subsequently worked into a jam, Glavine pulled him in favor of graduate senior Jordy Allard. The right-hander transferred from Division III-Babson ahead of the 2022 season and posted a 2.16 ERA with NU last year, and was slated to be the Huskies' closer this year before getting injured in his first appearance of the season, on Feb. 18 against UNC Greensboro.
Allard appeared sharp in his return to the mound to close out the nine-run game, striking out both batters he faced to the roars from Northeastern's dugout, happy to see him back on the mound. While fellow graduate senior Griffin Young (1.11 ERA, 6 saves) has filled in admirably in the closer/high-leverage role, having Allard healthy alongside him and Northeastern's other top relievers is a huge boost to the team going forward.
Game 2
In the second game of the doubleheader, the Huskies sent Jake Gigliotti to the mound. Gigliotti, who pitched Sunday due to a short-term upper body injury sustained by Huskies ace Wyatt Scotti, pitched four innings in the Huskies victory over UConn on Tuesday and got the final two outs last Sunday against Stony Brook. Despite the unusual two-start and three appearance week for the junior, he performed brilliantly, allowing only two hits and four total baserunners over six dominant innings.
"The kid is an animal," said Glavine. "He's a kid that wants to ball and I kept trying to take him out and he said no. That's who he is, he demanded to start and he's having an awesome year."
While Gigiliotti was busy dicing up the Hofstra lineup, Northeastern's power bats continued to thrive. After hitting three long balls in game one of the doubleheader, the Huskies got five in the second game off the bats of Lane, Crossen (both of whom homered in the first game), Sirota, and Maldonado twice. Sirota, who was on base four times thanks to his homer, a single, and two walks, swiped two bags and managed to advance to third both times due to errant throws. However, he was thrown out attempting to steal second for a third time, only the second time Sirota has been caught stealing this season in 20 tries.
Gigliotti departed after the sixth inning due to his heavy workload over the last week, giving way to Patrick Harrington. The graduate student surrendered Hofstra's only run of the contest on a home run by first baseman Zach Bailey in the 8th and also gave up a double and a walk later in the inning, but escaped without any further damage. Harrington's three inning effort allowed Northeastern to close out the series sweep without any further taxation of the bullpen.
After the game, Glavine downplayed the significance of the victory over the reigning CAA champions, who defeated Northeastern in the title game just a year ago.
"We're on a journey here and they happen to be here. We're onto this year. […] It was about us and one of our big mantras this year is to focus on us and not worry about what anybody else is doing."
But deep down, it's got to feel good to get some revenge.