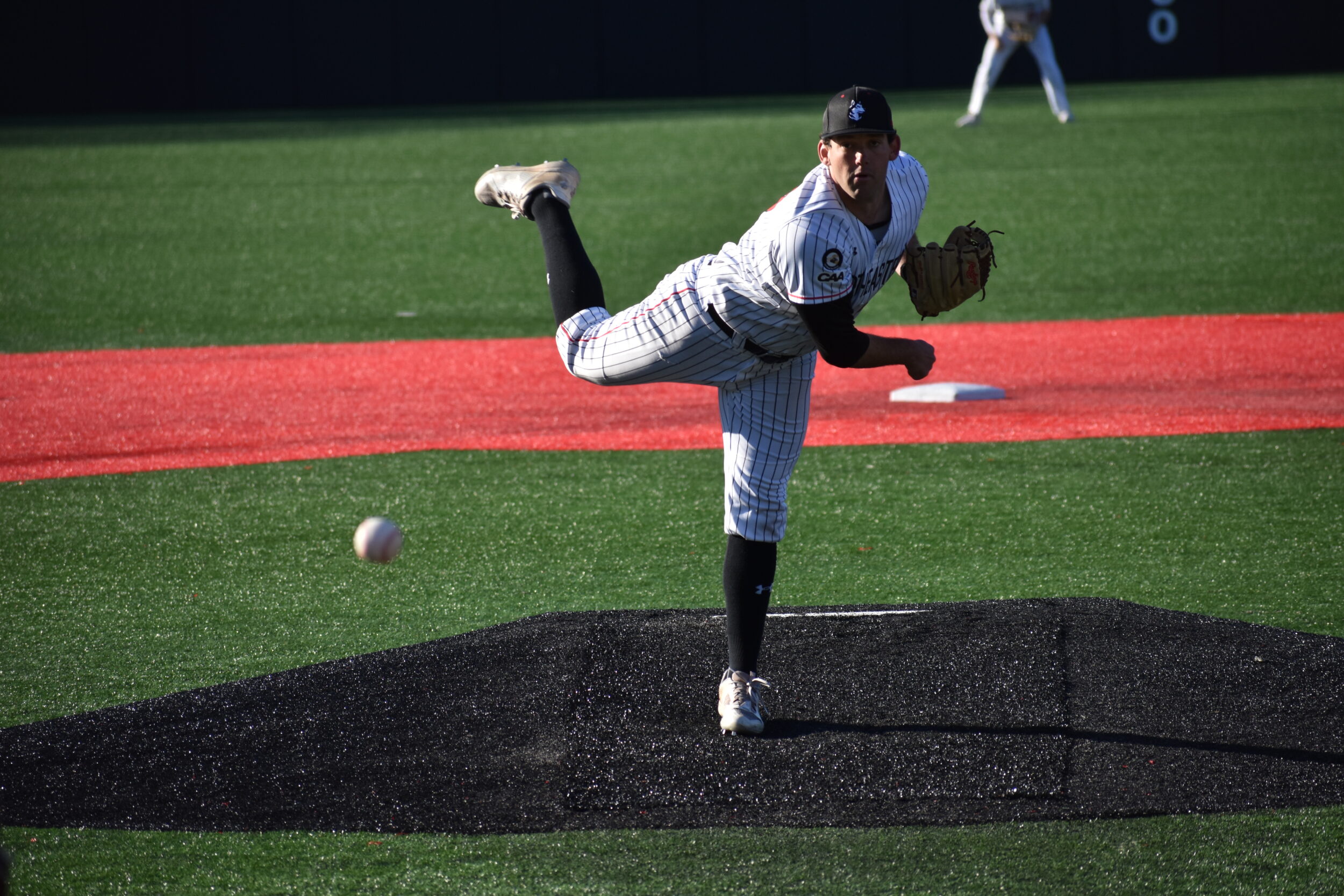 Though Northeastern was unable to cap off their record-setting regular season with a CAA title, the Huskies' resume was still strong enough to earn an at-large bid to the national tournament. Northeastern enters as a No. 3 seed, and will travel to Winston-Salem, North Carolina, to square off in a tough region beginning on Friday.
In the Huskies' way to a super regional berth stands fourth-seeded George Mason, second-seeded Maryland, and the tournament's No. 1 overall seed, Wake Forest.
The Huskies faced the Terps on May 9, securing a 9-2 win on the road in College Park. The last time they met the Demon Deacons, however, dates back to Feb. 21, 2021. Their most recent meeting with the Patriots is even further into the history books: March 17, 2013. Since George Mason departed the CAA for the Atlantic 10 conference following the 2013 season, it has not played against Northeastern.
Let's take a closer look at each of the Huskies' opponents in Winston-Salem.
No. 1 Wake Forest Demon Deacons (47-10, No. 1 overall)
The home team in the Winston-Salem regional, Wake Forest has had a monumental season. They are led by two-time ACC Pitcher of the Year junior Rhett Lowder, whose 1.69 ERA ranked second in the nation, carrying a perfect 13-0 record on the mound in 95.2 innings pitched.
Lowder leads a juggernaut of a pitching staff whose 2.82 ERA and nine shutouts lead the country. The rest of the Demon Deacons' innings bulk has come from junior Seth Keener and sophomores Josh Hartle and Sean Sullivan.
Hartle has pitched the second-most innings on the team with a total of 85.2. His strikeout-to-walk ratio sits eighth nationally at 6.94. Keener and Sullivan rank second and third in the country for WHIP at an astonishing 0.87 and 0.90 respectively. Keener has only allowed three home runs all season over 57.2 innings of work, and Sullivan's 14.34 strikeouts-per-nine innings is second in the nation.
From the bullpen, junior Camden Minacci leads the charge as one of the top closers in the country. He is tied for sixth nationally with 12 saves and carries a 2.93 ERA over his 25 appearances, with batters hitting just .169 against him.
Other notable bullpen arms are graduate student Cole Roland and sophomore Michael Massey. Roland holds a 1.95 ERA, second on the team, and has a .146 opposing batting average. Massey holds hitters fairly well himself, with an opposing batting average of .169, and has struck out 66 batters, the most out of anyone from the Wake Forest bullpen.
For a team to be named the best in the nation, though, there cannot just be pitching depth. Wake Forest has a very formidable offense as well, having hit a total of 110 home runs this year. The majority of those are off the bats of junior infielder Brock Wilken (27) and sophomore outfielder Nick Kurtz (23). Kurtz and Wilken sit third and sixth in the nation respectively in slugging percentage at a whopping .857 and .832.
The one weakness in the Demon Deacons on the offensive side is their speed, with only one player having stolen double digits in bases. It certainly hasn't stopped them from scoring runs, though, with the team totaling 508 runs over their 57 games played. Seven of their regular nine starters are hitting above .300, with the team carrying an overall batting average of .304.
Wake Forest will prove to be an incredibly difficult opponent to face for the Huskies, especially with Northeastern's lack of pitching depth. However, when the two last met in 2021, Northeastern was able to squeeze out a victory in a 14-11 slugfest. If the Huskies' bats stay as hot as they have been all year, there is a chance that they can outhit the Demon Deacons just as they did two years ago.
No. 2 Maryland Terrapins (41-29)
Maryland has been on a roll since their loss to the Huskies, posting an 8-2 record since May 12 and going undefeated on their path to the program's first-ever Big Ten championship.
However, this still looks to be a solid game 1 matchup for a heavy-hitting Northeastern lineup, with Maryland's main weak spot being their pitching staff.

The Terps' pitching staff has a 5.68 overall ERA and allows 6.61 runs per game. Opposing teams are also hitting .265 against Maryland, and with a team WHIP of 1.59, the defense is heavily relied on to keep runs from crossing the plate. No Maryland starter has an ERA under 4.30.
The offense is where the Terrapins truly shine, having scored the third most runs in the nation (555 over 60 games) and holding a 15th-ranked team batting average of .312. Senior infielder Nick Lorusso and junior infielder Matt Shaw are tied for sixth nationally with 23 home runs, and Lorusso currently leads the country with 99 RBI.
Lorusso and Shaw, along with junior catcher Luke Shliger, all have an OPS over 1.100 and both Shaw and Shliger have stolen double-digit bases on the season.
With Northeastern's starting pitching having been so strong to close out the year, if they can limit the threatening heart of the Terrapins' lineup just as they did earlier in the season, the Huskies stand a good chance of being able to repeat their success and slug their way through to a game 1 victory.
No. 4 George Mason Patriots (34-25)
The Patriots enter this regional after winning their second A10 title in program history, going on an unprecedented run as a sixth seed. Their last win came in 2014, which is also the last time they made the NCAA tournament.
Locking in their automatic bid with two wins over Saint Louis, the Patriots are the underdogs in a threatening Winston-Salem regional.
At the plate, George Mason struggles to get on base and has had trouble all season racking up extra-base hits. The team is slugging .377 this season, only recording 30 home runs over their 59 games. They also only have a .374 overall OBP.
Senior utility man, South Trimble, leads the Patriots with a .332 batting average, 59 runs, 73 hits, and 35 walks. Sophomore catcher Connor Dykstra and freshman outfielder James Quinn-Irons round out George Mason's top hitters, with Dykstra and Quinn-Irons holding a .949 and .946 OPS, respectively.
The pitching staff of the Patriots will need to be sharp with their lack of a heavy offense, but it has not been an easy road for them either. The team's overall ERA sits at 4.74, with a reliance on their top two starters, sophomore Chad Gartland and graduate student Ben Shields.
Gartland was named A10 Pitcher of the Year, carrying a 3.43 ERA over his 89.1 innings, second in the conference in both aspects. Shields was named to the All-A10 Second Team, his 102 strikeouts over 74.1 innings leading the conference.
Some arms out of the bullpen, notably junior Christian Mracna, sophomore Britt Young, and freshman Logan Rumberg, have shown success over the season. Mracna has held opposing batters to a .155 average and has a 2.08 ERA over 30.1 innings of work. He has also only allowed one home run all year, and his four saves lead the team.
Young and Rumberg come in just behind Mracna, with ERAs of 2.41 and 2.42. Rumberg has not allowed a single home run over his 26 innings of work, while Young has held hitters to a .206 batting average.
Outside of their top arms, the Patriots have struggled to find consistency and depth in their bullpen, which could cause them trouble in the national tournament. They have also faced some of their former CAA foes this season, losing to both William & Mary and Towson, two teams the Huskies have found success over this year.
Overall Outlook
There is not enough that can be said about Northeastern's historic season. They were ranked for the first time in program history, hold a team-wide .912 OPS, have hit a program-record 103 home runs, and carry an overall ERA of 3.57, second in the nation behind none other than Wake Forest.
There are some pitching depth issues that could hurt the Huskies as they look to make a run in the tournament this year, and getting through the Demon Deacons and the Terrapins will not be an easy feat.
If the Huskies can stay as strong offensively as they have been all year, there is a potential path to a super regional. The road ahead will be tricky for all four teams, and it will certainly be a closely-contested weekend in Winston-Salem.
WRBB will have live on-air coverage of the Winston-Salem regional from North Carolina. Daisy Roberts and Jack Sinclair will have the call of Northeastern's path to super regionals beginning Friday, June 2 at 1 p.m., where the Huskies will face the Maryland Terrapins.