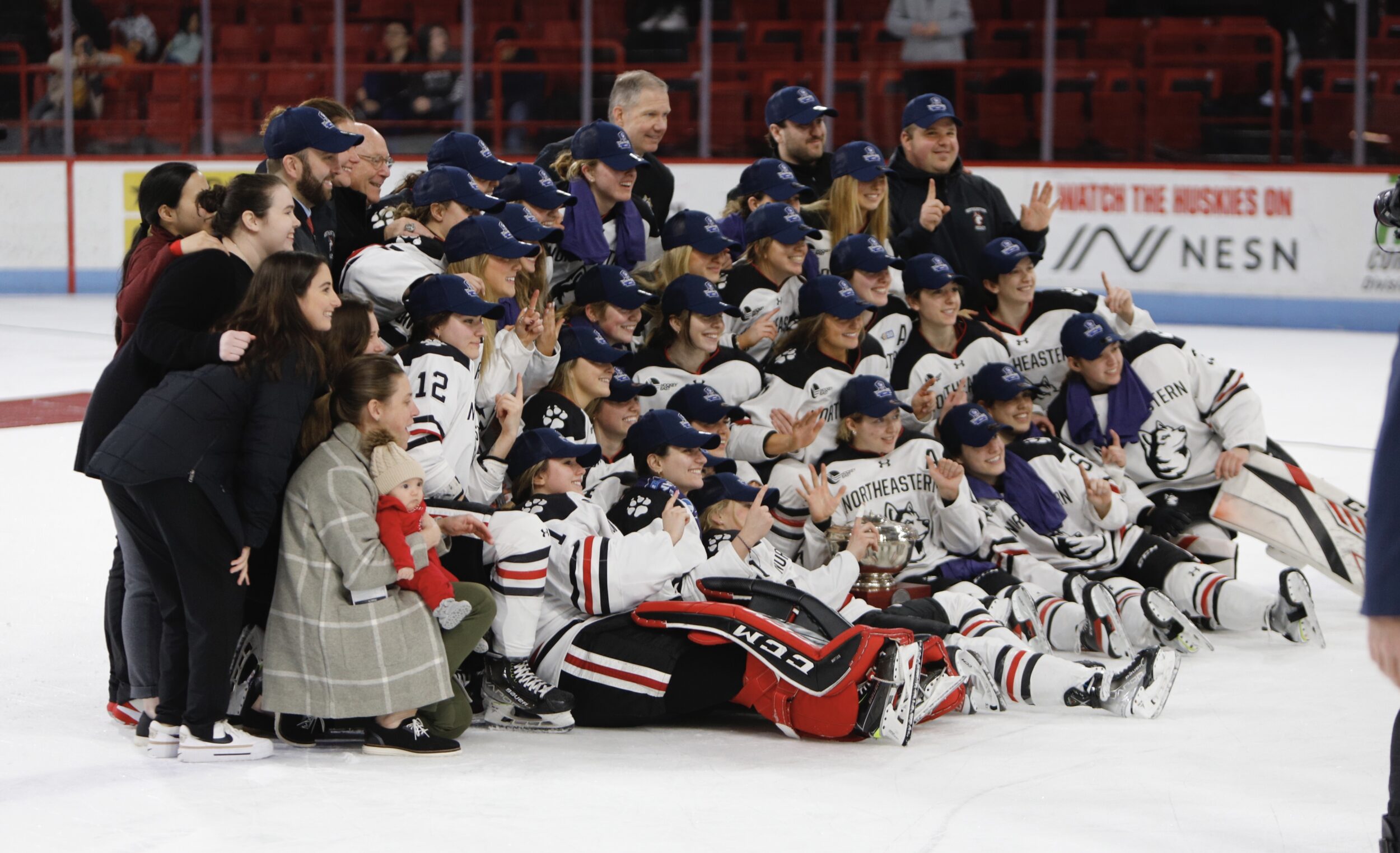 Six-straight Hockey East Championships. Three-straight Frozen Four appearances. One NCAA Championship game appearance. Two Beanpots.
Six years of unprecedented dominance.
That is what Northeastern women's hockey has provided rabid Husky hockey fans in recent times. This season, things look a little different. Gone are the familiar faces of Alina Müller, Chloé Aurard, and Maureen Murphy, three of the greatest offensive players Northeastern has ever seen.
A cast of fresh faces hailing from around North America is attempting to fill their shoes. Seven freshman and one graduate transfer will be the reinforcements for a Husky squad that lost seven players to graduation.
Out with the Old
The most obvious change for Northeastern is the graduation of the top line. Aurard, Murphy, and Hockey East all-time leading scorer Müller were a three-headed monster that decimated conference and nonconference opposition alike. Between the three forwards were 244 goals, 343 assists, and over 1,000 shots. Production like that is hard enough to find, let alone replace.
Also departing the team is Maude Poulin-Labelle. Poulin-Labelle played in every game for the Huskies last season, logging two goals and 13 assists, bringing her career Hockey East total to 99 points.
Mia Brown and Kate Holmes also departed the program, the latter opting for a graduate year at Syracuse. Their contributions to the team were less tangible, yet still invaluable. Each played a bottom-six forward role, but did so with grace and execution that would easily earn the pair top-six minutes in another program. Northeastern's younger players will need to step up in order to replace their production.
Rounding out the departures is goaltender Alexa Matses. She heads across the city to join Boston University for a graduate year.
By far the biggest hole is left by Müller, Murphy, and Aurard. Perhaps the greatest trio the league has ever seen, there is no adequate way to replace their play. Instead, Northeastern needs to rebrand. The loss of their offensive focal point marks the end of an era, and the beginning of a new one.
In with the New
Northeastern made an early move in the transfer portal, acquiring Becca Vanstone from Yale as the sole transfer of the offseason. Vanstone comes to Northeastern as a very similar player to Murphy. In her time at Yale, the forward logged 38 goals and 27 assists while being named to the All-ECAC Rookie Team and All-Ivy Second Team in 2018-19. She has a similar scent for the goal and is capable of putting herself in threatening areas of the ice, leading to scoring opportunities. If Northeastern was looking to replace the production of the Fluffy Line, then Vanstone is a great place to start.
Ella Blackmore joins Northeastern as a freshman out of Northville, Michigan. In her last season with her club team, Blackmore served as captain and tallied 39 goals and 53 assists. The six-time Michigan Amatuer Hockey Association champion has also won the National Championship with her club side in 2020-21 and 2021-22. Her leadership skills, along with a nose for the goal means Blackmore will likely fit right into a talented Husky squad.
Joining Blackmore are fellow forwards Mady Cipolla, Peyton Compton, Alexandra Lalonde, and Ellie Mabardy.
Cipolla comes to Northeastern as a native of Bowie, Maryland. In her last season of club play with the Philadelphia Jr. Flyers, Cipolla scored 22 goals and 12 assists, a slight step back from the year prior where she tallied 46 goals and 20 assists for the Washington Pride 19U side. The 2022 JWHL second-team All-Star also has silverware already, winning a silver medal with the Jr. Flyers in the 2023 USA Hockey National Championship.
Compton is a native of Sanford, Florida, and won a bronze medal with Team USA at the 2023 IIHF 18U Women's World Championship. Lalonde reaches Northeastern after graduating from a familiar program, Shattuck St. Mary's — the same school Aerin Frankel and Murphy attended. Mabardy joins the Huskies as the lone local forward, hailing from Winchester, Massachusetts. She played four seasons on the varsity squad at Noble & Greenough school, including 2022-23 where she served as their captain.
Attempting to replace Poulin-Labelle is defender Rylie Jones. Jones comes to Northeastern from North Chelmsford, Massachusetts, and was a four-year player and two-year captain at Cushing Academy. She earned Finest Contribution Award in 2023, All-NEPSAC First Team honors in 2023 and Defensive Player of the Year honors in 2020, while being a five-time qualifier for the USA Hockey National Tournament with the East Coast Wizards. Her presence on the blueline will be a welcome addition to an already strong component of the team.
Rounding out the freshmen is goaltender Mattie Robitzer. A Kennett Square, Pennsylvania native, Robitzer was captain of the varsity team all four years for Unionville High School. She also has some silverware in her trophy cabinet at home, winning the silver medal twice and the bronze medal once at the USA Hockey Nationals. Robitzer will likely join junior Paige Taborski in a backup role to Gwyneth Philips.
Some Stays the Same
The departures are apparent and very significant, but Northeastern also returns a hefty amount of talent for the upcoming season. Leading the charge is fifth year Katy Knoll. Knoll returns after a career best season, where she totalled 18 goals and 16 assists. She also eclipsed the career 100-point mark r, meaning she can continue to climb the program scoring chart this season. Knoll will likely be the focal point for the offense, as her shot is deadly accurate, and her nose for goal is akin to a bloodhound. Expect her to not only step up her own game, but assist those around her, as an underrated part of her game is her puck protection and distribution.
Returning on defense is the keystone to the Northeastern blueline, Megan Carter. Carter has led as a true defender, oftentimes hanging back as the final skater. Winner of the Hockey East Best Defender award last season, Carter returns as the leader of an already strong defensive team. While offense has never been the focus of her game, last season saw an uptick in her production, as she tallied a career high 22 points with five goals. If the captain can continue to build on her offensive increase from last season, she could become a true dual threat the likes of which the league has rarely seen.
Also returning to the blueline are seniors Abbey Marohn and Lily Yovetich. They may be the same year, but they couldn't have more different styles. Marohn mirrors Carter in a number of ways, playing a true stay-at-home defender role that often sees her as the last skater in front of the goaltender. She does have a howitzer for a slapshot, and it would be fantastic to see her unleash the beast on offense a bit more this year.
Speaking of offense, Yovetich is a two-way defender similar to former Husky Skylar Fontaine. While Fontaine was essentially a fourth forward who could get back on defense quickly, Yovetich falls a bit more into a traditional two-way role. She does go on offensive adventures from time to time, but the defensive positioning is still fantastic, and she can recover from the offensive adventures using her fantastic skating skills. The one area of her game she needs to work on is staying out of the penalty box, as she led the team last season with 24 PIM.
Finally, and perhaps most importantly, the goaltender. Philips returns to the team in her second year as full-time starter. Playing in 38 games last season, the Athens, Ohio native made 783 saves while allowing only 33 goals. Named to the 2023 U.S. Collegiate Select team, she has already made waves in the preseason polls. Expect the same, but better from Philips this season.
Northeastern's season kicks off against a strong Penn State side Sept. 23, before they head down to play LIU in New York.
They will kick off Hockey East play against BU with a home and home series Oct. 6 and 7. They will also travel to Fairfield, Connecticut to play St. Cloud State in the Ice Breaker Tournament.
The Beanpot tournament returns for its 45th installment, this time on neutral ice. TD Garden will host the Women's Beanpot, finally delivering equality after 45 years of being relegated to local college rinks.
Another marquee matchup occurs right on Veteran's Day weekend, when Northeastern plays a home and home series against their Rhode Island rivals, the Providence Friars, starting on Nov. 10th.
Vanstone will make a trip back to her alma mater right after the new year, on Jan. 2nd. Yale will host the Huskies in a rematch of last year's NCAA National Collegiate Women's Ice Hockey Championship first round game.
WRBB returns to full coverage of Northeastern Women's hockey on Saturday, Sept. 23 for their opening game against the Nittany Lions. Tune in for puck drop from Matthews Arena starting at 2 p.m.