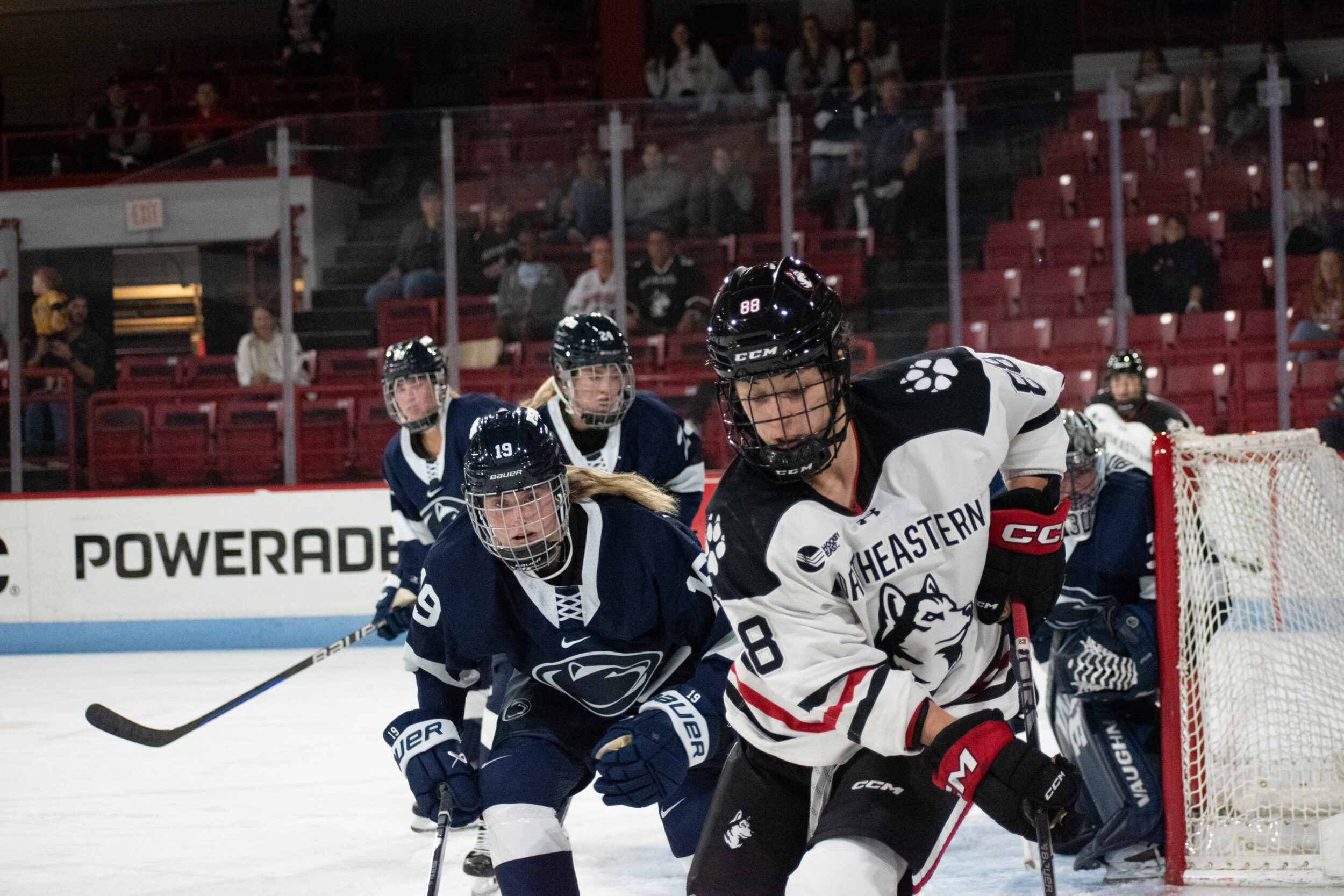 BOSTON — It's not all smooth sailing when it comes to playing an opponent like Penn State, something Northeastern discovered rather quickly on Saturday.
The afternoon affair was a physical, defensive showdown to start the regular season for both teams. Luckily for Northeastern however, they were able to come away with the 1-0 victory in the season opener at Matthews Arena.
Off the bat, the youth factor on the Northeastern squad is apparent, with the bottom six shaking out to include three sophomores, two freshmen, and the lone upperclassman, senior Molly Griffin. And while Lily Shannon played key minutes for a large portion of last season, her fellow second years Mia Langlois and Lily Brazis didn't always have the same opportunity. Not to mention Peyton Compton and Maddy Cipolla were making their NCAA debuts.
In their minutes on the ice however, none of the skaters looked out of place. Langlois most notably made a key diving block in the second period to get in the way of a shot off the stick of PSU freshman Karolina Hengelmüller. Shannon also made her presence known, especially along the boards when battling for the puck, adding two blocks of her own.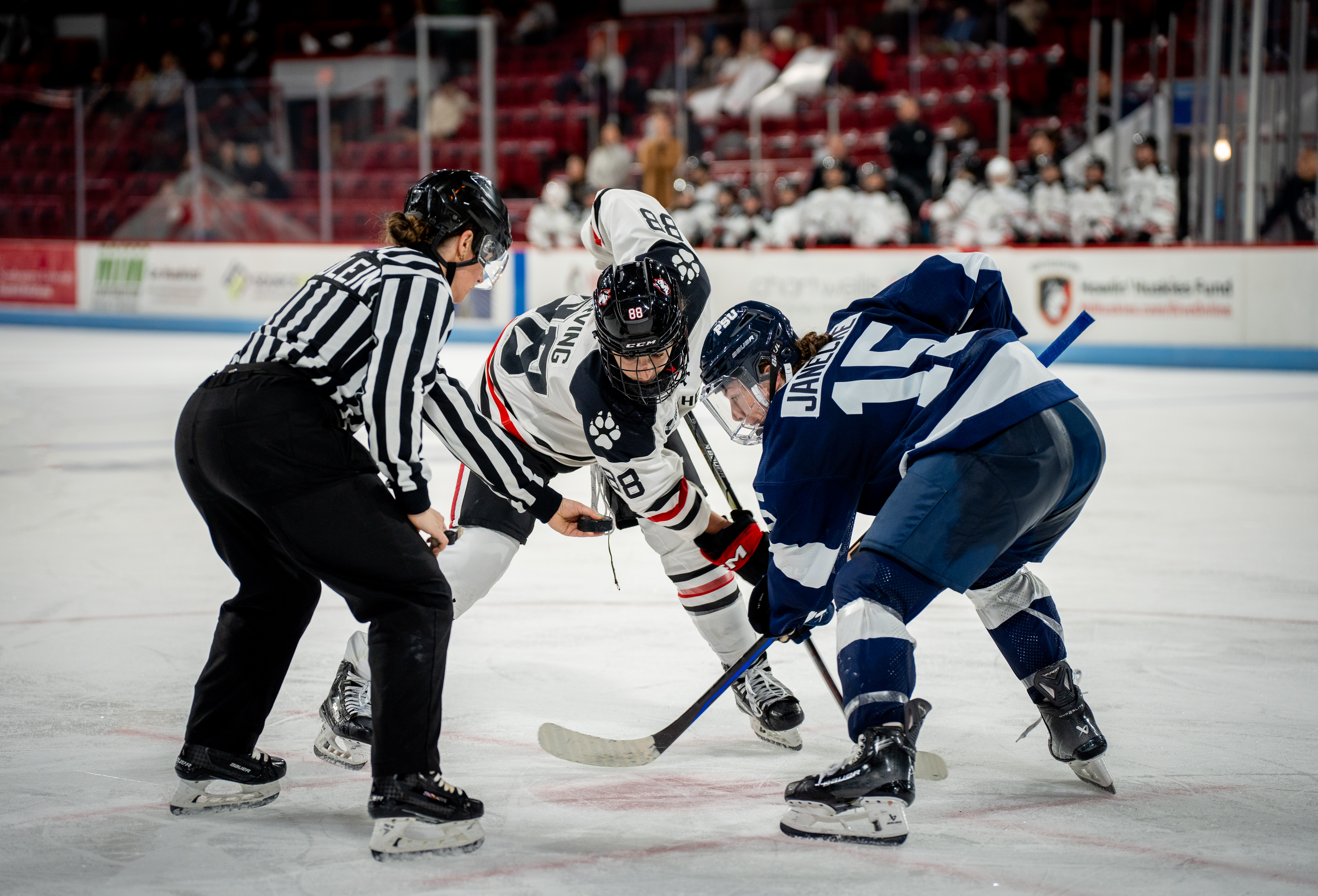 It also didn't take long for the freshmen's impact to reach the scoring column. Penn State took two penalties in the first five minutes, and on the second call, a roughing minor on sophomore superstar Tessa Janecke, the Huskies had an advantage for all of five seconds before Compton buried the puck backhanded off a pass from junior Skylar Irving. 
"That was probably one of the best experiences I've ever had," said Compton on both her goal and the Huskies' victory.
The Sanford, Florida native slotted right into the lineup, getting both power play time and key minutes down the stretch in a close contest. Both Compton and Allie Lalonde (who played top line minutes) had their stumbles. However the rookies didn't look too out of place, and head coach Dave Flint knows they'll grow into their roles with more opportunities.
"As they get more and more comfortable and more and more confident, the expectation is they're in the lineup," he said. "I think there's going to be some growing pains with them, but second half of the year, when they hit their stride, they're going to be playing really well."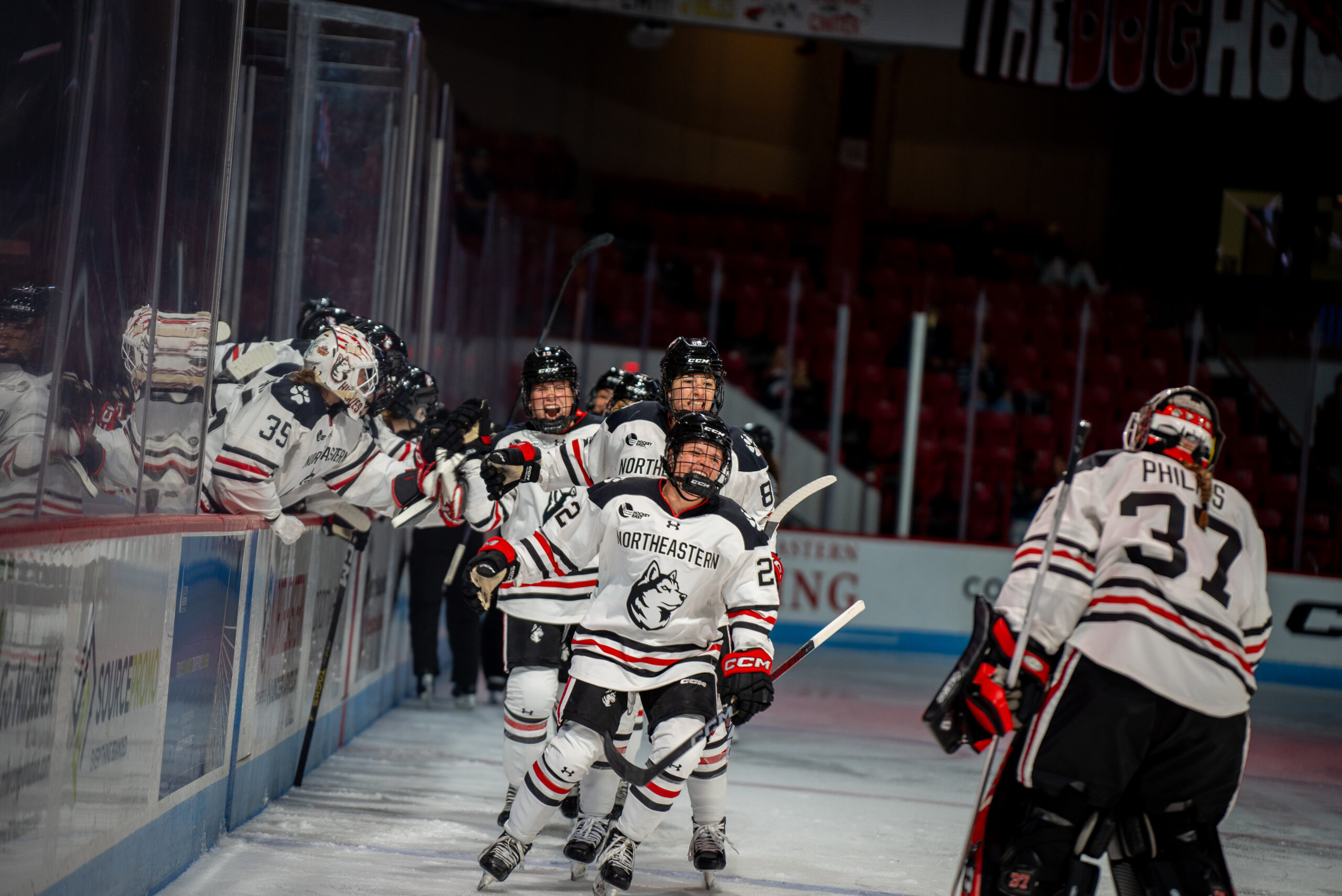 After that goal, the offense was quiet on the scoreboard but not for lack of trying on either side. After Northeastern came out and dominated the first 20 minutes, the Nittany Lions came out charging in the second period. They limited the home team to just five shots on goal while firing 12 on fifth year netminder Gwyneth Philips' net.
Philips, just as she was all of last season, was outstanding in the contest. The shutout marks the 17th of her career, with 27 shots turned away. Coming off the National Goaltender of the Year campaign in 2022-23, the Northeastern backstop was just as agile and aware of the puck as ever, making multiple diving saves throughout the course of the game. For her newer teammates, having the confidence of Philips behind them is something they feed off of.
"It's almost euphoric being around her," Compton said. "Her energy is always so positive, and she always has your back whenever she stops a puck in front. We're trying to protect her, she's up there in their face protecting us. It's nice to have a good hockey player and a good person behind us."
Along with Philips, the Northeastern defense was also firing on all cylinders for the majority of the contest. Senior Lily Yovetich in particular stood out, as she was glued to the top units of the opposition – a role she has found herself in more and more over the two years, and not something she takes lightly.
"It's a huge honor," she said. "There's nothing I love more than playing defense. For me, it's just a nod from the coaches that they believe in my small stature and my ability to defend. It speaks more about who we are as a team, because in order to have great offense, we must have great defense first."
The return of sophomore Kristina Allard for the first time since November of 2022 and the addition of freshman Rylie Jones worked in the Huskies favor as well. The blueline was not the concern for Flint coming into the season, with the only key departure being Maude Poulin-Labelle. On the other hand, with a lot of his forwards playing in spots they're not used to, he knows what they need to focus on moving forward.
"We're in search of offense," he said. "I knew that going in. We just need some players to step up and I think that may take a little time."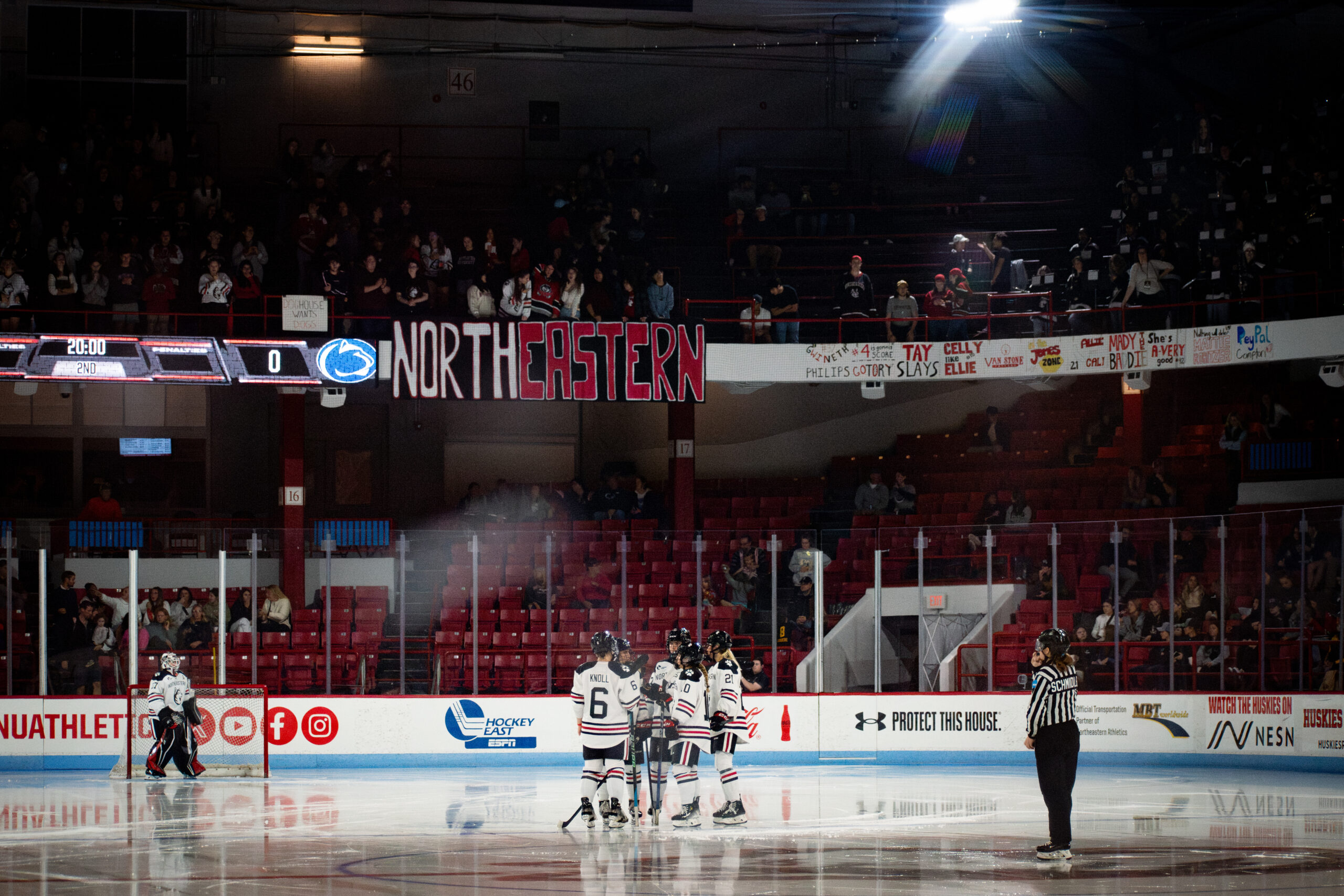 Offensively it'll be crucial to get Katy Knoll back into scoring form. The forward was heavily targeted by Penn State, limiting her to only one shot on goal. The second line of juniors Taze Thompson, Irving, and graduate student Peyton Anderson seemed to click more and more as time went on after a shaky start. The trio compiled four shots on goal, half of those in the third period.
Flint did hint to some changes both in the lineup and his points of emphasis before the rematch against Penn State in under 24 hours.
"I think going into tomorrow, we'll talk a little bit about having a more physical presence," he said. "Winning some battles, and not getting muscled off pucks. That's the way they play, they've got some big, strong forwards. We need to have an answer for them."
For Penn State, it'll be interesting to see how they come out of the gate after their momentum was brought to an abrupt end with 7.3 seconds remaining. The Nittany Lions took a too-many-players-on-the-ice penalty, halting any chance they had of tying the game up late after coming close to doing so. They battled through this game, and it's not difficult to imagine a different outcome in their favor if they keep playing the way they were.
On the home team's side, Flint made note that their second half of the final frame had a lot of positives to draw from, something they'll look to do in the rematch.
"I feel like we recaptured some of that energy that we needed," he said. "I thought we were going to pop one in, obviously we didn't, but it's a game of momentum and roller coasters. I thought we stepped up with some energy when we needed it."
His players echoed his thoughts, emphasizing that the team knows where they need to go from here, and that they have a plan to do so.
"At this point, this was a game to just get the nerves out," Yovetich said. "Realize what are our strengths, what are our weaknesses, and how do we move forward from there. We have a really excited group, and that's all we really need going into the next game — some more fire."
Penn State and Northeastern return to action Sunday with the second half of the back-to-back at Matthews Arena. WRBB's Khalin Kapoor, Zach Lyons, and Matty Wasserman will be live on 104.9 FM when the puck drops at 2 p.m.