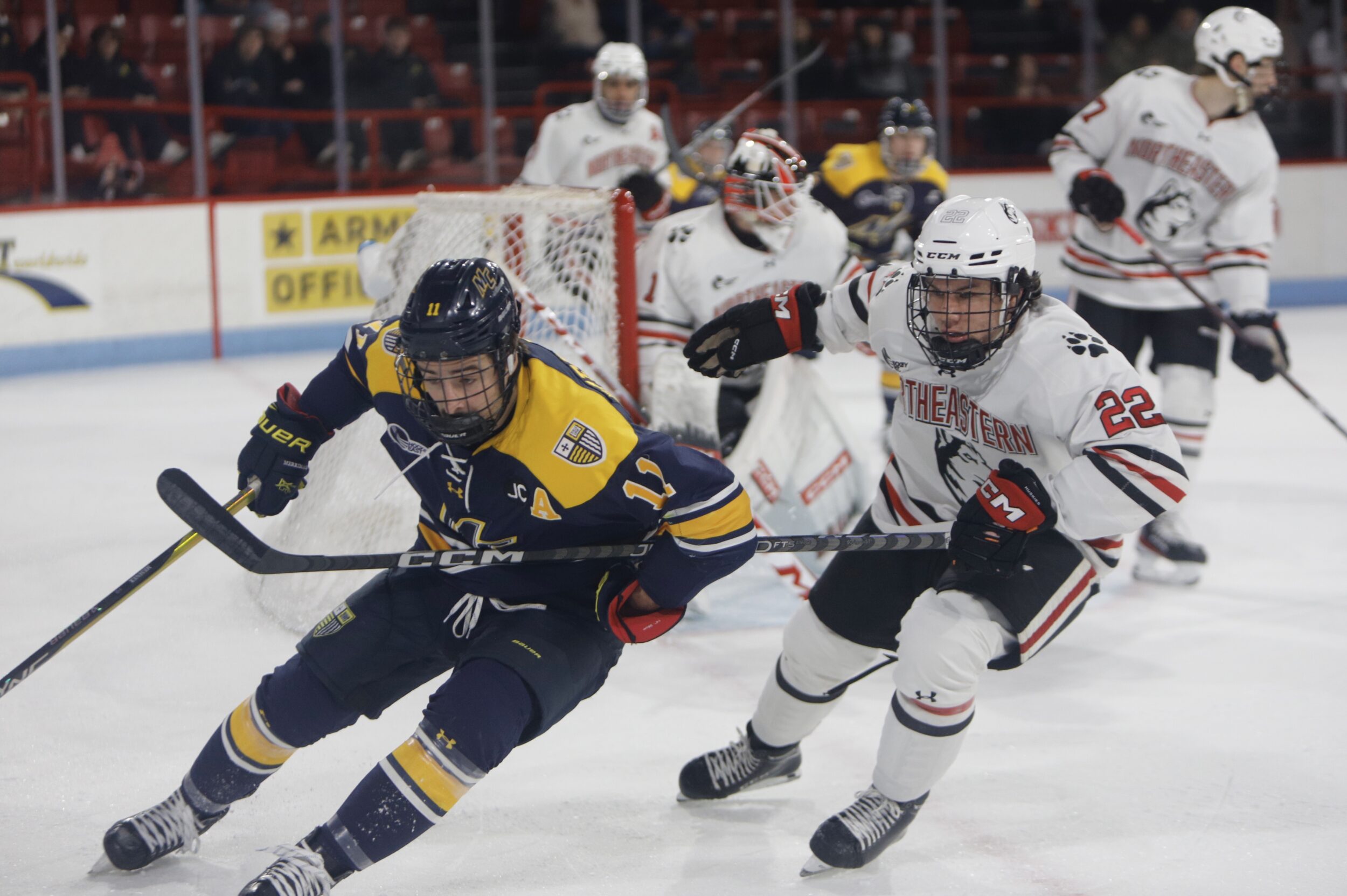 With two bonafide national contenders and more than half the league entering the season with legitimate NCAA tournament aspirations, Hockey East looks as talented and deep as it has been in a long time. Teams ranked in the USCHO's preseason top-20 include Boston University (1), Boston College (6), Merrimack (14), Providence (18), and Northeastern (19), with UConn, UMass Lowell, and Maine also receiving votes.
Below is a preseason preview for each team, ordered by my personal rankings for this upcoming season.
1. Boston University
The Terriers are coming off a season that saw them win Hockey East and make the Frozen Four, yet expectations are even higher entering the 2023-24 season. They start the campaign holding the No. 1 spot in the national rankings, and have a plethora of returning and new talent.
The Terriers are headlined by Lane Hutson, who became the first defender to ever lead the Hockey East in points last season with 48, and the first rookie to do so since Jack Eichel in 2014-15. He will be one of the favorites to win the Hobey Baker award this season, and would be the first BU player to do so since Eichel in 2015.
While BU is losing four of its top seven scorers from last season, they certainly have the talent to replicate that production. Lane Hutson, Jeremy Wilmer, Ryan Greene, Quinn Hutson, and Devin Kaplan are all returning sophomores who made significant impacts in their freshman seasons.
Terriers fans are also certainly excited to watch projected No. 1 pick in the NHL draft, Macklin Celebrini, showcase his talents on Commonwealth Avenue. In 50 USHL games last season for the Chicago Steel, Celebrini produced 46 goals and 40 assists. He also tallied 15 points in seven games for Team Canada at the U18 World Championship. New defender Tom Willander cannot be forgotten either, as he was selected 11th overall in the 2023 NHL Draft.
The Terriers will have a new face between the pipes, as Drew Commesso signed with the Chicago Blackhawks. Mathieu Caron, who transferred after starting the last two seasons at Brown, enters the season as the favorite to be the regular starter. With a loaded roster top-to-bottom, defending Hockey East Coach of the Year Jay Pandolfo will be expected to lead his team to conference and national glory in his second season.
2. Boston College
A massive improvement is expected of the Eagles after their disappointing 2022-23 season, which saw them finish eighth in Hockey East. BC is hoping second-year head coach Greg Brown can return them to the power they were for so many years under Jerry York, and he will be bringing in an extremely talented freshman class this year to get the program back on track.
Joining Boston College this season is the dynamic trio of Will Smith, Ryan Leonard, and Gabe Perreault. The three were drafted fourth, eighth, and 23rd overall in this past year's NHL draft. They join BC after playing on the same line last year with the U.S. National Team Development Program, where they saw incredible success together. They scored 132, 94, and 127 points respectively, with Smith and Perreault both breaking the USNTDP scoring record.
Those three will all need to be important pieces for BC if they are to turn around what was an often stale offense last season. They will have the help of sophomore Cutter Gauthier, who was selected fifth overall in the 2022 draft by the Philadelphia Flyers. Third-leading scorer Andre Gasseau also returns, and standout defenseman Jacob Bengtsson joins the fold after transferring from Lake Superior State.
The Eagles will rely on freshman goaltender Jacob Fowler, who led the USHL with both a .927 save percentage and 2.28 goals against average. He will look to be a more consistent presence in net than last year's starter Mitch Benson. BC has an incredibly skilled team this season, but their success will depend on all that young talent adjusting to the college game.
3. Northeastern
The Huskies will enter somewhat of a new era in 2023-24, as star players Devon Levi and Aidan McDonough moved on to the NHL. Levi, the reigning Hockey East Player of the Year, leaves as arguably the greatest player in NU history, while McDonough led the team in both goals and points in each of the past two seasons. Still, the Huskies should be extremely competitive thanks to a mix of returning talent and newcomers.
Freshman Cameron Whitehead takes on the tall task of replacing Levi in net. Whitehead, considered one of the top recruits in the country at his position, is a fourth round pick of the Vegas Golden Knights. Despite giving up the sixth fewest goals in the nation last season, Northeastern was in the bottom 20 in shots allowed. They will need Whitehead to play up to the high expectations this team has of its goaltenders.
Up front, the Huskies return many key contributors, including team captain Justin Hryckowian, Gunnarwolfe Fontaine, and Cam Lund. Additionally, they added one of the best goal scorers in the transfer portal in Alex Campbell, who had 30 goals over the last two seasons with Clarkson. Despite the focus on Levi, Northeastern did score the third most goals among Hockey East teams last season. On the back end, the Huskies will look to sophomores Hunter McDonald, Jackson Dorrington, and Vinny Borgesi to log significant minutes. They also added former Princeton captain Pito Walton to a group of D-men that should be a strength for this team.
Many are expecting a drop down the standings for the Huskies this season, but they have the talent and depth to compete for a spot near the top of the Hockey East.
4. Merrimack
The Warriors will get a little bit younger this season after losing a number of graduate students, but will once again be a team led by their veteran players. Last year only UMass Lowell fielded a team with an average age higher than Merrimack in the Hockey East, and many of the Warriors' key pieces will be returning.
Merrimack's depth last season made them one of the toughest teams to play against in the conference, and that should stay the same in 2023-24. Their group will be led by Hockey East first team all star Alex Jefferies, who scored the most points in a single season for Merrimack (41) since Stéphane Da Costa in 2010-11. Also returning at forward are Matt Copponi and Ben Brar, both extremely valuable pieces for the Warriors. Merrimack also added another proven goal scorer in former UNH captain Chase Stevenson this offseason.
Sophomore Zach Bookman is the Warriors' standout on defense, after he tied for the team lead in points among defenders last year with 16. In net, expect Zachary Borgiel and Hugo Ollas to split time for the third consecutive year.
Last year, the Warriors had the most wins for the school (23) since 2011 as they went all the way to the Hockey East championship game while also making the national tournament for the first time since 2011. They enter the 2023-24 season ranked 14th nationally and expectations are higher than they've been in a long time in North Andover.
5. UConn
UConn finished second to only BU among Hockey East teams in goals scored last season as their offense led them to a fourth place finish in the conference. The Huskies were nationally ranked for much of last season, but enter the 2023-24 campaign just on the outside of the USCHO preseason top 20. Unfortunately for the Huskies, after a successful start to last season which saw them lose just one of their first 12 games (a 5-2 loss to BU), they faded down the stretch of the season, ultimately falling to UMass Lowell in the conference quarterfinals.
Arsenii Sergeev returns to the UConn net, but he will have a new partner this season. Ethan Haider, who transferred from Clarkson will replace Logan Terness who left for Ohio State.
The Huskies' offense will once again be headlined by sophomore Matthew Wood, who registered points in 14 of the Huskies final 15 games of the season. Wood was selected 15th overall by the Nashville Predators in the 2023 NHL Draft, which is the highest a UConn player has ever been drafted.
UConn lost two of their top four point scores from last year in Ryan Tverberg and Justin Pearson, but the majority of their core is returning. That is especially true on defense, where five of their regular six defenders from last year return for the 2023-24 season. UConn should once again be highly competitive and right in the mix of things in the Hockey East.
6. Providence
For the 11th consecutive year, the Friars open the season inside the top 20 of the USCHO preseason poll. The 2022-23 season was a slightly underwhelming one for Providence, as they finished sixth in the Hockey East. They did make a run to the conference semifinals though, where they lost to BU in overtime (after defeating both New Hampshire and Northeastern in OT).
Providence will make their money in 2023-24 because of their team defense. They keep teams to the perimeter, block shots, and grind in the defensive zone. Last season they were one of the best teams in the nation at preventing shots on goal, largely due to a defense group that commits to a very defensive style of play. That did lead to some struggles for the Friars scoring goals though, something that plagued them down the stretch of last season even while remaining top-10 nationally in total shot attempts. Those problems will not be remedied by Providence losing their top three point scorers from last year.
Forwards Riley Duran and Nick Poisson will be counted on to replace that production. So too will sophomore Bennett Schimek, who impressed with 11 goals last year. Freshman Hudson Malinoski should also be expected to make an immediate impact in Providence.
Goaltender Philip Svedebäck, a 2021 fourth round pick of the Boston Bruins will need to be sharp once again for Providence. He really found his groove in the latter months of last season, and should be one of the conference's best netminders this season. Providence has the defending to compete with the best of the HE, but there are serious concerns about their scoring touch.
7. Maine
Maine's third year head coach Ben Barr was instrumental in turning around UMass Amherst's program, and helped lead them to a national championship in 2021. Now, he has the Black Bears on the upward trajectory.
Maine jumped from last place in the Hockey East in 2021-22 to a sixth place finish last season. The Black Bears return their top four goal scorers and nine of their top 12 point scorers this season. Those veterans will have to help foster in the team's eight freshmen joining the fold. That group is led by Bradly Nadeau, who is the school's fourth ever first round NHL draft pick. Nadeau scored a whopping 113 points in 54 games for the Penticton Vees last season, good for first in the BCHL. Bradly's brother, Josh, also an incoming freshman for Maine, finished second in the league with 110 points.
The Black Bears will rely on the Nadeau brothers' offense, as last season team captain Lynden Breen was their only player to reach 10 goals (he scored 21). That total was the most for a Black Bear since Joey Diamond in 2011-12, and Breen's four short-handed goals were the most in the country. In net, Maine will count on All-Hockey East Second Team goaltender Victor Ostman.
Maine is certainly a program on the rise, but with only one NHL draft pick on the roster, there are serious questions whether they can keep up talent wise in this year's extremely tough Hockey East conference.
8. UMass Amherst
After back-to-back Hockey East championships, the Minutemen fell off in a major way last season, as they dropped all the way to a ninth place finish. The team seemed to lack not only the skill but also the grit that previous UMass teams under head coach Greg Carvel possessed. The good news for the Minutemen? Eight of their top ten scorers from last season were underclassmen, all of whom are returning for the 23/24 season
That group is headlined by junior defenders Scott Morrow and Ryan Ufko, who finished second and fourth respectively in points among Hockey East D-men. Up front, UMass will count on sophomores Kenny Connors and Cole O'Hara, both fourth round NHL draft choices to make jumps in production.
The Minutemen will also rely on their special teams, a strength for Carvel's teams. Last year, UMass' power play was one of the best in the nation despite their struggles to score 5-on-5.
The main focus for UMass heading into the season should be shoring up their defensive play. The Minutemen allowed the most shots on goal of any Hockey East team last year. They will look to protect freshman Michael Hrabel, who will likely take over the starting role in Amherst in net. The 6'6" netminder out of Praha, Czech Republic was selected 38th overall by the Arizona Coyotes in the 2023 NHL draft.
With 13 NHL draft picks on the roster (and a Hockey East-high nine forwards drafted), UMass has the talent to vault themselves back to the top of the conference. They could be the team to shock people in the Hockey East, but that will require their young squad to mature quick enough to keep pace in this conference.
9. UMass Lowell
Last season's veteran UMass Lowell squad gave up the sixth fewest goals in the nation, but also struggled mightily to score goals themselves, which is to be expected for Norm Basin's teams. This season the River Hawks will get a little younger, but their defensive mindset is likely to stay exactly the same.
Lowell did lose goaltender Gustavs Davis Grigals, who gave up three or more goals in just six of his 24 games played last season. This season, the River Hawks will likely rely on both senior Henry Welsch and junior Luke Pavicich, a transfer from UMass Amherst, in net.
Goal scoring will once again be the main concern though for Lowell. The River Hawks top two point scorers from last season, Carl Berglund and Jon McDonald both graduated.
The River Hawks will likely try to replicate that production by committee. This is a team that lacks the high end talent of many of its Hockey East foes, but is willing to grind out games. With just one NHL draft pick on the roster in defender Ben Meehan, that mindset will once again need to be embraced in Lowell.
It has proved successful though, as the River Hawks went to the HE Championship game in 2021 and made the national tournament in 2022. They were just a double overtime goal away from the Hockey East Championship last season. That tough to play against style of hockey should prove challenging for the top teams of the conference, and Lowell will once again be a feared team come playoff time.
10. New Hampshire
After a brutal 13-game losing streak in the middle of last season, the Wildcats had a decent end to the season. In the span of a month they took down Providence, UMass, Merrimack, UMass Lowell, UConn, and Maine. That gives a glimpse as to what UNH can look like at their best. Unfortunately, there are a lot of question marks surrounding this team.
Those questions begin in net, after last season's starter, David Fessenden, transferred to Canisius. Sophomore Tyler Muszelik put up a less-than-ideal 3.24 GAA and .883 SV% last season. Senior transfer Jakob Hellsten put up a 2.72 GAA and .875 SV% last season with North Dakota. One of them will have to step up and lead this UNH team that will need to embrace a defensive style of play.
New Hampshire scored more goals than only Vermont among HE teams last season. To make matters worse, key pieces Chase Stevenson and Damien Carfagna both transferred. Still, the Wildcats do have some pieces on offense to build around. Cy LeClerc led the team with 13 goals as a freshman last season, while now junior Liam Devlin led the team with 24 points.
Stiven Sardarian, a third round pick of the Buffalo Sabres, needs to make a jump in production this season after an underwhelming freshman season. Additionally, freshman Ryan Conmy is expected to make an immediate impact after leading the Sioux City Musketeers of the USHL in points last season. He will lead the eight freshmen projected to play for the Wildcats this season. Still, in many ways it feels as though the Wildcats have been left behind by the many improving teams in the conference.
11. Vermont
The story of the offseason for the Catamounts was their firing of long term head coach Todd Woodcroft in July, following an internal investigation into misconduct. That threw a wrench in the plans of a team that struggled enough last season without the drama surrounding their coach, but was hoping to take a leap forward this season. It also led to the decomittment of top recruit Alex Bump. Both losses are major blows to morale in Burlington, Vermont.
The Catamounts won just six of 24 HE games last season, and an improvement might be tough to come by in 2023-24. They will look to their fourteen newcomers to improve upon that record. That group is led by Zach Dubinsky from Michigan State and Jeremy Bucheler from Northeastern, both of whom will be alternate captains for the Catamounts this season.
Vermont will need its group of junior forwards to take a step forward in 2023-24. That includes their top two point scorers from last year Isak Walther and Andrei Buyalsky along with alternate captain Joel Maatta. Senior captain Will Zapernick will also be expected to log key minutes up front. On the back end, 2021 third round pick Luca Münzenberger, along with Bucheler, will be expected to lead a very young defensive group.
Vermont has one of the largest teams in the country stature wise, but will likely have a lot of trouble keeping up speed wise in this year's extremely tough Hockey East conference.