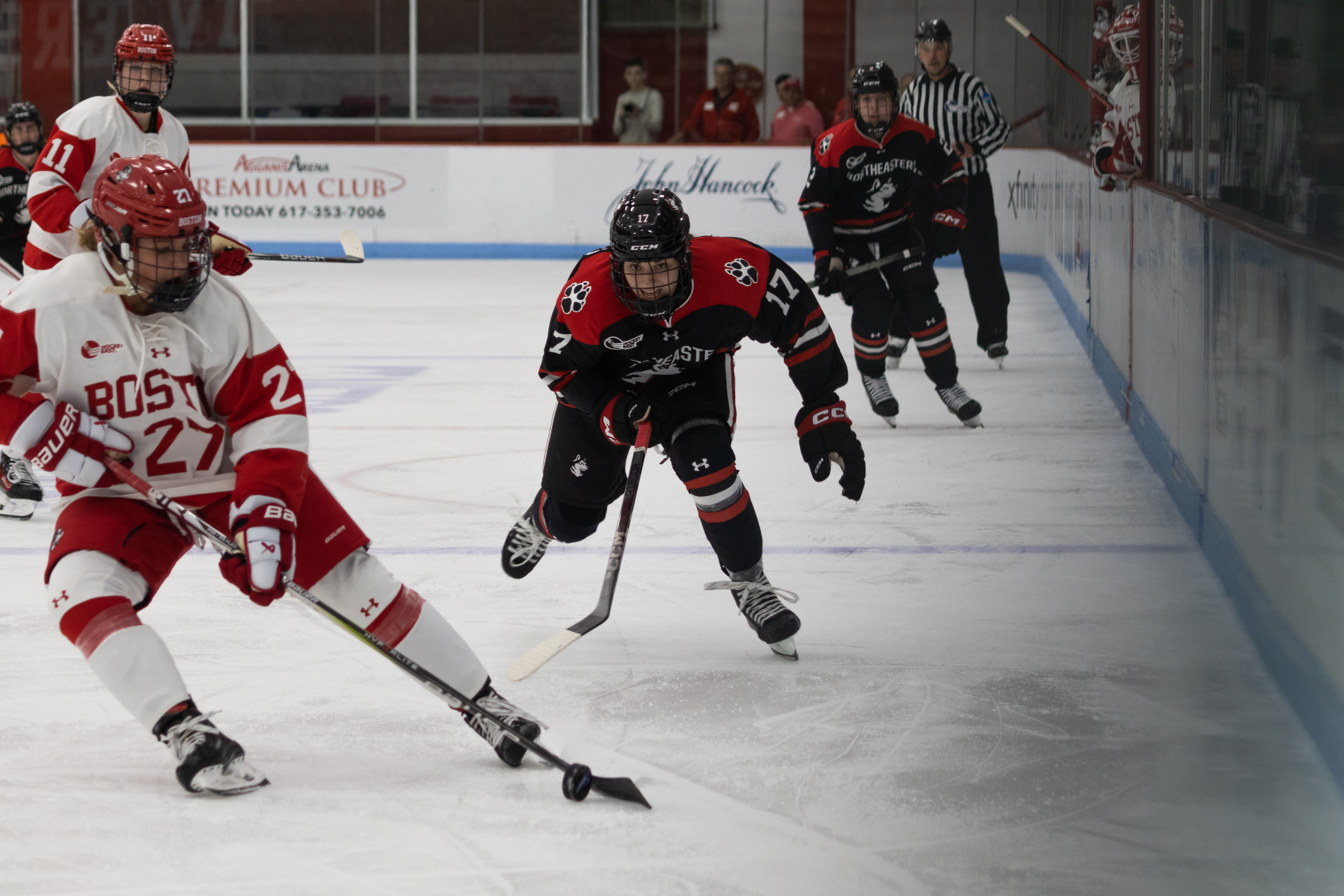 BOSTON — Northeastern got outskated, outworked, and outplayed for the first 40 minutes of Friday's game at Walter Brown arena.
And yet they ended up coming away with a 4-1 victory over the Boston University Terriers to open Hockey East action.
"We knew we were going to see a fast and gritty BU team," said Northeastern assistant coach Lindsay Berman. "They came out a lot faster than we did."
From the jump BU dictated the pace of play and kept the Huskies from any sort of sustained time in the offensive end. By the end of the first period BU had nine shots on goal to Northeastern's six and the score was tied at one apiece. However the Terriers had won 16 faceoffs heading into intermission — the Huskies had won just three.
BU also generated more high danger opportunities compared to Northeastern, and it was the work of fifth-year netminder Gwyneth Philips who kept the Huskies from falling behind.
The first Northeastern goal came thanks to the work of freshman Allie Lalonde, off a great play by defender Abbey Marohn in the neutral zone to gain possession of the puck. The senior fed the puck forward from the red-line to Lalonde, who then worked past two BU skaters before firing the puck through the five-hole of freshman goaltender Mari Pietersen for the 1-0 Huskies lead.
The score was Lalonde's second of the season, and the star freshman has provided i a much-needed boost of offense on the Huskies' top line. Both fifth-year Katy Knoll and sophomore Holly Abela were dropped down to the second unit in favor of Peyton Anderson and Skylar Irving – the top two scorers for Northeastern so far this year. It's an interesting shift in the lines after just four games for head coach Dave Flint and his staff, however it worked out in their favor tonight with all three members of the top line recording at least a point in the contest.
In the first period it was graduate student defender Megan Carter who took a body checking penalty with 7:37 left to go, leading to the only Terrier goal of the night. BU caught the top Northeastern penalty killing unit – sans the backbone of said unit, Carter – on the ice for a full two minute shift, wearing them down with sustained possession time in the offensive end. Just two seconds after the power play had officially expired, senior forward Catherine Foulem buried her first goal of the season after threading the puck past Philips against the post.
The goal didn't officially count as an unsuccessful penalty kill for the Huskies, meaning the PK is up to a perfect 21-for-21 on the season after the conclusion of Friday's matchup. However, it did directly happen due to the penalty being taken, and being more disciplined is something that has been a point of emphasis for the team in the locker room and on the bench.
"I think our players are trying to stay out of the box," Berman said. "But we need to just be more disciplined with our sticks. We need to move our feet a little bit better, keep our hands down. And I have no doubt that we'll fix that. But we definitely need to get working on that to help us."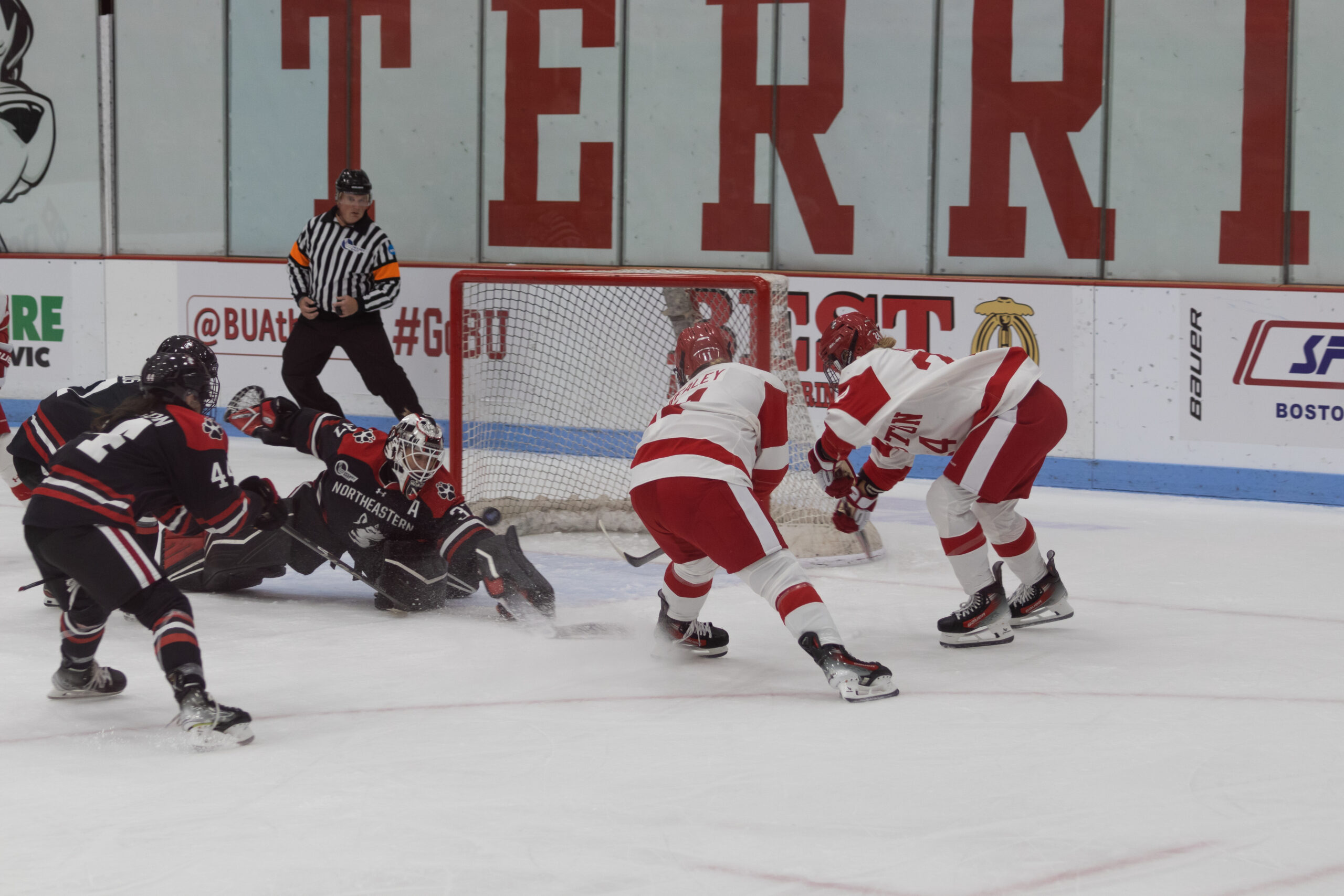 BU had another opportunity in the second period with Jules Constantinople heading off on a hooking call with 10:30 on the clock. Northeastern was able to kill off that power play even after three high danger opportunities for the Terriers during the ensuing two minutes.
In the last two minutes of the second period, Northeastern got the break they were looking for. BU graduate student defender Nadia Mattivi took a holding penalty to grant the Huskies their first power play of the game with 71 seconds remaining. The Terriers were able to hold off for the first 30 seconds of the power play, clearing the puck out of the zone and getting into traffic. Although it just wasn't enough to halt the Huskies.
It was an opportune faceoff win by Irving that enabled junior forward Taze Thompson to scoop up the puck deep in the offensive end. With some nifty puck movement, Thompson put it through the legs of Pietersen again to put Northeastern back on top.
"I honestly have to give so much credit to Skylar Irving," Thompson said. "[She] was really battling and I happened to be in front of the net. I saw a little opening and I was happy it went in."
For Irving it was her fifth assist on the season, enabling her to lead in both helpers and in points in total for the Huskies. Thompson, on the other hand, has been relatively quiet to start 2023-24, notching only her second point of the year on the goal – the other her tip-in tally last weekend at LIU.
Northeastern went on to draw two more power plays in the third period, and while they didn't convert on either of them they were able to get some more momentum back on their side. They kept the Terriers to just three shots on goal in the final frame, a much more familiar sight to how these two teams played each other back a season ago.
Anderson and Shannon added two more Northeastern goals before third period time expired. Anderson notched her third of the season after she skated the puck the length of the ice to bury it in the wide open net with 39.1 seconds to go. Shannon had her stick in the right place at the right time for a deflection up and past Pietersen in the last five seconds of regulation, completing the game on the right note for the Huskies.
With a forward group as young as Northeastern's is this season, seeing the more senior members get back into scoring form after a few weeks is a welcome change – and a much needed one. Both Anderson's and Thompson's goals are a positive sight for the Huskies after they were quiet against Penn State opening weekend.
"We're trying to not put so much pressure on them," Berman said. "But I think that they know that they're the ones that need to step up. We need them. So it's great to see Taze finish and that was a beautiful goal. Peyton's been great for the last couple of years. So to get her a little more of a spotlight, it's been awesome. We're gonna keep relying on those guys to keep scoring for us."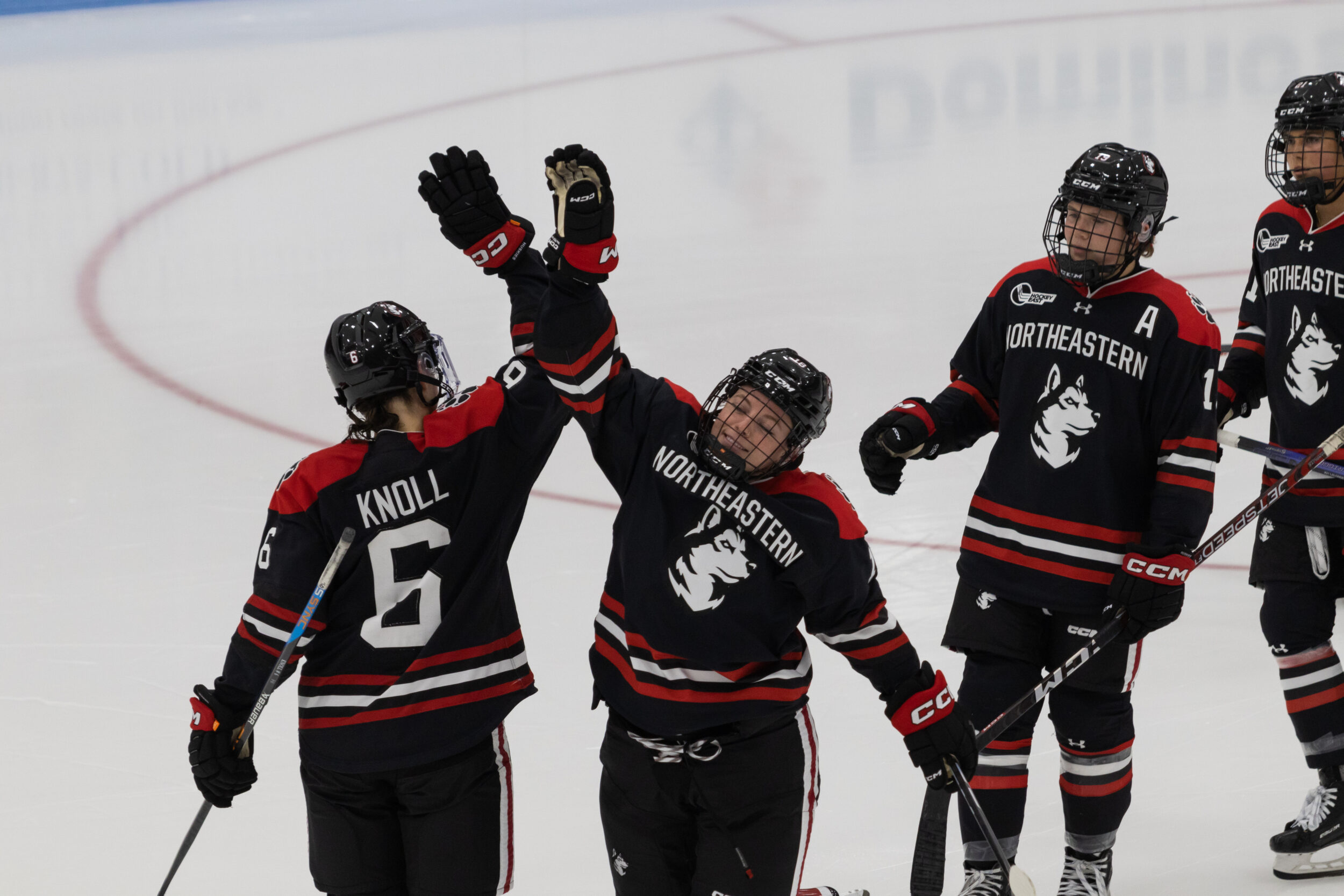 Knoll notched an assist on the empty netter as well, her second point in as many games, which will hopefully serve as a momentum boost for the highest returning point scorer from last year's squad.
One of the biggest concerns in this game was the lack of shots from the Huskies in the second period. After notching six in the first, they responded with just seven in the second – and went a full 11 minutes without recording a single one on goal, something almost unheard of from a team that averaged 38.8 a game a season ago. They would go on to add 13 in the third period for a total of 26, still well belowtheir old average.
There are positives to be taken from this game for both sides. For BU, Pietersen looked comfortable and capable in net as a freshman, and it will be interesting to see how she can develop before junior Callie Shanahan returns to the lineup. More importantly, first year coach Tara Watchorn has created a system that can compete with top schools in Hockey East for a substantial amount of time, and one that can only get better the more reps it gets in game throughout the course of 2023-24. All of it boded well for a Terrier team that has struggled over the last few seasons, and it would not be surprising if they were able to snag a victory at Matthews Arena in Saturday's rematch.
On the opposite end of the ice, there is a lot to build on for Northeastern and a lot to learn from too. While this game didn't start out the way they wanted, getting a win like this under their belts is a great boost moving forward – something their captain emphasized post game.
"It's definitely a huge confidence booster," Carter said. "The awesome thing about Hockey East is that every game is a competitive one, and anyone can come out with a win. So it speaks a lot to just our work ethic and team culture that we can stay in a close game and then pull out a win."
Northeastern will look to add another win to their total this season on Saturday afternoon with a matinee rematch against the Terriers. Puck drop at Matthews Arena is scheduled for 1:30 p.m. with full coverage from Jack Sinclair and Matty Wasserman on WRBB 104.9 FM available to listen to.