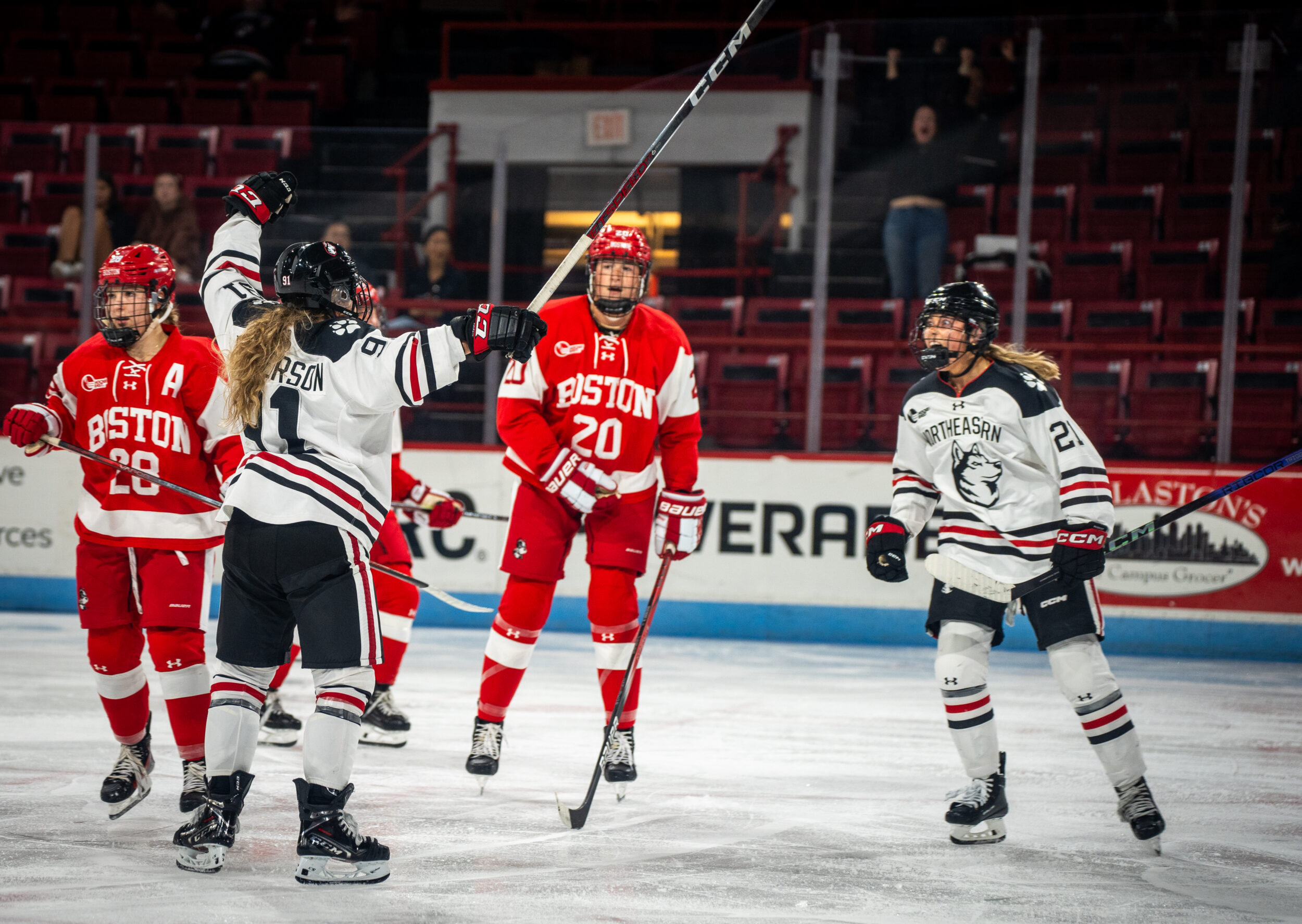 Less than 24 hours after a back-and-forth game saw Northeastern win 4-1, they returned to the familiar confines of Matthews Arena for a second match against the Boston University Terriers on Saturday. It was another game that saw plenty of action on both sides, but after 60 minutes, it was the Huskies who came away with the 2-0 victory.
Northeastern started the game off with plenty of sloppy play. That allowed the Terriers to take advantage of the mistakes and attack the fifth-year goaltender Gwyneth Phillips. During the opening 20 minutes, Phillips was the only Northeastern player that seemed ready to go. Poor passing in the defensive zone allowed BU to sustain pressure on Phillips' net, and stifled the struggling Husky offense. Neither team would score in the opening frame, and it was clear that this game would not be easy for Northeastern.
"We're still trying to figure things out. Still trying to figure out lines. You know, I think we still need to clean up our d-zone," Northeastern head coach Dave Flint said.
After the first intermission, it again became apparent that Northeastern was struggling on offense. Even after a full two minutes of powerplay, the Huskies only produced a single shot. There was great defensive work by Terrier captain Nadia Mattivi, as she led her team's blueliners by putting her body on the line. This was best exemplified by her full extension dive onto the ice to stifle a scorching fast freshman forward Allie Lalonde.
Graduate transfer Alexa Matses, who spent four years as a backup at Northeastern, was stellar between the pipes in herTerriers debut. Twice she denied the Huskies while they broke away, once on a two-on-none opportunity for fifth year Katy Knoll.
Neither team would score in the second period either, as each side continued to attack, without much consideration for buildup play. The game was frantic through 40 minutes, and it was clear that it would take a considerable effort for either team to score.
Northeastern was struggling on the puck, which prompted Flint to jumble the lines, mixing veteran players with newcomers.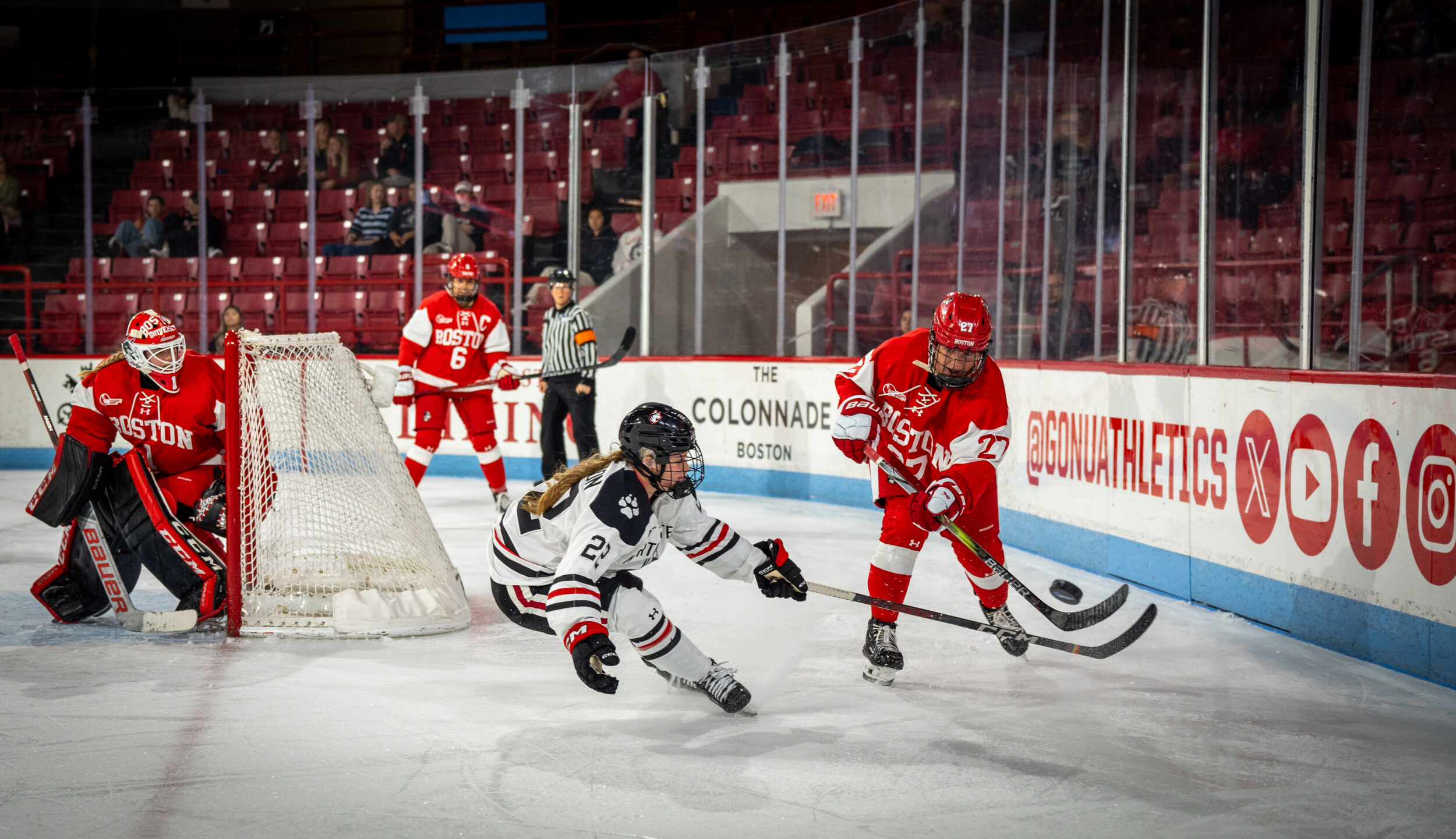 "I think it's just it's making better decisions with [the puck]. Not panicking when they're under pressure like they played high pressure on us all night, which is good for us for our development," said Flint.
Five minutes into the third, the pieces clicked together for Northeastern. A stout forecheck from Lalonde forced a BU turnover to the right of their net. She played a quick pass to a wide open graduate student Peyton Anderson waiting in the slot. Anderson demonstrated her lethal release, as she fired a one-time shot towards goal. The blistering pace of the shot got past Matses, and went into the back of the net for the tie breaking goal.
"I'm happy with the way our younger kids are playing. I think I see them getting better," Flint said.
While Anderson was the goalscorer, she had plenty to say in complement of her assistant, Lalonde.
"She's fast. She's an incredible player and she's really fast and shifty with the puck. So it's really fun to watch her when she's taking the puck on the ice," Anderson said.
The Terriers, who had relied heavily on their top line, began to show signs of fatigue. Despite this, they managed to barely hang on defensively. Northeastern made the job harder on themselves, as they continued to struggle with passing tape to tape, but the BU defense also performed well. Matses made a few more big saves, denying a quick release from junior Skylar Irving.
The score held at 1-0 until the final two minutes, when the Terriers pulled Matses from the net in lieu of an extra attacker. Northeastern weathered the storm from the BU offense, and managed to free the puck into the neutral zone with a hair over 30 seconds to play. Sophomore Lily Shannon used her leverage to ward away a pair of desperately defending Terriers. She crossed the red line, and from the neutral zone fired a shot towards the gaping net. Shannon buried the puck and the Terriers with one play. 2-0 was the final score as the Huskies narrowly beat a strong Terriers team.
"We're not playing too close to our potential and coming out with two wins against BU, you know, I'm happy about that, but there's still a lot we have got to work on," Flint said after the game.
The Huskies have plenty of positives to take away from this weekend. They will be in action again on Friday with an away match against Merrimack. Jack Sinclair will have the call live on WRBB Sports+ at 6 pm.