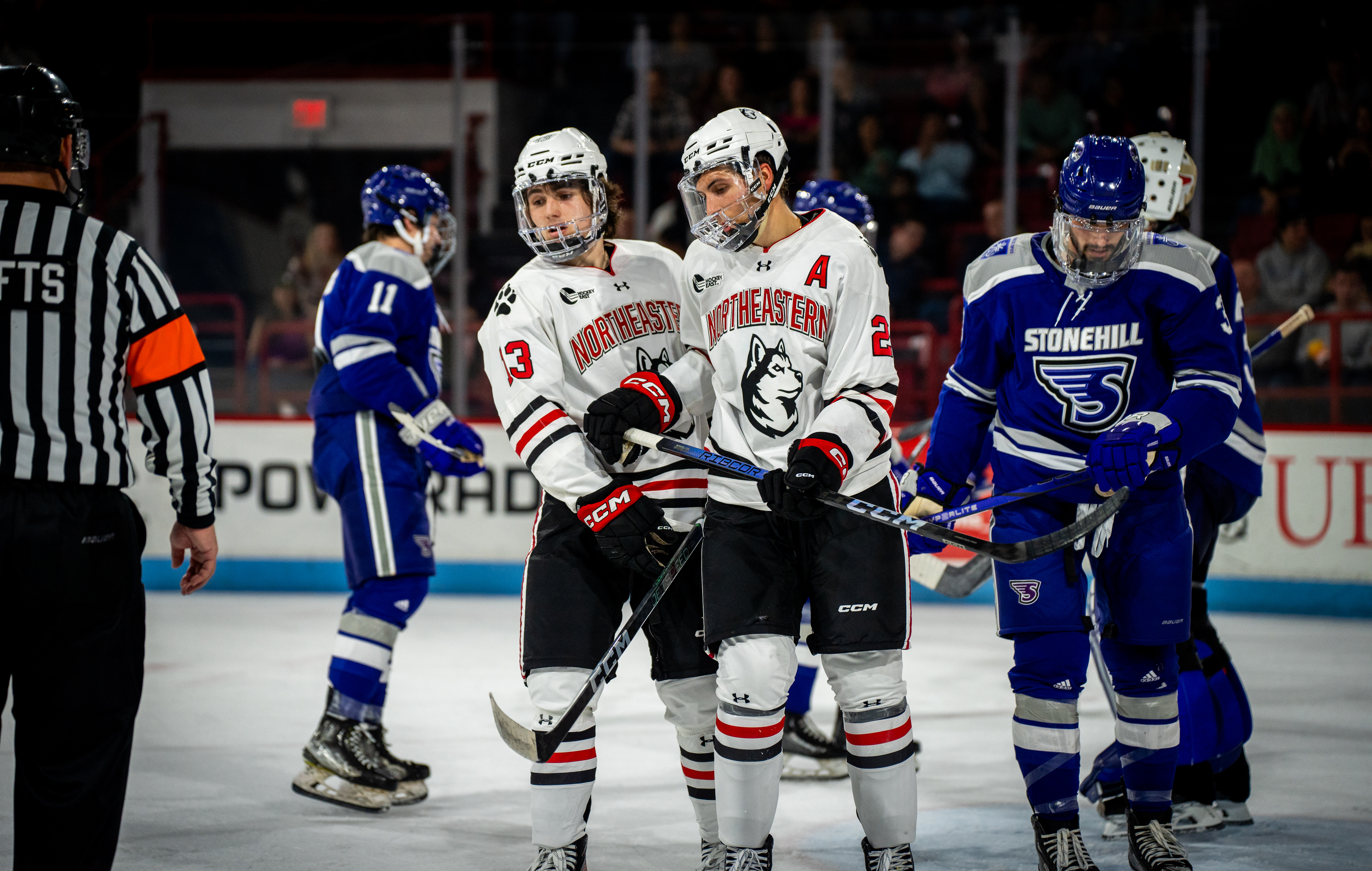 More than two thousand fans filled Matthews Arena on Saturday night for the Huskies' season opener, and the team did not disappoint. In fact, it showed up big — seven times.
For No. 18 Northeastern's first-ever matchup against non-conference neighbor Stonehill, the Huskies buried seven goals and posted a total 52 shots — the highest for a single game in a decade, dating back to the 2013-14 season.
Being that Stonehill is in its first season playing a full Division 1 schedule, it's not a surprise for Northeastern to come away with this win.
However, it's easy to kick your feet up with a big lead, and the Huskies did just the opposite: playing all 60 minutes with effort and pace.
"If you get up by a certain amount of goals, it's never easy in those games," said head coach Jerry Keefe. "But I was actually really proud of the guys because I thought we stayed committed to playing the right way the whole night. There's lots of parts of our game that I liked tonight, and it's a good first step."
Northeastern came out of the gates as the dominant force, maintaining pressure and puck possession over Stonehill. As expected with any season opener, the tape-to-tape passing took some time to develop, but the team took to the net on every shift, so it didn't take long for the puck to find the back of it.
On their first power play of the night only four minutes into regulation, the Huskies capitalized on the one-player advantage.
Leading the pack was graduate transfer defender Pito Walton to open scoring with his first in a Northeastern sweater. The former Princeton captain scored seven goals last season, two of which on the power play, and recorded 14 assists, making him a reliable asset on the offensive front.
"[Walton]'s an offensive defenseman, we knew that. It was good to see him get that first one," Keefe said.
With a notch on the scoreboard under their belts, the Huskies had momentum on their side. Under a minute and a half later, sophomore defender Jackson Dorrington sent a missile from the slot for his first career goal, doubling Northeastern's lead.
A sixth-round draft pick by the Vancouver Canucks, Dorrington is a quick, physical player who should be making more waves offensively this season.
"You can just see the confidence already. [Dorrington]'s played a year of college hockey, played big minutes in big situations," Keefe said. "First game last year, a little hesitant — as all the freshmen are. And tonight, he has the puck on his stick."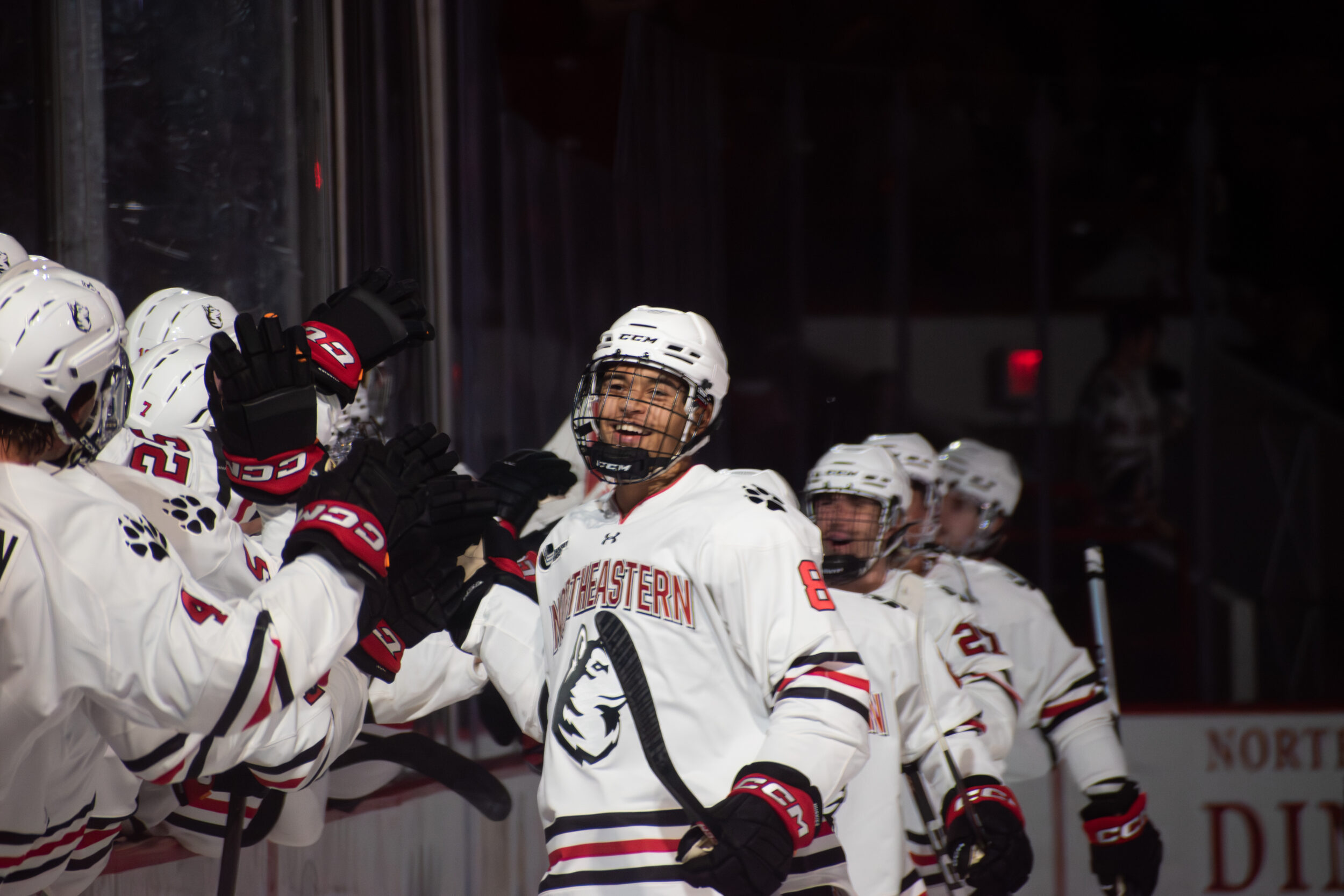 The first two goals coming from defenders speaks highly to the development of the freshmen D-core from last season, as well as the abundance of defensive talent brought in from the transfer portal: Three out of the seven goals were generated by defenders this game, the third scored by sophomore Vinny Borgesi that put Northeastern up by five. Meanwhile only five goals in total were scored by defenders in the entirety of last season.
The Huskies closed out the first 20-minute domination fest with the third goal from sophomore forward and returning top three goal-scorer Cam Lund.
Off the rush and perfect passing from assistant captains Gunnarwolfe Fontaine and Matt DeMelis, Lund roofed the puck for his first goal of the season and put Northeastern up by three to start the second frame.
"We want [Lund] to feel like he can go out and dominate a shift," Keefe said. "Once he takes that next step, which he's ready [for], you're going to see a kid that's a real difference maker."
By the first intermission, eight Huskies already had at least one point in the game — Borgesi leading with two assists. The chemistry and collective team effort was apparent from the jump, and will significantly help Northeastern down the stretch in having the edge over opponents.
"I really feel like Borgesi is going to take a huge step this year," Keefe said. "I thought Matt DeMelis played really well tonight, as he always does. … And then we're going to need obviously [Fontaine] to be an offensive guy for us all year."
Regarding the freshmen in the lineup, Keefe spoke to how they contributed to the win as well.
"[Michael Fisher]'s an extremely gifted skater," Keefe said. "I thought he moved his feet well and defended well. I thought Dylan Hryckowian had a lot of chances. [Billy] Norcross forechecked hard, I thought he had a strong game, [and Eli] Sebastian was good out there for us."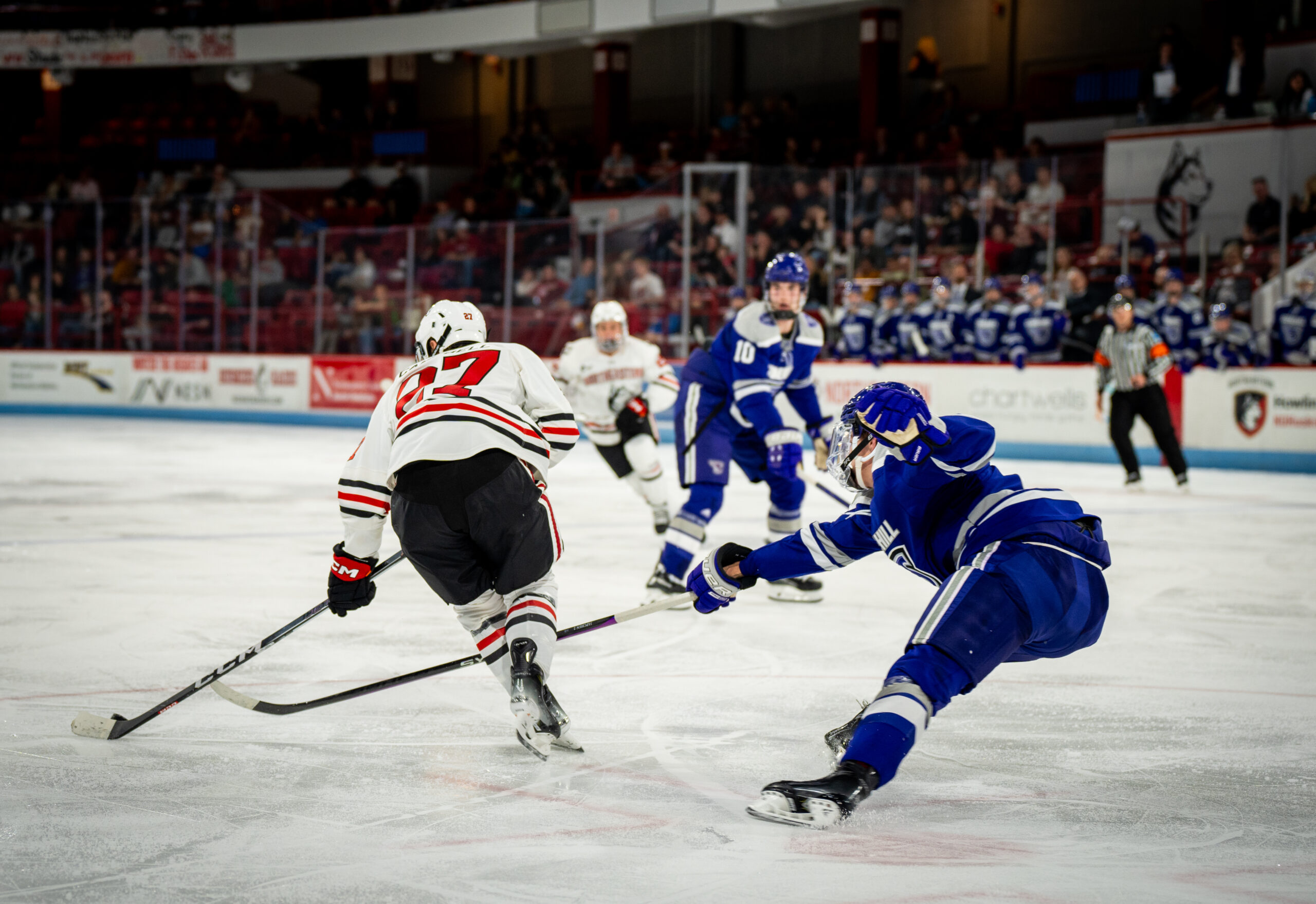 The Huskies maintained control of the game throughout the second period. After five minutes, the team added a fourth tally to the board with a goal from assistant captain and graduate forward Liam Walsh whose last season stats didn't show for his talent due to a long stint of injury.
By this point, the total shots on goal count was 18-5 NU. While the Skyhawks were struggling to get any shots on Huskies' starting freshman goaltender Cameron Whitehead, another contributing factor was Northeastern's staggering amount of blocked shots at 13, essentially canceling out the 13 total SOG from Stonehill.
The top-two D-men in Walton and sophomore Hunter McDonald, who assisted Walsh's goal, combined for 128 blocked shots last season — with McDonald's standout 94 leading to the 'Hockey East Best Defensive Defenseman' award for 2022-23.
"It's a really good start for [Whitehead], it's a really good start for our D-core too," Borgesi said. "We're blocking 10, 15 shots a night, I think we can make his life easier. And it gives us credit too. [Whitehead]'s super talented, but I think our D back there do a really great job at protecting him."
The Huskies closed out the second period with a staggering 5-0 lead — the fifth goal by Borgesi scored midway through off assists by Lund and Fontaine. Stonehill's 11 SOG didn't hold a candle to Northeastern's 33 as they continued unsuccessful at producing any impactful offensive chances.
The Skyhawks were also struggling defensively as they couldn't stay out of the penalty box and began period three on the kill, which the Huskies also made sure to take advantage of.
With one second left of the remaining 11 on the power play, senior transfer Alex Campbell tipped one past the red line for his first as a Husky, giving Northeastern half a dozen goals at a 6-0 game.
In similar fashion nearing the halfway point of the frame, Campbell also secured his second goal of the game and Northeastern career in the opening seconds of the Huskies' sixth power play. The former Clarkson Golden Knight was set up yet again by junior forward and captain Justin Hryckowian for the finisher, giving the team the 7-0 lead.
When asked about his playmaking abilities meshing with players like Hryckowian and junior forward Matt Choupani on the first line, Campbell gave the captain all the credit.
"[Hryckowian]'s such a smart player, so he makes it pretty easy to play with," Campbell said. "I got to use my speed on the outside and he wins battles, finds open guys. He's a great player."
The Huskies have a lot of positives to take out of their opening game, from immediate response from the transfers and freshmen, to star returners getting points on the board, and Whitehead getting his first collegiate win and shutout.
The true tests for Northeastern's depth will come from conference matchups like Boston University and Boston College, as well as battles against experienced non-conference programs like Minnesota Duluth and reigning national champion Quinnipiac — the latter facing off at Matthews on Sunday.
Although the matchup is an exhibition, Northeastern won't approach it any differently and is prepared for the challenge.
"We're coming to win. We're taking this as a serious game," Borgesi said. "I think if we do what we did tonight — protect the middle of the ice, make tape-to-tape passes, and think through the game all night — I think we'll be in great shape."
Northeastern will be back Sunday afternoon for an exhibition against Quinnipiac. Zach Lyons and Matty Wasserman will have the call for WRBB on air for the 4 p.m. puck drop.