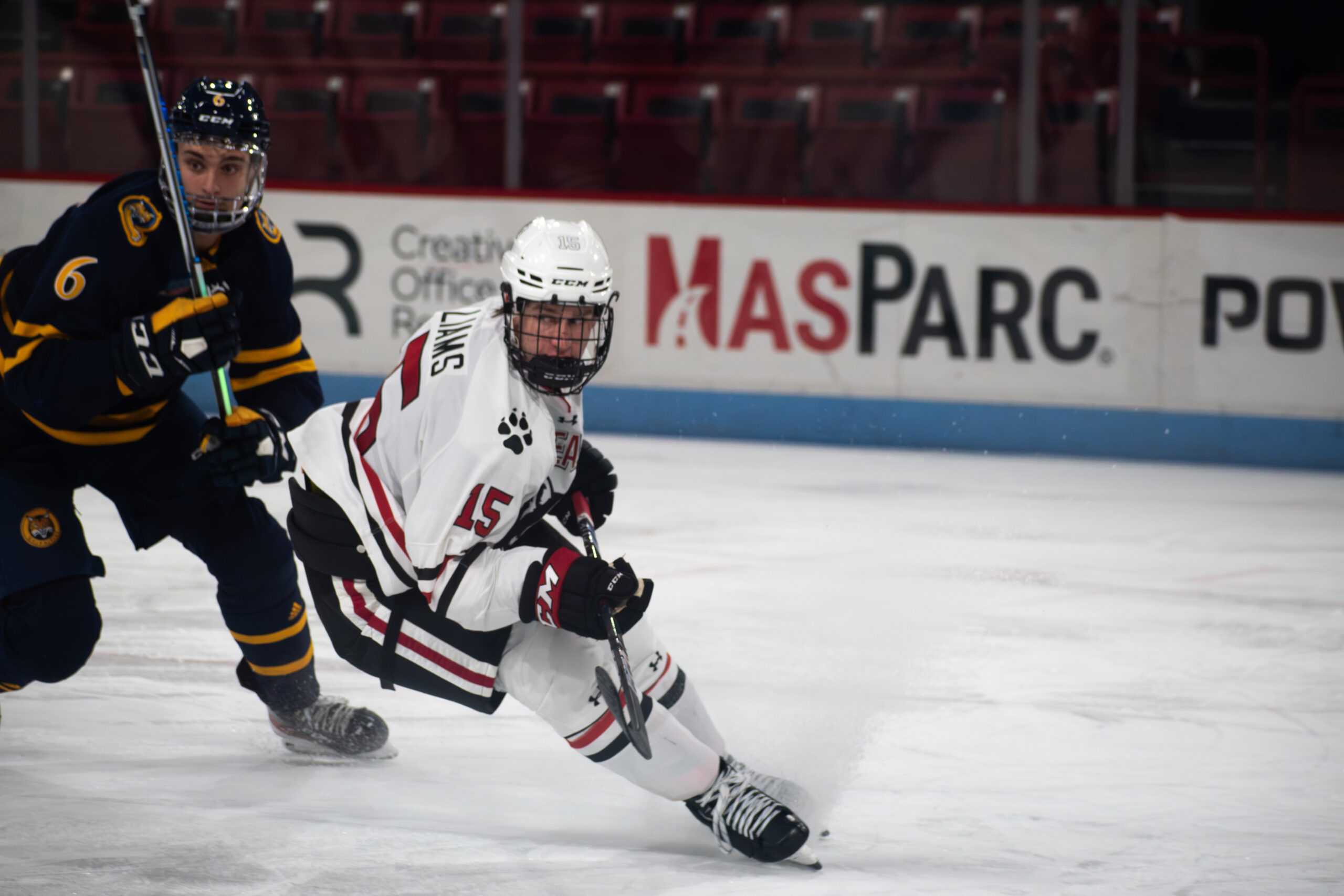 After playing a badly overmatched opponent on Saturday and an exhibition with no standings implications on Sunday, evaluating Northeastern's opening-weekend performance comes with some asterisks.
But from everything we did see on the ice this weekend?
It's hard to imagine how things could have gone much better.
After routing a Stonehill squad transitioning to Division 1 in Saturday's opener, Northeastern delivered a well-rounded, top-to-bottom effort against No. 2 Quinnipiac in Sunday's 3-2 shootout victory. Both teams treated the exhibition competitively, and the Huskies outshot the Bobcats 38-32 and matched their physicality and scrappiness throughout the contest.
"It shows the maturity and the seriousness of this group that they wanted [to win] that game today," Northeastern coach Jerry Keefe said after Sunday's win. "I thought even last night, we tried to play the right way for the whole night, even in a 7-0 game. Then to come back today [and play well again], I really liked a lot of things in our game."
While Northeastern faced a slew of big-name departures this offseason, this weekend confirmed they can be an extremely formidable team again this year — and perhaps even better with their refreshed, new-look play style.
Here's four takeaways from an encouraging opening weekend:
Keefe crushed the transfer portal
While Keefe does not plan to bring in six transfers on a yearly basis, the sheer quantity of departing players this offseason necessitated Keefe find immediate-impact players from the portal.
If these first two games are any indication, the veteran newcomers have already helped reshape the team's identity.
Graduate transfer Pito Walton, a four-year starter and captain at Princeton, brings an entirely new dimension to Northeastern's defense, slotting in seamlessly alongside Hunter McDonald on the Huskies' top pairing.
Listed at 6-2, 210 pounds, Walton uses his frame to seal angles and force forecheckers off the puck, while also providing a steady presence handling the puck in transition and igniting breakouts. He also showed off his accurate one-time slapper, notching four shots on goal and scoring on the power play in both games.
"He's got that swagger, that poise with the puck," Keefe said of Walton. "He can break you down one-on-one as a defenseman and he just is a headsy player who just sees the ice really well and he gives us a big time playmaker."
The same goes for senior Alex Campbell, the Nashville Predators' 2019 third-round pick who scored 30 goals over his past two seasons at Clarkson. Campbell has good straight-line speed but is also shifty in traffic, and he excels moving towards the net. He got off to a hot start with two goals in the opener against Stonehill, both in-close to the net.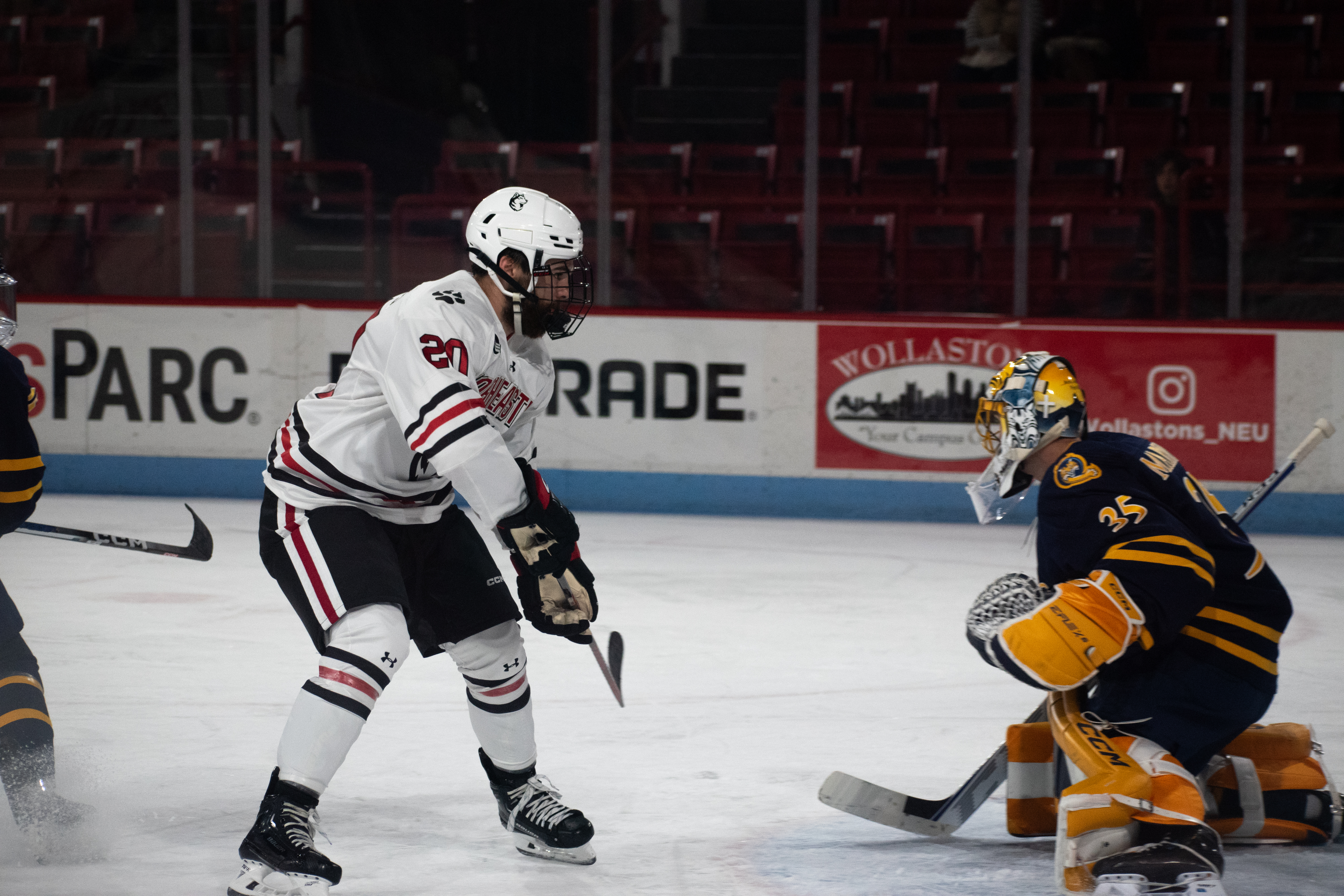 After logging 97 games over his first three seasons with Minnesota, defender Matthew Staudacher brought immediate reliability and toughness to the defense, and showed virtually no rust after redshirting last season.
Ditto for Denver transfer Brett Edwards at left wing, who had great flashes on fastbreak rushes while playing with a variety of linemates. Keefe bumped him to the second line for Sunday's game with Gunnarwolfe Fontaine out of the lineup.
"I can already tell he's a kid you can trust," Keefe said of Edwards. "You can put him out there at the end of the game. He had a big face off in our own end [in the Quinnipiac game], and he knows exactly what he's doing and he came up with a big block."
The new-look offense was a breath of fresh air
The eye test confirmed what appeared promising on paper: This team is much, much faster, and also far better equipped to utilize that speed.
Against Stonehill, the Huskies' connectivity at 5-on-5 and rushes was apparent almost immediately. Still, it was difficult to gauge the improvement until that attack faced one the nation's best defenses on Sunday — and the Huskies rose to the challenge, displaying quickness in transition and evading checks with selfless passing and crafty moves.
Top-six wingers Campbell, Fontaine, and Cam Lund are the primary drivers of that elite speed. But just as critical is how the centers on their lines — Justin Hryckowian with Campbell, and Jack WIlliams with Fontaine and Lund — are still good enough skaters to keep up on rushes, while also possessing the playmaking ability to drive scoring chances.
"[Hryckowian] is such a smart player, so he makes it pretty easy to play with," Campbell said after Saturday's win. "So I gotta use my speed on the outside. He wins battles, finds open guys, and is just a great player that makes it easy to play with."
That speed also translated to the other end: Jerry Keefe said before the season he wanted to be the best back-checking team in the country, and the Huskies defenders and wingers both excelled against the Bobcats in transition.
Cameron Whitehead's debut was a major success
Replacing the best goaltender in program history comes with major pressure, but freshman Cameron Whitehead had things break well this weekend: He didn't face many difficult looks in a 13-save shutout against Stonehill, and then faced his first true challenge in a game which wouldn't be reflected on the stat sheet.
Even with slightly lower pressure, Whitehead was as good as could be expected. In the first two periods of Sunday's exhibition before being replaced by backup Connor Hopkins, Whitehead made 19 of 20 saves, and the only goal he allowed was on a dead-accurate laser from the inside left circle.
"The first game I was really nervous," Whitehead said on Sunday. "First period, feeling the Doghouse and everything like that, I really wasn't expecting that much noise. So I was a little nervous. But the team played great in front of me, and it was really easy to settle in…then when I got to the next game, [I didn't] really think about anything else. I was just playing hockey."
Keefe and the entire program is adamant that transitioning from Levi to Whitehead won't mean any system overhauls or major philosophical changes, but the experienced defensive core is also working to make that shift easier for their young netminder.
"Obviously, [protecting him] is in the back of our mind a little bit as a core," said defender Vinny Borgessi. "I think if we just stick to our game and just do what we do, we'll protect him."
Unlocking Cam Lund
Keefe said ahead of the season that Lund has the talent to be among the best forwards in Hockey East, if not the country. His flashes of potential were tantalizing in his freshman campaign last year, but translating it to consistent production is a separate challenge.
Throughout the weekend, Lund displayed improved confidence handling the puck while curling around cycles and operating from the high slot, and also patience and control in transition.
In addition to scoring against Stonehill, he also led the team with 15 total shot attempts and eight shots on goal. Even against Quinnipiac defenders who were better-equipped to counter his burst on Sunday, he again led the team with five shots on goal.
"We want him to feel like he can go out and dominate a shift," Keefe said of Lund. "You see spurts of it with him, and I think once he takes that next step — which he's ready for right now — you're going to see a kid that's a real difference maker."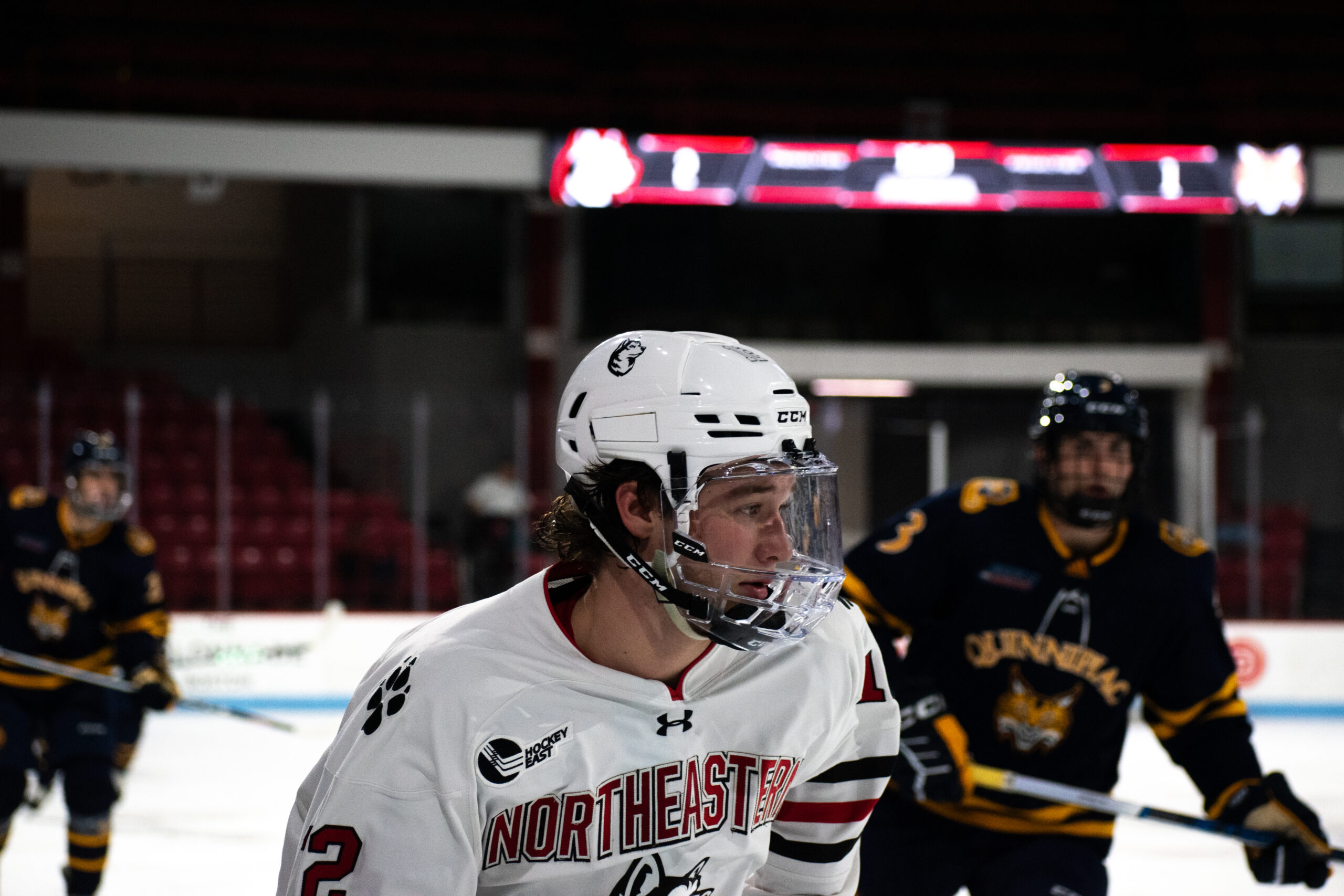 To make best use of Lund's skill set, Keefe matched him with sophomore Jack Williams on the second line. Williams can aid Lund's offensive development with his well-rounded game and vision, and also Lund's dynamic physical tools and creation can free up space for WiIlliams.
"Williams is a really smart offensive player," Keefe said. "He's got a great second effort on the forecheck. He plays on both sides of the puck. So I think he's a natural center to play with a really gifted offensive player like [Lund.]"
Injury updates
— Senior forward Gunnarwolfe Fontaine was out of the lineup Sunday after playing the full game Saturday, and Keefe said he would be back for next weekend's game against Bentley.
— Hunter McDonald exited Sunday's game in the first period with an injury and did not return. Stepping into his place in the defensive rotation was freshman Nolan Hayes, who filled in admirably in his college debut.
Keefe said holding out McDonald for the final two periods was merely precautionary, and he will also return on Saturday.
The Huskies are back in action at 7 p.m. Saturday against Bentley from Matthews Arena. Khalin Kapoor, Matty Wasserman, and Amelia Ballingall will have the call live on WRBB 104.9 FM.