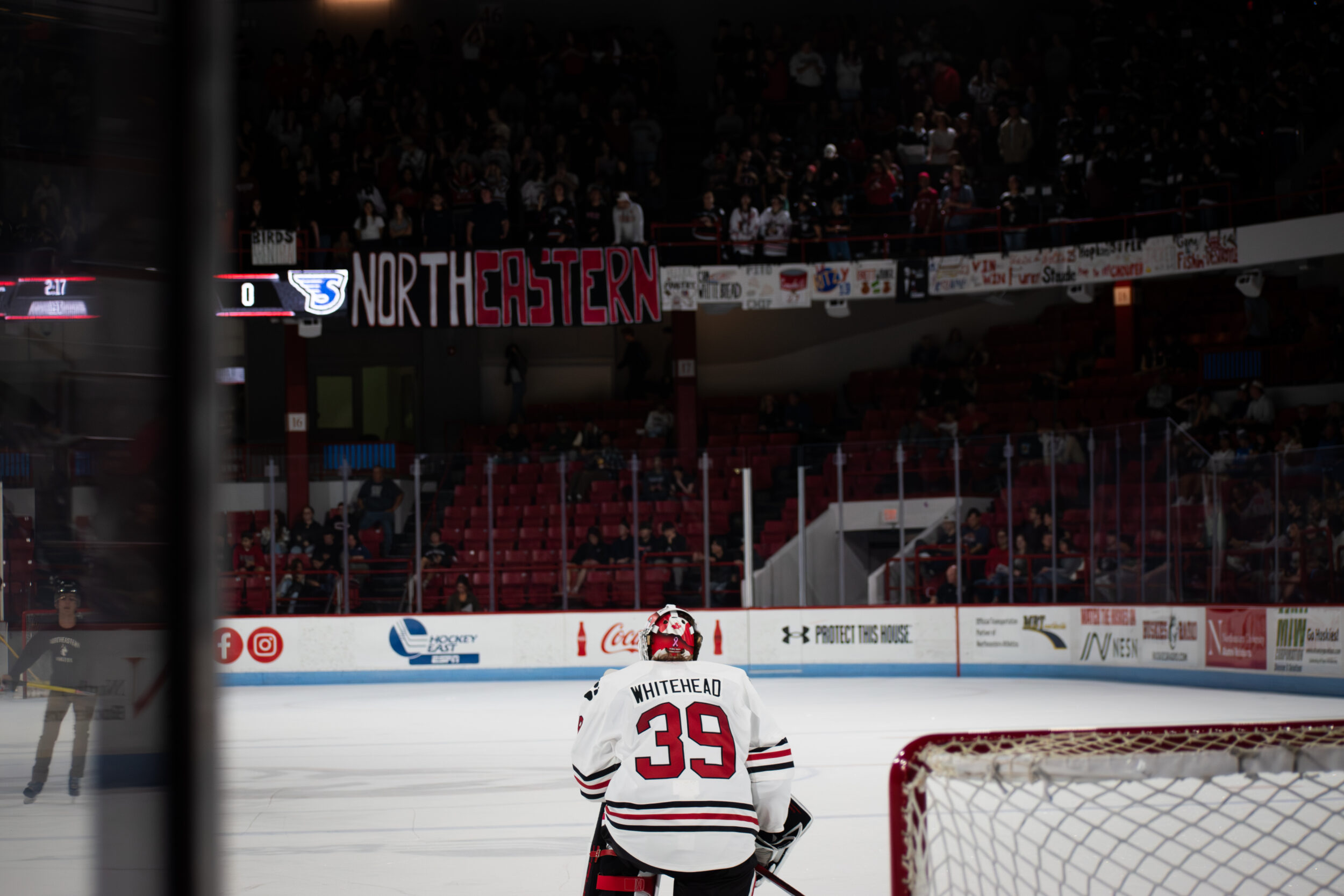 Opening weekend for Northeastern has come to a close, and fans were treated to the first viewing of the new-look roster. But among the 13 newcomers' making their Husky debuts, none will have a greater influence on the program's future than freshman goalie Cameron Whitehead.
With the departure of superstar goaltender Devon Levi, Whitehead was handed over the reins to protect the Huskies' net following two standout seasons with the USHL's Lincoln Stars.
With all eyes on him, Whitehead played excellent in his first college game, recording 14 saves on just as many shots in a commanding 7-0 victory over Stonehill. The following day, Whitehead picked up right where he left off, stopping 19 of the 20 shots that came his way in the first two periods of Northeastern's exhibition win over Quinnipiac.
"The first game I was really nervous… But the team played great in front of me, and it was really easy to settle in," Whitehead said on Sunday. "Then when I got to the next game, [I didn't] really think about anything else. I was just playing hockey."
Though the sample size is small thus far, Whitehead's poise and pedigree have set the stage for him to develop into the next dominant goalie at Northeastern, a factor that has defined the program's recent history.
But while Whitehead now assumes an immediate role atop the Huskies' depth chart, a complicated series of events driven by his grit and determination led him into this position.
"There's a lot of things that had to go right for me to get here," Whitehead said ahead of Northeastern's season.
His journey to Boston started in 2020 when he decided to come to the U.S. to play junior hockey for the NCDC's Utica Jr. Rockets. It seemed like a risk for the then 17-year-old Canadian to travel to the States during the height of COVID, but Whitehead's gamble paid off.
Whitehead played well during his lone season in Utica, compiling a .896 SV% in 29 games, and his play earned him the honor of being drafted No. 146 to the Stars. However, the pandemic was not the only domino that had to fall for the prospect to end up with the Huskies — Whitehead faced an uphill battle for playing time after arriving in Lincoln, as there were initially two goalies ahead of him on the depth chart.
Luckily for him, his moment to take over for the Stars came barreling towards him faster than anyone could have expected.
"I was supposed to be there as a third goalie, but then one of the goalies who was supposed to play over me quit hockey entirely," Whitehead said. "It really gave me an opportunity to play at the highest level, and I made the most of it."
Whitehead then committed to Northeastern only two months into his breakout 2021-22 year with the Stars. He went on to gather 16 wins in merely 31 appearances, ending the season in the top 10 in the USHL for wins from goaltenders.
His stellar showings paired with his pure skill and size convinced the Vegas Golden Knights to snag him with their fourth-round draft pick (No. 128 overall) in 2022.
So why should we be confident in Whitehead? What makes him stand out from the pack as the guy able to supersede such a dominant net presence? The reasons are frankly countless, and an abundance of them were on display in his sophomore campaign with the Stars last year.
After a successful debut season, Whitehead came out for year two and erupted for 1099 saves, eclipsing quadruple digits for the first time in his career. He finished top three in wins (25) and top 10 in both save percentage (.904) and goals against average (2.83). More often than not, Whitehead was a brick wall on the ice for Lincoln, which attributed to his five shutouts, a statistic that would lead the league.
While some of Whitehead's previous opportunities arose from a combination of circumstantial luck and seizing upon his limited chances, his leap from a solid starter to a top-flight goalie can only be attributed to his relentless work ethic.
"Over the last few years here at Lincoln, he managed the highs and lows really well," said Art Brey, the goaltending coach at the Stars. "He always had an attitude where he wanted to get better and wanted to be challenged."
Brey joined the Stars organization the same season Whitehead did in 2021, and that allowed for the two to create a close relationship that Whitehead believes helped maximize his potential.
"He [Brey] has had a huge impact on my life," Whitehead said. "He helped me a lot mentally by saying what it took to be a high-level goalie."
Brey shared a similar perspective on his relationship with Whitehead.
"Me and Cam, our relationship is really close and personal. I think more than anything, we were able to communicate effectively because we have that type of relationship," Brey said.
If there was a right moment for Whitehead to find the push to blossom into a star, his time at Lincoln was certainly it.
"It's a very skilled league, all the top college players are funneled through it," Whitehead said on the USHL. "It's a lot more compact and skilled, so I think playing well there made a big difference."
The talent surrounding Whitehead did not faze him in the slightest. Night in and night out, everyone in the rink regarded him as one of the best players on the ice.
Whitehead is the highest-drafted goaltender to ever suit up for the Huskies, and one of only three to get drafted at all — the other two are Cayden Primeau and Devon Levi, both former Mike Richter Award winners.
While contending for a Richter Award may be in Whitehead's future, his focus does not lie on individual success. As it pertains to his Northeastern career, Whitehead looks to take it one day at a time, which is something that Brey preached to him. When it comes to this season specifically, the goal is to bring a national championship back to Huntington Avenue.
"I think the culture here that we've been building is pretty good, and I think we all got our eyes set on winning a national championship, the Beanpot, and just going as far as we can," Whitehead said.
The Huskies have never won a national championship and have not been to the Frozen Four since 1982, but in recent years, the squad has been as close as ever to returning. Whitehead holds the confidence to be that extra push and lead the team somewhere even his great predecessors could not.
Of those before him, Whitehead will likely draw the most comparisons to Levi, as no goalie has left bigger shoes for the next guy to fill than him. Not only is he a two-time Richter Award winner, but he is departing after a season where Northeastern allowed 33.2 shots per game, which ranked them second-highest in their conference and 11th in all of Division 1 hockey. Whitehead is not perturbed by the pressure.
"It's part of the position to get saves, obviously he [Levi] set the bar high and I want to be able to achieve something like that as well, but I am my own person," said Whitehead.
Whitehead is not the only one at Northeastern who is confident that he can hold his own. Head coach Jerry Keefe believes that Whitehead can quickly develop into an elite net prowess.
Keefe is entering his first head coaching season without Levi in the net, and believes that Whitehead is the perfect prospect to prove that his system follows a winning formula.
"We always felt really confident with [Levi] making the first save and seeing the puck," Keefe said ahead of the season. "We're going to defend exactly the same way in front of Whitehead."
Among the abilities that Keefe values the most in his goaltenders is the read of the first shot, as it is on the defenders to limit shots to the perimeter of the zone. The combination of size and athleticism that Whitehead possesses makes blocking the first shots his forte, and he already proved his confidence playing in front of an experienced and deep defensive core.
"They're communicating with me well, they're blocking shots, and doing everything they can to make my life a lot easier," Whitehead said after Sunday's exhibition win over Quinnipiac. " I couldn't have asked for a better D-core this weekend, and it is just going to keep getting better."
Whitehead is set to take over an important role for the Huskies, and he should be expected to flourish on this roster. In an era where Northeastern is one of the biggest goaltender factories in the nation, pumping out multitudes of stars like Primeau and Levi, many factors contribute to the idea that Whitehead will not just extend that narrative, but create one that helps the Huskies reach their long-term team goals.