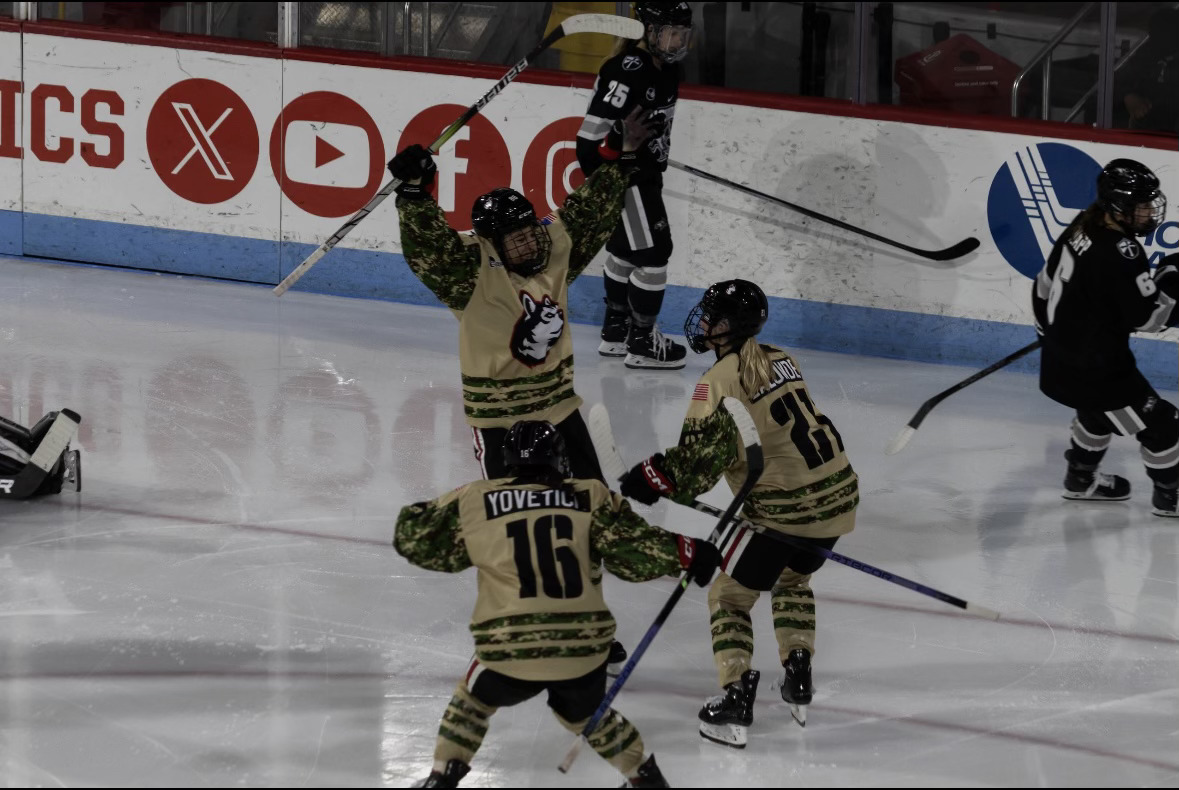 BOSTON — On the heels of back-to-back shutout losses against UConn last weekend, Northeastern returned to Matthews Arena on Friday in dire need of a scoring outburst.
In an emphatic 6-1 victory over Providence on Friday night, the offense finally came to life.
"Our chemistry is getting better over the games, and [we've] kept our bench energy up," said freshman Allie Lalonde. "This game will set the pace for the other ones."
A scoreless first period, which had included a Huskies' power play, passed before anyone was able to find the back of the net.
Just 22 seconds into the second period, Lauren DeBlois, who was the first line of defense, snuck a puck past goalie Gwenyth Philips to give Providence an early lead. She tapped it from right in front of the net.
That one marginal goal would be a false hope of a win for the Friars — after Brooke Becker landed in the box for tripping, Northeastern was quick to capitalize. Lily Yovetich's rebounded puck set up forward Allie Lalonde from the right face-off circle for a perfect shot 13 seconds into the power play at 9:52.
"There's been a lot of talk about who was going to get the first power-play goal. We haven't scored on a lot of our power plays," Lalonde said. "It was awesome getting that started for the game and a lot of other goals came within that. Our bench energy was really present, and everyone was happy for each other when they scored."
With that, the Huskies were tied on the board, but it was not long before they were in trouble again as Yovetich took two minutes in the box for a roughing call.
It was the perfect, unexpected moment for Skylar Irving to step up and slot one in, even at a disadvantage. Irving raced down the ice into the offensive zone, crafting a perfect goal to put the Huskies at a 2-1 lead.
"It had been seven and a half periods that we hadn't scored a goal. I knew if we just kept pounding away at it, we would get some goals and then we got six in the next period and a half," said head coach Dave Flint.
Over the course of the third period, the Huskies tripled their score. Lalonde tallied another one on the board 29 seconds in, rebounding a puck that had bounced off goaltender Hope Walinski.
"I've been in a drought and looking for a goal, so it's definitely nice to get back on the same page and have more confidence in myself now," Lalonde said. "I'm definitely going into the next game with the hope to get another one tomorrow night."
It was Lalonde's fourth goal of the season, and she's been a prominent part of Northeastern's lineup and is expected to contribute immediate offense in her freshman season.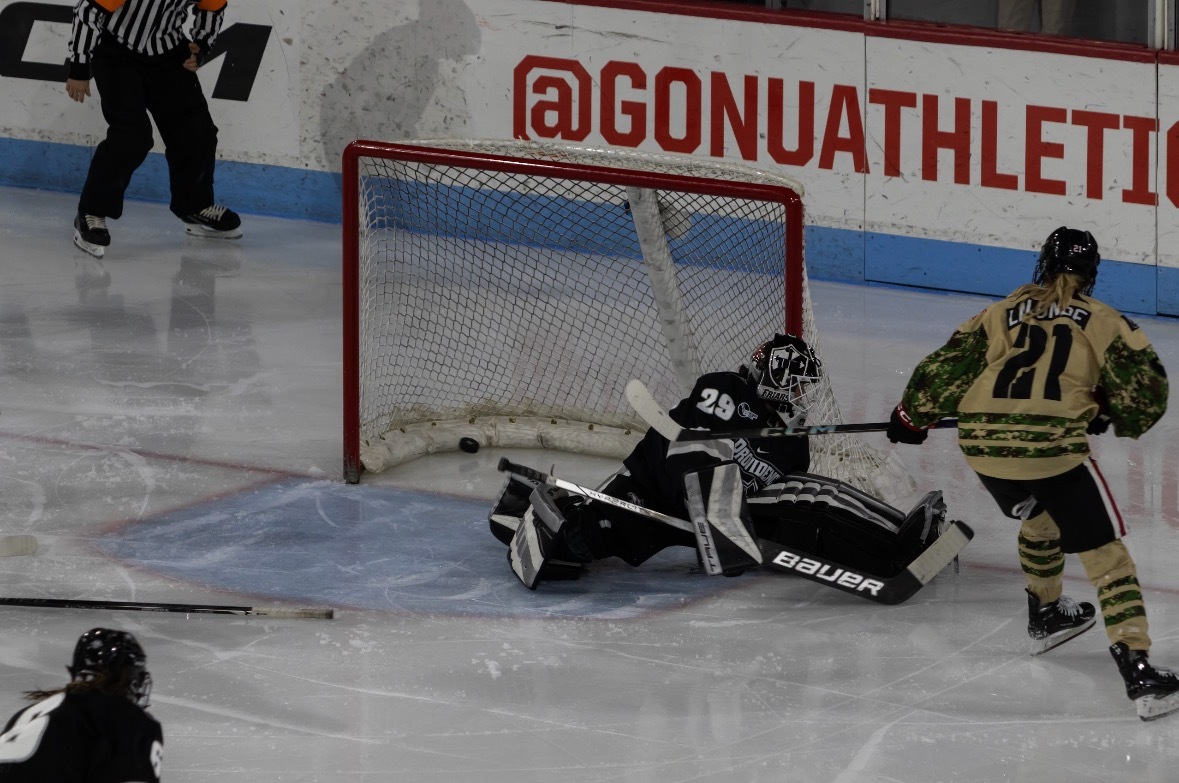 "She got rewarded for going to the net," Flint said of Lalonde. "Sometimes she gets a little bit too perimeter in being a freshman and just understanding what she needs to do night in and night out. She went hard to the net, she made some good decisions, and she can capitalize on opportunities."
The next player to join the scoring party: junior Tory Mariano. On a Northeastern power play at 9:46, Yovetich, once again, gave her a perfect pass that enabled her to find the back of the net.
Captain Megan Carter assisted sophomore Jules Constantinople for the Huskies' fifth momentous rally, and Alyssa Antonakis earned her first career goal for a 6-1 final score. It was another rebound from Walinski, who thought she had made the save but was fatally defeated as the puck snuck through the five hole.
Providence's six penalties proved to be detrimental to them, given the Huskies were able to score on half of them, including a five-minute major and game misconduct against KC Brooks for hitting Katy Knoll from behind. Northeastern outshot them by almost double the count, with 40 shots compared to their 29.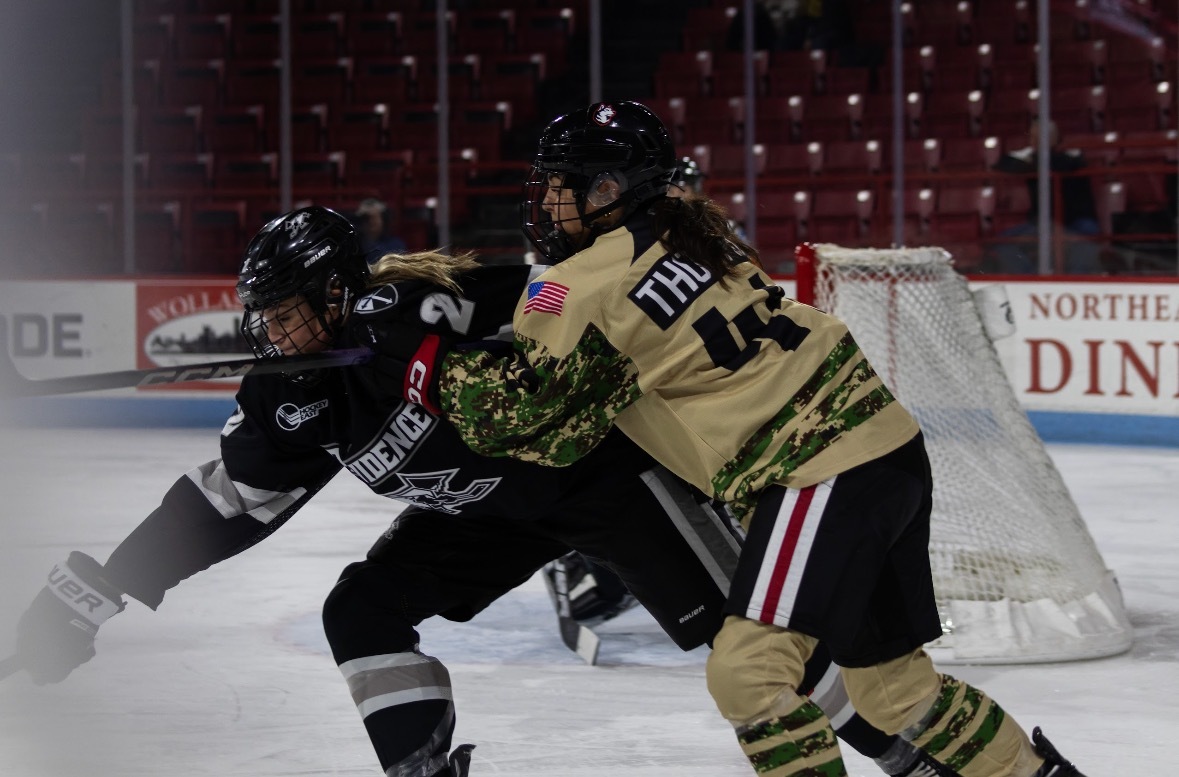 "They'll make some adjustments, having prepared. We can't sit back and say, 'Oh, we beat them 6-1, we're just going to show up and beat them again,'" Flint said. "They're a good hockey team and we need to be ready."
The Huskies were already a runaway train that was not going to be caught. They built up dynamic, fearless momentum that had been missing from the team for the starting games of the season. This time, Northeastern skated off the ice with a dominating aura.
Tonight's major success gives the Huskies an incredible wave of energy as they face Providence for a second time tomorrow, this time at their arena, and Northeastern is looking to seal the deal.
Northeastern will rematch with the Friars at Schneider Arena on Saturday at 3 p.m.