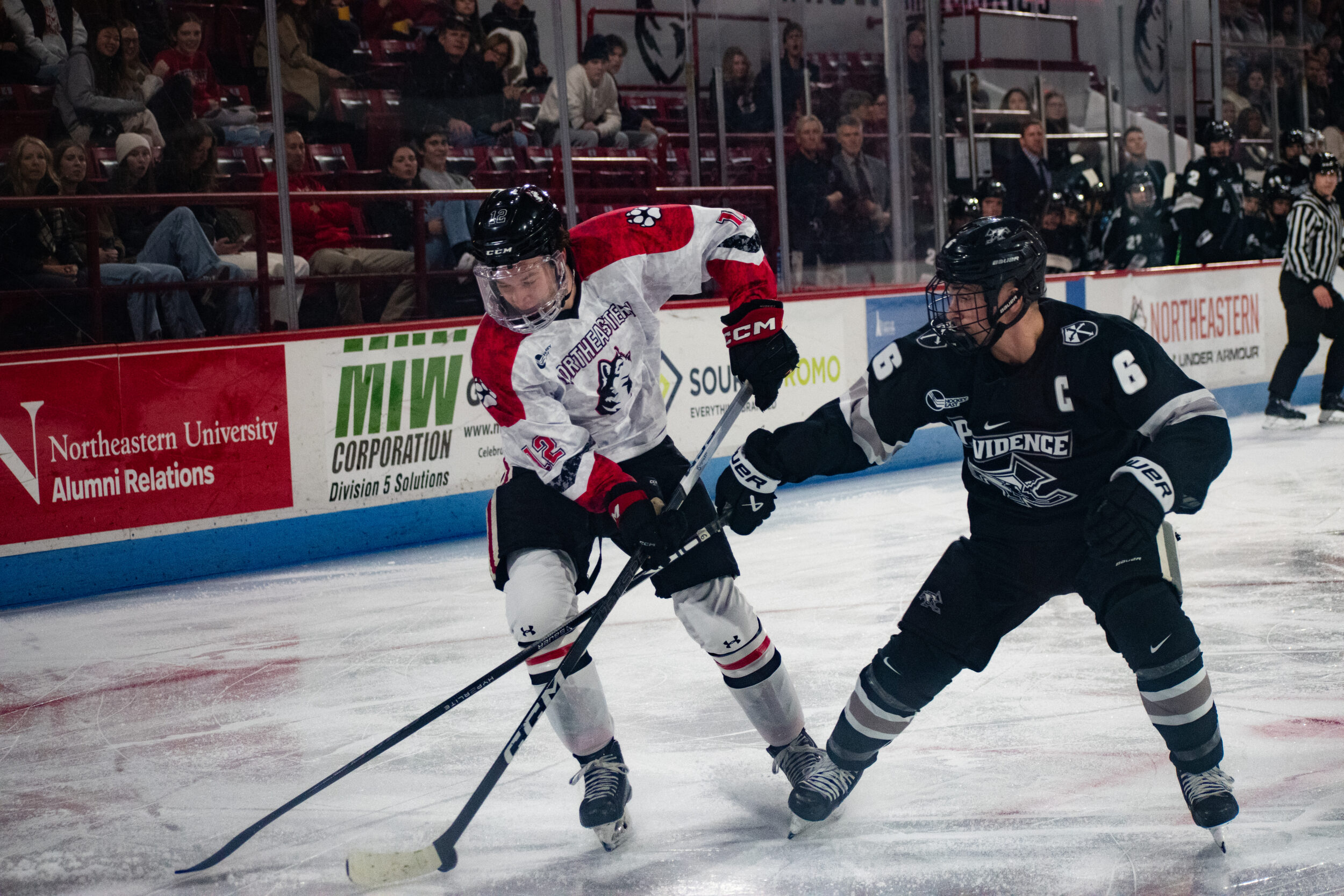 BOSTON — The packed Homecoming crowd at Matthews Arena slowly emptied out during the third period on Saturday, as Northeastern was taken down by No. 5 Providence.
With four key players still missing from the lineup, the Huskies were swept by the Friars over the weekend, with an overtime loss on Friday and a 5-2 defeat on Saturday. Northeastern's 0-5 conference record thus far cements their bottom-of-the-barrel place in the Hockey East standings, with the line between adversity and irreversible damage becoming increasingly blurred.
"There's not a lot of positive takes out of this weekend in general. I said to the guys I'm pretty frustrated, they're pretty frustrated too," said head coach Jerry Keefe. "There's one way to go [from] here, and that's [to] get better. It's easier said than done, but that's what we have to do. We'll show up on Monday and keep fighting."
With Northeastern sent to the box early into the first period on Saturday and Providence dominating in all facets, it was a matter of time before the Friars tallied the scoreboard. Providence's Chase Yoder opened scoring at 8:57 with a wrister from the left faceoff dot, beating freshman goaltender Cameron Whitehead cleanly gloveside for a 1-0 game.
Instead of a spark, what followed was more chasing by Northeastern — unable to take control of the game's pace and keep play outside of their own defensive zone. After arguably the best scoring chance for the Huskies for the period, Providence's Tanner Adams redirected another Yoder attempt with a tip-in to double the Friars' lead.
The second period remained at a 2-0 score. While Northeastern saw more offensive zone time and shot attempts, Providence persisted in preventing the Huskies from setting up for anything of quality and finding the back of the net.
To that same point of a scoreless second, the Huskies were successful on the defensive front by keeping the Friars' fiery offense at bay — most of the credit due to Whitehead's perfect 13 saves on 13 shots.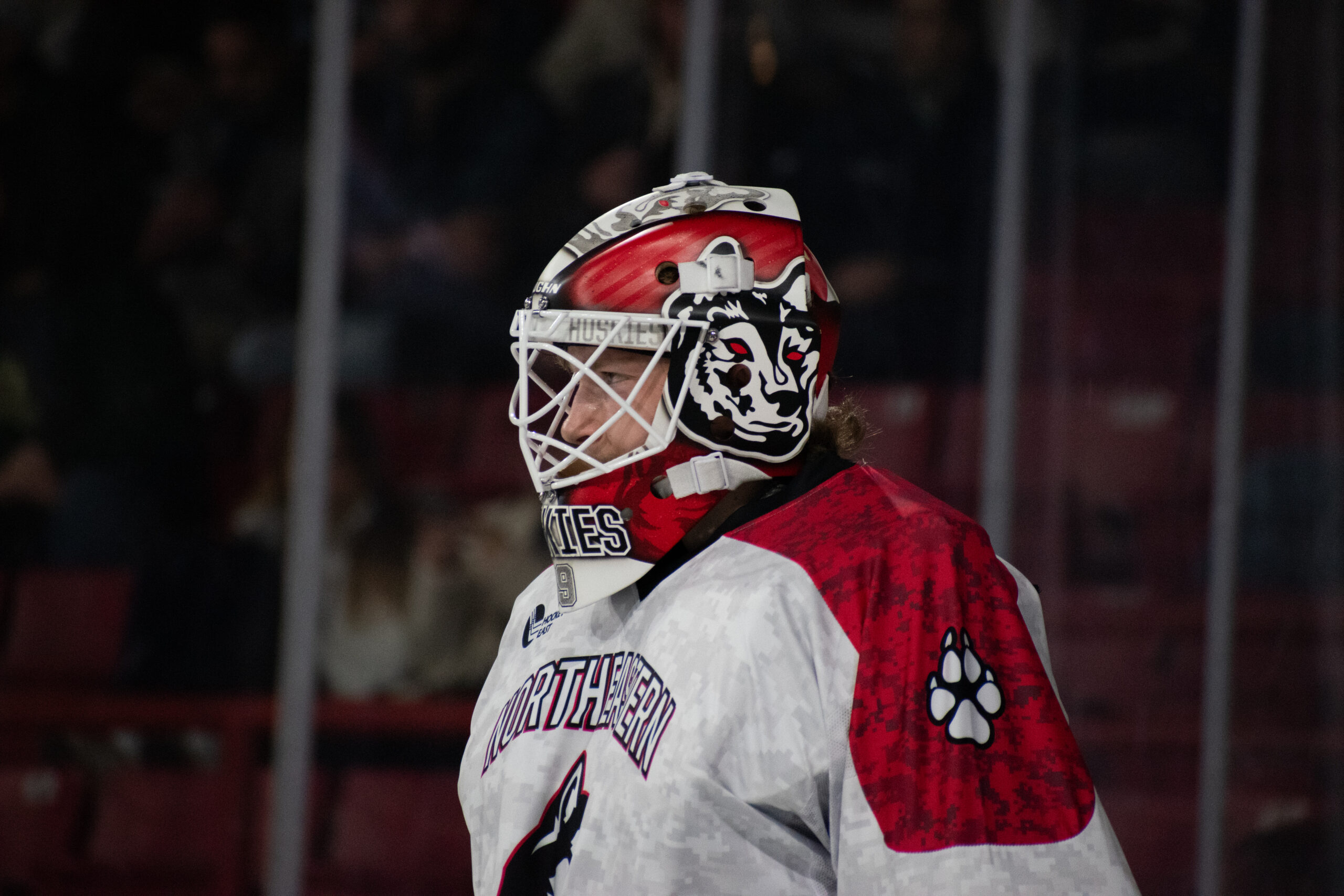 "[Whitehead]'s been giving us a chance every single night, and he's only going to get better too. I think he's a heck of a goaltender," said Keefe. "It'd be nice to give him a lead a little bit, but good for him because he's doing his job and that's all he can do for us."
Providence head coach Nate Leaman acknowledged Whithead's play between the pipes as well, adding: "We just couldn't get one by Whitehead for a while there … I thought he was playing outstanding."
The third period was a rollercoaster of ups-and-downs, where Providence took three steps forward for every one by Northeastern. In what seemed like a close game for small bursts of time, the Friars quickly shut down any signs of boosted momentum from the Huskies with quick responses.
With a five-minute major for head contact granted to Northeastern to start the third, the Huskies capitalized on the opportunity. Off of a perfect setup by junior forward Justin Hryckowian, senior forward Gunnarwolfe Fontaine ripped the puck into the right pocket for a power play goal at 2:29 — his second of the season and series — and cut Providence's lead to one.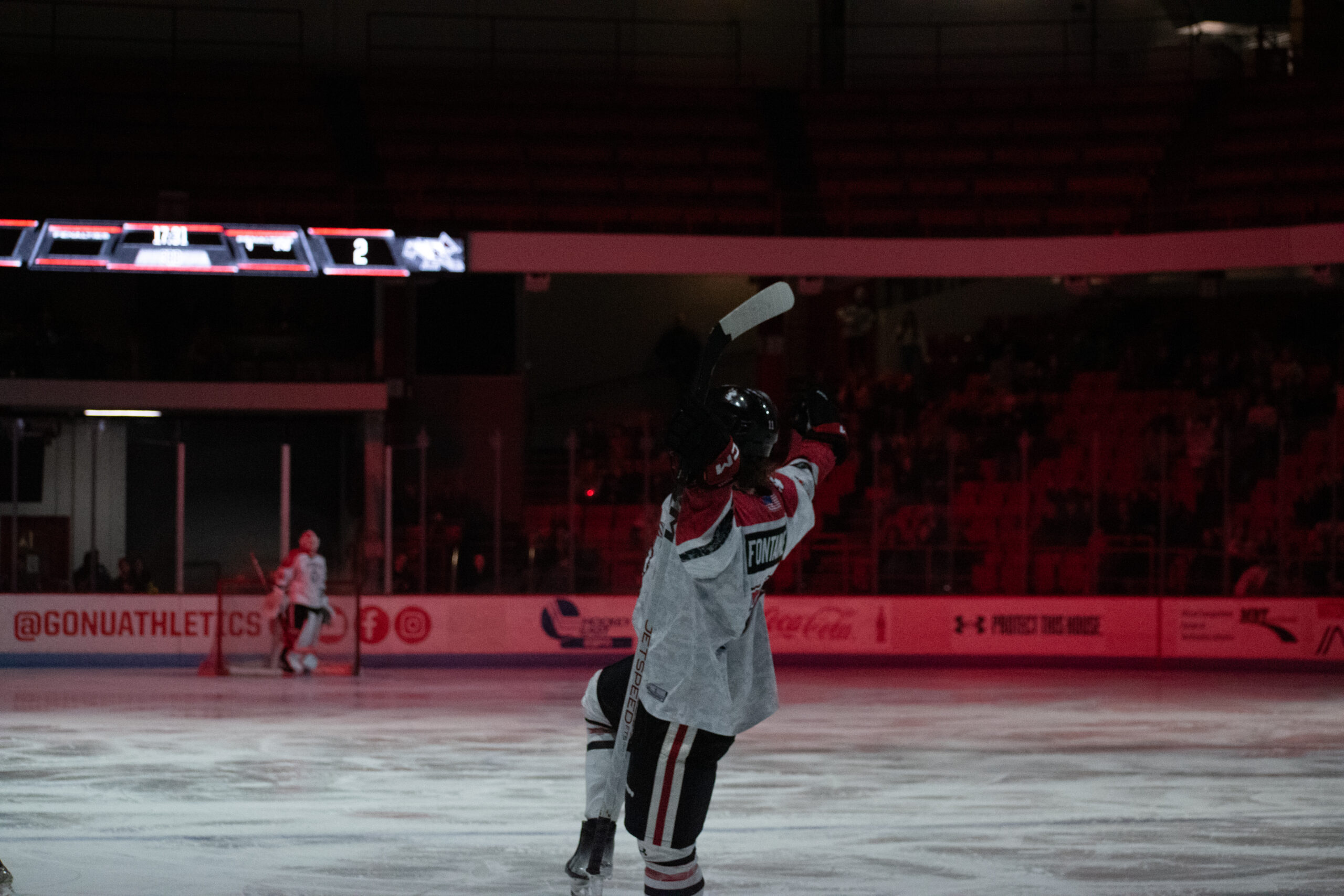 The Huskies' confidence was short-lived as they drew a penalty thereafter and the Friars returned the favor. At 8:17, Providence forward Hudson Malinoski took a slapshot from the left dot for a laser power play goal to make the score 3-1, once again doubling their lead.
But just minutes later, Providence drew another major penalty — this time for kneeing — and the Huskies yet again drew within one goal on their five-minute advantage.
Hryckowian took to the net and put one past Providence sophomore goaltender Philip Svedebäck for the Huskies' second power play goal and his first of the season for a 3-2 game.
Unable to generate the tying goal with the remaining minutes of the major on their side, the Huskies quickly fell shorter to the Friars when Adams came flying out of the box and sniped the puck past Whitehead to give Providence a 4-2 lead.
"We caught a break with [Adams] coming out of the box there, that was a heck of a play," said Leaman. "I thought our [penalty] killers did a good job of getting their changes and I think we worked really hard on that [second penalty] kill."
Keefe reflected on this back-and-forth effort where things looked up for a comeback at times, but the Huskies could never dial in long enough to make it a reality.
"We're chasing two [goals] again. We get another opportunity on the power play and we make it one: 3-2, you got some momentum. Take a shot, gets blocked right in front of the goaltender, they come out of the box: 4-2. When you're not playing 'winning hockey,' it just seems like those things snowball onto you," he said.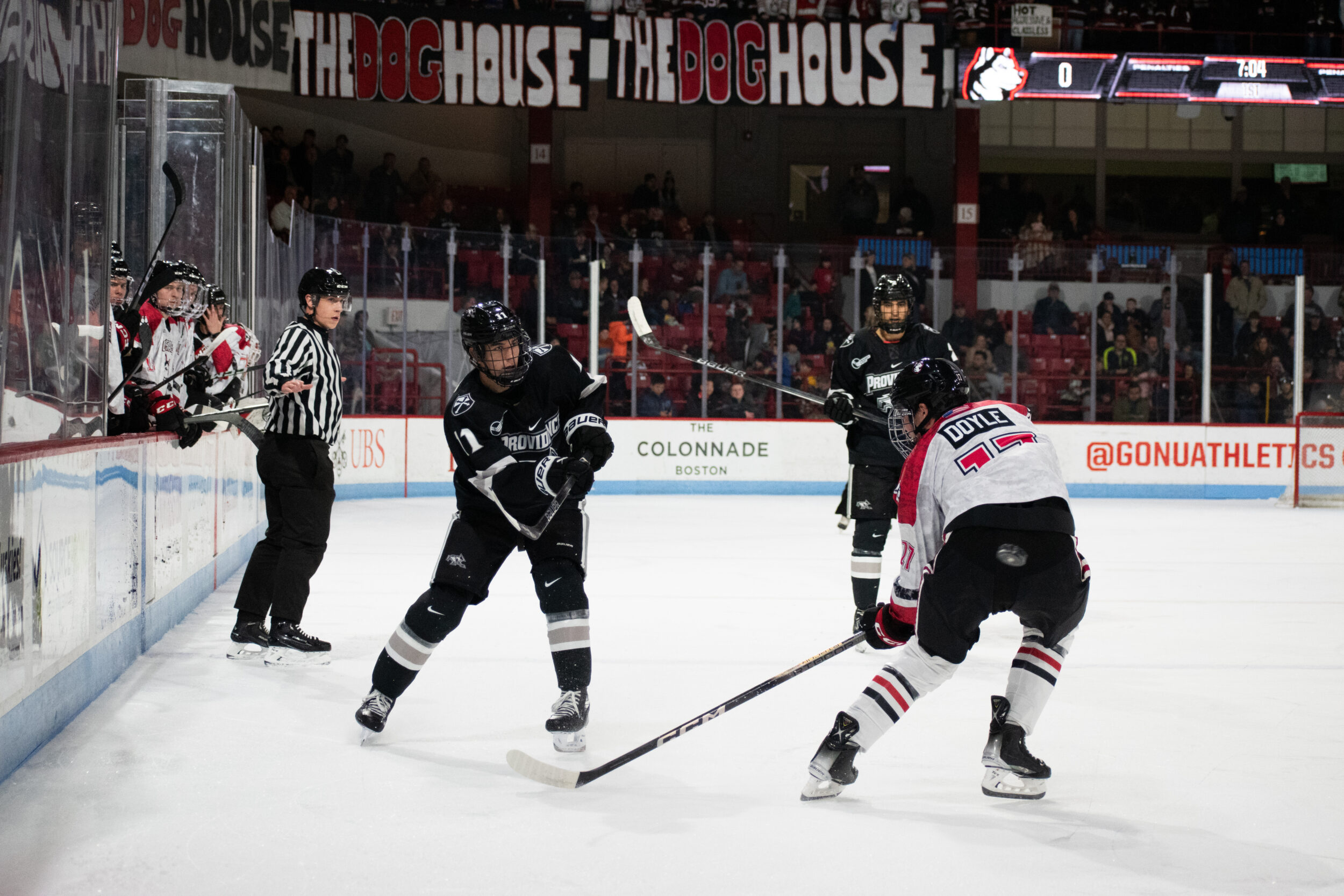 In the remaining minutes of the game, Providence scored a fifth goal to solidify their 5-2 victory and series sweep over Northeastern.
The inability to score goals at 5-on-5 was again the culprit for the Huskies' loss, but the lack of defense also played a role, especially in transition. Without the ability to properly set up in the D-zone and beat their opponents over their own blue line on the backcheck, Northeastern continuously handed Providence avoidable shorthanded chances and odd-man rushes that made all the difference.
Although the lengthy list of injuries has definitely taken a toll on Northeastern's play up the middle, a completely healthy roster cannot be relied on in order for this team to find success going forward. Keefe said after the game that he does not expect any of the injured players — Jack Williams, Matt DeMelis, Matt Choupani, or Hunter McDonald — back in the lineup next weekend against New Hampshire, so the Huskies need to find their rhythm with those gaps before they dig themselves a hole too deep to come back from.
"I can sit here and make excuses all day, but I'm not going to do that," said Keefe. "We have to start earning more things out there and then we'll start getting bounces. But right now we haven't done that."
Northeastern will look to break their losing streak and pick up their first Hockey East victory of the year against UNH next Friday at Matthews Arena. Matty Wasserman, Jack Sinclar, and Zeno Minotti will have the call at 7 p.m. on WRBB 104.9FM.