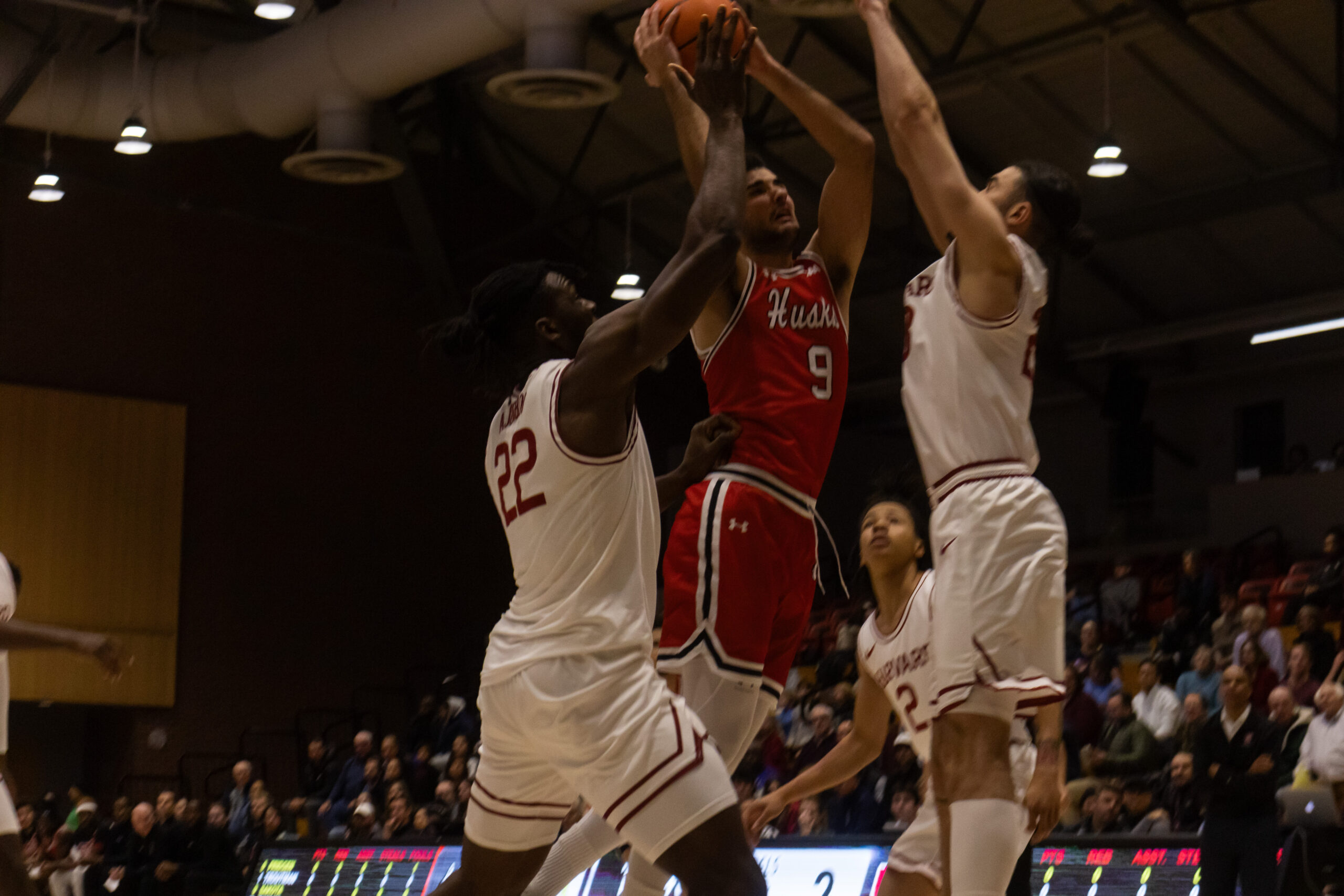 CAMBRIDGE — On a chilly night in Cambridge, it wasn't the weather that was the coldest — it was the Huskies, who couldn't get anything going on either side of the ball in a 80-56 defeat to Harvard at Lavietes Pavilion.
"We didn't fire on any cylinders, offensively and defensively. We certainly didn't play hard enough to win, it's a complete reversal of [our first two games]," said Northeastern head coach Bill Coen.
The game started with some sloppy play, with the Crimson letting the ball roll slowly out of bounds on the opening tip. It wasn't until over two minutes into play that points were scored, with Harvard's senior center Justice Ajogbor slamming it home, and freshman guard Malik Mack following up with a layup.
The Huskies got onto the scoreboard courtesy of a Chris Doherty layup, who hoped to rebound from his scoreless performance over the weekend against La Salle.
Both teams would trade buckets through the opening minutes, with Harvard keeping a slight lead. That all changed around the halfway mark of the framewhen the Crimson went on a 13-0 run thanks to a pair of layups by guard Tyler Simon, a deuce and free throw from forward Chisom Okpara, and a three from Mack, behind some offensive rebounds and the swarming Crimson defense. While Northeastern showed some more pushback the rest of the period, they ended the half trailing by the amount Harvard got on that run, 41-28.
Harvard shot 50% in the first half and outrebounded Northeastern 22-13, but these differences don't do the Huskies' defensive efforts justice. When being able to play their half-court defense, the Huskies stymied Harvard time and time again; but when Harvard started pushing the ball in transition, the Huskies showed less resistance.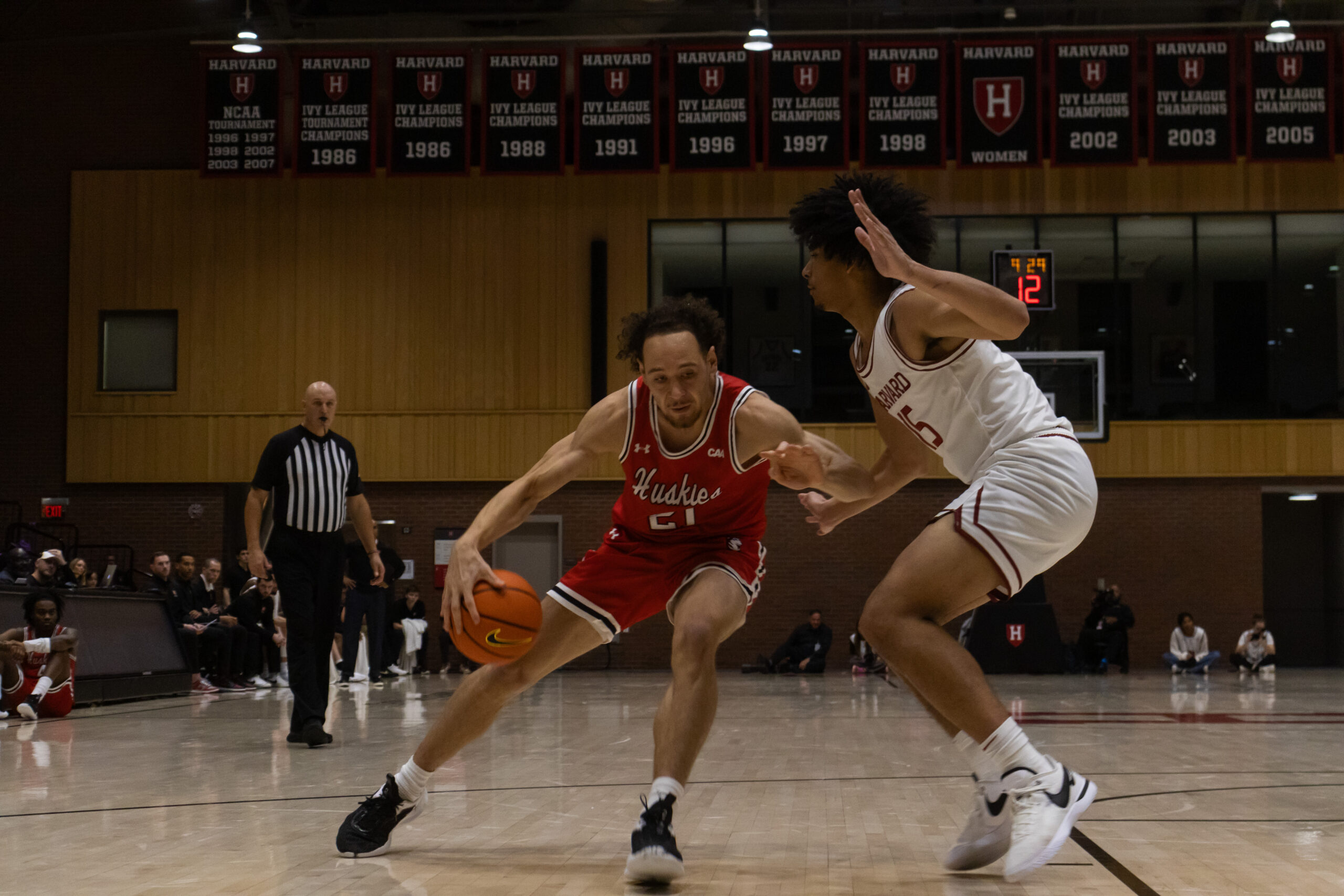 Looking to build off of some momentum they found to close the first half, Northeastern did exactly the opposite. Harvard came out firing on all cylinders, putting 13 straight points on the board again before Northeastern could respond on an Alex Nwagha free throw. Unfortunately that didn't stop the bleeding as guard Chandler Pigge and Mack hit a duo of threes, forcing Coen to wave the white flag at the 13-minute mark and empty the bench with Harvard leading 63-29. Northeastern looked lost and unenergized coming out of the break and it definitely showed on the court.
"They outworked us, got better shots, beat us in transition, and got extra chance points off the board," Coen said.
The game would crawl on for the remainder as Northeastern tried to score a respectable amount by the final buzzer — threes from JB Frankel, Joe Pridgen, Rashad King, and William Kermoury as well as a highlight reel poster by Collin Metcalf definitely contributed to that effort. Though the offense came to life, it was too late. Even the scoreboard was checked out of the night early, as it froze up and shut down during the closing minutes of the game, prolonging the game with a long time out adding insult to injury.
What went wrong for Northeastern?
The lack of production from the starters was concerning: Pridgen led the way with seven points — with the majority coming in garbage time — while Doherty was limited to just three points., Luka Sakota and Masai Troutman added two each, and Jared Turner laid a goose egg.
"Obviously an emotional game for [Sakota, the Harvard transfer] coming back here and he got off to a rough start… Chris was neutralized fairly early so we had to look to our bench," Coen said.
The second unit looked much-improved on Tuesday, and sparked a lot of the small runs to keep the game at reach in the first half. The main difference between the groups was that there was more ball movement by the bench, which led to easier looks off back-door cuts and drives to the basket. It seemed as if the starters were looking to feed Doherty, who couldn't out-muscle the 6'10" Ajogbor and physical Harvard frontcourt which led to empty possessions and a stagnant offense.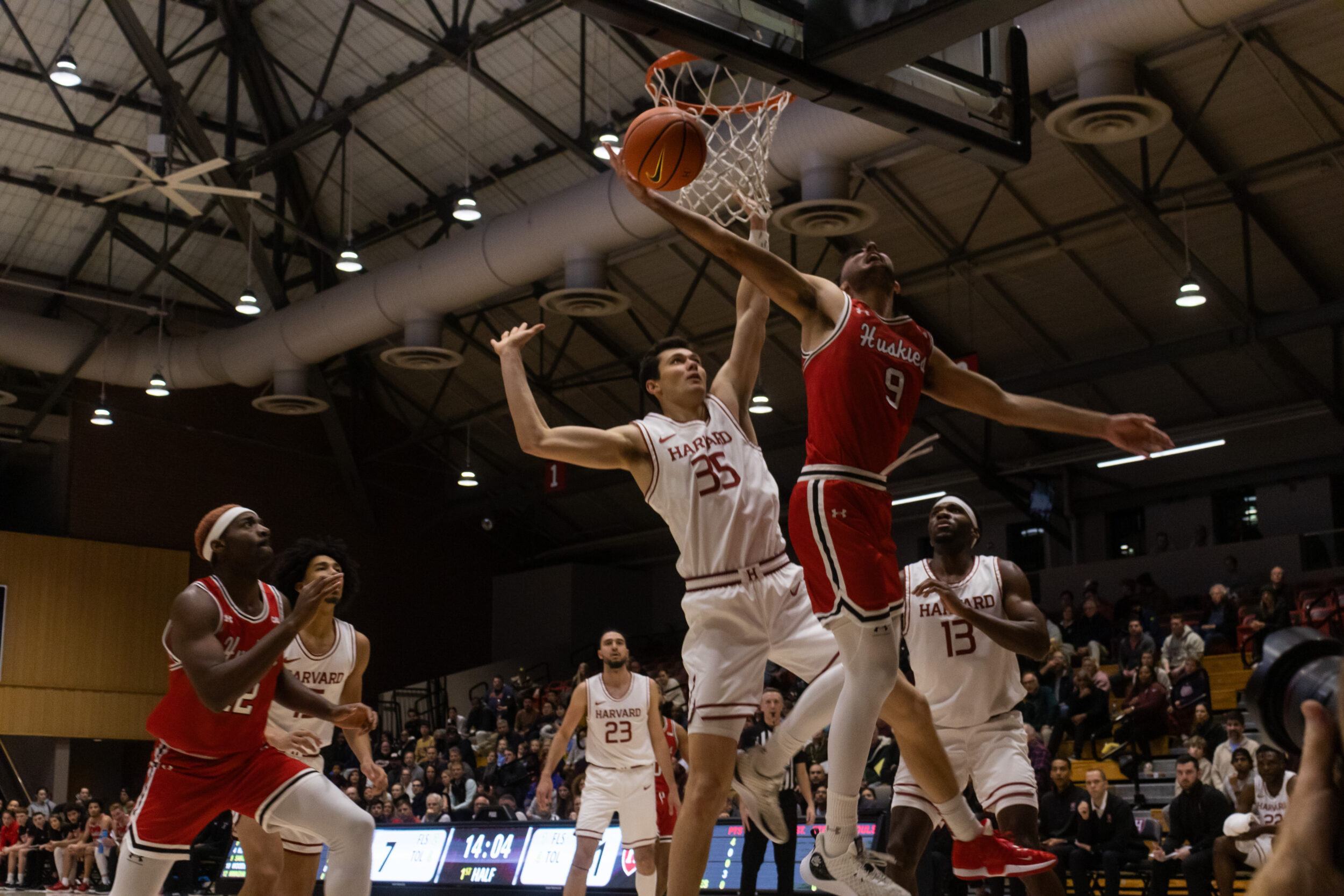 Similarly on the other end, the bigger Ajogbor was shut down in the half-court set after some early buckets — but instead of trying to force the ball to him, they adjusted and capitalized on transition points and saw contributions from the rest of the roster.
The rebounding was also a challenge for the Huskies, as Harvard won that 44-28. But it was the 15 offensive boards Harvard secured that made the difference early on, as those second changes led to open perimeter looks, easy layups, or free throws. While Northeastern had a lot of bad breaks, with long bounces off long shots being a common occurrence, more often than not they got caught ball watching instead of boxing out. Trying to out jump the bigger Harvard forwards was just not going to work.
Are there any positive takeaways for the Huskies?
To start, Northeastern's defensive scheme and effort in the first half was impressive. Harvard was a bigger team, but Northeastern was successful in limiting the production from their forwards early on — though they later got burned in the transition game and from deep. Monk paced Harvard's offense tonight with a game-high 22 points on 4/5 three-point shooting, and the Crimson shot 45% from beyond the arc as a team — percentages the Huskies are unlikely to see every night.
Guard Harold Woods was a bright spot as well for Northeastern, finishing with a team-leading 12 points on 5/9 shooting. Woods was everywhere on defense while only commiting one foul, building off a strong performance from his previous game where he also scored 12 and had eight rebounds. His defensive impact didn't show up in the box score, but definitely was not unnoticed by Coen.
"He settled us down offensively and [being] defensively mindedly did a good job on Mack… his defense is critical and we can count on him to be assigned to the best offensive player," he said.
While Woods might not be the secondary ball-handler Northeastern has been searching for, he provides a spark off the bench on both sides of the ball and has taken the next step in his second season.
"He's very tough minded and he comes into practice every day trying to get better. He's extremely coachable and more often than not able to create some havoc for us," Coen said.
The freshman Kermoury impressed tonight as well, in his first real opportunity so far in his collegiate career. He contributed six points, going 2/3 from deep, and also showed active hands on defense and forced some turnovers. More importantly, he showed some the poise of a point guard and could be an option for Coen going forward.
The Huskies will look to rebound against East Carolina on Sunday down in Greenville, North Carolina. WRBB's next broadcast will be Saturday, Nov. 25 at Princeton with tip-off scheduled for 2 p.m.