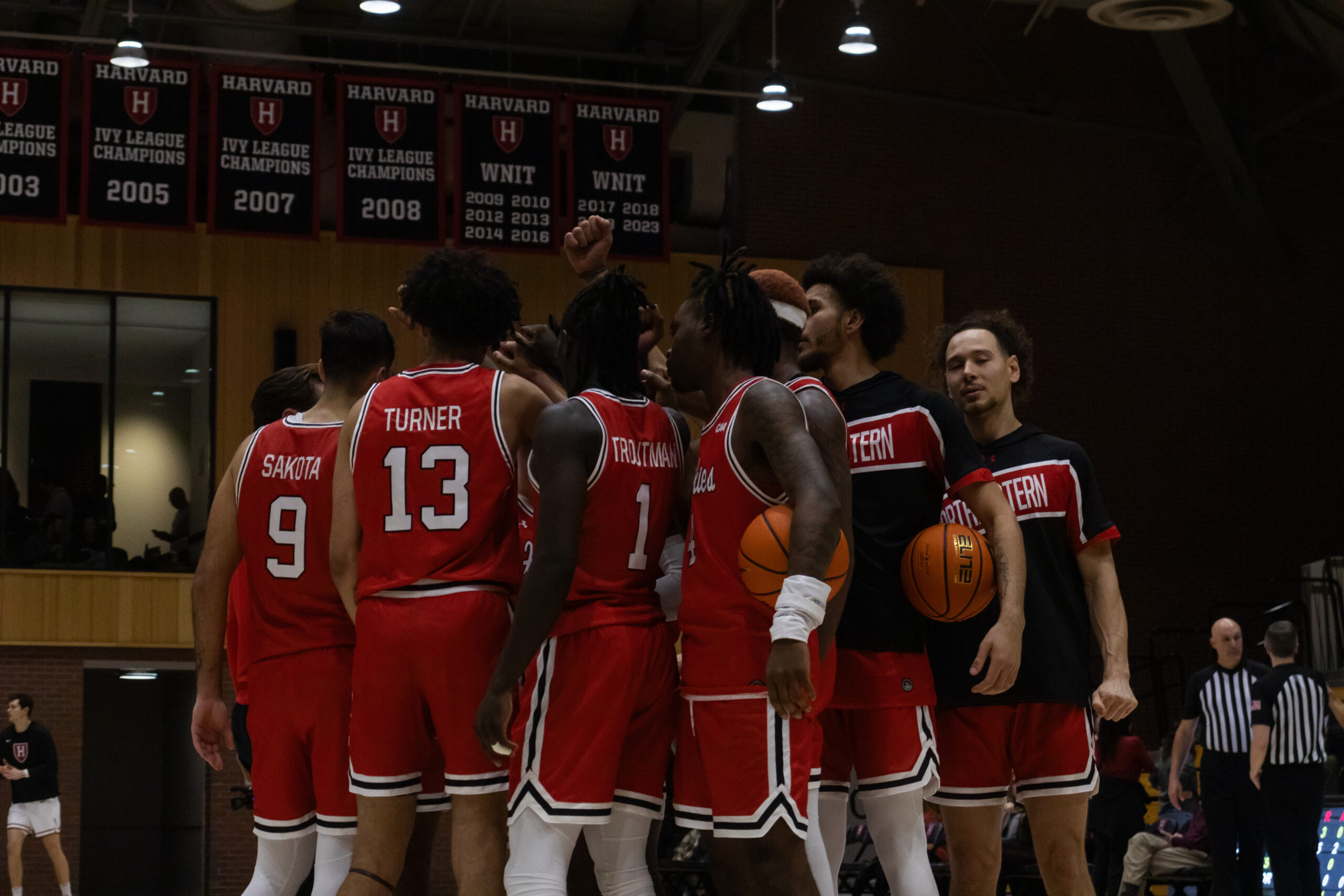 After a thrilling season-opening victory over Boston University that provided the Huskies a ray of optimism for the 2023-24 season, Northeastern's men's basketball squad faltered in two straight losses to the La Salle Explorers and Harvard Crimson this past week. The latter of the two, a 24-point beatdown, serves as a dreary yet eye-opening episode for the roster's immediate expectations. 
While all hope is not lost, the reality is there will likely not be a 180-degree turnaround from the drag that was last season. The return to CAA success for Husky basketball will not come out of nowhere, rather it will be progressional.
Though the team's first three games have already exposed some clear roster holes, an aura of optimism surrounds this roster — a direct result of the Huskies' organic structure highlighted by five returning sophomores. While Northeastern's program during the late 2010s was defined by its gritty style of play with rosters that spewed out wizardly playmakers and defensive facilitators, this team follows a formula that is less fundamental, but potentially just as fun.
Take a look at a pair of the most notable squads from recent Husky history. The 2019 CAA tournament championship team was defined by exceptional depth. A handful of various players could have been the MVP of any given night, but the team often lacked the explosiveness to trade blows with star-studded forces.
In contrast, the 2021 roster that sat atop of the CAA during the regular season was due to a heliocentric system that granted jack-of-all-trades Tyson Walker the green light. While the young phenom provided a glimmer of hope for the Huskies over his two seasons, it proved to be a facade. Walker's subsequent departure to Michigan State left behind a group that struggled to rekindle that magic in the two seasons since.
However, after finding moderate success in their recent recruiting classes, head coach Bill Coen's 2022 freshman class of six players was billed as a foundational group for the program to build around. After up-and-down freshman seasons, five of the six players — Masai Troutman, Jared Turner, Harold Woods, Rashad King, and Collin Metcalf — all decided they would remain with the Huskies as sophomores this season. This marks the most freshmen the Huskies have retained since the 2010-11 season where six of their seven first-years stuck around.
This is maybe the best thing that could have happened to Northeastern, as after years of searching, the program finally has a source of direction. Sure, the triad of matches we've seen thus far has been less than breathtaking, but this team finally has something to look forward to. The impact of returning freshmen is well-known, as it allows for organic development within an organization. The team can grow in a synchronized fashion, creating its own identity and guiding its own destiny.
For the Huskies' current core, it may take some time for them to find their footing in a competitive league. But once they do, we can expect them to capture the strengths of the aforementioned teams, utilize a fusion of synergetic and energetic techniques, and form a dynamic five-headed monster.
"Very rarely do things go totally smoothly as a freshman. You don't get the ball, you get overwhelmed, you're not there physically," Coen said. "Now once you get a chance to catch your breath and you go through the summer, you can't unknow what you just experienced, and then it drives your passion to get better."
The Northeastern sophomores collectively took the opportunity to use both summer sessions to put in hard work together. The extra training has produced direct results. The players have shown a level of comfort playing with each other that is uncommon for teams this young.
Through the first three games of the season, the explosive two-guard Masai Troutman has shown that he is deserving of taking on a large role for Northeastern. Last season, he showed countless times the potential he has, dropping 13 points in his freshman debut and bursting onto the scene with a 20-piece in a win against Stony Brook. He finished fifth on the team in points per game, all while coming off the bench.
Nobody who steps on the hardwood is quite as hungry as Troutman. He is a human highlight reel with the determination to rip through defenders and tenaciously meet defenders at the rim. He earned the starting shooting guard spot at the start of the year, and there is a chance that in the coming years, he will run away as the primary scoring option at the rate he is improving.
"With Masai, we talk about getting 1% better each and every day. Whether it's physically or us working on skills he has really bought into that," Coen said. "I think that consistency is going to lead to great things for not just Masai but the entire group."
That consistency in workouts has already uplifted Troutman's game, as he has added multiple hesitation moves to his arsenal that open the gate for him to continue elevating around the basket. Troutman plays with a tireless drive that makes him a constant threat.
Jared Turner objectively makes a case as the best shooter to ever suit up for Northeastern. Last season, he shot an insane 45% from behind the arc. While the sample size is rather small in comparison to the technical leader — Joel Smith in 2012-13 — that percentile sits 2% higher than Smith, which is an outstanding feat nonetheless. This season, he has continued to show the three-ball love. His tendency to rotate off the ball is complementary to newly transferred graduate student Luka Sakota, and if the cards are played right, we can expect the two to discreetly play off each other and create space for jump shots.
"Luka is a bucket. Flat out, he can really shoot that thing," Turner said of his teammate. "If I can get him open on a backdoor screen, I always think it's going in. It really takes the pressure off the team to be able to work off him, and we're a pretty good shooting team so I thank him for that."
Such chemistry between two wings in addition to Turner's inherent shot-making ability creates a formidable combination. His size at 6'8" makes him a formidable defender, and that 3-and-D style he plays with is arguably the most coveted archetype in all of sports.
"My target this summer was definitely working on defense and doing the little things so I can get stronger and work fast off the first step," Turner said. "In Division I basketball everybody is fast, everyone can beat you off one dribble. So I got to stay with them."
Turner's work has been evident through the first three outings, as he has picked off multiple passes that opened the door for key breakaway finishes.
While fiery offense is the main contributor to the excitement with this young core, the Huskies will also need an elite defender to complement the scoring and climb up the hierarchy of the CAA. A player like this would be a callback to Max Boursiquot and Shawn Occeus who ran the Huskies' CAA Tournament Title push in 2019. The modern heir to this build is energetic shooting guard Harold Woods.
If Troutman is a key contributor to electric plays, then Woods is the emperor of energy in the Huskies backcourt. Woods is one of those players who is everywhere on the court: you hate to play against him but would love to have him on your team. He is the creator of Northeastern's fastbreak opportunities, making him the perfect pair in the backcourt for Troutman. Woods specializes as a two-way spark plug that creates a 1-2 punch down the stretch.
His tenacity earned him a few starts last season, and though he has begun this season from the second unit, he is able to rally the squad to new heights every time he checks in the game.
"The best part about what Harold has to offer is he's our best on-ball defender," Coen said, following Northeastern's victory against BU. "There were multiple possessions where he spearheaded our defense and really changed the tempo of the game."
In that match, Woods checked into the second half early while the Huskies were down. He immediately recorded an and-one basket to flip the script, from where Northeastern never looked back. Woods was the one who piggybacked the breakaway, as a clutch steal and a game-sealing dunk solidified the win for the squad. If Woods can continue to be the conductor of timely defensive takeaways, he can be a much-needed two-way piece for the Huskies roster.
The sophomore with the highest likelihood to take charge of spearheading this valiant offense is Rashad King. In addition to possessing the skills to be the primary playmaker, he happens to have a few other tricks up his sleeve. King is the ultimate Swiss Army knife on the roster. Whether you are looking for someone who can gather assists, steals, rebounds, or blocks, you can call on King.
"Rashad has got a very versatile game," Coen said. "He gives us another versatile defender, he gives us more scoring in the backcourt, and he gives us a little more depth."
With the combination of non-scoring abilities that serve as King's forte, he looks as if he is an offensive jump away from being the X-Factor for a competitive roster. King was unfortunately scratched from the first game of the year, and the expectation was that he would be eased back into the rotation. However, following a nine-point burst in his 18 minutes against Harvard, the rise of King may be on the horizon.
Collin Metcalf is the sophomore with the most difficult path to playing time this season. He has yet to suit up this season due to Chris Doherty and Alexander Nwagha's spots ahead of him in the big man rotation. Following the first game of the year, however, Coen said he still believes Metcalf's time would come, eventually.
"He's got two experienced guys ahead of him, but there is going to be opportunities for Collin to impact the game," Coen said. "He's our best shot blocker, he's got great timing, and he's a terrific athlete. He put in the time this summer and hard work always pays off."
Despite the original belief that we'd have to be patient to see Metcalf live in action, there is reason to believe his role will emerge quicker than initially expected. After three games where the team has relied on guards to grab rebounds and two specifically where grad student Chris Doherty struggled on either side of the court, a player with Metcalf's abilities can solve a bundle of issues. It would be quite the bold decision for Coen to offer Metcalf even a fraction of Doherty's minutes, but having a young backup five that brings new ideas to the table is more than just a security blanket — rather, a plan for the future. Metcalf is the tallest player on the roster at 6'9" and there is reason to believe that he is a few developments away from making a serious impact.
Through three games, we've seen ups and downs from each player, but each component in this quintet has begun to come into its own and understand each other's strengths. Soon enough, Coen will be able to orchestrate a style of ball that exceeds the quality of anything that's come since the turn of the decade.
Though the road to riches will more than likely be saturated with bumps and bruises, that is okay. There will be many games this season where the play will leave a sour taste in our mouths. Despite this, the future of Husky basketball has the potential to brighten up sooner than we expect. And even if that path is long, we can look forward to the fact that for the first time in what feels like forever, the future of Husky basketball is fun.