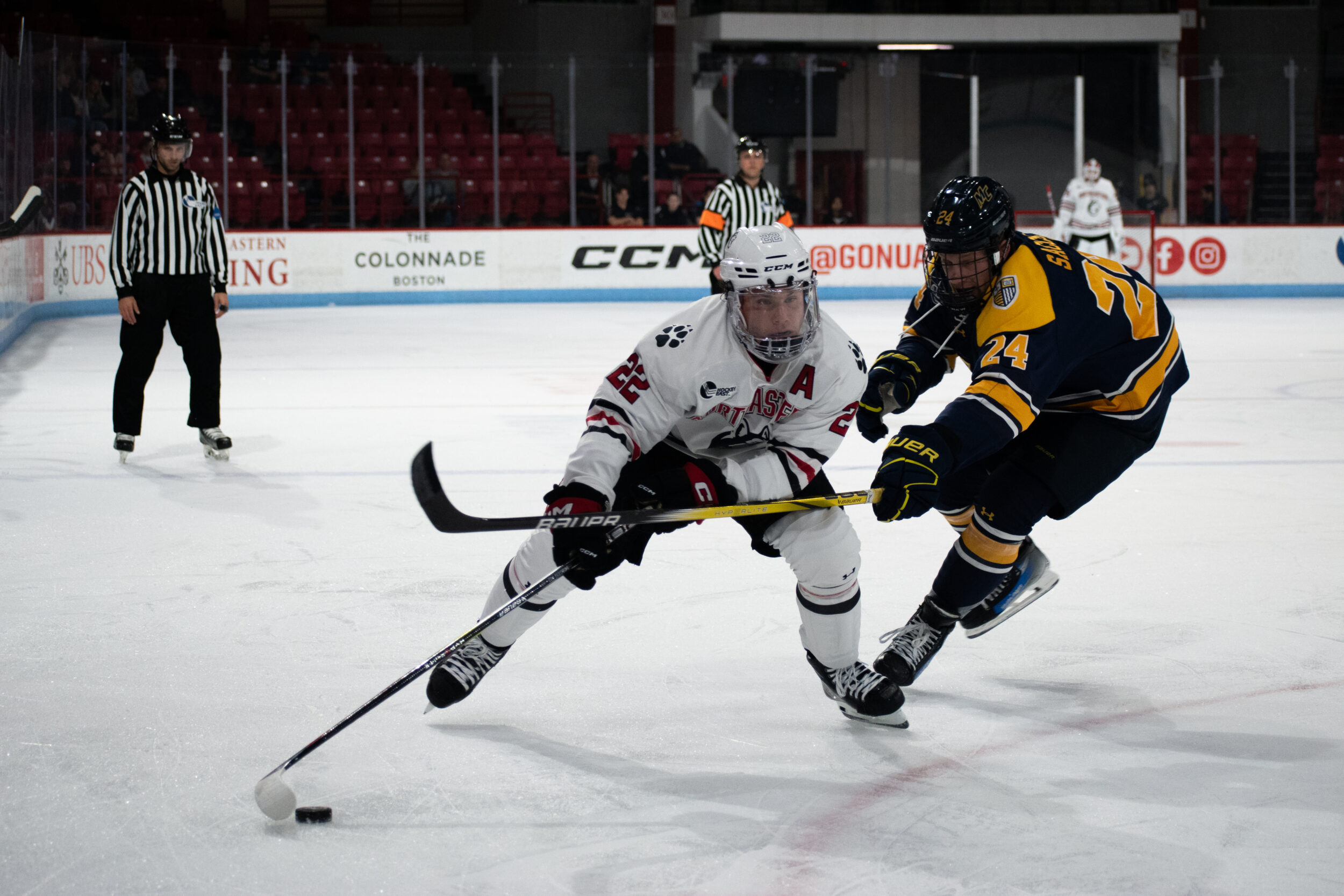 Friday's home contest was the next test for Northeastern to get their season on track and was unable to deliver, falling 4-2 to No. 13 New Hampshire with a now 0-6 conference record. This was the Huskies second matchup against the Wildcats this season, having opened Hockey East play with a 4-1 loss three weeks ago.
Most recently coming off of a series sweep to Providence and a newfound position at last in the conference, the Huskies are feeling the pressure to catch up — and it shows.
"Going into this weekend was a lot of talk about execution and just being really good at our details and our game, and I thought both of those really lacked tonight," said head coach Jerry Keefe. "I thought there were times [where] the puck was on our stick and we didn't execute plays."
With consistent gaps in the lineup — Hunter McDonald, Matt Choupani, Matt DeMelis, and Dylan Hryckowian were all out this game — it's no secret that the plethora of injuries has held the team back from meeting its initial expectations for this point in the season.
That being said, it's likely that Northeastern doesn't see a fully-healthy roster for awhile and immediate reparation is necessary amidst the unfortunate circumstances if it wants to be anything close to a playoff contender come February.
The score may not reflect it, but the first period was some of the best hockey Northeastern has played since its win over Bentley a month ago. The Huskies generated numerous quality chances and more importantly, silenced a rampant New Hampshire offense.
Aside from the lack of goals, Northeastern went into first intermission with the upper hand — leading in shots and faceoffs — and carried those leg-ups into the second period of play.
Just over three minutes into the second frame, the Huskies tallied first on the scoreboard. Off a feed from freshman forward Andy Moore, senior forward Alex Campbell raced down the wall and fired the puck from the dot past UNH goaltender Tyler Muszelik to put Northeastern up 1-0.
However, that lead was brief as roughly forty seconds later, UNH's Jack Babbage was set up from behind the net and sent the puck past four Huskies and freshman goaltender Cameron Whitehead for a tie game.
The following minutes were the last of fairly even play among both teams before the beginning of the end commenced for Northeastern.
The Huskies continued to struggle with possession into their third man-advantage of the game, handing the Wildcats multiple shorthanded opportunities until they eventually broke through. Given an absurd amount of time and space, UNH's Cy Leclerc flew into Northeastern's zone and scored on a breakaway attempt to double their lead.
Within six minutes, a one-goal deficit became three as Leclerc scored yet again — this time at full strength — and Ryan Conmy capitalized on the UNH power play with a tip-in.
It seems that once this Northeastern squad gives up a goal or two to put them behind, things take a sharp turn for the worse and defeat is accepted. This is a recurring pattern as the Huskies have given up a minimum of four goals in four of their last six games.
When asked about what he believes to be the root cause of this snowballing leading to Northeastern's consistent losses, Keefe struggled to find a reason.
"Honestly I don't know," Keefe said. "Because they're good hockey players. I don't know if it's a lack of confidence, I don't know if it's mentally just fighting it a little bit. I think some of it is [that] a lot of guys are playing a lot of minutes, so I think they're probably fatigued too."
In an attempt to stop the bleeding and give Northeastern some renewed confidence, graduate transfer goaltender Connor Hopkins made his Husky debut to start period three.
Keefe touched on the decision and gave credit to Whitehead, noting that it wasn't reflective of a poor performance by the freshman starter by any means.
"We have a lot of confidence in [Whitehead], I think [he]'s been good for us this year," said Keefe. "And we didn't pull him because it was his fault or anything like that. We just figured 'let's shake things up, maybe try and get [Hopkins] in there and give our team a little bit of a boost."
And the goaltending change proved to help the Huskies fend off the Wildcat frenzy for the remainder of the game on the defensive end. All the same, nothing but grit and prolonged effort could aid Northeastern's offensive game, and those were not descriptors of the last stretch.
Even with a two-man advantage — as a result of a UNH major and pulling Hopkins for the extra attacker — Northeastern still failed to rise to the occasion, putting only two shots on goal in the entirety of the five minutes.
"We'll definitely look at the power play and see where we can make adjustments on that. A lot of it is just going to be our execution," said Keefe. "[UNH] made some high-end plays. But a lot of this I just felt like was on us, a lot of unforced errors on our part that we have to clean up."
In the final minutes, it was a race against the clock for the Huskies. Senior forward Justin Hryckowian secured a scrappy goal as the buzzer sounded for a final tally of 4-2, but it wouldn't make a difference.
As the losses pile on, there are less and less positives to take out of each game. McDonald's absence from the top-4 D-core is certainly apparent, as well as Choupani's slot on the power play unit. But twelve healthy forwards should produce a sufficient amount of offense and that is nowhere to be found these days.
When one thing goes wrong for this team, the rest comes with it. Better special teams, in addition to 5-on-5, are unwavering pieces to success that Northeastern has to address and improve on sooner than later — easier said than done, but the bottom line is this group has serious reflecting to do.
With a quick turnaround, Northeastern will have another chance to pick up their first conference points of the season in Saturday's rematch against New Hampshire at the Whittemore Center. Matty Wasserman and Jack Sinclar will have the call at 7 p.m. on WRBB 104.9FM.