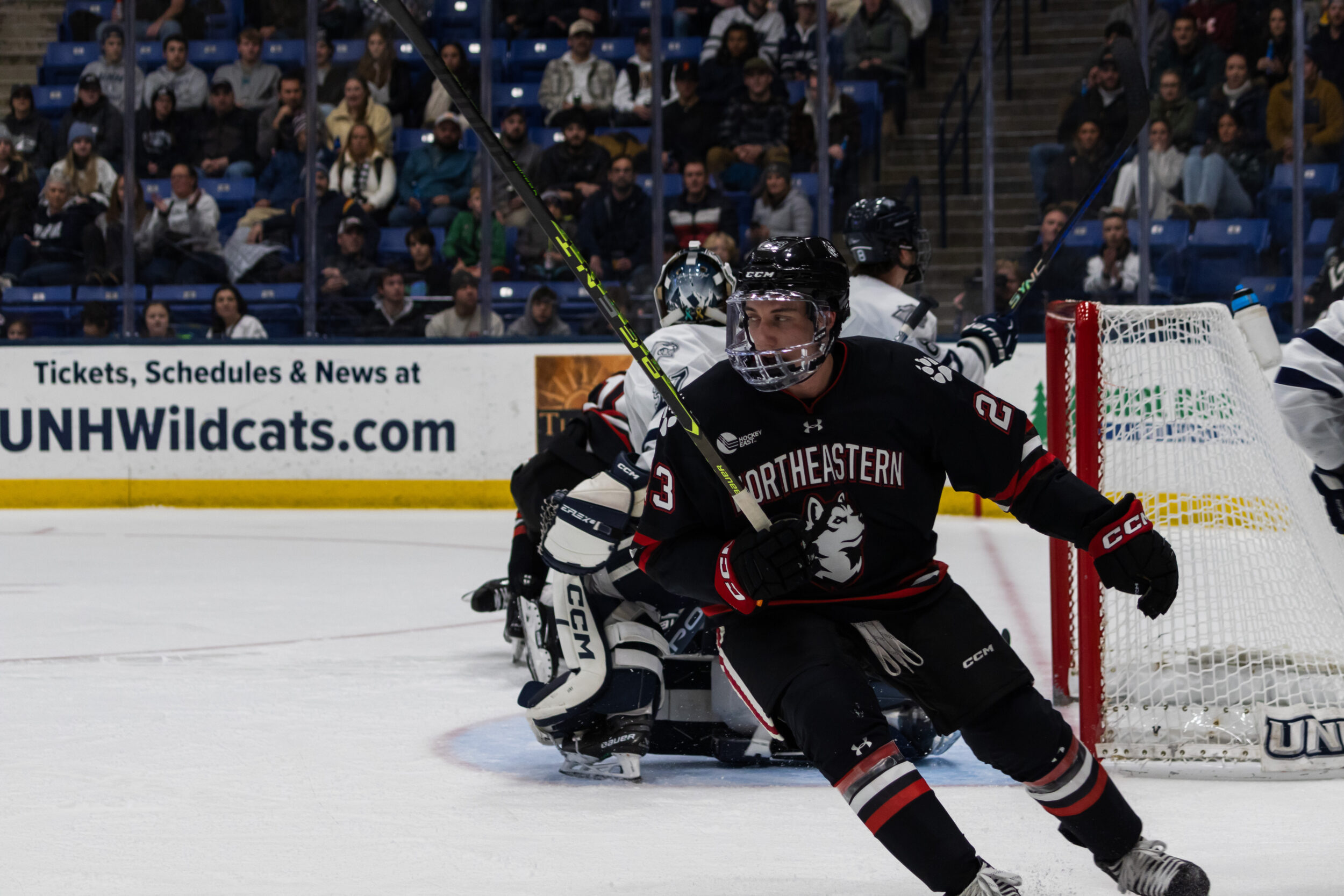 DURHAM, N.H. — The last time Jerry Keefe sat on the Whittemore Center's press conference podium, he professed that Northeastern "had a lot of work to do."
That was 23 days ago, and the Huskies had looked sloppy in their first loss of the season to New Hampshire. Then, the team's poor performance could be chalked up to some recent injuries and lackluster energy — fixable issues in the opening weeks of the season.
But when Keefe returned to that same seat on Saturday following Northeastern's latest defeat, the tone was quite different. The struggles weren't just about effort, or the power play, or the star forwards, or the injuries, or the goaltending, or any other one issue.
For a team that lost every game in those three weeks in between visits to Durham, it was about everything.
The Huskies fell to UNH 4-0 on Saturday night, outshooting the Wildcats 21-19 but finding no answers after ceding a short-handed goal in the first period, and allowing two more scores under two minutes apart in the second period. The loss drops Northeastern to 2-7, and marks the first time in program history the Huskies have lost their first seven conference games.
"Keep working, keep getting better," Keefe said of his message to the team on Saturday. "Not much we could say. I mean, the effort was fine. A couple bad mistakes and they end up in the back of our net. It's not a lack of effort. Maybe some execution."
For a reeling team coming off their seventh-straight loss, finding answers is daunting.
Evaluating this stretch with some context and nuance is important. The Huskies have had horrific injury luck this season, and that's still looming large. Hunter McDonald was expected to be among Hockey East's best defenders, and has missed all but one game. Star center Justin Hryckowian missed four games due to injury, and played at less than 100% since returning. Other top-nine forwards Matt DeMelis, Matt Choupani, Jack Williams, and Dylan Hryckowian have missed stretches of play.
But the issues also go beyond that. Just look across to the other bench this weekend, where UNH was missing top-line winger Liam Devlin, their leading point scorer last season. Despite his absence, fellow first liners Cy LeClerc and Ryan Conmy combined for five goals over the two games this weekend.
For Northeastern, their healthy top-six wings have simply failed to step up with injuries to their teammates. Cam Lund, Alex Campbell, and Gunnarwolfe Fontaine have each played in all nine games, and combined for seven goals — three of which came against Stonehill on opening night.
Campbell had his best two games as a Husky this weekend, scoring on Friday night and appearing far more assertive throughout both contests against UNH. But Lund, in particular, was expected to take a leap into stardom in his sophomore campaign, yet has struggled to find consistency or finish around the net in spite of those continuing flashes of offensive brilliance. 
On Saturday, Keefe moved up Lund alongside Hryckowian and Campbell on the first line in an effort to get them going, to no avail. Shifting lines around every night can help, but the same players have to deliver regardless of who they're playing with.
"I mean, all three of them should be the top line on the ice. That's the expectation," Keefe said of the switch. "They're obviously fighting a little bit. … We need them to be the best line on the ice."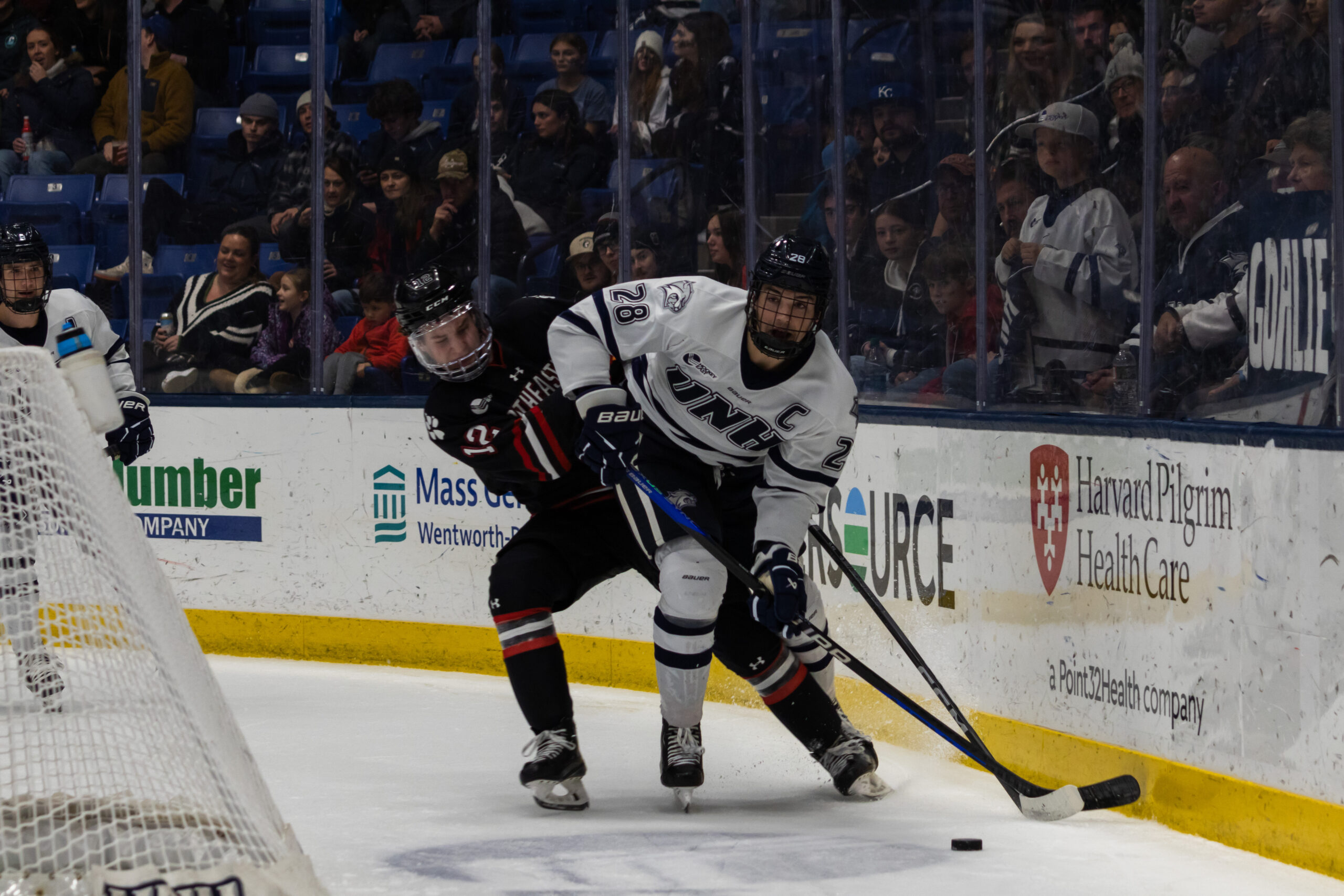 The issue is not effort per se. With the exception of their 2-1 overtime loss to Providence last Friday where they were outshot 40-8, Northeastern hasn't been blown off the ice in most of their losses. The Huskies outshot UNH in both games this weekend, and were likely the better team against UMass in a 2-1 overtime loss at the Mullins Center.
But in spite of those close games and a positive Corsi-For of 51.4%, in the middle of the pack nationally, the defeats have continued to pile up. Reasons why were evident throughout this weekend — while their opponents executed on Northeastern's mistakes, the Huskies simply could not capitalize on their chances. Lund whiffed on a wide-open net. Eli Sebastian hit the crossbar on a clean look from the slot. Campbell had multiple drives to the net where the puck dribbled off his stick.
In isolation, the process should lead to better results. When they've managed to break out effectively, 5-on-5 play in the Huskies offensive end has produced solid looks. Vinny Borgesi and Pito Walton have had good moments pushing up to stir traffic.
But with top players seeing huge minutes due to injuries elsewhere, the hill to climb back into games only becomes steeper.
"It wasn't like we got hemmed in the whole night or anything like that," Keefe said on Saturday. "A couple breakdowns though, and now we're chasing the game. We had chances to go up in the game early and we didn't finish."
The continued tendency to give up multiple scores in succession has magnified those other offensive issues. Look at the Huskies past three games: Last Saturday, the Huskies gave up two goals in a three-minute span to Providence to ice the game. On Friday, Northeastern gave up three scores to UNH in a seven-minute stretch, and in Saturday's rematch, UNH again scored twice in under two minutes — both of which put the game out of the Huskies grasp.
"It's not a recipe for success at all," Keefe said of constantly chasing leads. "We've got to stay in those one-goal games right now and try to give ourselves a chance to win by making a play at the end of the game type-of-thing. Two nights in a row, our second periods let us down."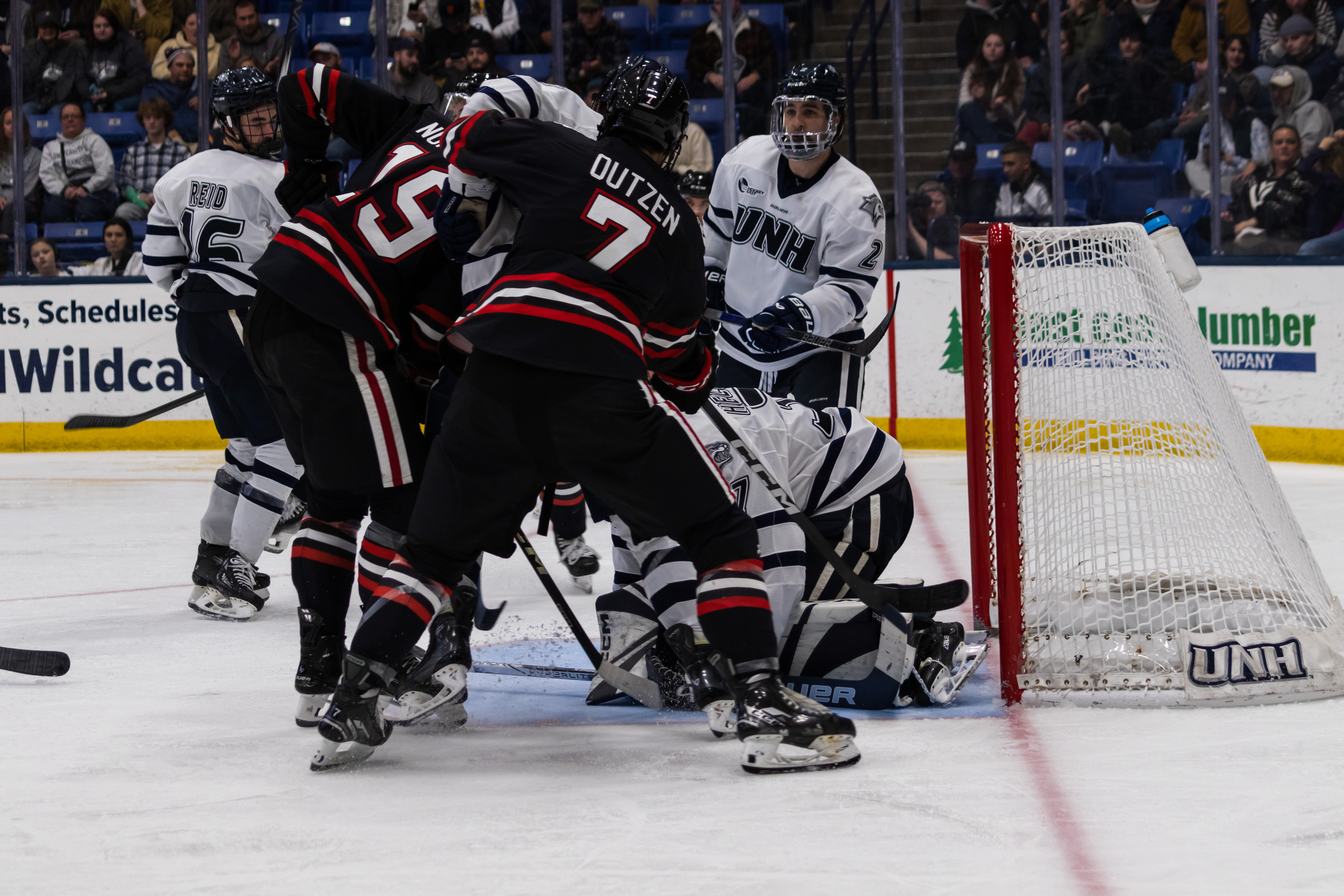 Northeastern gave up a short-handed goal in each game this weekend, and did not score any goals themselves on the power play. On Saturday, the Huskies had over eight minutes of power-play time — including 50 seconds at 5-on-3 — and mustered just three shots on goal, and none particularly high-danger. UNH has a very good kill, and the constantly-shifting personnel due to injuries could have played a role.
"It was huge," Keefe said of the power-play deficit. "We didn't work on our power play this week, because, quite frankly, we weren't sure on Friday who was going to be able to play. So we had to wait a little bit on that and it showed because we weren't sharp."
Lastly, goaltending is a legitimate question mark going forward. It would be unfair to blame this stretch directly on Cameron Whitehead — he's a freshman who has acclimated solidly and had a couple tremendous individual games. His .896 save percentage places him 13th of 15 qualifying goalies in Hockey East, and the Huskies need to put him in better position to succeed.
Keefe pulled Whitehead in favor of graduate transfer Connor Hopkins in the third period on Friday, and carried that switch over into Saturday, where he gave Hopkins his first start as a Husky — where he, too, gave up four goals.
"Obviously Cam Whitehead is going to play," Keefe said. "We wanted to give [Hopkins] a chance, and I thought that he did a good job in there. But right now, it's everything. It's our special teams. It's our D zone. We're not scoring goals, and every mistake we make is ending up in the back of their net."
Northeastern will finally emerge from the Hockey East gauntlet next weekend to travel to central New York for a clash with RPI, who has struggled almost as much as Northeastern — they are 2-6, and have given up at least two goals in every game this year. After that brief respite, they will have a home-and-home against No. 4 Boston College.
The Huskies are snowballing, top to bottom. And everything needs a look in the mirror, before it's too late.
WRBB will have live coverage from Troy next weekend for Northeastern's two-game series against RPI, starting with a 3 p.m. bout on Saturday. Matty Wasserman and Zach Lyons will be on the call for both games.