Almost eight months to the day after Northeastern and Hofstra battled it out in the CAA Championship game, the conference released the results of its preseason poll.
For the second straight year, the Pride took the top spot. The Huskies, who underperformed their third-place projection last year before hitting their stride in the conference tournament, placed seventh. The point totals are shown below, with first-place votes in parentheses.

Hofstra will look to defend its regular season and CAA Tournament crowns in a league where several perennial contenders have lost multiple all-conference caliber players. The Pride lost First Teamer Desure Buie and Second Teamer Eli Pemberton to graduation, and will rely on seniors Isaac Kante, Jalen Ray, and Tareq Coburn to key their run.
Northeastern finished sixth last year, due largely to a stretch of one- and two-point losses in January. The Huskies are looking to Tyson Walker and Shaquille Walters to overcome the graduation of CAA leading scorer Jordan Roland and versatile glue guy Bolden Brace.
James Madison senior guard Matt Lewis was named the Preseason Player of the Year. Northeastern's Tyson Walker joined defending Rookie of the Year Hunter McIntosh as sophomore Second Team selections.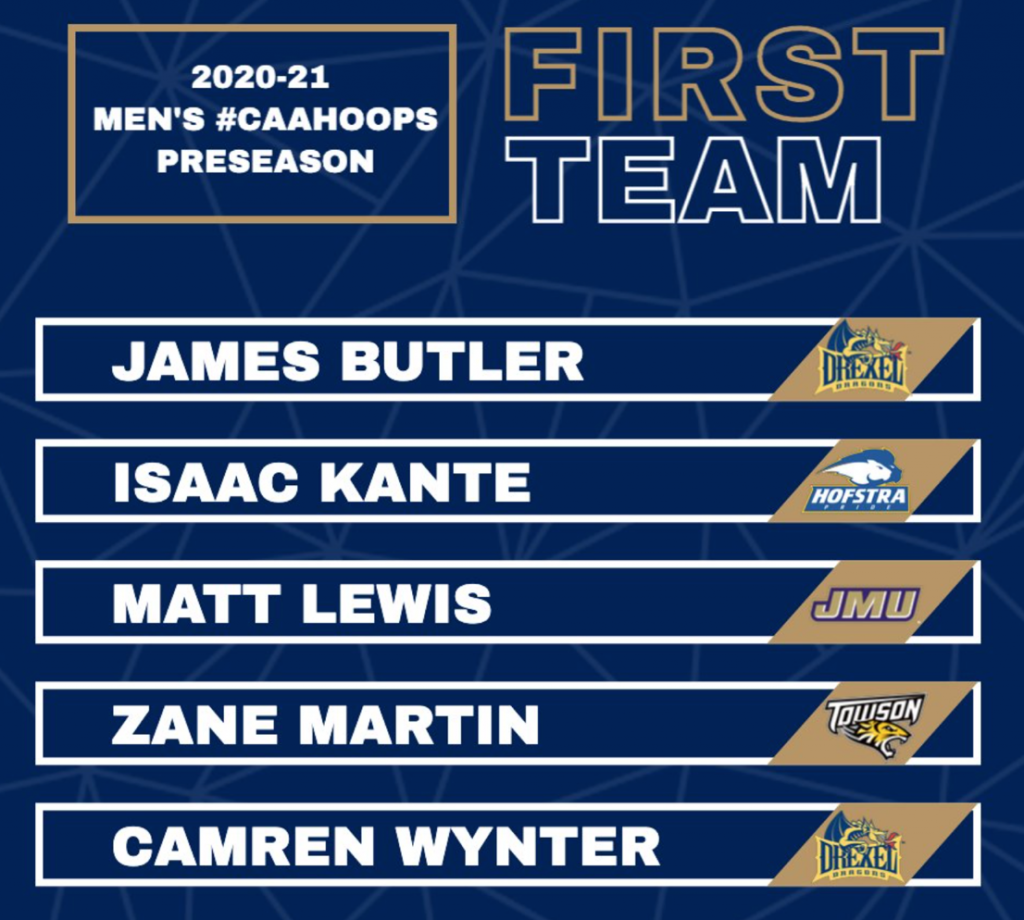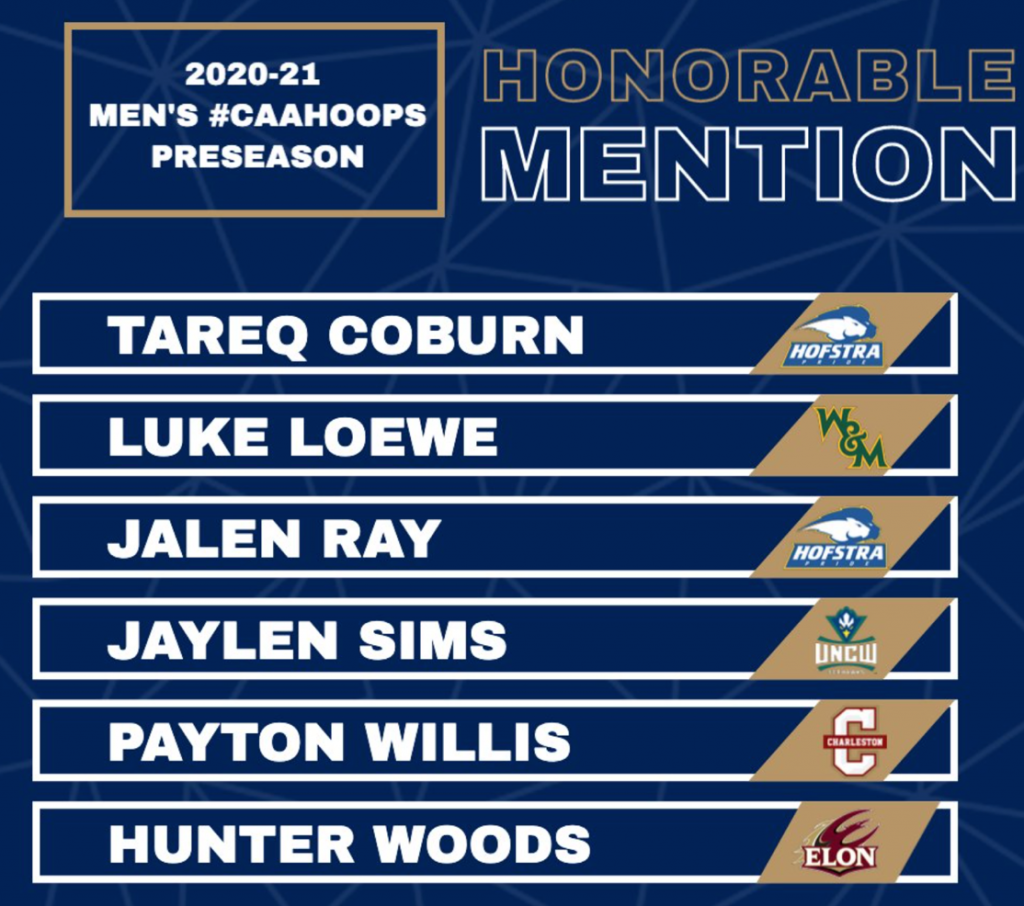 A few other observations:
Four teams — Hofstra, Delaware, Drexel, and Towson — got at least four first-place votes. Even in a league noted for parity, this is striking.
Two transfers made preseason teams: Payton Willis (comes to Charleston from Minnesota) and Zane Martin, who returns to Towson after transferring from there two years ago.
Of the 16 players who earned preseason honors, 13 are pure guards. The CAA's elite is usually guard-heavy, but the loss of elite big men Nathan Knight and Andy Van Vliet exacerbates that imbalance even more.
After a seventh-place finish in last year's poll, William & Mary rode Knight and Van Vliet to a second-place finish. With those two gone, the Tribe dropped to last place in this year's poll, and it wasn't particularly close. Head Coach Dane Fischer has some questions to answer.
By far the largest point gap in the poll is that between seventh-place Northeastern and eighth-place UNCW, indicating a sentiment that there is a clear bottom tier. The teams in that tier — UNCW, James Madison, and William & Mary — have been ravaged by graduations, transfers, or both. James Madison and UNCW both have freshman coaches, while W&M Dane Fischer is entering his second season after winning Coach of the Year last year.
And finally . . .
Northeastern will kick off its season at the Paradise Jam Tournament in Washington, DC, on Thursday, November 26 at 2 PM Eastern. Milton Posner and Jack Sinclair will have the call for WRBB, with coverage beginning at 15 minutes before tip-off.