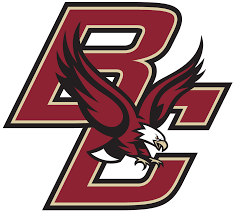 Last season: 24-8-2 (17–6–1, first in Hockey East)
Head coach: Jerry York (27th season)
Preseason poll projected finish: First
Departures: D Ben Finkelstein, D Connor Moore, F David Cotton, F Julius Mattila, F Aapeli Räsänen, F Graham McPhee, F Ron Greco, D Luke McInnis, D Jesper Mattila, F Zach Walker, F Mike Merrulla, G Ryan Edquist
Additions: D Stephen Davis, D Tim Lovell, D Eamon Powell, D Jack Agnew, F Nikita Nesterenko, F Gentry Shamburger, F Trevor Kuntar, F Danny Weight, F Harrison Roy, F Colby Ambrosio, G Henry Wilder
Jerry York's Eagles really flipped things around after a string of disappointing seasons.
Last year, they were one of the top teams in the country. BC ended last year ranked fourth nationally, easily winning the Hockey East regular season title.
This year, they received eight of 11 first place votes in the Hockey East preseason poll. Spencer Knight is one of the best goaltenders in the country — the Panthers prospect was a Richter Award finalist and finished with a .931 save percentage as a freshman. And wasn't even the Eagles' only first-year star last year.
Alex Newhook led the team with 19 goals and 23 assists and was named NCAA Rookie of the Year. A first-round pick of the Avalanche, Newhook led all freshmen in goals and was third in the country in plus/minus (+28).
Matt Boldy finished the year strong, ending with nine goals and 17 assists. Nineteen of his 26 points came in 24 games of Hockey East play.
BC seemed poised to make a deep run in the Hockey East and NCAA Tournaments. After a run of underwhelming seasons, the loss of a realistic shot at a national title couldn't have been easy to swallow. Luckily for the Eagles, a good chunk of that core returns this year, making them a clear top-five team in the country.
They lose a few excellent players — David Cotton and Julius Mattila are tough for any team to replace, and Ben Finkelstein was a solid defenseman throughout his time in Hockey East. Aapeli Räsänen chose to forego his senior season, opting to go pro in his home country of Finland, which hurts the forward group even more. But they do bring in three draftees from their freshman class. Trevor Kuntar went 89th to the Bruins, and Eamon Powell and Colby Ambrosio both went in the fourth round, at 116 and 118 respectively.
Kuntar, a six-foot left-shot forward, logged 28 goals and 23 points for Youngstown in the USHL last year. He changed his commitment from Harvard after their hockey season was cancelled due to COVID-19, giving the Eagles a huge boost to their recruiting class and to their top lines. Ambrosio is a bit small — 5'9", 165 lbs — but he managed 26 goals and 24 assists for Tri-City in the USHL.
Powell has valuable Team USA U-18 experience, making him a huge get for the Eagles' blue line. They'll look to him to help fill the hole Finkelstein leaves on defense and to bolster the corps playing in front of Knight.
Bottom Line: The Eagles have one of the top goaltenders in the country, young prolific scorers who are still developing, and another solid recruiting class. Newhook is a legitimate star and gives the Eagles a great top-line scoring threat. They're the clear preseason favorite to win Hockey East, and they look ready to make a fierce run at a national title.