BOSTON — Going into Friday night's game, with New Hampshire stalling near the bottom of the Hockey East standings and Northeastern hovering in third, it was natural to expect a blowout. The reality was far closer.
"I thought at times out execution was good," Northeastern Acting Head Coach Nick Carpenito said. "I thought at times our execution was not so good and I think that's just going to come with playing more."
By the end of the first period, the Wildcats were outshooting the Huskies 14–6, not what anyone expected from a conference cellar dweller playing against a strong Husky defense. But one of the six Husky shots was a gorgeous strike from Katie Cipra, who wove between the Wildcat defenders and effortlessly found the top right corner of the net for the Huskies first opening-period goal of the season.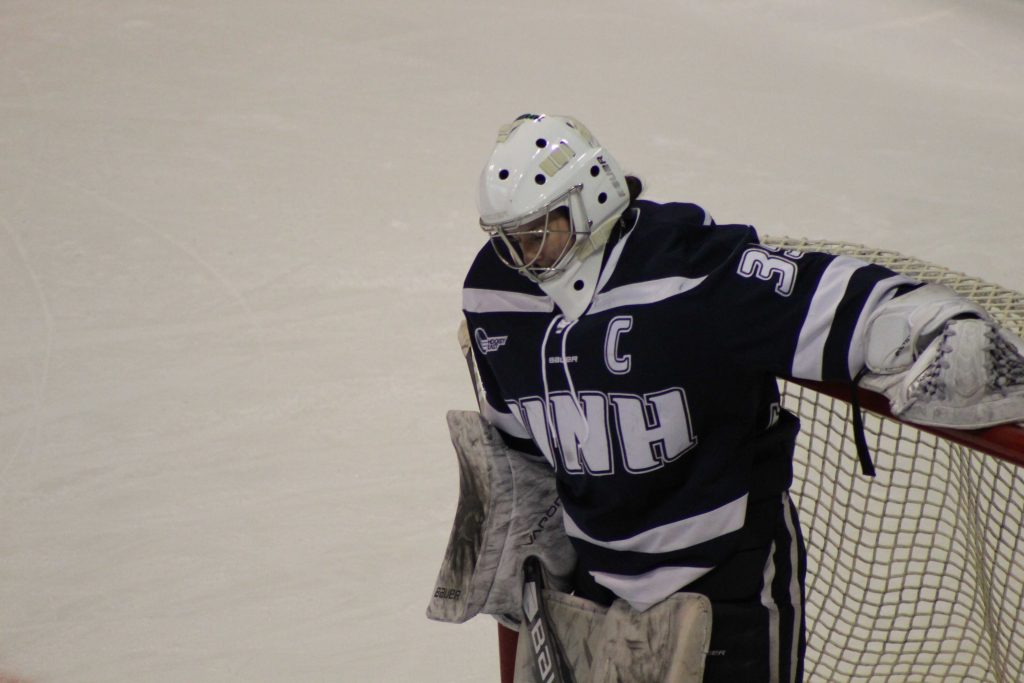 "She's got [some] of the best hands I've seen in a long time," Carpenito said. "She makes it look effortless. If you give that kid a little bit of space, she's going to make you pay. To have somebody with that talent on the fourth line, I think it speaks so much to our depth and why we're so successful."
Katy Knoll kept things rolling to start the second period, tipping a shot from defender Megan Carter past Wildcat goaltender Ava Boutilier. In an TV interview after the period ended, Knoll noted that she and Carter — who is her roommate — practiced this shot before the game. It was rewarding, she said, to see their practice pay off.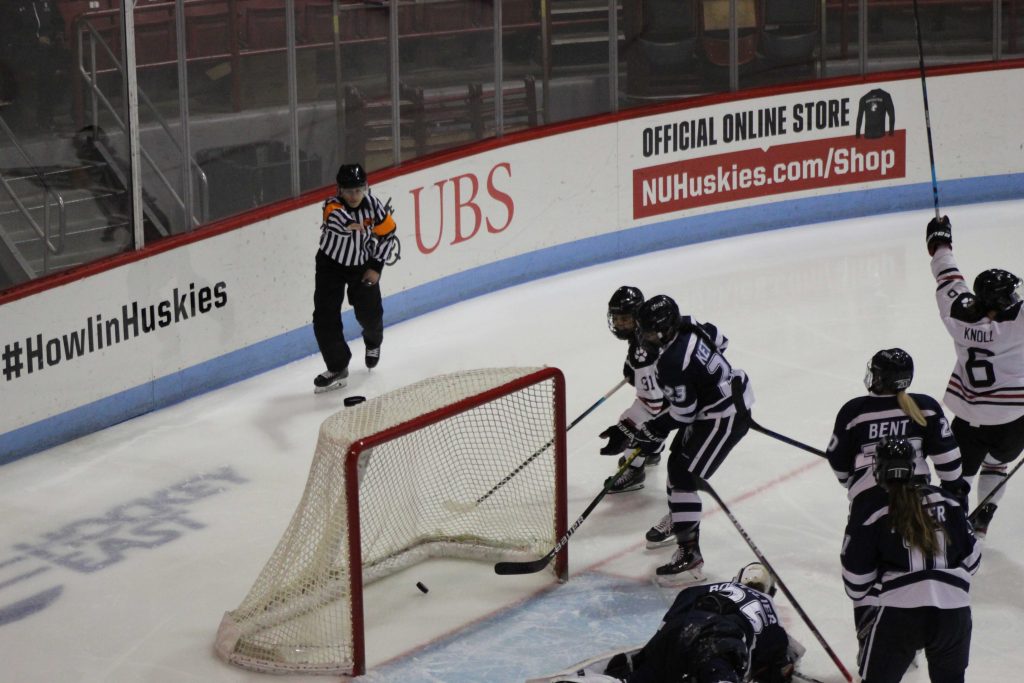 However, the celebration was short lived. Brianna Brooks quickly answered, freezing Husky defender Lily Yovetich in a two-on-one and firing an unobstructed shot past goalie Aerin Frankel.
"It was definitely a little bit of an unfortunate bounce," Frankel commented. "I think I made the stop and the puck actually bounced up and went behind me. I feel like there's some tough bounces that we're going to run into and it happens and that's just hockey."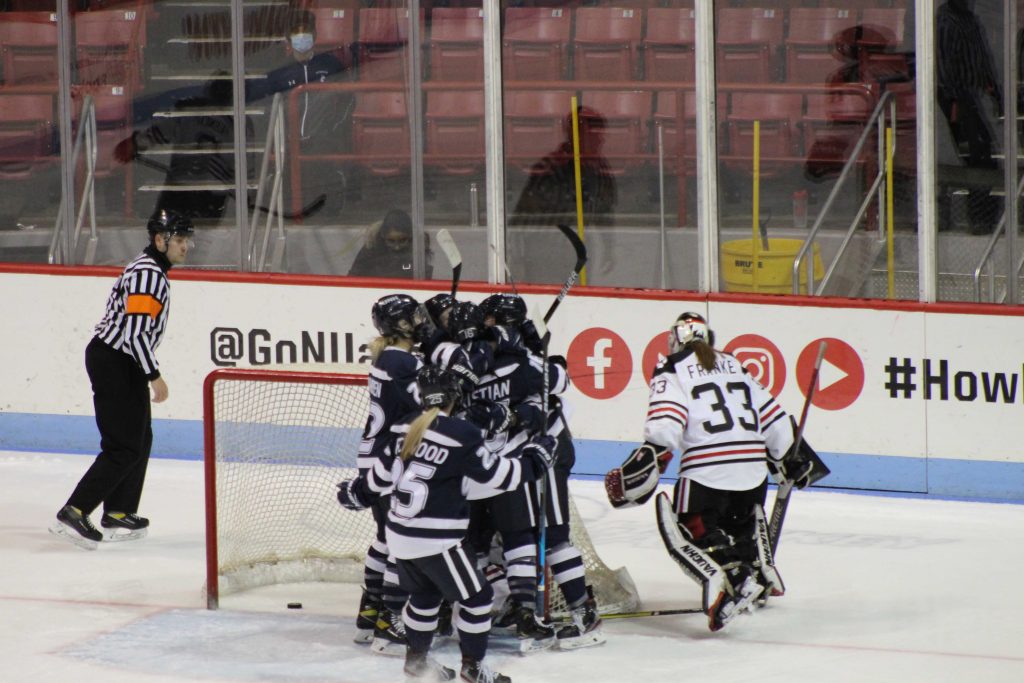 The goal was the first Frankel allowed in nearly a month, as she recorded shutouts in the only two games Northeastern played during that span. Just four days after breaking the program's career shutout record, Frankel nabbed another piece of Husky history.
In the third period, Northeastern's Ani FitzGerald drew a five-minute major and game misconduct penalty from Nicole Kelly when the Wildcats' star freshman forward contacted FitzGerald's head. During this power play, the Huskies fought hard and spent an overwhelming amount of time in the offensive zone, yet could not find the back of the net. Within the first 13 minutes of the period, they had 19 shots on goal, as many as they'd had in the first two periods combined.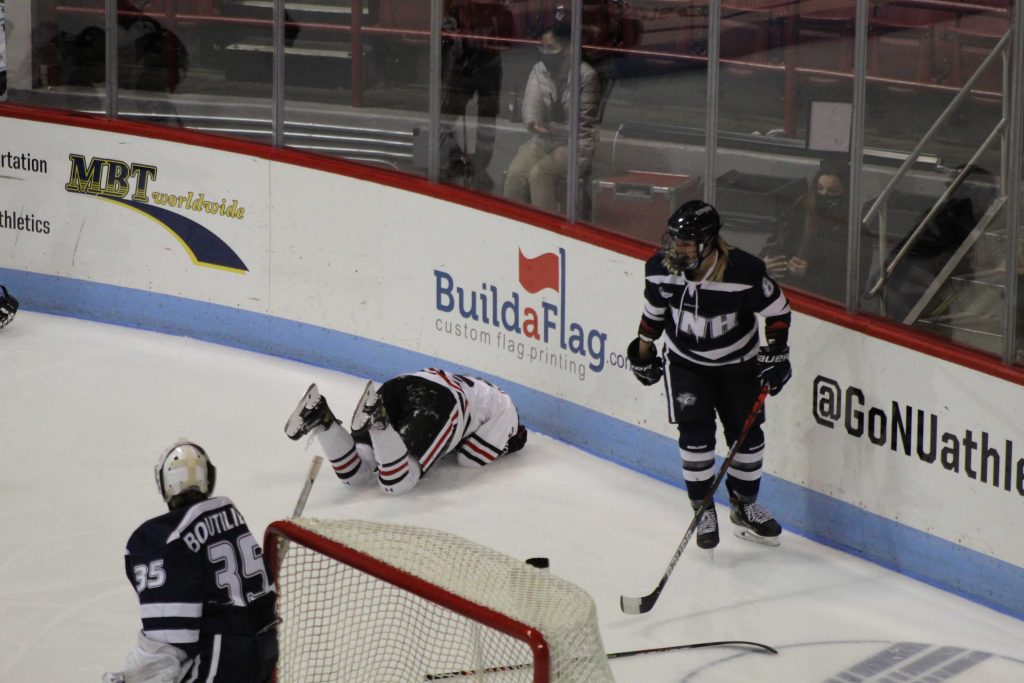 FitzGerald, shaken up from the hit, sat for a shift, with Knoll replacing her on the first line. When FitzGerald returned, she was tagged with her own penalty for goalie interference. With about 90 seconds to go, the Huskies had no choice but to bring out their lethal penalty kill lineup of Alina Mueller, Chloe Aurard, Brooke Hobson, and Skylar Fontaine. New Hampshire compounded the pressure by pulling Boutilier, leaving Northeastern to rebuff a four-on-six in their own defensive zone.
"Whenever we're protecting the lead, typically we got that lead because we were aggressive and we were taking away space and we were putting on pretty solid pressure," Carpenito said. "So we didn't really change up our penalty kill philosophy too much."
Good call. With 30 seconds to play, Hobson fired the puck out of the zone. As it caromed off the pipe of New Hampshire's goal, Tessa Ward got there first and slotted home an empty netter to yield the 3–1 final score.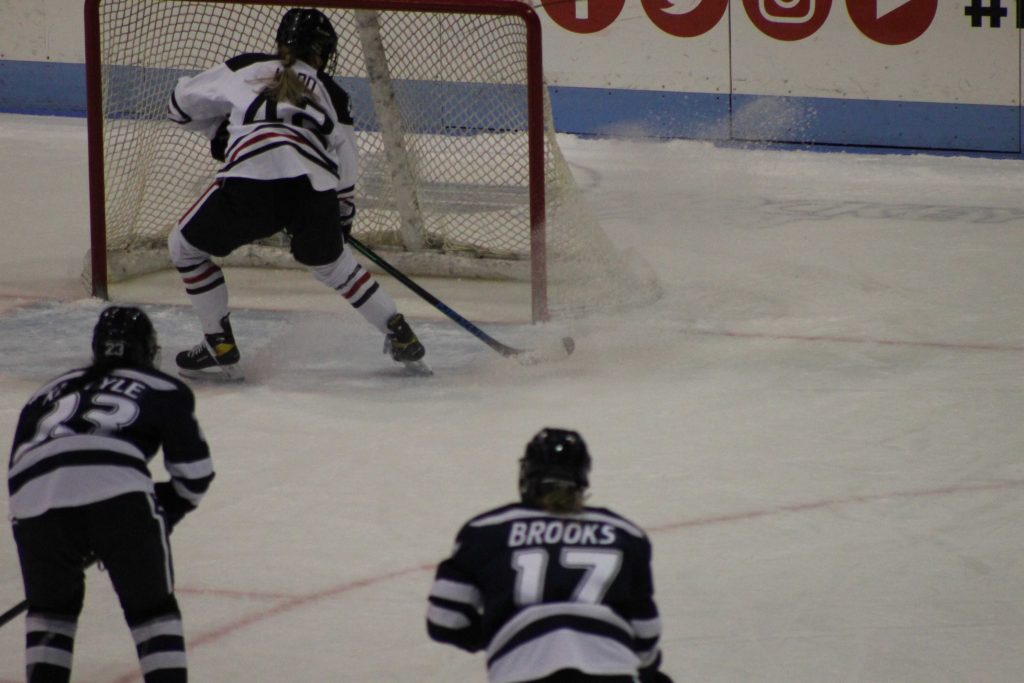 The Huskies (4–1–0) will rematch the Wildcats (3–8–0) tomorrow in New Hampshire at 6 PM Eastern. Jack Sinclair and George Barker will call the game, with coverage beginning about 10 minutes before puck drop.