By Jordan Baron and Milton Posner
BOSTON — It's not the greatest idea to wake a sleeping dragon.
But during the second half Saturday afternoon, the Hofstra Pride did just that. Northeastern's Tyson Walker had been a consistent if unremarkable presence all game, dropping eight points in a first half where the Huskies dominated on both sides of the court. But after the Pride rattled off 17 unanswered points coming out of the locker room, Walker decided he'd had enough.
Along with Jahmyl Telfort and Shaq Walters, Walker keyed a second-half onslaught that launched the Northeastern to a 67–56 win over Hofstra.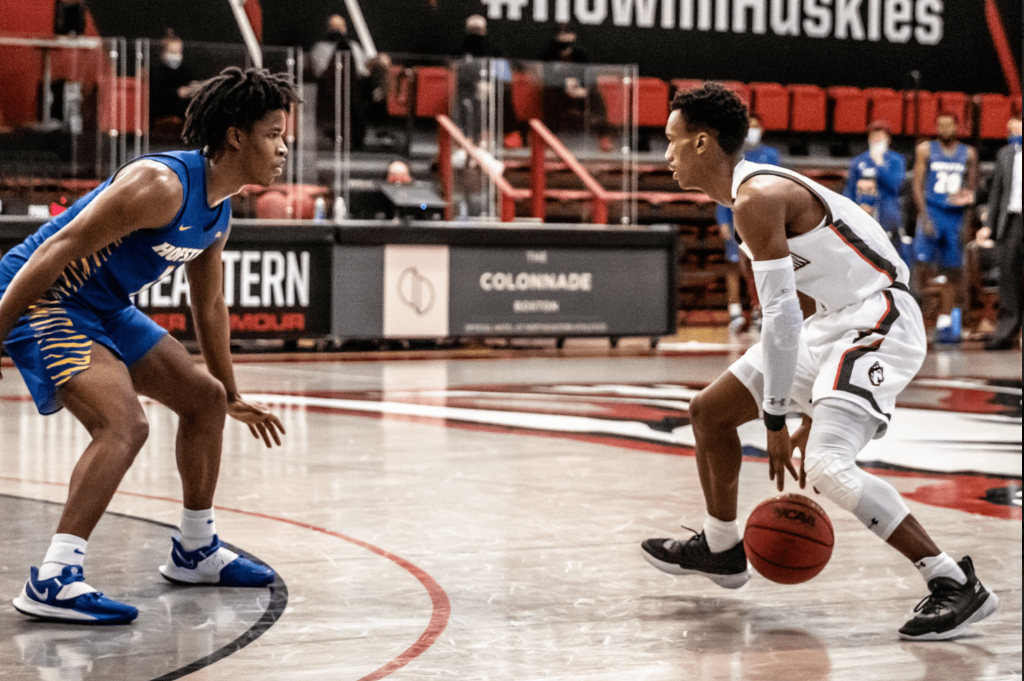 The Huskies, who lost five of six non-conference games on a heavy diet of high-major programs, now sit at 5–5. They just swept a team they lost to three times last year. Their 4–0 start to conference play is their best since 2016–17. And they have established themselves as frontrunners in a conference where they were projected to finish seventh.
"The game we played against Syracuse helped us this weekend, because you're playing against the zone, you're working out some kinks, guys are getting a little bit of feel," Northeastern Head Coach Bill Coen said. "We played against pressing teams, we played against really physical inside teams in West Virginia and athletic teams in Georgia, so it's given our guys a tutorial of what it takes to win at a competitive level."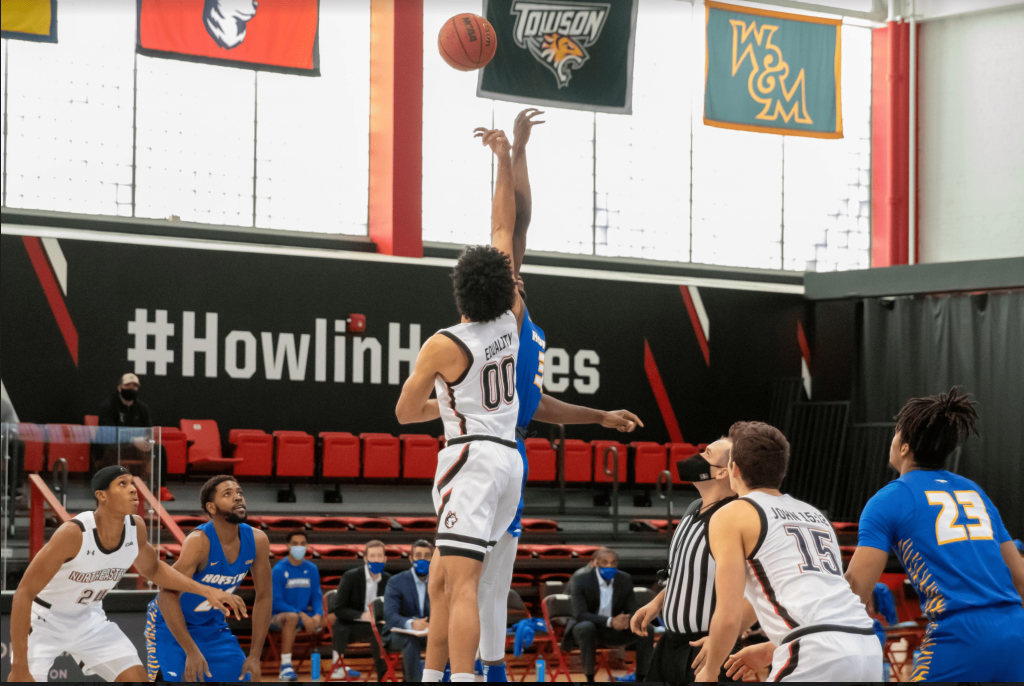 That flexible matchup zone, a calling card of the Pride, nudged the Huskies toward a perimeter-oriented style. They hoisted 37 three-pointers, more than they had in any game since the conference championship in March. They also tried just three free-throws, their fewest since February 21, 2016. Both of those games were against Hofstra.
"That's what they give you," Coen observed. "Year in and year out they're one of the best teams in the country at not fouling. So you're not getting any free points there . . . We got some really quality twos, but you're going to need to make some threes against them."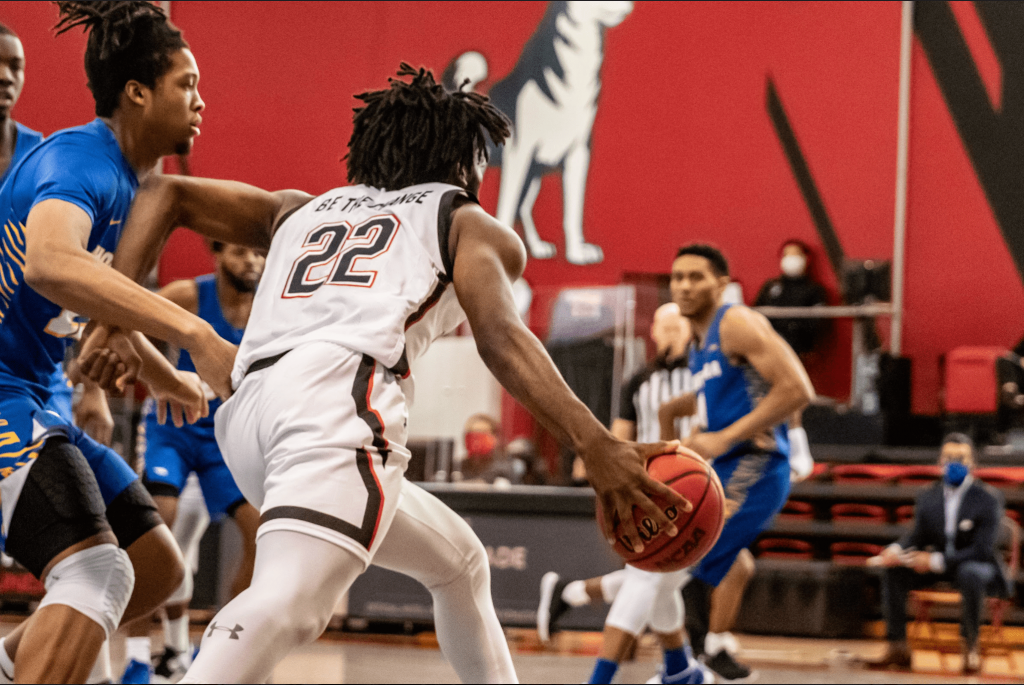 In the first half, Quirin Emanga set the tone for the Huskies. Although forwards Greg Eboigbodin, Chris Doherty, and Connor Braun were all available, Coen said that none had practiced live since being injured and he didn't want to risk their health. Doherty played a few minutes to relieve Emanga, but Emanga was expected to carry a heavy load in his first college start.
He was brilliant from the opening tip, scoring seven of Northeastern's first 13 points on two drives and a three-pointer. He finished with 14, but his defense shone brightest. For the second straight game, he locked up Hofstra's star big man Isaac Kante, who tried just seven shots all game. Emanga kept Kante away from favorable spots, took charges, and kept the Husky defense from scrambling.
"We're way faster," Walker said about Emanga's impact. "I feel like Q just brings a lot of fight on the court, so everybody feeds off of that."
Jason Strong was red-hot from deep to start the game, eventually finishing with 11 points. His two blocks were a key element of the Huskies' stifling first-half defense, which held the Pride to 21 points on 33 percent shooting. The Huskies also dominated the turnover battle; after coughing up the ball 11 times in a rough first half on Thursday, Northeastern had just nine giveaways all game on Saturday.
But the first seven minutes of the second half were all Hofstra. By the time a Walker three stopped the bleeding with 12:44 remaining, the Pride had exploded for 17 straight points. Everything they wanted on offense, they got. The Huskies offense went dark, at first due to stringent Hofstra pressure and then due to missed open looks.
And then Tyson Walker happened.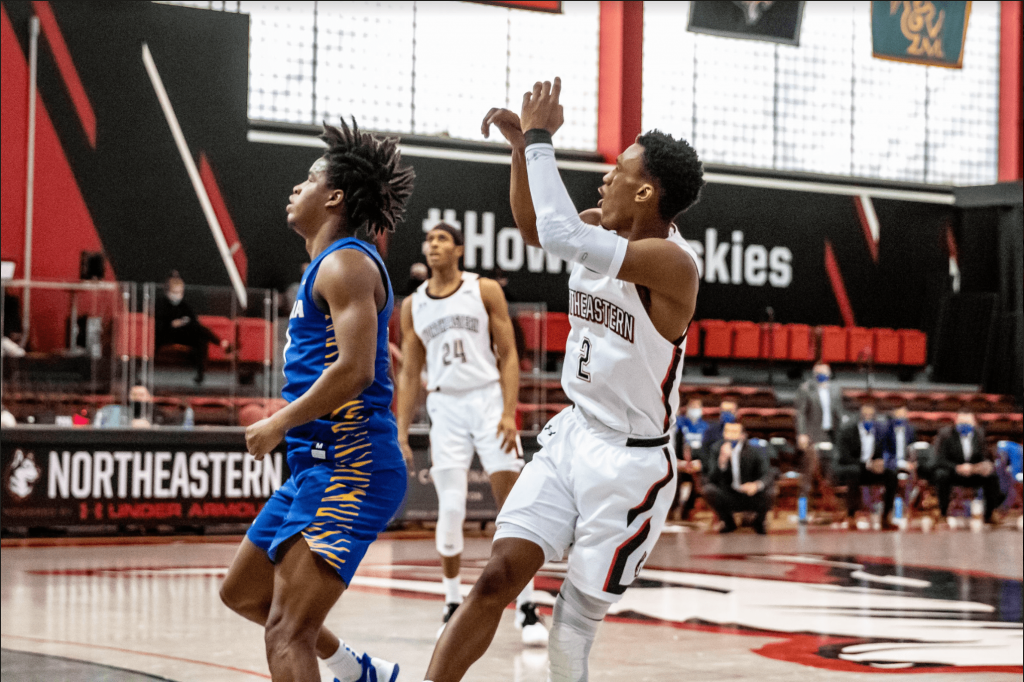 His barrage of threes, including a couple of unconscionably long heat checks, stopped the Pride in their tracks. Walker would finish with 23 points; of his 17 tries from the field, 13 were threes. Seven went in.
"It wasn't anything really different, it was just me being aware that I was more open," Walker said. "I took a step back, I was more open, the farther I stepped back I was more open."
"He earned the heat check," Coen said. "All of the sudden the energy picked up on the bench. His teammates now are playing with that same confidence, they borrowed his confidence. He's a confident kid, he's an accomplished player, he's our most accomplished player, and I was really really happy for him that he stepped up and led us to victory."
Telfort and Walters, both of whom logged scoreless first halves, found their rhythms too, burying back-to-back threes late in the half to open up an insurmountable 10-point lead. Telfort made his mark under the basket as well, picking up an athletic offensive rebound off of a Strong miss and securing the putback to quell a desperate Hofstra run.
Walker put a bow on the contest with a beautiful press-breaking pass to a wide-open Walters, who slammed down the overhead dunk.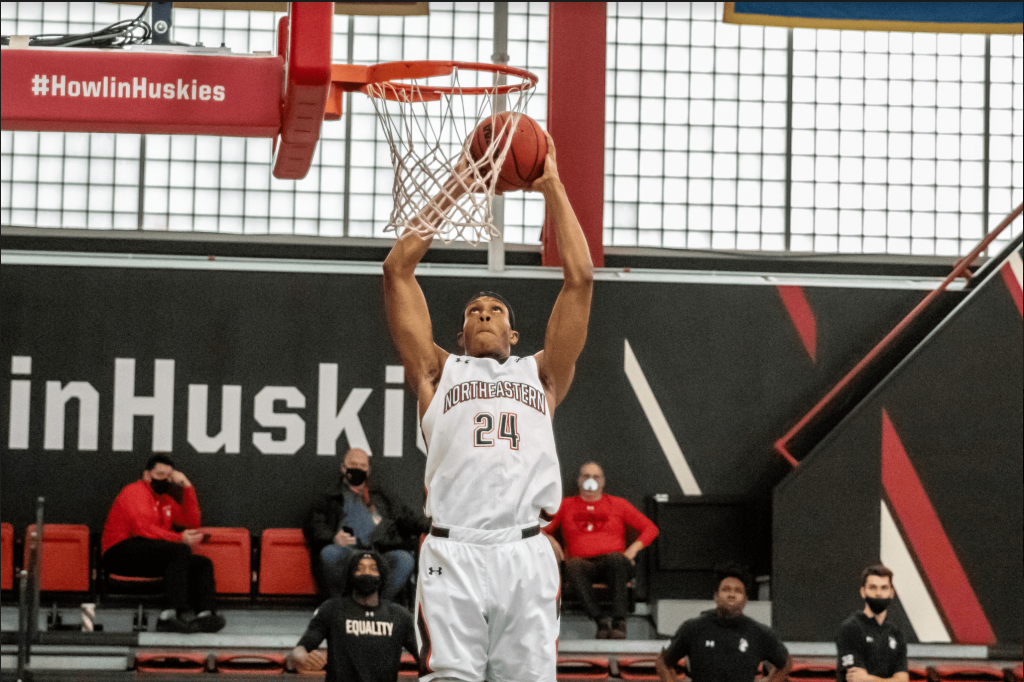 "I was really proud of our guys being able to recalibrate in the heat of the moment, find a way," Coen said of the second half. "Felt like there was a lid on the basket for the first eight minutes, and then all of a sudden Tyson just willed us back into the game. And everybody else joined the party and settled down.
Tareq Coburn led the way for Hofstra with 15 points, joined by Jalen Ray (14), and Caleb Burgess (10). Though many of Hofstra's top players logged solid games on the whole, none scored in overwhelming volume or with notable efficiency. Kante and Kvonn Cramer pulled down a combined 26 rebounds, but aside from the opening seven minutes of the half, they never entirely clicked on offense.
"We didn't match their physicality and toughness in the first half," Hofstra Acting Head Coach Mike Farrelly said. "A lot of the time you think about toughness as 'get in a defensive stance, get a rebound,' all that stuff. But you have to be tough with the ball against Northeastern. We weren't good with that in the first half."
The Huskies will get a week off before heading down to South Carolina to take on the College of Charleston in a two-game weekend set.