Story by Justin Diament
Photos by Sarah Olender
BOSTON — It just wasn't the Huskies' day.
As they watched James Madison dribble out the clock to complete a surprising 79–72 win, they also watched their seven-game winning streak, their longest in two years, end.
The Dukes were led by junior guard Vado Morse, who contributed 30 points on 10-for-18 shooting after nailing just one of his 10 tries in the Dukes' loss yesterday. Morse was matched on the other end by Husky star Tyson Walker, who finished with a season-high 30 points and five assists.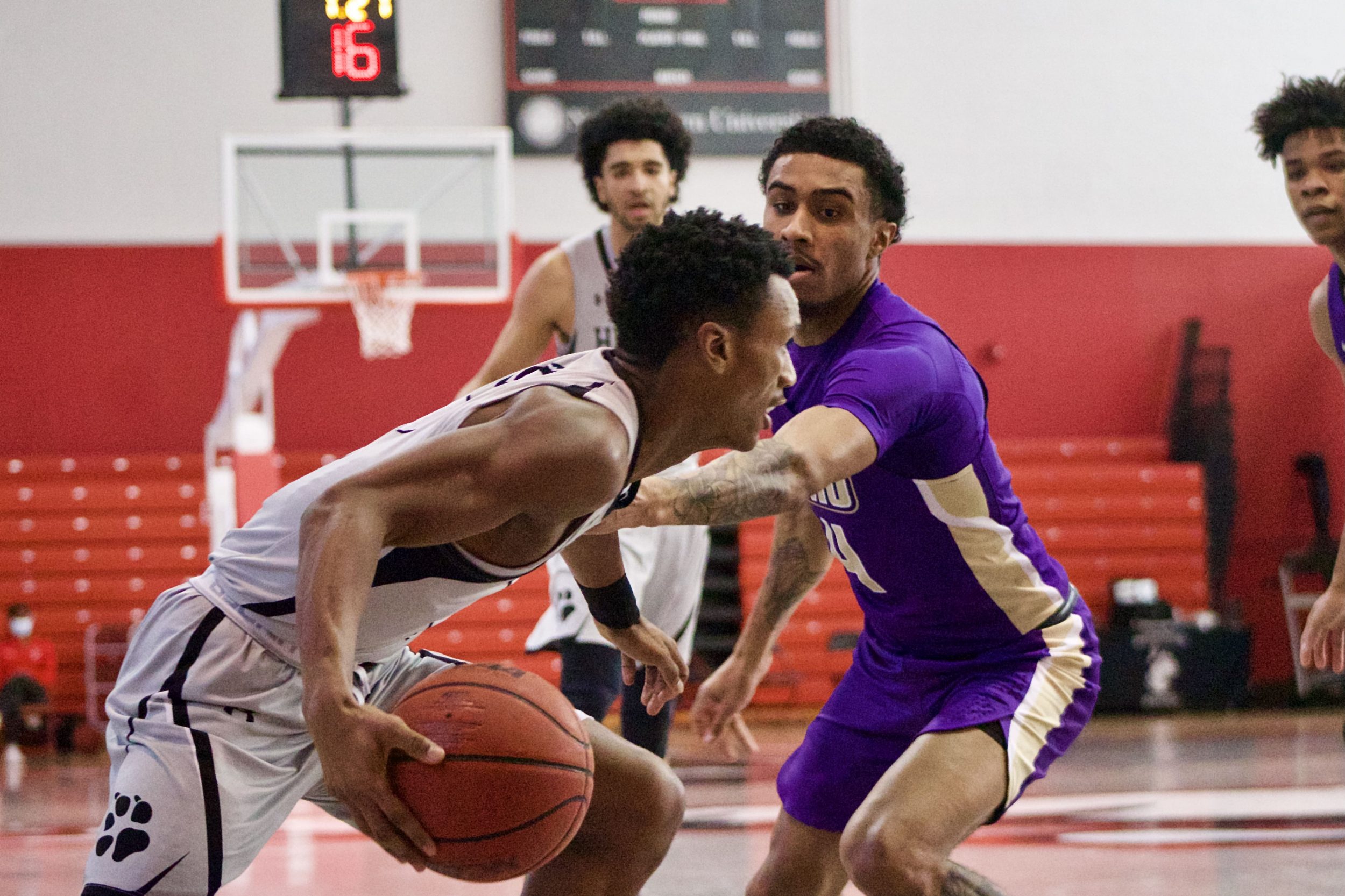 James Madison jumped out to a quick 10–3 lead, but the Huskies quickly closed the gap and forced a Dukes timeout. Northeastern held their momentum and built a six-point lead with 11 minutes to play, but the rest of the half was all Dukes. Two Morse threes keyed a 28–8 rampage that gave the Dukes a commanding 14-point advantage.
"We got off to a really, really slow start and that set the tone," Northeastern head coach Bill Coen said. "We allowed them to get very very aggressive to start the game."
The Dukes also benefited from their swarming perimeter defense, which held the Huskies to just 25 percent from beyond the arc. Northeastern attempted 16 first-half threes, making their deep-shot woes cut quite deep.
"They had a terrific night shooting the ball, some deep shots and we got caught in a couple of bad rotations," Coen noted. "You got to give them some credit, they made some big shots, and they have a really good three-point-shooting team. But we made our own errors."
The Huskies' over-reliance on the three was clearly a point of interest for Coen at halftime, as Northeastern returned to the floor with a renewed focus on driving and passing into the paint. The refreshed Husky attack strung together a 5–0 run and then a 6–0 run to cut the deficit to four.
"We wanted to just not sit back and settle for contested shots," said Coen. "We opened up the half of the play designed to get [Shaq Walters] in and around the basket. We wanted to make sure we attacked the rim and put some pressure on their defense that way, and I thought that allowed us to climb back into it."
However, the Huskies quickly fell back into old habits, missing threes and allowing the Dukes to regrow their commanding lead. This pattern repeated often across the second half, as offensive bursts would bring the Huskies within single digits only for the Dukes to put in a few buckets to snuff the Huskies' momentum.
Almost every Northeastern push was on the back of Walker, who exited the game late in the first half with an apparent knee injury but came back strong and was nigh unstoppable for stretches. While most of his teammates never got their offense on track, Walker shot 10-of-19, a line that was even stronger before some late desperation attempts.
"He had a terrific game and bounced back from a rough afternoon yesterday," Coen said. "He was the difference on their end." However, Coen conceded that Walker "struggled a little bit to keep [Morse] under wraps."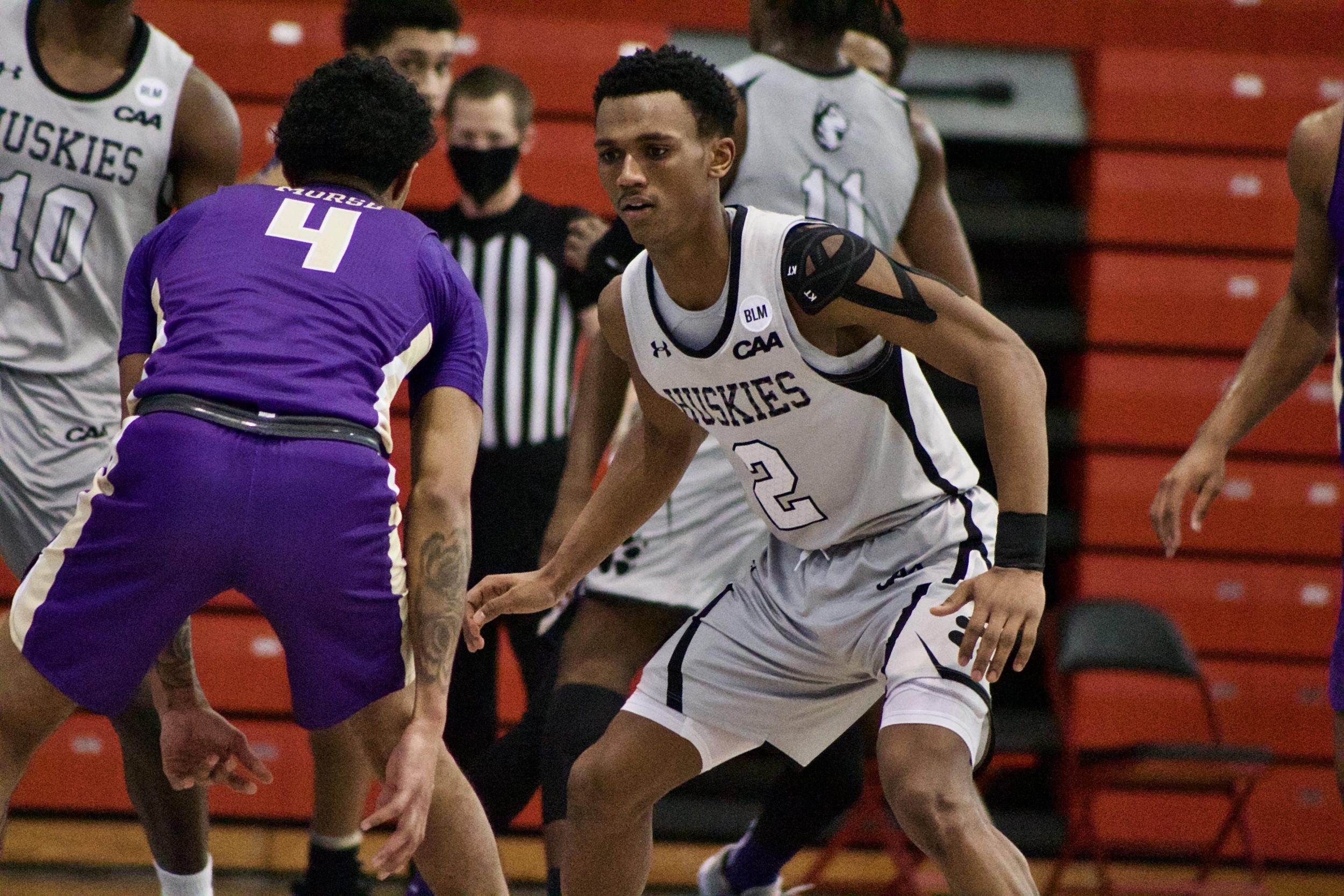 James Madison star and reigning USBWA National Player of the Week Matt Lewis deferred to the surging Morse for most of the afternoon, but made his presence known with game-sealing drives and finished with 16 points. Freshman big man Justin Amadi and sophomore forward Julian Wooden also notched double figures for the Dukes; Shaq Walters and Jahmyl Telfort did the same for the Huskies.
"I was really proud of our effort in the second half," Coen said. "Execution still left something to be desired, but our effort gave us a chance to kind of make it a little closer game than it was. This is a learning curve for this young group."
While Amadi showed no signs of the injury he suffered yesterday, Northeastern was without the services of big man Chris Doherty, who chipped in 10 points and 10 boards in the Huskies' victory on Saturday. Coen confirmed that Doherty, who was sporting a walking boot and crutches, is nursing a sprained ankle, and did not specify a timetable for his return.
"He's had treatment around the clock and he's a tough kid," Coen said. "If there is a chance for him to play at all he wants to play. But we want to make sure that his long-term health, because it's a long season, that we have him at full strength."
After the buzzer, Coen kept his team on the floor to observe just how excited James Madison was to defeat them.
"It speaks to the level of respect that this program has throughout the league if someone is going to get that excited over this victory," Coen explained. He wanted his players to understand "what it means to be a part of this program."
But, as Coen noted, there is a flip side.
"I want our guys, our young team to understand the emotional edge that other teams may have when they play a first-place team," he said. "We have to combat that with our own emotional energy going forward because that is what it's going to be night in and night out from here on out. So teams are going to get excited to play you, you're 'the team' now, and you're going to get everybody's best effort."
Northeastern (8–6, 7–1 CAA) will try to rebound next weekend on the road against the Drexel Dragons (7–5, 2–3 CAA), who finished third in the conference preseason poll. Coen will again try for his record-tying 250th Northeastern win.