Story by Milton Posner
Photos by Jordan Baron
WORCESTER, MA — There's plenty to be said for competitive sporting events, games where the outcome remains in doubt until the very end as the suspense ratchets ever higher. The moments forged in that pressure are the defining ones that teams and fan bases hold aloft in recalling the narrative arc of the season. They're the ones that get remembered.
But unmitigated bludgeonings have their place too. These are the games that are decided before they begin, the ones that replace dramatic endings with a runaway train of dominance and give us a chance to see just how talented one side is.
Friday night's game between the Northeastern and Holy Cross women's hockey teams had the potential to be such a rout. The Huskies won all three of last season's contests by a combined score of 24–0. The most lopsided showing, an 11–0 demolition on November 29, featured two five-point individual efforts and was the largest shutout margin the team had posted in the 21st century. And entering Friday, the Huskies had won more Hockey East games this season than Holy Cross had won in their two-and-a-half years in the conference.
But you know what? That doesn't guarantee anything. These are two different teams. Holy Cross has some new freshmen. They're on their home ice. And for all we know . . .
Never mind. It took only 43 seconds for Chloé Aurard to slot home Northeastern's first goal of the game. (The goal was awarded to Skylar Fontaine before scorers ascertained that Aurard had tipped the puck in.)
Holy Cross was overmatched from the start. Northeastern's speed, quickness, strength, and skill advantages were obvious, and the Huskies leveraged them to control the pace and tenor of the action.
Nowhere was this more evident than in the performance of their vaunted all-conference top line of Aurard, Alina Mueller, and Maureen Murphy. Not only are they easily the best line in the conference, you arguably couldn't construct a better one even if you raided the other nine Hockey East teams for parts. Before the first period ended, Murphy and Aurard had cashed in again.
"My philosophy has always been that if you can load up one line and make a really dangerous line, I like to do that," Northeastern head coach Dave Flint, who returned to the bench after a month away due to personal reasons, said. "Every time they step on the ice, they make teams sweat. They work hard, they're starting to get some chemistry now, Maureen's getting more games with them, and they're starting to click. It's really nice to see."
And Aurard wasn't even done. When a Northeastern power-play rush sent Holy Cross netminder Jada Brenon sprawling on her back into the net, Aurard tossed one into the unobstructed top shelf to complete her hat trick halfway through the game. It was her first hatty of the season, second against Holy Cross, and third in a Husky uniform.
"I always harp on her to shoot the puck more, and she shot it tonight," Flint said bluntly. "It's a miracle; it's weird how the puck goes in when you shoot. She did a great job tonight, she was opportunistic, and she's got two pretty good linemates helping her out there."
Tonight, more than ever, Flint was right. Though reigning Hockey East Player of the Year Alina Mueller tried just three shots all game, she notched four assists to lead the team, three of which came on her linemates' goals. She played a fluid, controlled, precise brand of hockey, and even sent an overeager Lilly Feeney into a different area code with the slickest move of the night.
The Crusaders hung with the Huskies in stretches during the second period, even putting them on their heels a few times with a newfound forecheck aggression. But the Huskies weathered the storm each time, and consistently extended possessions by outhustling the Crusaders to loose pucks and errant passes.
"I liked how fast we were playing," Flint observed. "We were quick in transition, quick moving the puck. They play a 1-2-2 and try to force you to dump the puck. So we were just looking to get pucks behind their D and establish the forecheck."
Holy Cross could only evade fate for so long, and in the last few minutes of the period, Skylar Fontaine and Katy Knoll rang the bell to put the game far out of reach.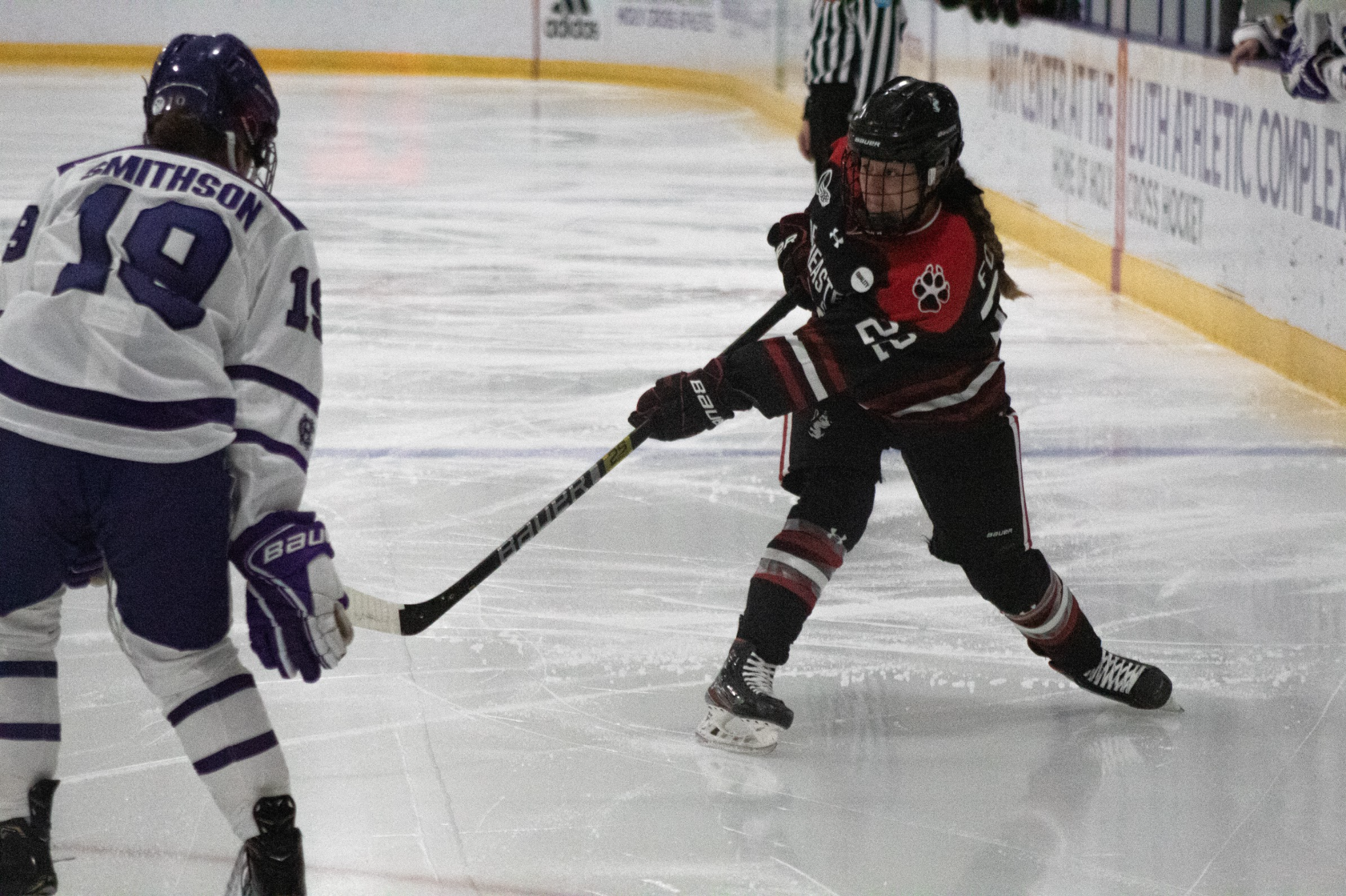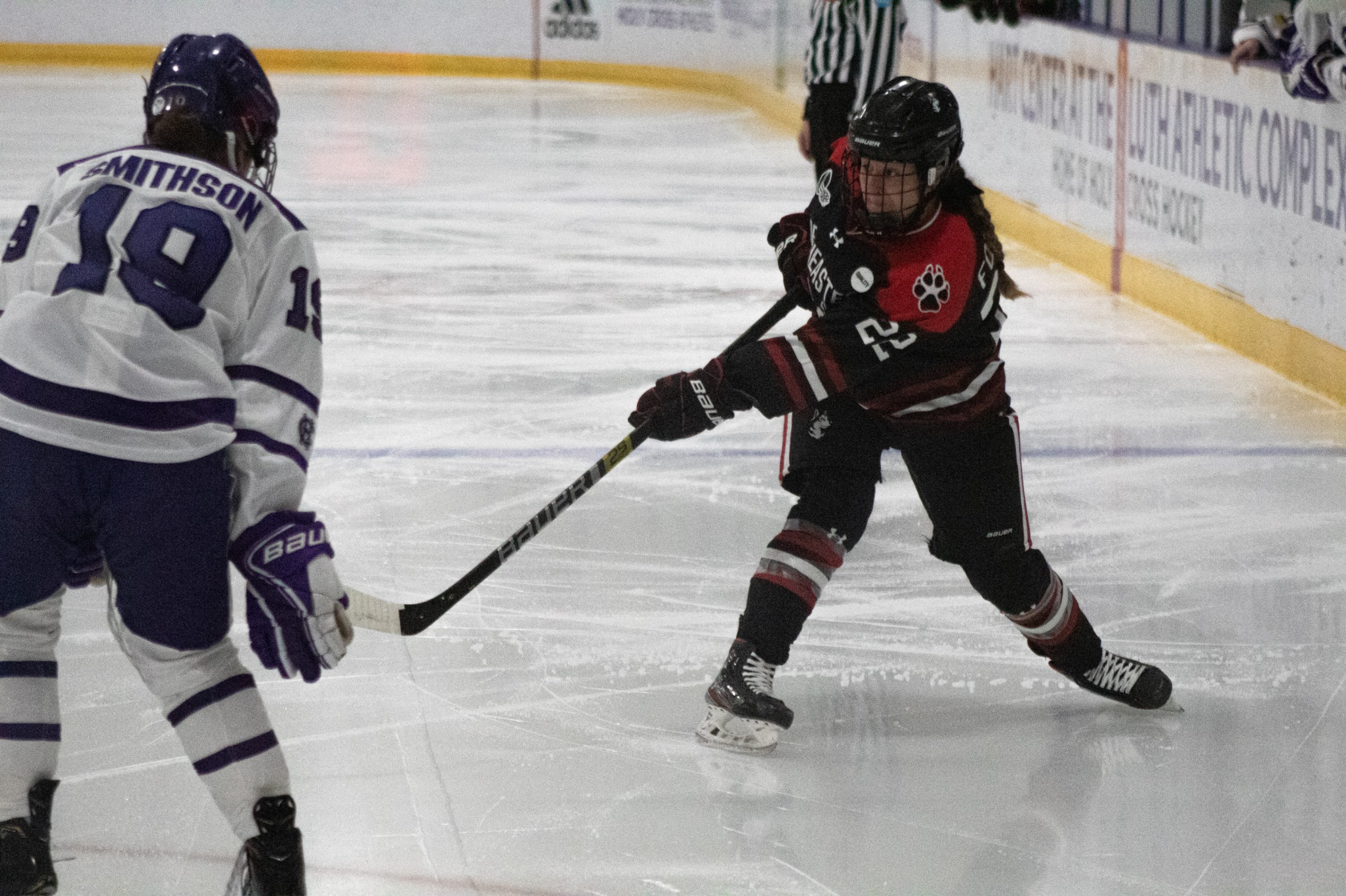 Fontaine's goal was Northeastern's third power-play tally on their fifth try, something Flint cited after the game as an example of an early-season deficiency his team had greatly improved upon. And if that wasn't enough, the Huskies outscored the Crusaders on the Crusaders' power plays.
Oh and sure, let's throw in a Peyton Anderson capper for good measure.
The 8–0 final score represented the Huskies' largest goal tally and margin since a 9–1 evisceration of Connecticut in last year's Hockey East Championship. In one game, they raised Jada Brenon's goals against average by four tenths — in February.
"They gave the full effort, which I'm proud of," Flint said. "Some of the games this year, we get up a couple of goals, put it in cruise control, and coast to the finish line. Tonight we didn't."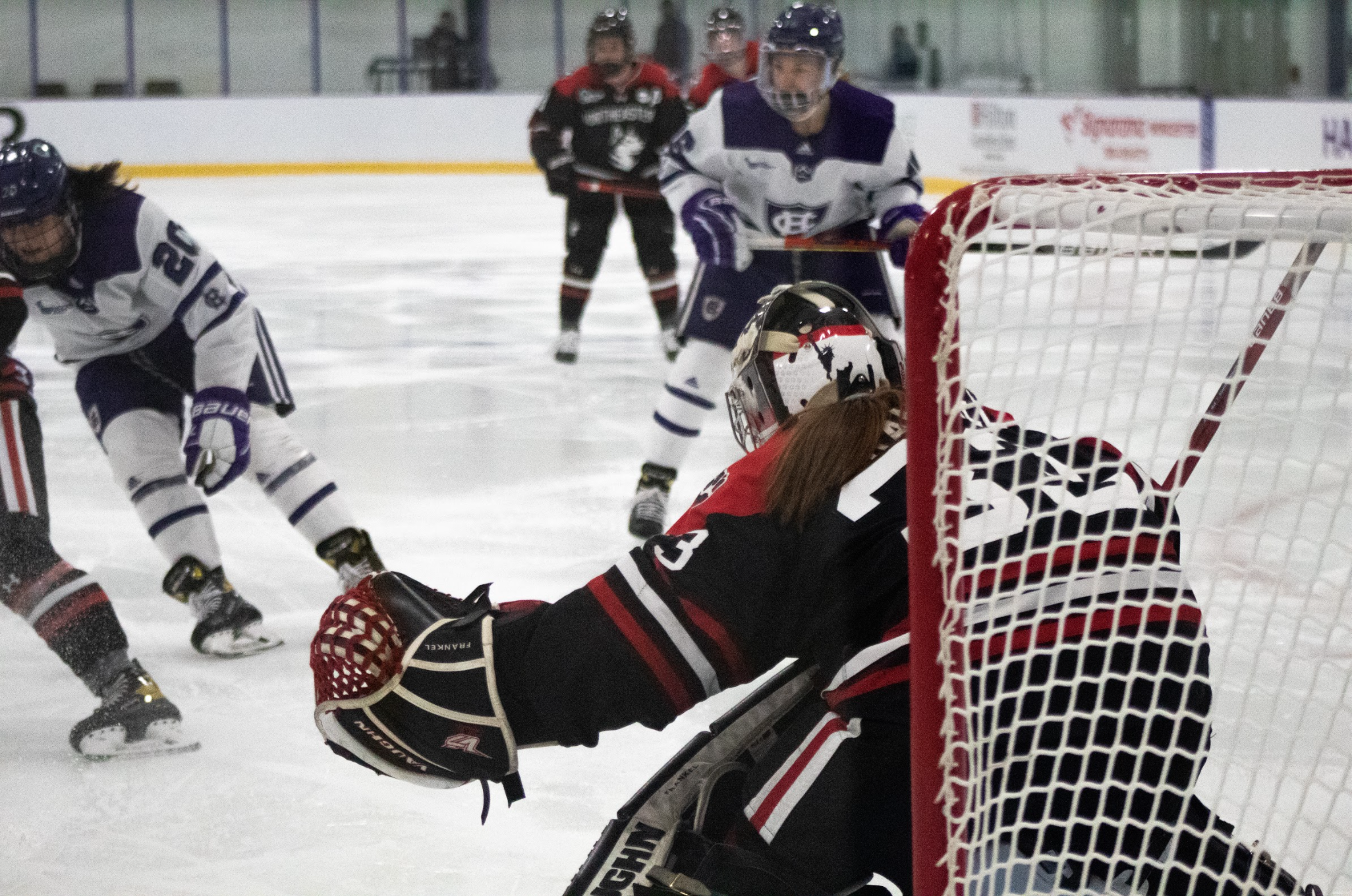 And of course we'd be remiss to omit Aerin Frankel, the Northeastern goaltender whose play seems like that of someone who can read the minds of her opponents. Though Northeastern's overwhelming forecheck meant that the puck spent relatively little time in Frankel's neighborhood, she still had to ensure 17 shots — including some tricky ones — didn't find their way into the back of the net.
"She had a couple of nice saves on our penalty kill," Flint notes. "That's why we're successful. The team plays loose because they have confidence in their goaltending. They can play a little bit more wide open, take some chances . . . We had a couple breakdowns and Aerin was there to pick up the pieces."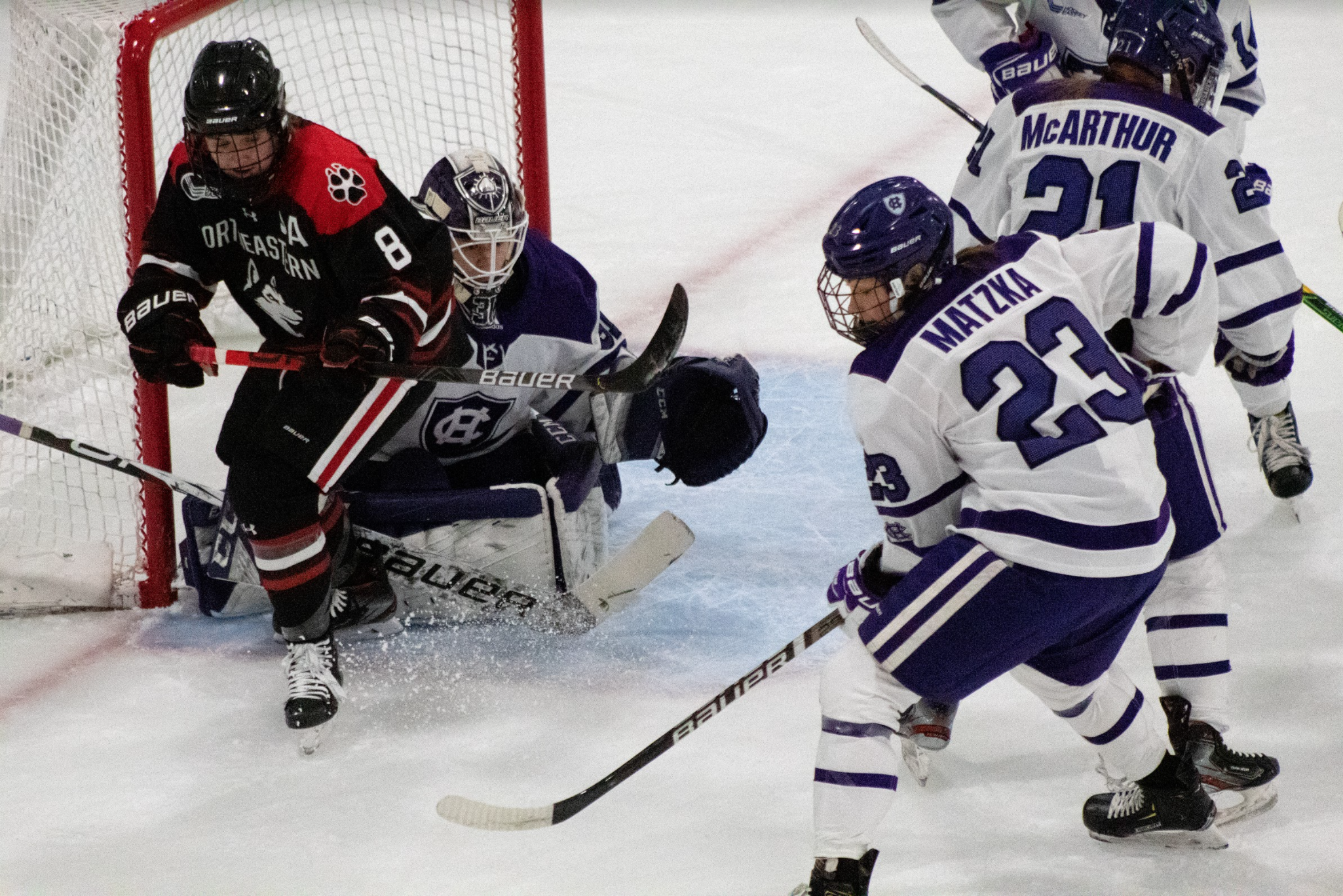 In doing so, she built on a number of season statistics that look as though they were conjured on a video game with the difficulty sliders dropped to the floor. She has a remarkable seven shutouts, a ridiculous .974 save percentage, and a preposterous 0.58 goals against average, all of which lead the nation. Her 24th career Hockey East shutout — which ties Katie Burt's record — pushed her shutout streak to 260 minutes, one game shy of her 315-minute stretch from last season.
The team's statistics are similarly cartoonish. In 320 consecutive minutes of shutout hockey, they've rattled off 28 unanswered goals. They've won their last eight and are unbeaten in their last 12, the latter being the nation's current best. They are 12–1–1, the new standings overlords in Hockey East, and a profoundly, strikingly dangerous opponent. And they've reminded us of the joys of sports turning into a runaway train.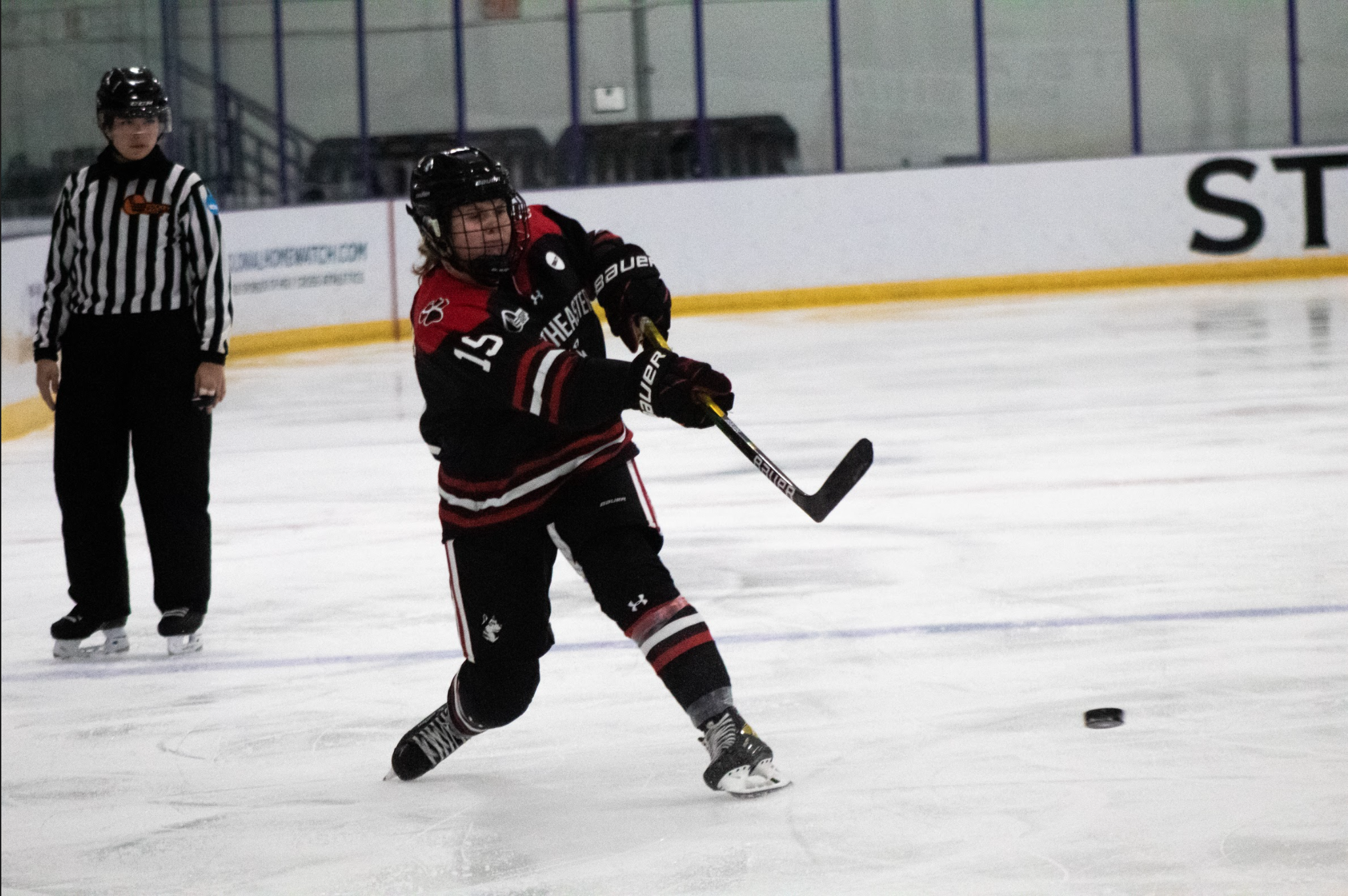 Holy Cross will step into the lion's jaws again tomorrow. George Barker, Mike Puzzanghera, and Jordan Baron will have what promises to be an immensely entertaining call from Matthews Arena, with coverage commencing at 3:20 PM Eastern.