Story by Mike Puzzanghera
Photos by Jordan Baron and Sarah Olender
The stage is set in Erie, PA, and even with their opening-round NCAA Tournament game on a Monday afternoon, the Northeastern women's hockey team is ready and raring to go. The top seed in the country breezed through Hockey East this season, and they enter the tournament on a 20-game unbeaten run.
Their opponent? Upstart College Hockey America (CHA) champs Robert Morris, who won their conference tournament as the #3 seed and scooped up the NCAA's eighth-seed with the automatic bid.
These teams haven't faced off since October 2014, making Kendall Coyne the last Northeastern player to score against the Colonials. That's how long it's been. Because of that, Northeastern head coach Dave Flint said the prep is just a bit more difficult this time around.
"We've got one video of them, and it was of their last game, and I think they had like 30 seconds of a power play," Flint said.
So what can Northeastern fans expect from Robert Morris? Well, they aren't going to run and gun as the Huskies love to do. They're a slower, bigger, more physical team than most of the opponents Northeastern has battled all year.
"If we slow down and play at their pace, then that's what they want, they're going to have a good chance," Flint said. "If we play with our speed, and have all four lines going, I think we're going to be in pretty good shape."
Let's take a deep dive into both teams ahead of their first-round meeting on Monday.
How they got here
Northeastern: We know this story already, but if you don't: The Huskies, the number one team in the country, haven't lost since December 13 against Boston College (the sixth seed in this tournament). Since then, the only games that weren't resounding, dominant wins were a 2–2 tie (and shootout loss) at New Hampshire when a fortuitous bounce beat Aerin Frankel late in the third to send it to OT, a 3–2 OT win against road warriors Maine, and a 2–1 win over UConn (who handed it to BC 5–1 on the road just days before) in the Hockey East semis.
Most recently, they beat Providence (the seventh seed in this tournament) 6–2 to capture their fourth straight conference title. They won this game with zero points combined from Alina Mueller, Chloe Aurard, and Katy Knoll — three of their top four scorers.
That's right. They didn't even need those stars to produce to take the win. It's a level of depth that Flint takes tremendous pride in.
Also of note, they've played Providence four times this year. Take a guess at the aggregate score of all those games, just for fun.
Was that guess 19–3? If so, congrats! If not, that's okay, you can't be blamed for not anticipating that level of dominance over a fellow top-ten team. That's just where the Huskies are right now.
They enter this tournament as the hottest team in the country and the number one team in the country. It's a lethal combination.
Robert Morris: The Colonials are the surprise team in this tournament. They ran through the CHA Tournament, beating RIT, Mercyhurst (in OT), and fellow tourney Cinderella Syracuse, days removed from knocking off top seed and eventual NCAA Tournament snub Penn State. They did so off the back of a goaltending timeshare that got hot at the right time — Molly Singewald, Arielle Desmet, and Raygan Kirk each started a tournament game, with Singewald and Kirk recording shutouts.
Though the CHA has just one representative in this year's tournament, there are some good teams across the conference. The Colonials paled in comparison to them, going 0–4 against Penn State, 3–2 against Syracuse, and 3–1–1 against Mercyhurst. It's that Penn State record that's really eye-popping here, as the Nittany Lions looked poised to make the NCAA Tournament this season and were easily the best regular-season CHA team.
The gap between the top teams and bottom in the CHA is huge. RIT and Lindenwood sat at the bottom of the conference this year, combining for a 3–29–1 record. Eight of RMU's 16 wins came against those two teams.
Make no mistake — Northeastern has wins against teams like these in Hockey East, with four straight wins over Merrimack and Holy Cross in January and February. But Northeastern's record against top teams puts them more than a cut above RMU.
Players of note
Northeastern: The Fearsome Five of Alina Mueller, Chloé Aurard, Maureen Murphy, Skylar Fontaine, and Brooke Hobson is the best unit of skaters in the country, plain and simple. All five were Hockey East All-Stars this year, including Murphy, who amassed 14 points in just 10 regular-season games. They possess speed, skill, and that mysterious clutch gene that gets talked about but never defined. Whatever it is, they have it (especially Aurard).
They also have the best goaltender in the country. Aerin Frankel has shattered Northeastern program records almost every time she has taken the ice this year, and her overall stats are straight out of a video game. An 18–1–1 record, a 0.698 GAA, a .969 save percentage, and NINE shutouts all lead the country.
In every press conference, she receives what we here at WRBB have dubbed "the question": something like, "Aerin, how do you stay ready to make important saves when the puck is down on the other end of the ice all the time?" Frankel will always sit back and answer that she'll communicate with her D corps and stay on her toes or, as she did after the 12–0 win over Holy Cross, Frankel will have some fun with it and say that she "can't be sleeping out there."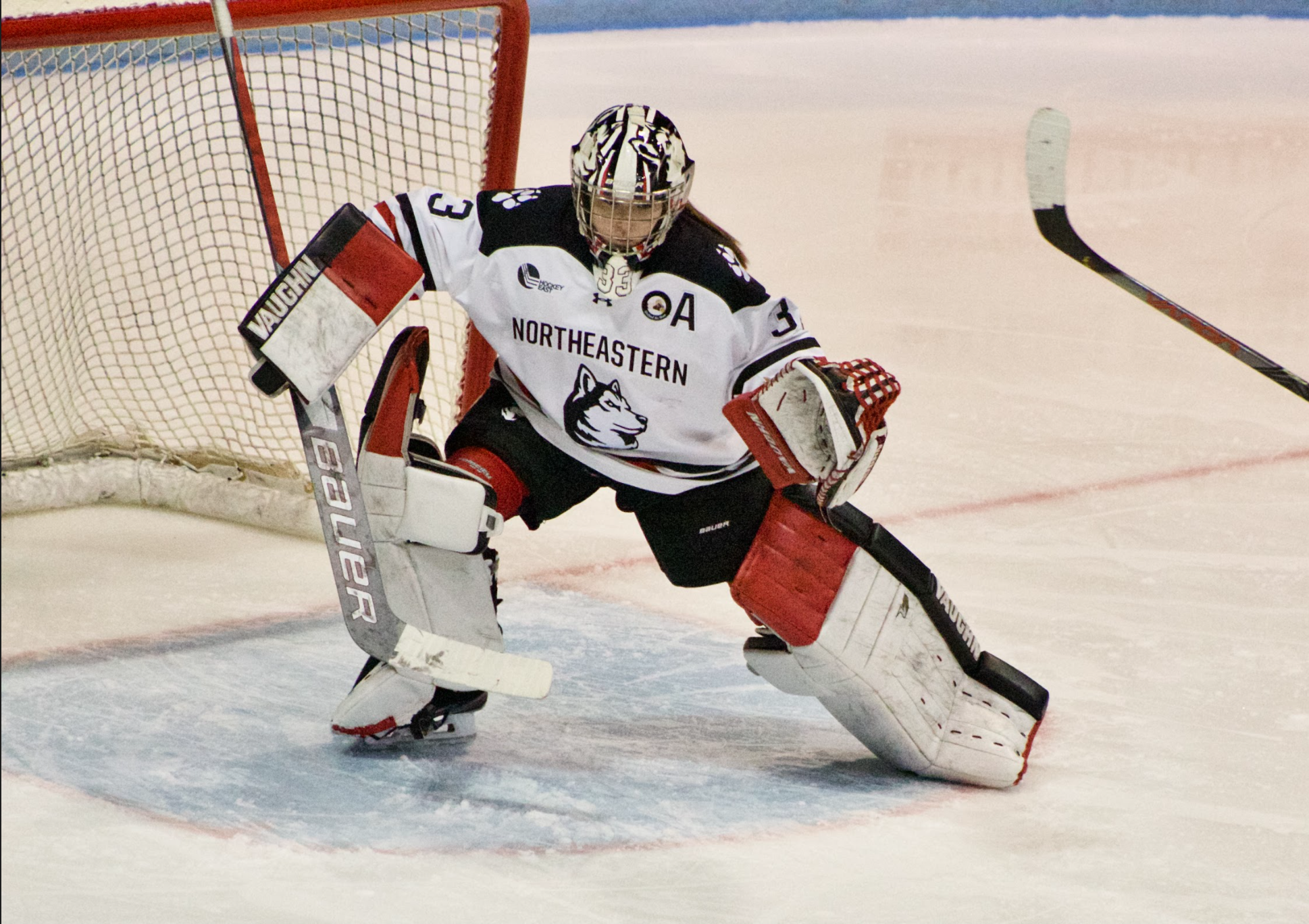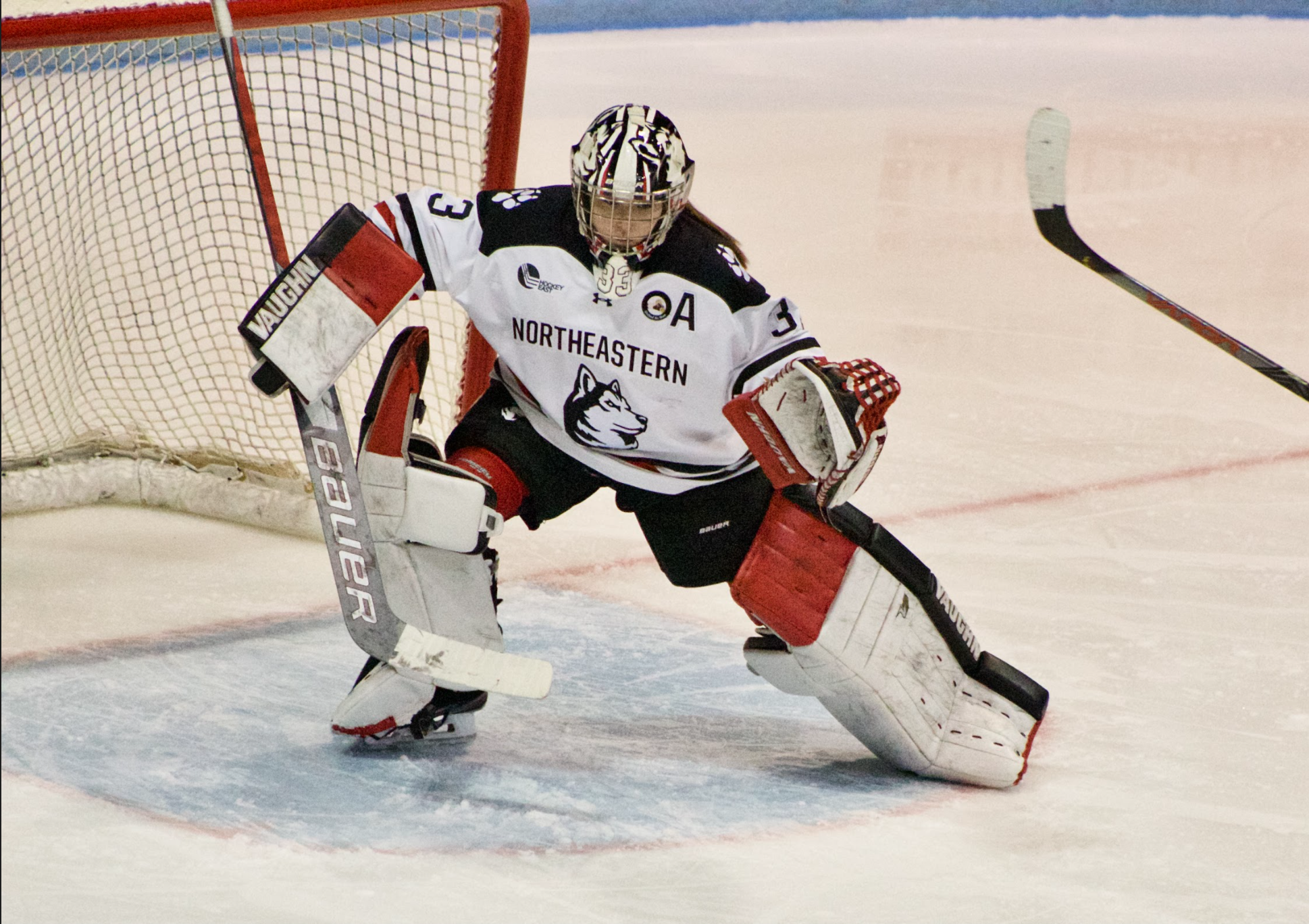 But it's not just that starting group that is of note for this Northeastern team. A special highlight and shoutout to NU's fourth line, who have grinded all year and, especially in the playoffs, provided clutch scoring. Peyton Anderson, Kate Holmes, and Katie Cipra use their elite speed to forecheck well and win the puck down low. Cipra scores maybe the nicest goals in all of college hockey (both men's and women's), and is no stranger to SportsCenter.
Add to that group extra skater Molly Griffin, who doubled her season point total in the three playoff games, and you have a threatening, speedy fourth line — quite possibly the best in the NCAA — that not only gives the top groups some rest, but scores some key goals.
"It's a huge luxury to have," Flint said. "And it only makes your top kids fresher in the third period, especially if we do have to shorten it up for some reason. They're going to be a lot fresher than the other teams' top units."
Robert Morris: The Colonials are led by senior Lexi Templeman (seven goals and 22 assists in 24 games), who is averaging nearly a point per game across 129 career games. Templeman was the only Colonial named to a CHA All-Star team, earning her place on the first team alongside multiple Penn State honorees. It's Templeman who makes the offense click: the captain's +16 rating leads RMU.
Junior Michaela Boyle is another key forward and RMU's leading goalscorer with 10 after amassing 22 as a sophomore. The two of them are joined on RMU's top power-play unit by Maggie Burbidge and defensemen Emelie Harley and Emily Curlett.
"One of their lines kind of really makes them go, but the other ones really work hard and they generate a lot of shots," Flint said of the Colonials.
Curlett is one of the most prolific defensemen in the country. She has amassed 90 points in her career, and finished 2019–20 tied for first nationally with 13 power-play goals. Harley stands at an intimidating six feet and, despite that size implying physical play, she limits her penalties — only three all year.
RMU has used a timeshare in goal all year, but expect sophomore Raygan Kirk to start Monday afternoon. She got the start in the CHA title game against Syracuse and is the Colonials' go-to netminder. Across 14 appearances, Kirk is 8–4–1 with a 1.68 GAA and .945 save percentage. 
Special Teams
Northeastern: A power play that's scoring at a 22 percent clip. A kill unit with more shorthanded goals for than power-play goals against. There's only so much that can be said about how they operate. The power play moves the puck around quickly, and both units can score almost at will. The penalty kill is tops in the country with a 97 percent success rate.

First power play: Mueller, Aurard, Murphy, Fontaine, Hobson
Second power play: Knoll, Renner, Ward, Anderson, Carter
First PK: Mueller, Aurard, Fontaine, Hobson
Second PK: Knoll, Murphy, Carter, Abbey Marohn
Third PK: Ward, Brown, MacInnis, Yovetich
Robert Morris: RMU's power play is also quite good — with a conversion rate of 18 percent — which goes without saying with a player like Templeman leading the top unit. The kill is successful on 88 percent of their attempts. Again, another good rate, but they'll have to kick it up to another level to deny NU's man advantage.
Of note: As Flint said, the team only has 30 seconds of film on the RMU power play. Expect this to be a key factor. It's no secret that the Huskies have an elite penalty kill, but the lack of footage at their disposal might cause some problems early, particularly against the top group.
First power play: Templeman, Boyle, Burbidge, Harley, Curlett
Second power play: Diffendal*, Fiala, Marcovsky, Rice, Thompson
*Diffendal, Marino, and Wagner have all seen time on the power play this year, but expect Diffendal to take that spot first Monday.
First PK: Templeman, Boyle, Curlett, Harley
Second PK: Fiala, Burbidge, Rice, Thompson
Recent tournament history
Northeastern: The Huskies have never advanced to the Frozen Four. The closest they came was a heartbreaking 3–2 OT loss in 2019 to Cornell at Matthews Arena in a year where Northeastern earned the third seed in the tourney. That felt like their shot. Last year they picked up the third seed and had a lot more confidence coming in, but COVID-19 halted the whole tournament.
"It's in the minds of all our returners and there's obviously something to prove," Flint said. "They felt like a really good opportunity was taken away from them last year, so they want to make good on it this year."
One huge thing that held them back in 2019 was not having Mueller. The Swiss star, just a freshman that year, suffered a broken hand in the conference tournament and did not play against Cornell. It was a game the Huskies started slowly in but, as they did all of 2018–19, they battled back to tie it in the third.
"I think part of the slow start was definitely some nerves," Flint said. "I think also the team was unsure without their best player, with Alina, there might have been some doubts . . . The team was resilient in the fact that they didn't pack it in after a 2–0 deficit and they battled back. They just ended up coming up a little short."
This time around, Mueller is on track to play. Flint has no doubt she'll be on her game.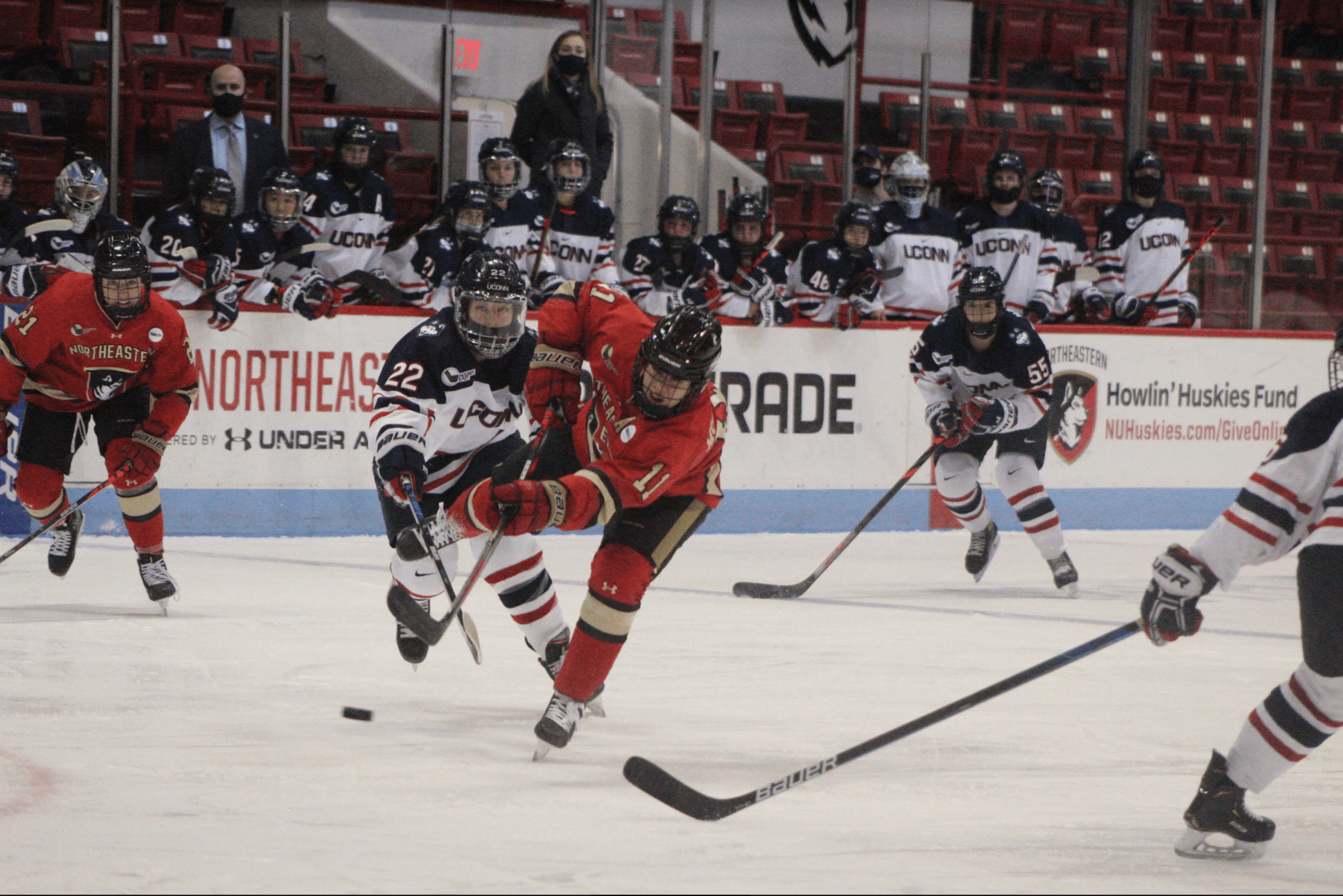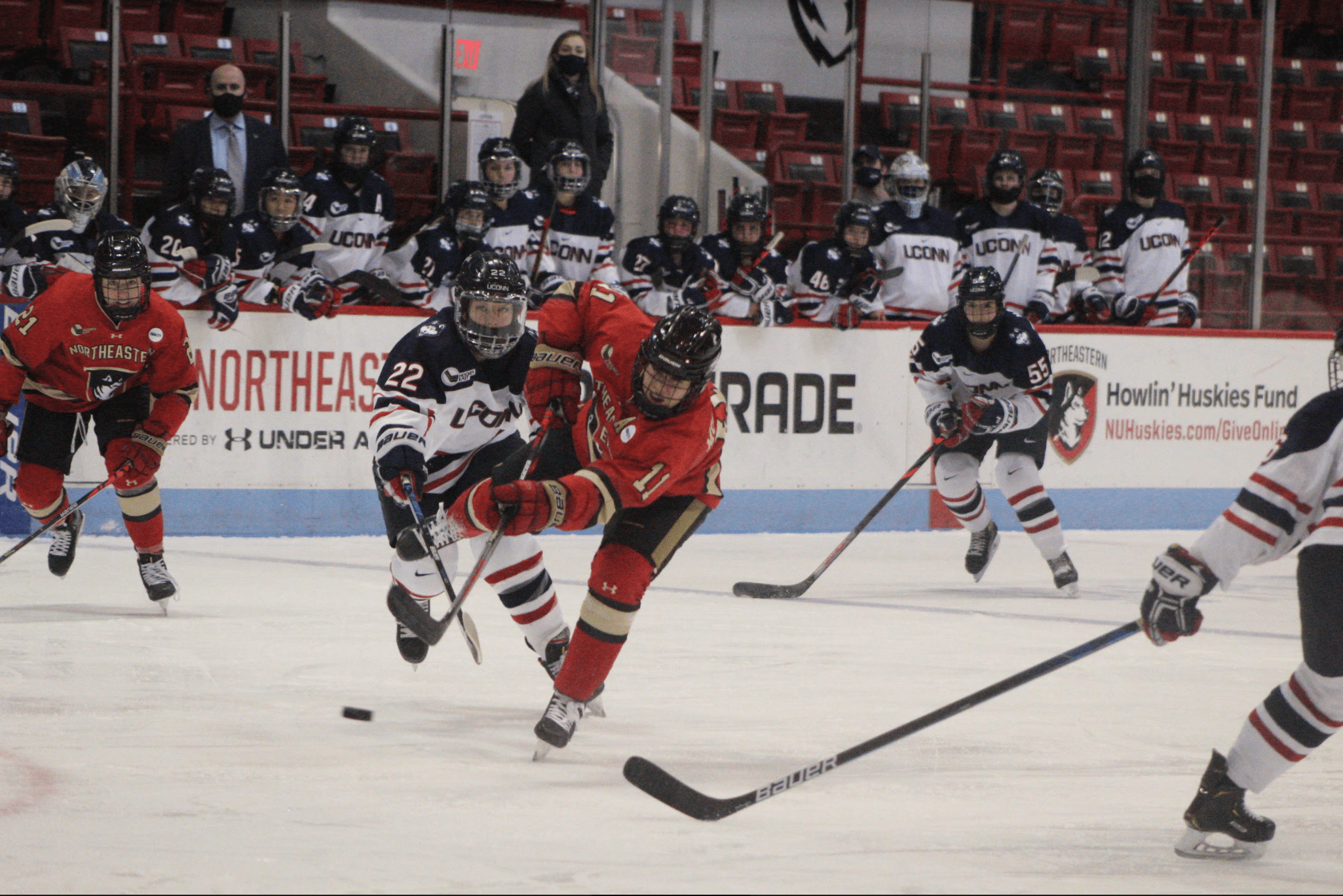 "Alina gets excited for scrimmages," Flint said. "So for her, she's just excited to play and obviously it's a big game and she's been on the big stage many times so she knows what it takes. She's not going to be the least bit phased or rattled. I think her demeanor and her poise will rub off on some of the players that might be nervous."
Robert Morris: This is only RMU's second national tournament appearance. In their first go at it in 2017, they also picked up the eighth seed before running into the buzzsaw that was top-seeded Wisconsin. Led by Annie Pankowski, the Badgers rolled to a 7–0 win, and went on to finish as runners-up to Clarkson. Certainly, the Colonials will be hoping for a much better performance in Erie this year. Maybe they'll pick up a little bit of a home-state advantage.
Puck drop is set for 2 PM between No. 1 Northeastern and No. 8 Robert Morris, the opening game of the 2021 NCAA Tournament.