Story by Khalin Kapoor
Photos by Sadie Parker
BROOKLINE, MA — The Northeastern Huskies (10–5) secured a three-game weekend sweep on Saturday afternoon against UMass (7–8), winning the doubleheader games 5–2 and 4–3. Throughout the day, the Huskies were powered by dominant starters Cam Schlittler and Sebastian Keane along with potent hitters Ben Malgeri, Jeff Costello, and Spenser Smith.
In a seven-inning first game, Northeastern pounced on the Minutemen early, notching three runs on four hits against opposing starter Max LeBlanc in the first. LeBlanc didn't make it past the second inning and was saddled with the loss, giving up four runs. On the season, Northeastern has yet to lose a game after scoring the first run.
"We jumped out early and they kept chipping away," Northeastern head coach Mike Glavine remarked.
Husky hitters forced LeBlanc to labor through at-bats, waited for the inevitable mistakes, and promptly capitalized on them. In the fourth, Malgeri extended the Huskies' lead to five with an RBI triple. Malgeri led off both games and had himself a day at the dish, going four for six with two runs batted in, a run scored, three steals, and a walk.
Northeastern hurler Cam Schlittler continued his solid run of starts, spinning five innings of one-run ball, striking out nine, and scattering just three hits. He mowed down UMass hitters early, but a questionable balk call following a couple of hits and a wild pitch in the fifth ended his bid for a shutout. Northeastern coach Mike Glavine had some choice words for the umpire after the call, but it was an overall dominant performance for Schlittler, who was credited with the win.
"I thought Schlittler was outstanding in game one," Glavine said. "Gave us a chance to win that ballgame."
The Northeastern offense stalled after the fourth and the Minutemen began chipping away at the lead, bringing the game to 5–2 heading into the seventh. Northeastern fireballer Brandon Dufault came in with some heat, consistently hitting 96 with his fastball to shut the door on the Minutemen and secure the win.
In the second game, Northeastern again jumped out to an early lead courtesy of an RBI double by Costello. UMass starter Daniel Livnat limited Northeastern to just that one run in his five innings of work, but he consistently created jams that he then pitched himself out of.
"We had a bunch of opportunities early in the game to extend the lead and we just couldn't come up with the big hit," remarked Glavine. "We just couldn't get anything going and then finally late in the game we just kept grinding."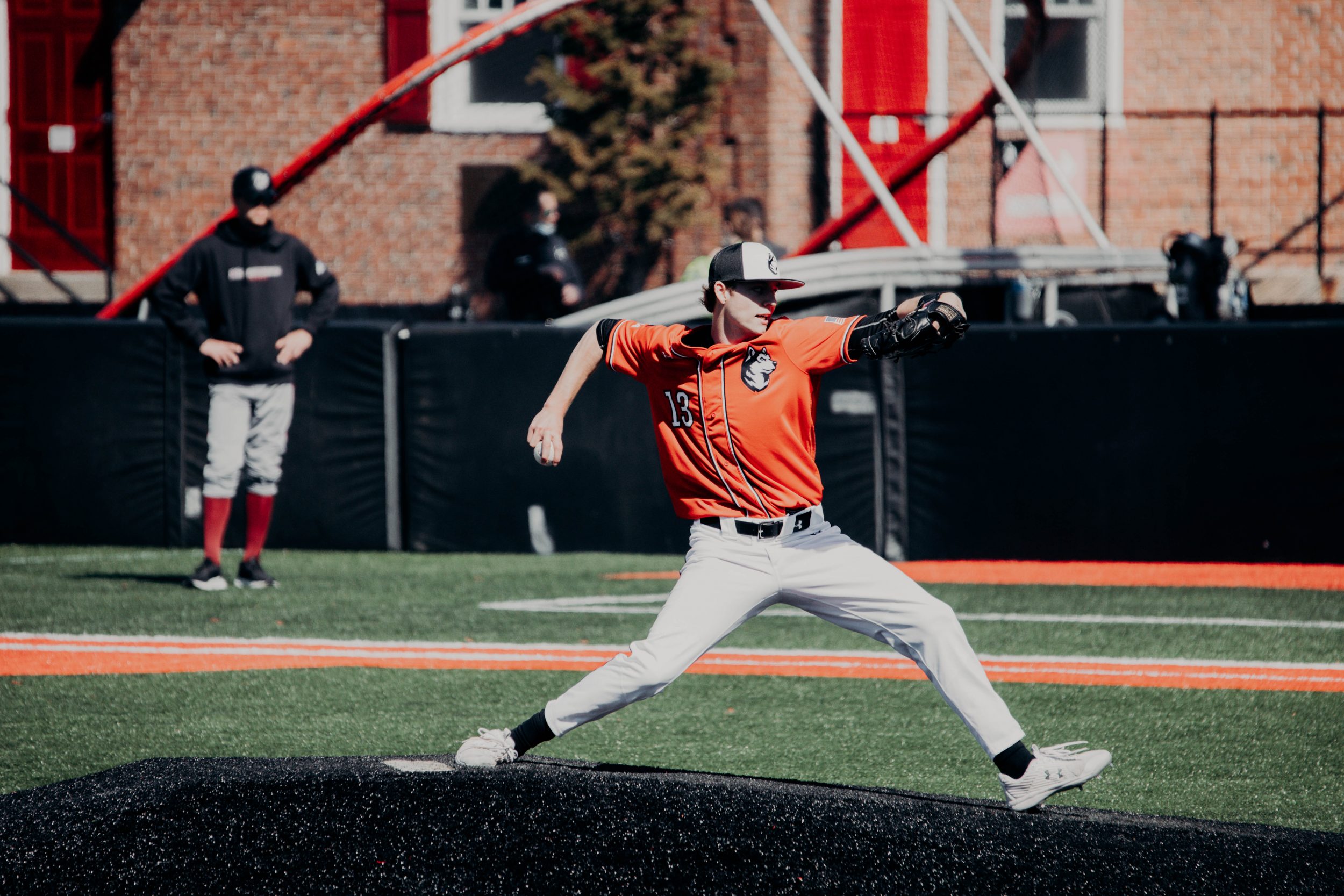 The real story of the game was Northeastern starter and Boston Red Sox draft pick Sebastian Keane. Keane started by retiring the first 14 batters he saw, striking out eight. However, his perfect game bid was broken by UMass slugger Michael Rounds, who tied the game with a solo blast to left field.
It looked like the Minutemen were starting to figure out Keane the third time through the lineup, as second baseman Eddy Hart blasted a two-run homer in the sixth to put them up 3–1. Keane finished his night with a career-high 10 strikeouts, giving up three runs on three hits over seven strong innings.
"Seb was cruising along and pitching great," Glavine noted. "I thought he looked awesome . . . as good as he's thrown for us and as time went on, the at bats got a little bit harder."
Northeastern's Smith provided a badly needed offensive spark in the seventh, blasting a triple after working a masterful 12-pitch at-bat. Malgeri drove him in to cut the deficit to one.
"Spenser Smith — huge, huge at-bat, as big of an at-bat we had all day," said Glavine. "He hit the huge triple and it relaxed our team and was really a game changer."
In the eighth, the Huskies rallied to take the lead with RBI hits from Costello and Danny Crossen. In the most important moment, the Northeastern offense finally strung some hits together and put runs on the board.
But the drama was not yet over. Reliever Thomas Balboni was brought in to save the 4–3 lead, but he had some trouble finding the zone. After recording the first two outs, he put runners on second and third and forced Glavine to put in Jake Gigliotti. After a walk, Gigliotti recorded a lineout to finish an absolute nail-biter of a ninth inning and secure the sweep.
After an extended hiatus, this weekend series showed some serious versatility from Northeastern, which Glavine recognized. They ran up the score on Friday, manufactured and kept the lead in the first game on Saturday, and rallied to win the second game. Going forward, the Huskies may try and work on fixing some baserunning issues and increasing their batting average with runners in scoring position.
The Huskies face off against Bryant University on March 30 in Rhode Island.