Story by Catherine Morrison and Milton Posner
Photos by Sadie Parker
FAYETTEVILLE, AR — After everything that happened during the 2021 Northeastern baseball season — the 20-game win streak, the 26 runs in a game, the new single-season home run record, the walk-off home run to win their first-ever CAA Championship, and the berth in an NCAA Regional hosted by the top-ranked team in the country — it was hard to believe how suddenly it ended.
When the Huskies nibbled away at a three-run deficit in the late innings, when the player who walked off the conference tournament homered to bring them within one, it was easy to envision a storybook ninth inning.
But the Huskies weren't so fortunate in the bottom of the ninth. Seven pitches, three flyouts, 3–2 final score. Game over. Season over.
The New Jersey Institute of Technology entered the NCAA Fayetteville Regional with a remarkable underdog narrative, and bested the Huskies on a cloudy Saturday afternoon.
NJIT starter Ryan Fischer stymied the Huskies through six, wiggled out of trouble after ceding a run in the seventh, and handed the ball to Jake Rappaport, who yielded a solo homer and nothing else. Those two Husky runs fell just short of matching the Highlanders' three middle-inning runs, which came on a flurry of singles, ground ball outs, and sacrifices against Husky starter Cam Schlittler and reliever Brian Rodriguez.
"Today is a really tough one to swallow for a lot of reasons," Northeastern head coach Mike Glavine said. "We just didn't play well, didn't have any energy, couldn't get anything going . . . It was like a baseball hangover."
But if the rest of Glavine's postgame remarks are any indication, there isn't a sour taste in their mouths — or not as much as you might think.
"We took a step forward," he said. "We won our first conference championship in the CAA. We came out last night [against Nebraska], proved that we belonged, and really competed our butts off . . . Hate to see it end like this, hate to lose our guys who won't be back, but they're going to look back on this forever as a special season."
For Scott Holzwasser, who exits after taking a sledgehammer to the program record book, the conference championship marked the conclusion not just of his Northeastern journey, but of his graduating teammates' journeys as well.
"I'm proud of our class," he said. "I feel like we kind of changed the way things are going at Northeastern. Glav's been bringing incredible student-athletes to the school and building off what we've done here, taking the program to another level."
He's not wrong. Northeastern received national recognition this year, first from their win streak, then from their sensational run in the CAA Tournament. This season shows that Northeastern is competitive inside and out of the CAA, and that Friedman Diamond is a prime destination for New England ballplayers.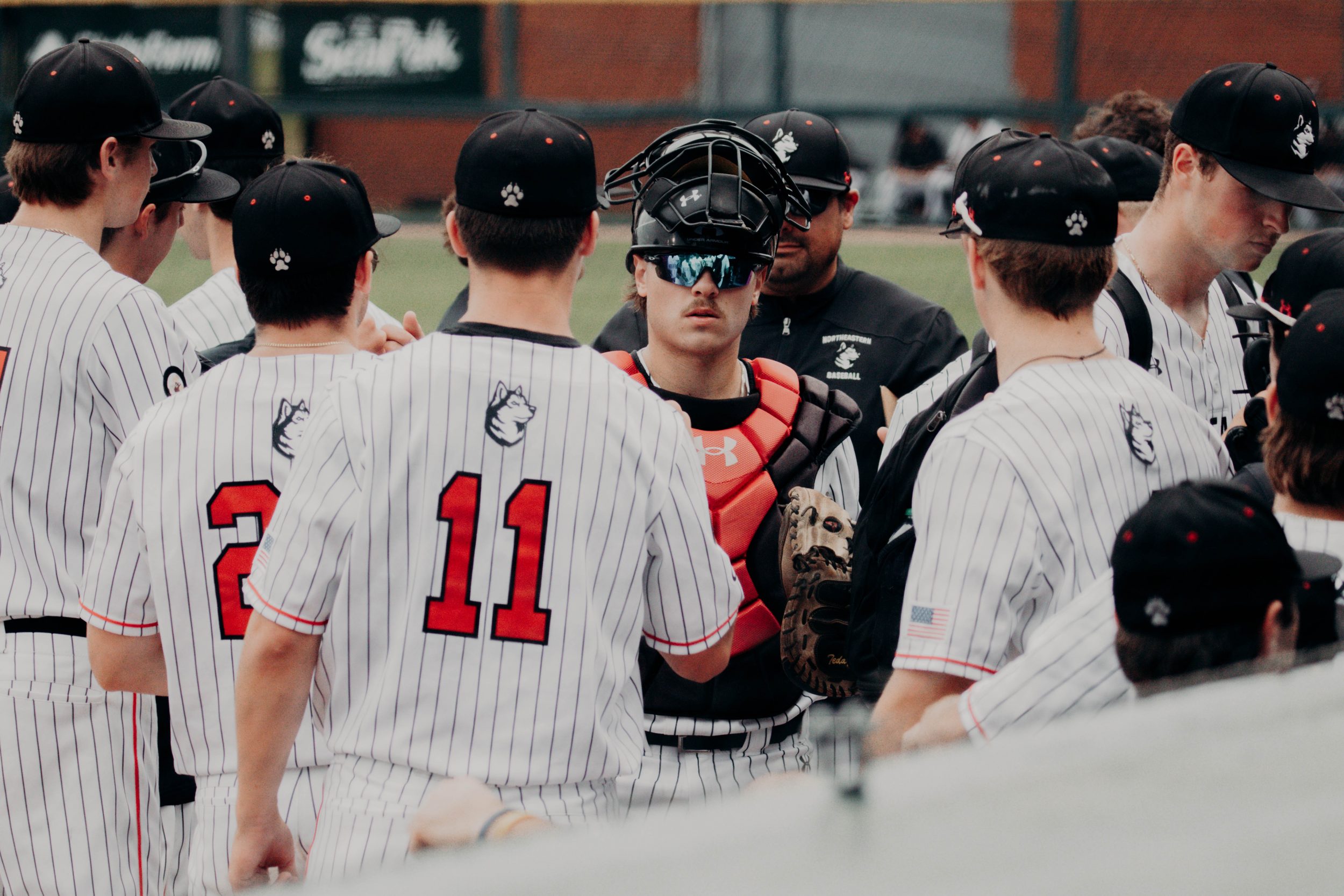 Most of the team will return next year, including the large majority of their offensive firepower. Cam Schlittler, Sebastian Keane, and Wyatt Scotti are poised for superb campaigns at the head of the pitching staff.
"When you talk about winning a conference championship and you've done it, you know it's a reality," Glavine said. "So I think we'll have a lot more confidence and experience next year. We've knocked that door down and now we've got to try to do it again."