Northeastern will face NJIT in a win-or-go-home NCAA Regional game Saturday at 2 PM CT (3 PM ET). Click here to hear Milton Posner and Catherine Morrison call the game live.
Story by Catherine Morrison and Milton Posner
Photos by Sadie Parker
FAYETTEVILLE, AR — For the first three innings of Friday night's game, it looked like Northeastern, fresh off a dramatic, homer-rich campaign to the CAA championship, was up to their old tricks. Facing a Nebraska team that shattered expectations en route to a Big Ten championship, they leaped out to a 4–0 lead.
Then Sebastian Keane lost control, the Cornhusker offense woke up, and the bottom fell out. Eight unanswered Nebraska runs and a stifled Northeastern comeback later, an 8–6 loss dropped the Huskies into the losers' bracket of the double elimination NCAA Fayetteville Regional.
Nebraska ace Cade Povich started and looked true to form in the first inning, retiring the side and allowing just one hit. But Povich gave up a monster home run to leadoff hitter Danny Crossen in the second, giving the Huskies an early lead in a game the Cornhuskers were supposed to run away with. Povich, clearly rattled, gave up a double to Ben Malgeri but escaped the inning without any more damage.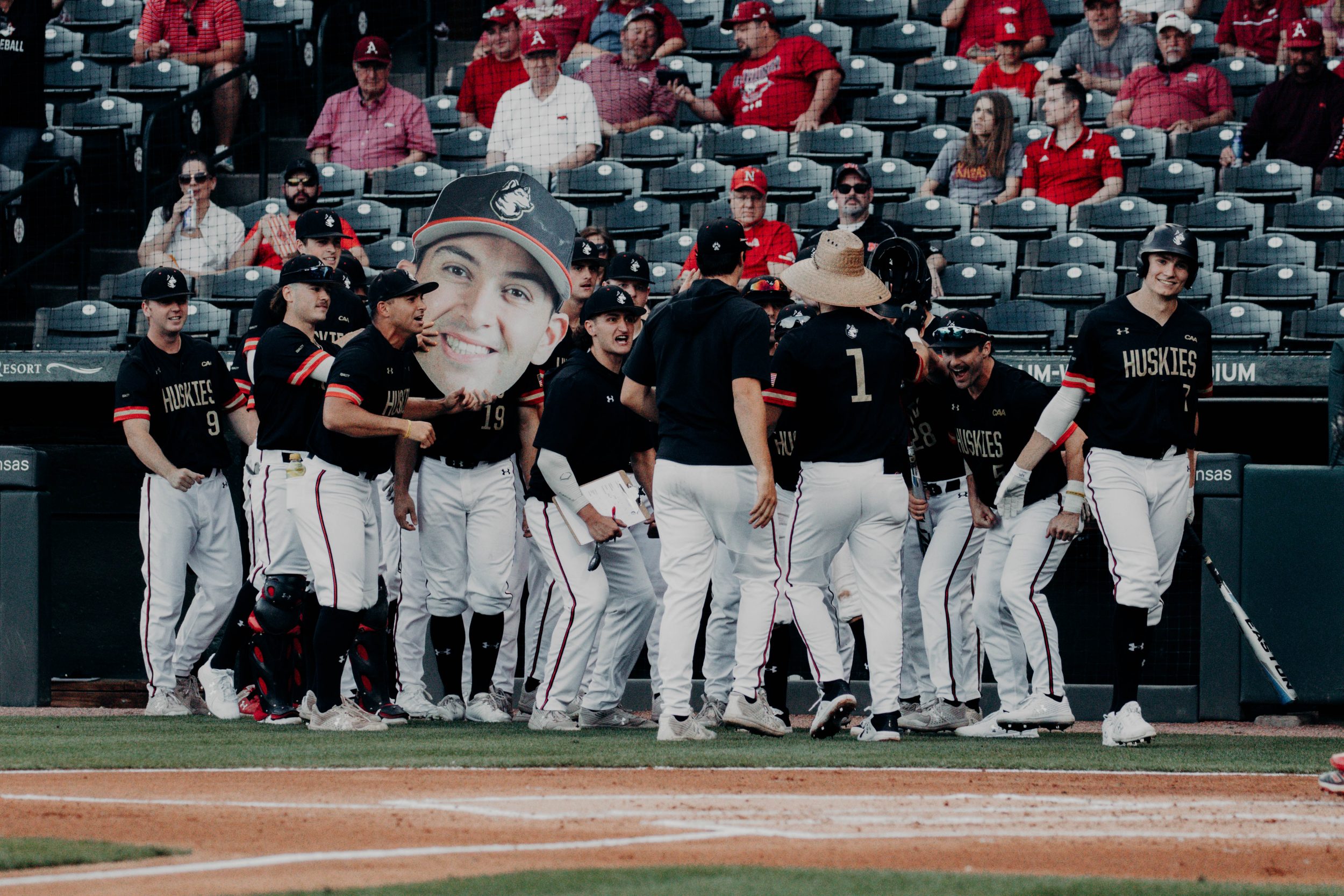 Povich started the third inning by inducing a groundout, but quickly gave up a single to Jeff Costello and a double to Max Viera. Povich decided to pitch to Northeastern single-season home run king Jared Dupere and instantly regretted it, giving up a single to make the score 3–0.
"He was up in the zone a little bit," Nebraska head coach Will Bolt explained. "He didn't really have a pitch to go to. They hit some balls hard on all of his pitches. He wasn't really fooling them there."
Northeastern wasn't done yet, as the stalwart Scott Holzwasser walked to advance Dupere to second. A few pitches later, Povich bounced one off of catcher Griffin Everitt, whose delay in locating the ball allowed Dupere to score the Huskies' fourth run without a smidge of contact.
The underdog Huskies were on a roll, hitting balls and taking names. Starter Sebastian Keane was lights out, striking out two in the first inning and going scoreless through three.
"Their starter came out attacking," Bolt said. "We didn't come out with the aggressive mindset we normally see."
Then Nebraska pulled Povich and replaced him with middle reliever Koty Frank, who dominated the Huskies. Frank struck out only two batters, but retired the first 11 Huskies he faced to swing the momentum.
"I knew if I could keep us in the game for as long as possible, our offense would start hitting," Frank said. He added that his changeup made a big difference, saying, "Earlier in the year it was an iffy pitch I was worried to throw . . . now I'm 100% committed and feel very confident."
Meanwhile, Keane started to struggle, with a Spencer Schwellenbach single and a Max Anderson walk setting the table nicely for Cam Chick, who trimmed the four-run lead to three with one stroke of his bat.
"I didn't like what I saw from him that inning," Glavine said. "I thought his stuff dropped a little bit. His command started to go, he started tugging the baseball a little bit. I was certainly hoping to get a longer outing from him — four, five, six innings, something along those lines."
Glavine said he was wary of going to a bullpen that struggled last weekend, so he tapped fourth starter Wyatt Scotti for the fifth inning to regain control of the ballgame. In what was becoming a theme for the Huskies, Scotti easily recorded the first out and then ran into trouble when a one-out Jaxon Hallmark triple set up a game-tying sacrifice fly from Schwellenbach.
"Wyatt is typically a strike-thrower; he didn't have his best stuff tonight, but he worked as hard as he could," Glavine said. "So we thought, 'Let's bring a guy in, different look than Sebastian.' We wanted to give them a different slot, different stuff, and try to get through the lineup just one time. And hopefully he would pound the strike zone and force them to hit their way on. But he fell behind in the count a few too many times, and they had great at-bats on him."
The script had flipped. All of a sudden, Northeastern was struggling with their pitching, and Nebraska was lights out. Nebraska was hitting the Huskies all over the place, and Northeastern couldn't get anything going against Frank.
"He had it all going on," Husky first baseman Ian Fair said of Frank. "He was working both sides of the plate with three pitches."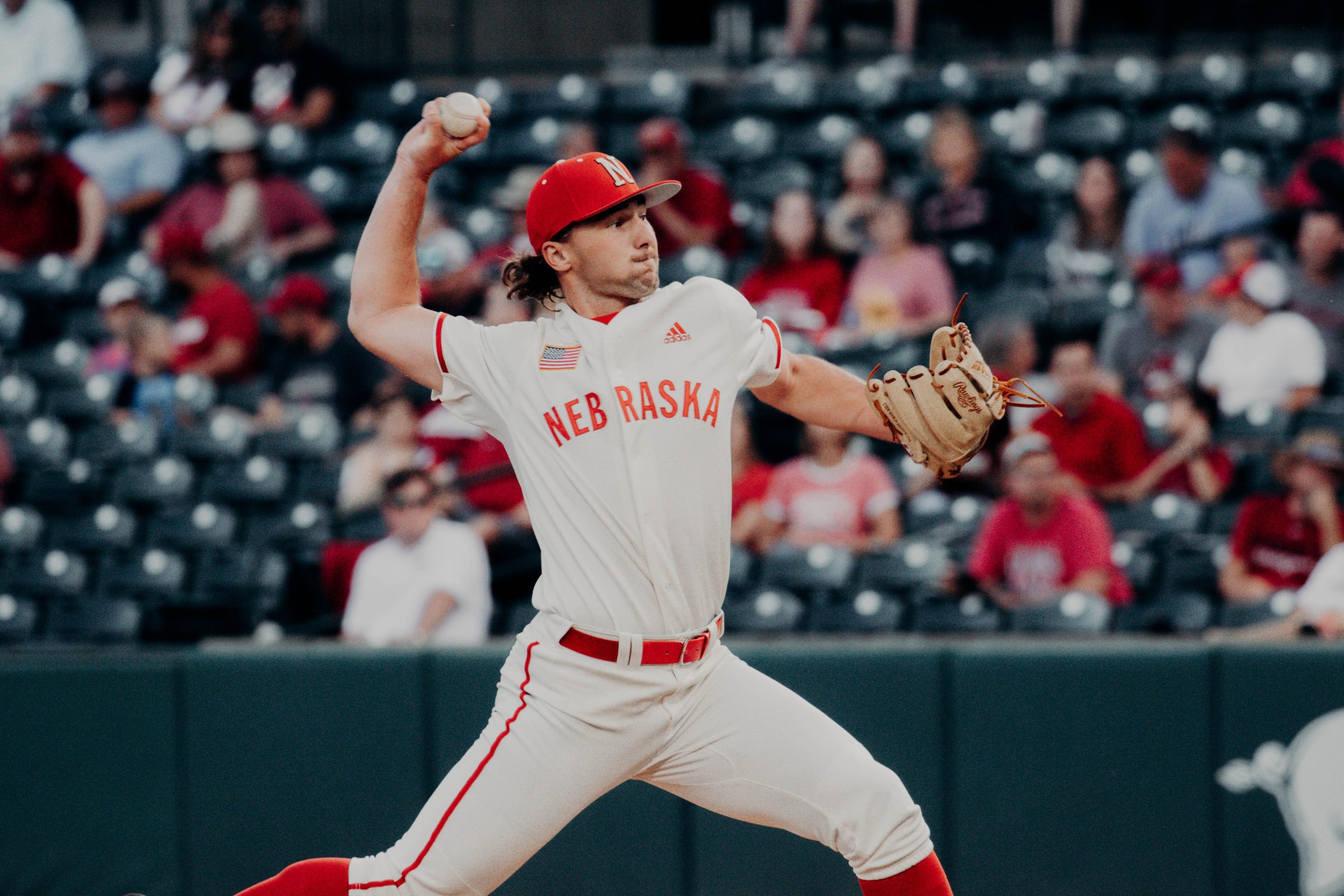 "He was probably the player of the game," Glavine added. "It didn't look like he threw anything straight. It looked like everything was moving. He changed speeds, he hit his spots, he had us off balance, he worked fast, he was fast in between innings."
Nebraska teammate Cam Chick echoed Glavine's sentiments, adding that, "He can throw you off and take you out of your rhythm pretty easily."
Nebraska, now full of momentum, charged ahead, scoring three more off Scotti — including one on a balk — in the sixth inning to put some distance between them and the Huskies. Northeastern pulled Scotti in the bottom of the sixth. Eric Yost, however, didn't fare much better, giving up two singles in the seventh before a combination of batter interference, a failed steal, and a successful one cashed in a runner from third to make it 8–4.
That would be the last run Nebraska scored, but they had everything they needed to beat Northeastern and advance to the winner's bracket. The Huskies put up a good fight, scoring two in the top of the eighth when Frank finally ran out of steam, but couldn't tie the game after shortstop Schwellenbach came in to close the game with his ninety-five mile-an-hour fastball.