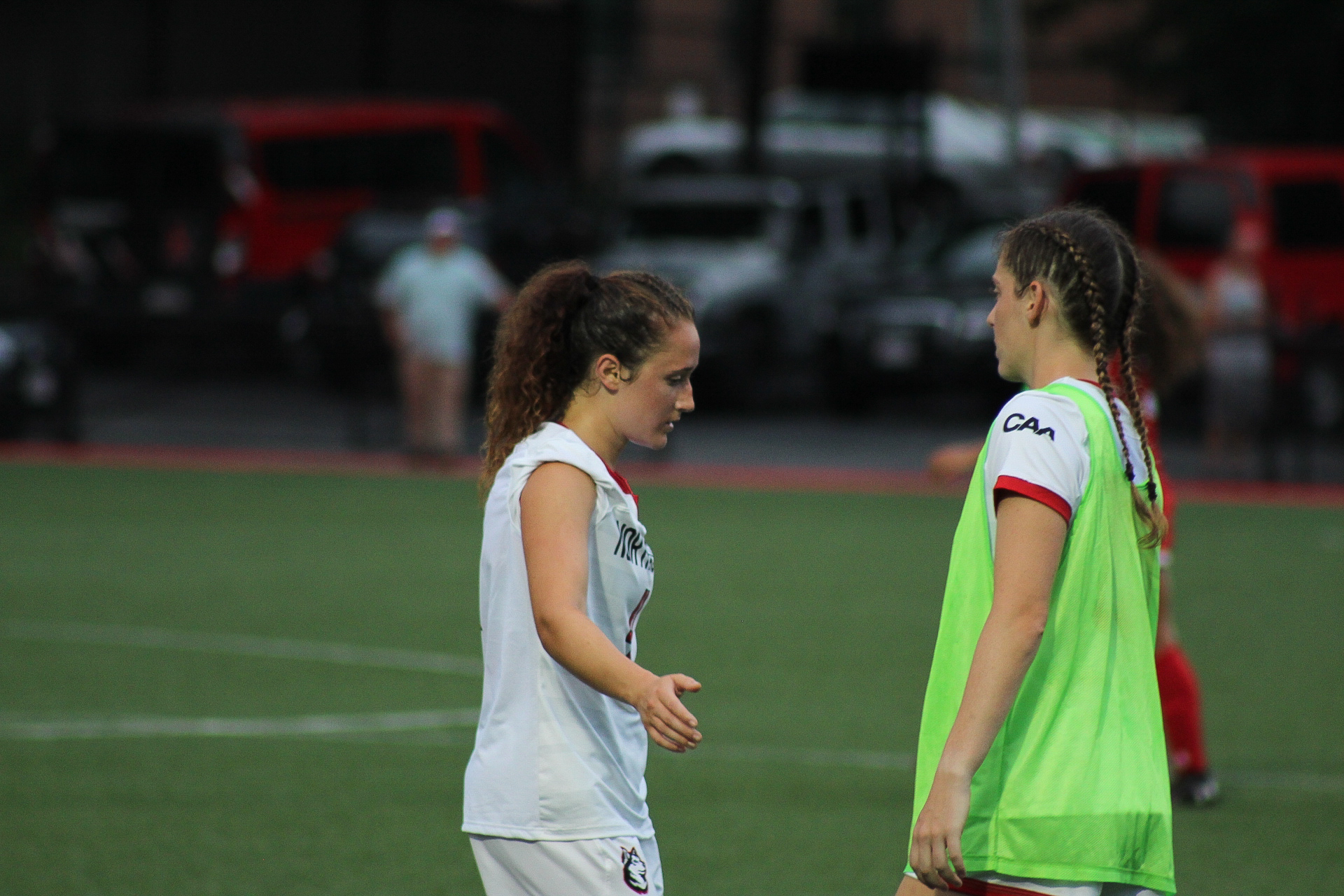 From the start of their 3-2 victory over Northeastern on Monday, Harvard was ready to defend their home field in a crosstown battle. The Crimson fired off three shots and earned two offsides calls in the first five-and-a-half minutes, forcing press after press on the Huskies.
But despite Harvard's early aggression, Northeastern was the team to strike first, as freshman forward Vivian Akyirem sent one home six minutes into the match. The goal was Akyirem's second goal of the season, as she continued the impressive start to her college career.
The goal by the Huskies seemed to only galvanize the Crimson further, as they rattled off five shots in eight minutes, leading to a game tying goal by forward Angela Caloia in the 16th minute.
Nothing ceased from Harvard following their goal, as they continued to launch shots at Northeastern goalkeeper Holland Stam. After 32 minutes, the Crimson led the Huskies in shots by a count of 10-2 and tallied their second goal of the game from sophomore midfielder Hannah Bebar.
As the first half was closing down, it was another freshman who came up clutch for the Huskies. In the 40th minute, midfielder Ava Nace tied the game with a beautiful curling shot from beyond the box.
Just one minute into the second half, the Crimson took advantage of their first corner kick and shut down any previous Husky momentum exiting the first half. While Stam is usually a master at defending set pieces, utilizing her long reach, she misplayed the ball in from the corner by sophomore midfielder Aslag Gunnslaugsdottir, diving a hair too soon and allowing for sophomore forward Ainsley Ahmadian to sneak a header between the pipes.
Despite a one-goal deficit, Northeastern continued to battle for the entirety of the second half, turning on their own press and consistently pestering Harvard's backline.
With the added pressure, the Huskies continued to find themselves in possession deep in Crimson territory. Sadly for the dogs, Karpenko brought her A-game in the second half. The keeper stopped all three shots that got to her in the second half to make up for her first-half woes.
In the end, Northeastern's heat was not enough to tie the game and they left Monday with a 3-2 loss. The Huskies' next game will be Friday against the UNH Wildcats in Durham at 6 p.m.