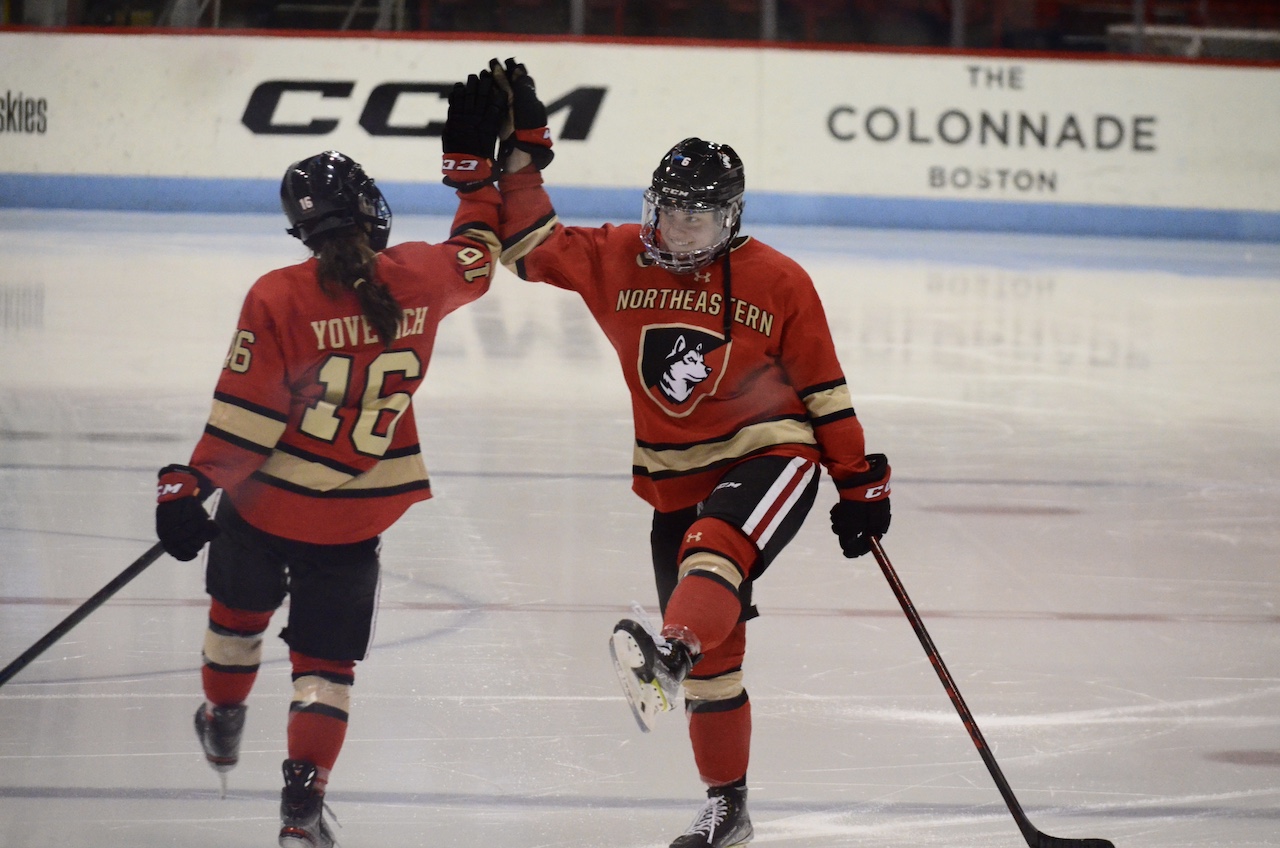 It's a new year, new look, and new expectations for the Northeastern women's hockey team.
The 2021-22 Huskies had it all — a 31-5-2 record, three top-10 Patty Kazmaier finalists, and a fifth-straight Hockey East title, before falling in a crushing double-overtime loss in the Frozen Four semifinals. Now they look to extend their half-decade run of dominance, albeit with a fairly different lineup than fans have seen over the past few years.
The changes
This past spring saw the graduation of 12 integral members of the team. The biggest losses include the top defensive pairing of Skylar Fontaine and Brooke Hobson, and in goal, where the historically-dominant Aerin Frankel started since 2018.
Frankel, who won National Goaltender of the Year the last two seasons, will be replaced in net by senior netminder Gwyneth Phillips. Phillips, a native Athens, Ohio, played 29 games over her first three seasons at Northeastern. In that time she had a .969 save percentage and a goals against average of 0.64, numbers that match evenly to Frankel's when their workloads are compared. Her sole loss in her Husky tenure came this past season against BU, bringing her career record to 13-1-0.
It's safe to say that the net will be firmly guarded by Phillips and backup goaltenders, senior Alexa Matses and sophomore Paige Taborski. Matses, who came in relief twice last season, hasn't logged the minutes in net to make a full assessment of her play at the college level. However, in those two brief appearances last year, she made 10 total saves and allowed no goals. Taborski did not dress for any contests as a freshman.
The departure of Fontaine, Hobson, and Lauren MacInnis creates a sizable shift in the D core for the Huskies. Although a transfer from Vermont helps fill many of the gaps left behind.
Graduate student Maude Poulin-Labelle opted to spend her last season of eligibility at Northeastern instead of remaining with the Catamounts. As a senior last season, Poulin-Labelle was named Hockey East Co-Best Defenseman, an honor she shared with Fontaine. In 34 games, she had 13 goals and 22 assists, the third highest point total for a defender in the NCAA. Her strong offensive game is balanced nicely with her shutdown ability, providing an all around game similar to what the Huskies lost with the graduation of Fontaine.
Other losses from the forward group include Husky mainstay Andrea Renner, who graduated after six years with the program, and power play machine Maddie Mills.
Mills' departure opens a spot in the top six for the Huskies, while also subtracting some of their offensive power as she contributed 33 points last season, the fifth best mark on the team.
Poulin-Labelle is not the only transfer portal pick up for the Huskies. ECAC All-Rookie Team honoree Taze Thompson announced her transfer to Northeastern over the summer as well. The forward led Harvard rookies in both goals with eight and points with 20. She played all 33 games for the Crimson, and while her offensive prowess shone, her defensive skills provided a two-way style that added another level to her game.
To replace the 12 departed seniors, head coach Dave Flint and his staff brought in eight freshmen for their squad. Lily Shannon, Holly Abela, Mia Langlois, Lily Brazis, Avery Anderson, and Alyssa Antonakis are joining the forward group while defenders Kristina Allard and Jules Constantinople will vie for the open blue line positions.
Shannon had 85 goals and 147 career points during her years at the high school level. Abela, who hails from Brampton, Ontario, won gold with the Canadian IIHF U18 Women's Worlds teams in June. Langlois and Brazis both played for Cushing Academy the last four years. Both scored over 100 points during their tenure at Cushing, with Brazis scoring 103 and Langlois with 115.
Avery Anderson, who is the younger sister of senior forward Peyton Anderson, played two seasons with the Dallas Stars Elite U19 team between 2019 and 2021. Antonakis, Allard, and Constantinople will also provide quality minutes and should fit in nicely with the culture the Huskies have established in their locker room.
After the Huskies' monster 2017 and 2018 classes propelled the program for the past half-decade, this 2022 incoming class is Northeastern's largest in several years, and enters with big expectations and holes to fill in the lineup. The future of the program is clearly bright, and getting these players in the lineup now could very well push the Huskies over the hump and get them that coveted national title.
Staying the same
The Huskies top forward group of Alina Müller, Maureen Murphy, and Chloé Aurard is set to return as all three play out their graduate year of eligibility.
Müller, named captain of the team over the summer, looks to play a full season of games after missing time due to an injury and the Olympics last year. Even with the 16 missed games, she finished fourth on the team in scoring with 11 goals and 28 assists, an average of 1.87 points per game.
Senior defender Megan Carter will most likely join Poulin-Labelle on the top pairing. Carter played all 38 games for the Huskies last season, where she had two goals and 12 assists. Mostly playing alongside MacInnis in the second pairing, she was placed on both the second power play and penalty kill units where she drove puck possession thanks to her strong skating skills. Now with more ice time in a top pairing role, it will be interesting to see how her game develops further in her senior season.
Forwards Katy Knoll and Mia Brown are also returning for their senior and graduate seasons respectively. Knoll, who finished sixth on the team with 1o goals and 11 assists, has proven herself fairly reliable in the faceoff circle (she won 49% of her draws last season) and has scored at least 20 points a season in her three years at Northeastern. Brown herself had seven goals and four assists in her senior year.
Sophomore forward Skylar Irving, who scored the lone goal for the Huskies in their final game last season, will likely see an increased role in the lineup. Irving showed flashes of elite potential during her first 38 games of collegiate play, where she put up 15 points.
Defenders Lily Yovetich and Tory Mariano are getting set to take a larger role as the pair moves up in the lineup. The two spent the better part of last season together as the Huskies third pairing, where they were able to control puck movement and keep play flowing as they fed off of one another in both zones. Junior Abbey Marohn can provide more experienced minutes on the blue line for the Huskies after playing in 17 games last year.
Alongside Müller in the leadership group are Murphy, Brown, and Carter. Murphy wore an "A" during her last season in Providence back in 2019-20, while Brown and Carter are wearing a letter for the first time.
Top storylines to watch
Outside goaltending, the biggest part of Northeastern's game that stood out most was the ability to dominate over their opponents on the power play. The player advantage units were able to score 45 goals on 141 attempts over their 38 games, a success rate of 32%. While Müller, Murphy, and Aurard played big parts in the numbers being that high, Mills, Fontaine, and Hobson were also often on the top unit. All three players are not returning — so who gets added to the power play?
During the collegiate series in August between Canada and the USA, Carter was put on the first Canadian unit. Last season with Northeastern, Flint often had Carter as a member of the second unit. Poulin-Labelle has also been known to play on the player advantage and will most likely get one of the top spots once the season starts. Does Carter take the fifth opening or does Northeastern opt for a fourth forward? Knoll would make the most sense as a high scoring power to add to the top line, plus she too has experience on the power play. Or do they give Irving a chance on the top unit from time to time?

Regardless, it'll be Müller and Aurard playing on the top unit for both special teams as they did last season. Joining them on the penalty kill will undoubtedly be Carter and Poulin-Labelle to start, however Yovetich and Mariano have proven capable of providing minutes when necessary.
Another thing to keep an eye on is who ends the season with the most goals at Northeastern. Last season Murphy was atop not only the Huskies', but the NCAA's leaderboard with 30 goals. With an elite playmaker like Müller next to her, the race for 30 starts again. While she may not hit the same level, her production should remain relatively similar.
The last little piece involves the captain, Müller. Husky alumna Kendall Coyne Schofield is currently who holds the point record in Northeastern program history with 249. Müller is just 56 points behind her at 194 with one season left. In a full 38 game season back in 2019-20, Müller had 66 points. While catching up doesn't seem like a foregone conclusion, if there's anyone who could score at a two point a game pace, it's Müller. She did it last year, and all signs point to her being able to do it again.
Looking forward
Northeastern opens their regular season with a two-game series against LIU Sept. 30 and Oct. 1 at home in Matthews Arena. After two months of Hockey East division play, they'll play a two-game showcase set in Nashville, Tennessee over Thanksgiving weekend. In the Smashville Showcase, the Huskies will face off against Princeton and Cornell.
Their Beanpot semifinal matchup against BU is scheduled for Feb. 7 with the final round on Valentine's Day. Both games will be played at Conte Forum in Chestnut Hill.
The Huskies wrap up their season the following weekend with a home and home set also against BU. They'll follow that with the Hockey East Tournament as they look to defend their title for a sixth-straight year.