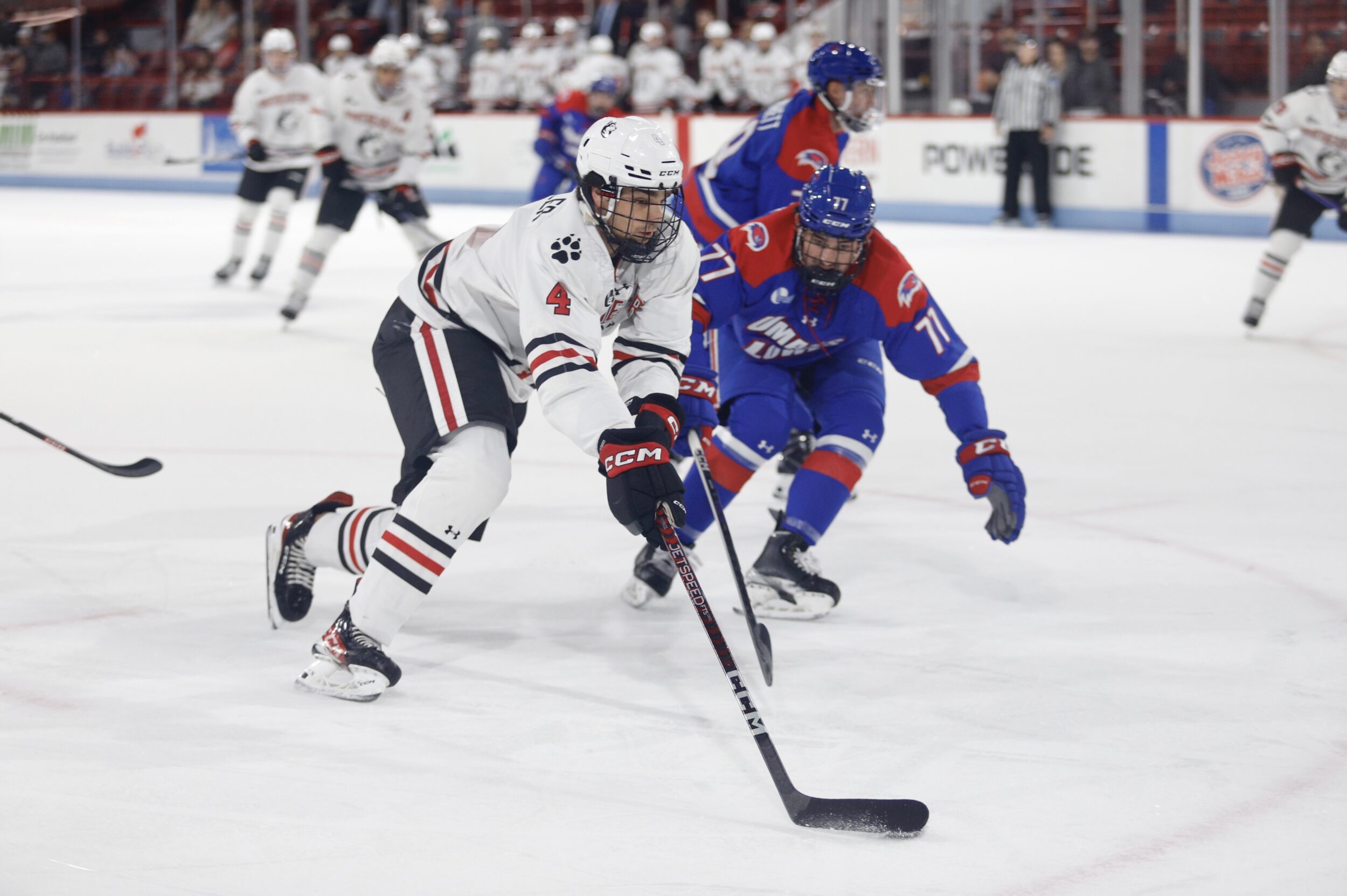 BOSTON — Playing without star goaltender Devon Levi, the Northeastern men's hockey team lost a tightly-checked, 3-2 game to the No. 19 UMass Lowell River Hawks Saturday night at Matthews Arena, running their winless streak to three games.
The Huskies turned to freshman Grant Riley for his first collegiate start with Levi out due to an illness. How'd he fare? The first shot he faced beat him, and the other two goals came from odd-man rushes. Other than that, pretty well.
"I know he was excited to play, our guys were excited to play for him," said Northeastern head coach Jerry Keefe of Riley. "Probably not an easy game to play in either because I didn't think he got tested a lot early."
While Riley was beaten with an early slapshot from junior defender Ben Meehan from the point, he made a few good saves after that, notably at the end of the first period when he closed up the five-hole to deny a shot from in front.
Bad giveaways let him down for Lowell's second and third goals. First, junior forward Sam Colangelo played an errant pass on the power play that led to a short-handed rush from Owen Fowler, who beat Riley five-hole. On the third goal, senior defender Jeremie Bucheler gave the puck away in neutral ice during 4-on-4, and the River Hawks had an instant 2-on-0 rush. Senior center Zach Kaiser finished it off by going bar-down.

Riley made another good save to deny senior defender Marek Korencik on a big rush in the third. He ended the night with 14 saves on 17 shots. While he didn't face a massive total of shots, he had to deal with three Lowell power plays and the net-front presence of big River Hawk forwards like senior Carl Berglund and graduate student Fillip Fornåå Svensson.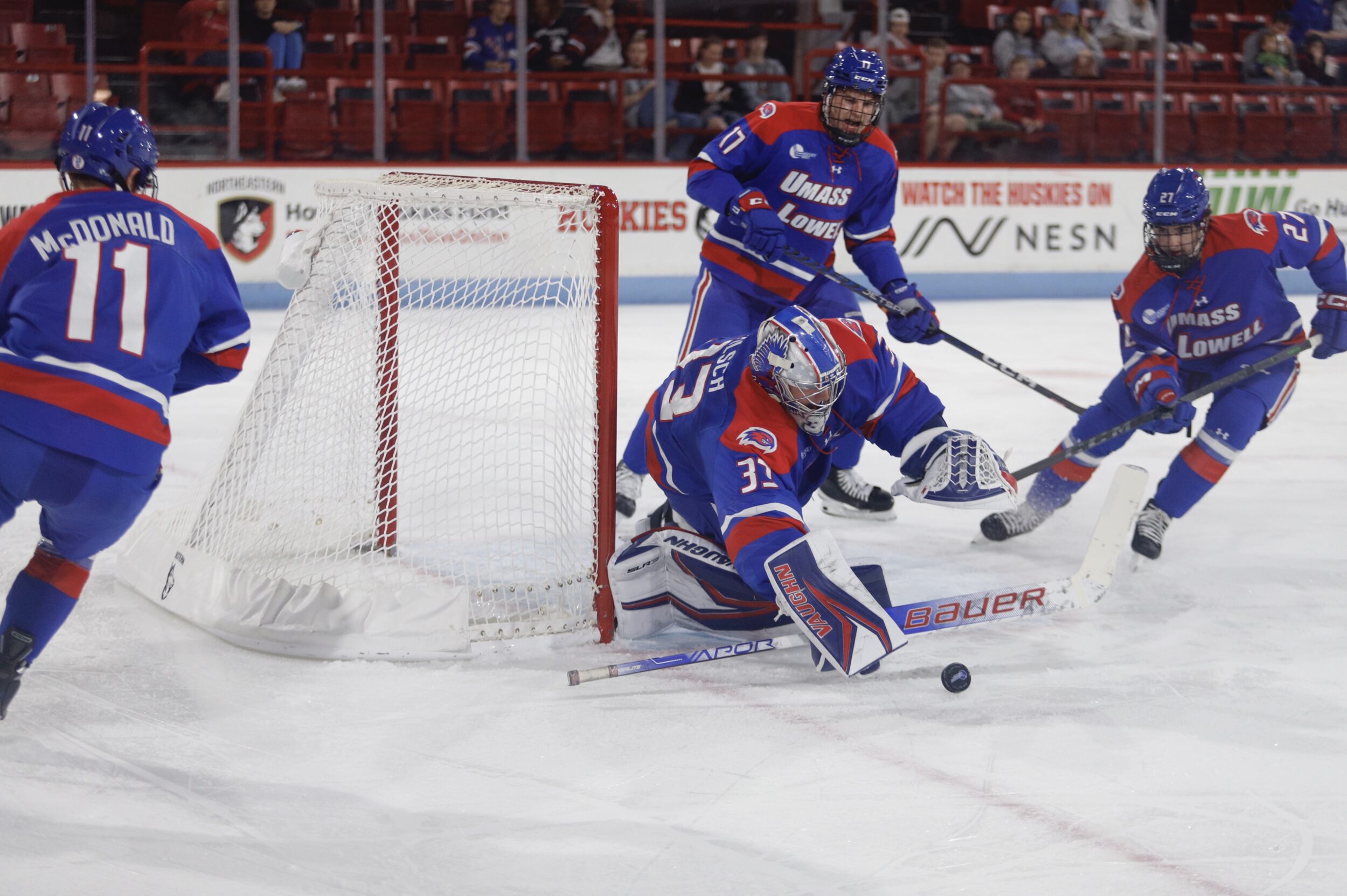 Unfortunately for the Huskies, Lowell goalie Henry Welsch delivered an incredible performance on the other end. Welsch stonewalled the Huskies on numerous looks from in close, including a pad-stack save to deny Aidan McDonough on a rebound with 15 seconds to play while the Huskies had an extra attacker with the empty net.
"I thought we had some pretty good looks," Keefe said. "The other team is pretty good out there, too. They're a pretty good defensive hockey team and they block shots, and we've got to dig in a little bit more."
After the early Meehan goal, Northeastern scored with 7:35 to go in the first to tie the game at one. Bucheler skated down below the goal line and found forward Justin Hryckowian calling for the puck in the slot. The sophomore's one-timer beat Welsch blocker-side for his third goal of the season.
In the third period, just 16 seconds after Kaiser's goal gave Lowell a two-goal lead, the Huskies cut it back down to one. Gunnarwolfe Fontaine found Jayden Struble open in the left faceoff circle with a drop pass, and Struble picked his spot, rifling a shot off the post and in for his first goal of the year.
The Huskies pulled Riley for the empty net with 1:25 to play. But even with the extra attacker on late, the Huskies could not beat Welsch in the dying minutes. Welsch finished with 26 saves on 28 shots.
"It's a frustrating loss," Keefe said. "It was an important game for us, and we did some good things but not enough good things. We've got to get back to the drawing board, and we've got to be better. We've got to find a way to find a way to win those games."
The Huskies finished their season-opening six-game homestand with a 3-2-1 record. While not a bad record, it's worth noting that the two losses came against the only two ranked opponents they faced — Providence and Lowell. The homestand started with three wins on the bounce, but the Huskies are winless since their Oct. 8 win over Vermont.
Northeastern will look to get back in the win column Friday against Maine at 7 p.m. in the Huskies' first road game of the year. Mike Puzzanghera and Matty Wasserman will have the call live for WRBB from Alfond Arena.