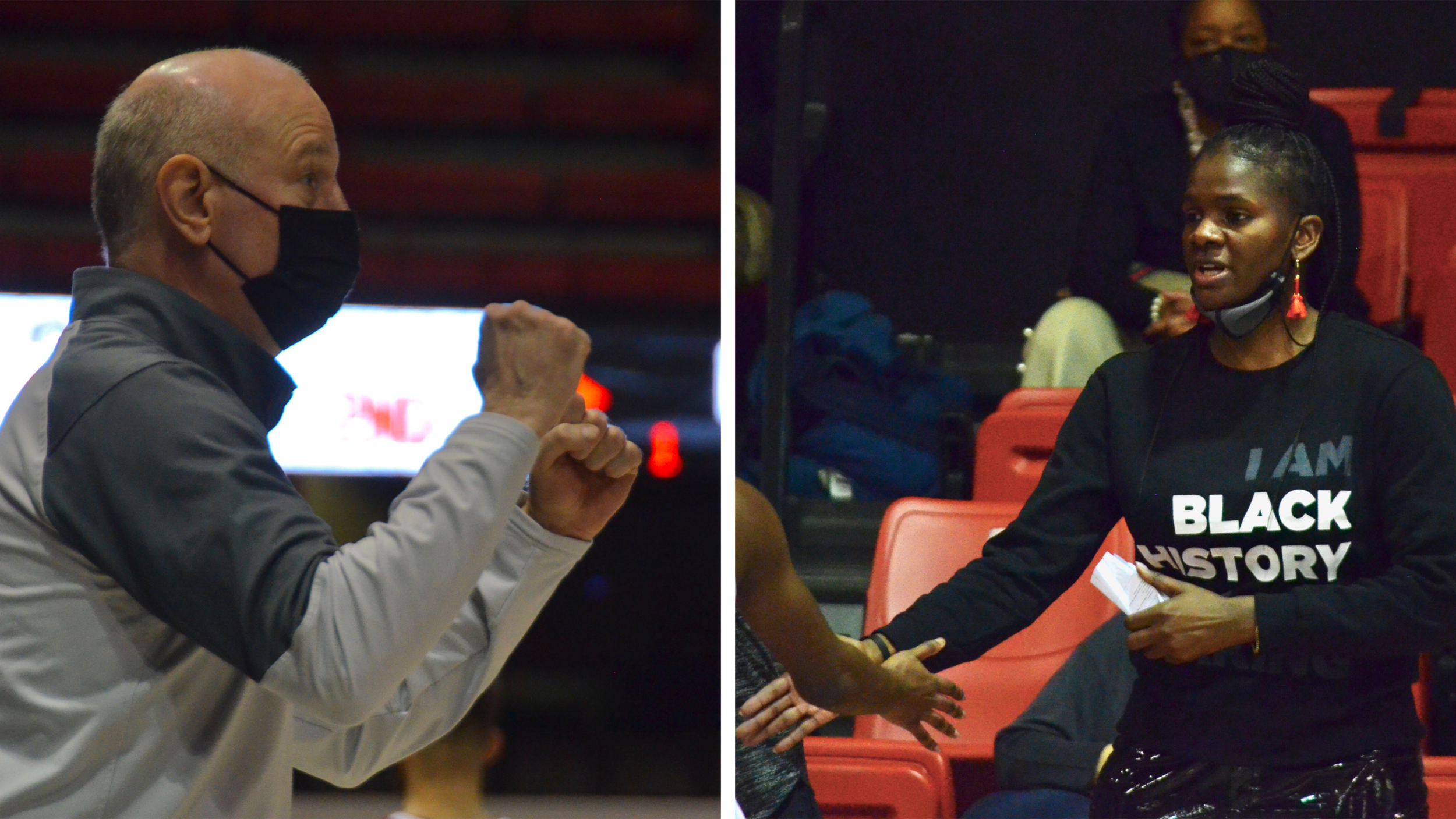 This offseason, Northeastern's two head basketball coaches were faced with an all-too-familiar challenge for modern college basketball programs: heavy roster turnover. Women's head coach Bridgette Mitchell was looking to replace eight players from last season's squad, while men's head coach Bill Coen lost seven. But despite a similar dilemma, each took very different approaches to rebuilding their team for the upcoming season.
What both were presented with over the offseason was a wide open transfer portal — which paved the way for key additions, but also meant losing some of their own top players to other schools. Mitchell dove into the portal, grabbing five players she felt could help her establish the team identity she desired.
Coen opted to focus on available high schoolers, picking up six freshmen for his squad. His high-school first approach centers around finding players he felt were under-recruited by other schools.
"I think it's two fold," Coen said. "In all honesty I think it's better value in the high school ranks. I think most of the power fives were in the transfer portal, and the competition was very steep for good players in that portal. We had some high school guys who were being somewhat neglected on the recruiting trails, and we thought we could get better value there."
Both coaches looked to reload and instill their strong culture in different ways. Mitchell is still trying to shape her squad in her own way as she enters her second year, while Coen has the advantage of being in charge of the Huskies since 2006.
"We're hoping to recalibrate and get back to our successful ways," Coen said. "We're going to rely on some youth. So far this young group has really put in the work and put themselves in a position to be a competitive team."
The freshmen themselves are excited by what the youth brings to the team. Guard Chase Cormier discussed the drive that his teammates have to thrive right from the start of their college careers.
"They all just want to be great, and that's the best environment to be in," Cormier said. "They're a group of guys that want to put their heads down and work all day."
For Mitchell, the roster turnover gives her the opportunity to shape the team in her preferred image.
"I've never had eight [new players], but I think that's the nature of basketball now," Michell said. "With the transfer portal so many teams are getting so many new faces. It's a new challenge, but with any challenge there are going to be some triumphs in there. This year we want to dominate the paint and our guards are going to let it fly, they are going to play fast."
Mitchell brings in junior guard Derin Erdogan from Arizona, grad. guard Jaelyn Batts from Boston College, Grad. guard Jamiya Braxton from Northwestern State, and junior forwards Deja Bristol and Halle Idowu from Virginia and Toledo respectively.
Some of the transfers Mitchell brought in saw limited action last season in the NCAA, so she said she had to dive deep to find information on them and make sure they were good fits for her team.
"I did background research on all of them," Mitchell said. "I reached out to high school coaches, I reached out to their college coach and said, 'hey, I'm looking at her and doing my research,' and they gave positive feedback. I wanted to assess if they would be a fit in terms of how I like to play and how I want to play here. We had one year and that wasn't quite all that we wanted to do in terms of how fast I want to play. Now will they be able to contribute to how quickly we want to play up and down and how aggressive we want to be on the defensive end? And each of them were able to do that respectively."
During the CAA basketball media day, Coen elaborated more on his decision to not bring in any new transfers.
"Every coach preaches control and what does that say if you bring in a grad transfer over a kid who's been working hard looking for his opportunity," he said. "There is a potential there where it could eat at your culture. We decided to go the high school route and get guys who fit our culture, our academic standards, and our basketball standards, and I couldn't be happier with the six freshmen that are coming in."
Neither of these teams is made up of entirely newcomers however, and both coaches love their returning talent.
Mitchell mentioned the improvements she is seeing from her sophomores, particularly forward Asha Parker and guard Gemima Motema who was a All-CAA preseason honorable mention.
When it comes to Motema, the growth has been as much mental as it has physical.
"G has made tremendous strides. She was actually one of the first players Derin met on her visit," Mitchell said. "For her to go from a shy freshman, she is very soft spoken and an introvert … to showing freshmen on a defensive drill where to go really lit me up."
Her physical talents have also improved over this past offseason.
"From an on court skill development perspective she's also made tremendous strides, she's handling the ball lower, she's more explosive, and she's looking to shoot her three," Mitchell said.
Coen returns junior guard Jahmyl Telfort, a CAA preseason second team selection, and preseason honorable mention redshirt senior center Chris Doherty. He also has a returner who is essentially brand new to the squad on the court — Redshirt junior guard Joe Pridgen had to sit out last year after transferring from UNCW after his transfer waiver was denied. Pridgen had previously transferred from Holy Cross where he won ECAC Rookie of the year.
This season, he is all set to make an impact on this Huskies squad.
Both coaches expect early contributions from their newcomers, on and off the court.
Mitchell said she is excited by her new starting point guard Derin Erdogan, the wing talent in Batts and Braxton, and the forces downlow of Bristol and Idowu. All players look to get a whole lot of minutes in games this year, and even in the practice settings they are already helping their team with their leadership skills.
Coen also expects his freshmen to contribute as much in games as they have in the gym so far.
"Those guys are almost 50% of our roster, so they're going to have to play," he said. "The goal is to throw them into the fire with some tough competition, get them ready to play, and hopefully by the turn of the new year when we get into conference play, they're going to have a growth spurt over November and December. Those guys are earning opportunities each and every day in practice."
The big transfer class does not mean that Mitchell is afraid to hop on the high school recruitment trail as well. She currently has 17 offers out for the next two recruiting classes. Bringing in freshmen and making connections is key to Mitchell's success.
"I'm a big relationship person," Mitchell said. "The better I know players, the better I can coach them."
One player in particular that received an offer from Mitchell is currently in eighth grade.
"She's really talented, so she can end up at UConn or something, but with the nature of the portal, what if she transfers," Mitchell said. "She can come to Coach B. She loves Coach B, 'I've been there, I've known her since I was in eighth grade.' That's why I like having relationships in terms of knowing her background from recruiting and from her coaches. I get to know her coaches and they're like, 'Yo, you'll love her, she'll like you, she loves you.' That's why I start my recruitment early."
When it comes to bringing in new players in the years ahead, Coen highlighted the potential opportunities that his new CAA opponents could bring.
"If you're in a more regional league, say just the Northeast, that's kinda your footprint and where kids want to play, but now this opens up the doors to maybe pulling a kid out of Carolina because we have a couple teams down that way," Coen said. "Anytime you can solidify your brand as a conference and present those opportunities to families where they can see their son play whether it's home or away and get to games, it's a real positive."
Both coaches will debut their new-look squads on the same day, both at the same venue. The women will play the first game of the season opening double header at Boston University at 4:30 p.m. Nov. 7 with the men playing their game directly afterwards at 7 p.m.