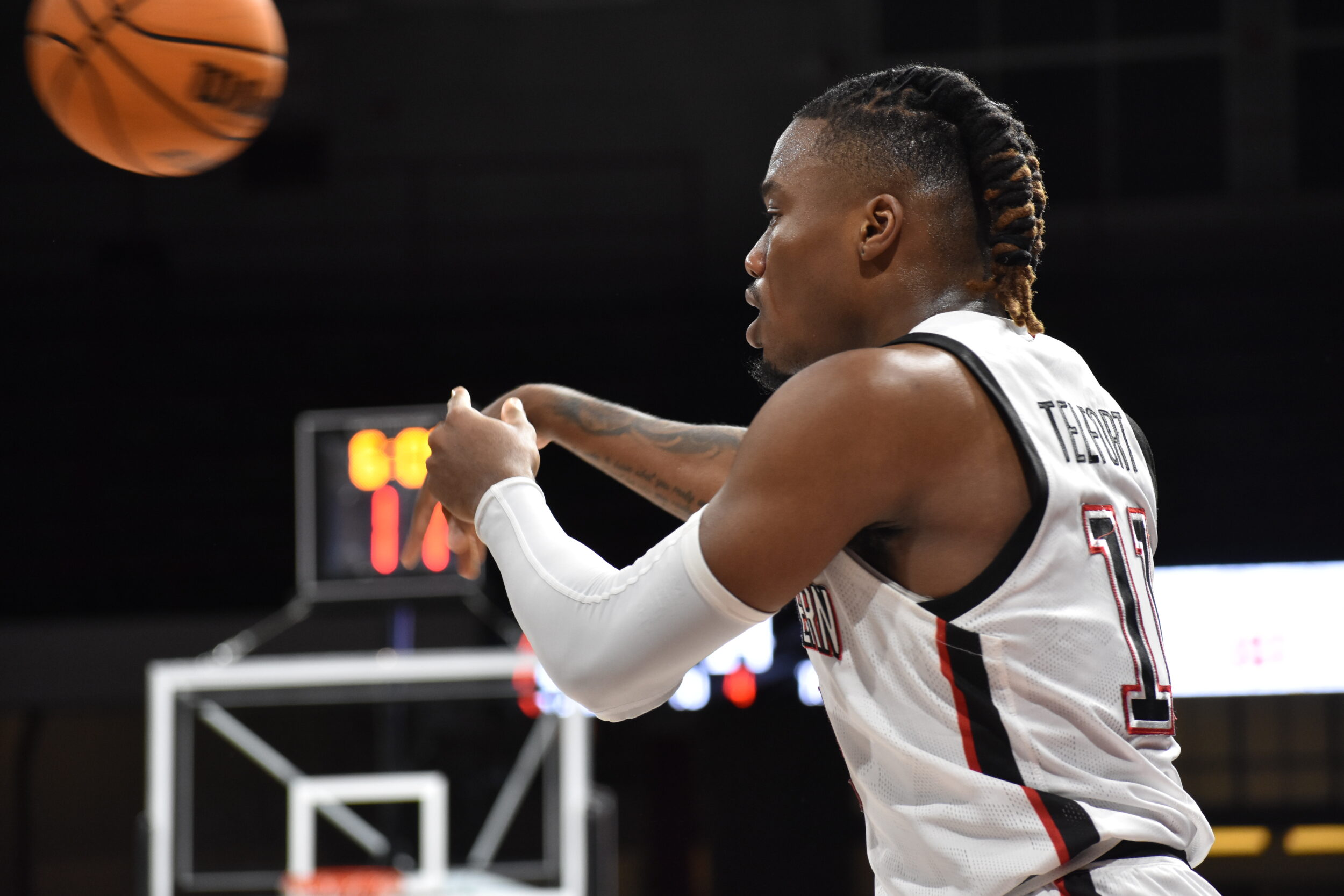 Northeastern has a new signature win. 
The Huskies, who have had five of their 11 games decided by three points or less, came out on the positive side of a nail-biter on Wednesday, pulling out a 73-70 victory down in North Carolina.
After an uninspiring loss to UIC on Sunday, it appeared Northeastern would head into conference play on a sour note. Wednesday's meeting with Davidson — one of the top teams in the Atlantic 10 — marked the Huskies' final non conference game of the season, and a tough test for a reeling 3-7 squad. But Northeastern came to play, putting together a strong game on both offense and defense. The Huskies built a double digit first half lead and fought off numerous Wildcat comebacks in the second to secure an impressive victory.
Northeastern's afternoon began in similar fashion to the team's most recent victory over Holy Cross, with two early threes from freshman Jared Turner. Turner has come into his own over the last few games, reaching double digit points in the previous two contests and hitting at least three shots from deep in three of his last four. Most importantly, Turner is shooting a staggering 54% from downtown this season, an absolute godsend for a Huskies team that often relies on the three pointer and has just as often struggled to hit those shots. Turner also tallied three rebounds and two assists this afternoon.
Thanks to Turner's treys and five points from lead guard Jahmyl Telfort, Northeastern jumped out a 14-4 lead in the first three minutes. Additionally, Davidson's star guard Foster Loyer — who came into the contest averaging 19 points, five rebounds, and six assists per game — committed two fouls during the Husky run. The senior's foul trouble throughout the game kept him from ever getting into rhythm. Loyer finished with a respectable 16 points, five rebounds, and three assists, but he did so shooting under 30% from the floor and without ever feeling like a dominant force on the offensive end.
As the first half wore on, Northeastern's scoring barrage slowed down and Davidson climbed within one with 10 minutes to go. However, this prompted the Huskies to put the pedal to the metal again, re-building a 10 point lead by halftime. Northeastern's offense appeared far more dynamic against the Wildcats than it has at any other point this season. They shot 47% from the floor and put up an identical mark from distance. The Huskies also tallied 18 assists, their high water mark for the season. The offense found open shooters throughout the contest and also managed to get the ball to big man Chris Doherty underneath the basket regularly.
Of particular note were freshmen guards Rashad King and Masai Troutman. King, who was inserted into the starting lineup for the first time in his young career, dished out five assists and played 32 minutes, which was good for second on the team behind Telfort. Troutman played only 14 minutes, but put up four assists of his own. Neither shot well from the floor, but they were given the reins to lead the offense early and often.
As a result, Glen McClintock, the Huskies' usual lead point guard, was able to play more off the ball. McClintock, who shot 40% from three last season, had seen his shooting clips slip significantly this year as the top ball handler. In this game however, he knocked down both of his attempts from deep and all four of his shots overall. Freshman Chase Cormier has also seen opportunities as the lead point guard this season, but played only three minutes.
Another noteworthy decision by Northeastern head coach Bill Coen was to give only seven minutes to junior guard Joe Pridgen. While it is worrisome that Northeastern does not have its rotation or top point guard entrenched for the start of conference play next weekend, there are clear building blocks from Wednesday's game. Perhaps the Huskies will stick with King and Troutman as top passers and give McClintock a chance to be a spot up shooter going forward.
In the second half, another Northeastern scoring lull allowed Davidson to stage a comeback around the 10 minute mark. Much of the Wildcats comeback was on the back of an unlikely star: guard Grant Huffman. The junior averaged only seven points per game coming into the afternoon, but finished with 18 points on over 50% shooting. For a long time, Northeastern hung on to their lead by a slim margin, with timely buckets preventing Davidson from ever breaking through.
Finally, after Doherty committed his fourth foul and was forced to take a seat with seven minutes to go, the Wildcats took the lead on a three from Loyer. Doherty got into foul trouble early, and battled it throughout the game. Being injured for the majority of non-conference play has really hurt the forward, who did not have much time to work on his biggest deficiency from last season. He fouled out in Northeastern's last game against UIC, and nearly did in this contest as well.
Despite losing the lead, Northeastern stayed strong and kept with Davidson down the stretch. At one point, Northeastern looked poised to take a five point lead after an acrobatic layup by McClintock, who made the shot and earned a foul. However, McClintock missed the ensuing free throw and junior center Alex Nwagha committed both a personal and technical foul on the rebound, allowing Loyer to score four points and tie the game instead. Dangerously, Northeastern subbed Doherty back in, and he managed to avoid fouling for the final five minutes of the game. Both Doherty and Nwagha did an admirable job against Davidson junior center Sam Mennenga, who shot only 2-10 despite averaging 56% shooting for the season.
In the final stretch, Coen relied on Telfort and Doherty, but also gave key clutch minutes to King and Turner, showing trust in his impressive freshmen. Aside from Doherty, who spent three minutes on the bench following his fourth foul, Northeastern did not make a substitution during the final eight minutes of the game, sticking with King, Turner, Telfort, and McClintock.
Thanks to a clutch offensive rebound and timeout by King, Northeastern had the ball and a two point lead with under 10 seconds remaining. The inbounds pass found Turner, who despite his incredible three point shooting, had only taken four free throws the entire season. Turner knocked down the first, but missed the second, leaving the lead at one possession. Davidson's final shot came up short allowing the Huskies to pull out a massive and confidence-inspiring win.
Northeastern has now cracked 70 points in back-to-back games after failing to get there through the first nine contests of the year. There was one blemish on Wednesday's game for the offense, however. The Huskies, perhaps due to being constantly in flux from game to game, committed 17 turnovers. This was the primary force that allowed Davidson to get back into the game. Telfort was the biggest culprit, committing five turnovers despite an otherwise very strong 20 points on 8-13 shooting to go with six rebounds. That level of sloppiness may not pass against some of the CAA's strongest opponents, two of which (Charleston and Delaware) have already beaten Davidson. Nonetheless, this game is certainly one to hang their hat on for Northeastern.
The Huskies will begin conference play with the softer side of the CAA, facing newcomers NC A&T, Stony Brook, and Hampton, along with CAA mainstay William & Mary, in their first four conference games. All four schools are in the midst of relatively poor seasons, which could potentially give Northeastern some extra time they desperately need to iron out their rotation before they face CAA schools that have been receiving national attention like Charleston and Towson.
The Huskies are back in action Thursday Dec. 29, as conference play kicks off against NC A&T at Matthews Arena. The next WRBB Northeastern men's basketball broadcast will be when the Huskies face Stony Brook at Matthews on Dec. 31. Khalin Kapoor and Eamonn Ryan will be on the call with tipoff scheduled for 12 p.m.