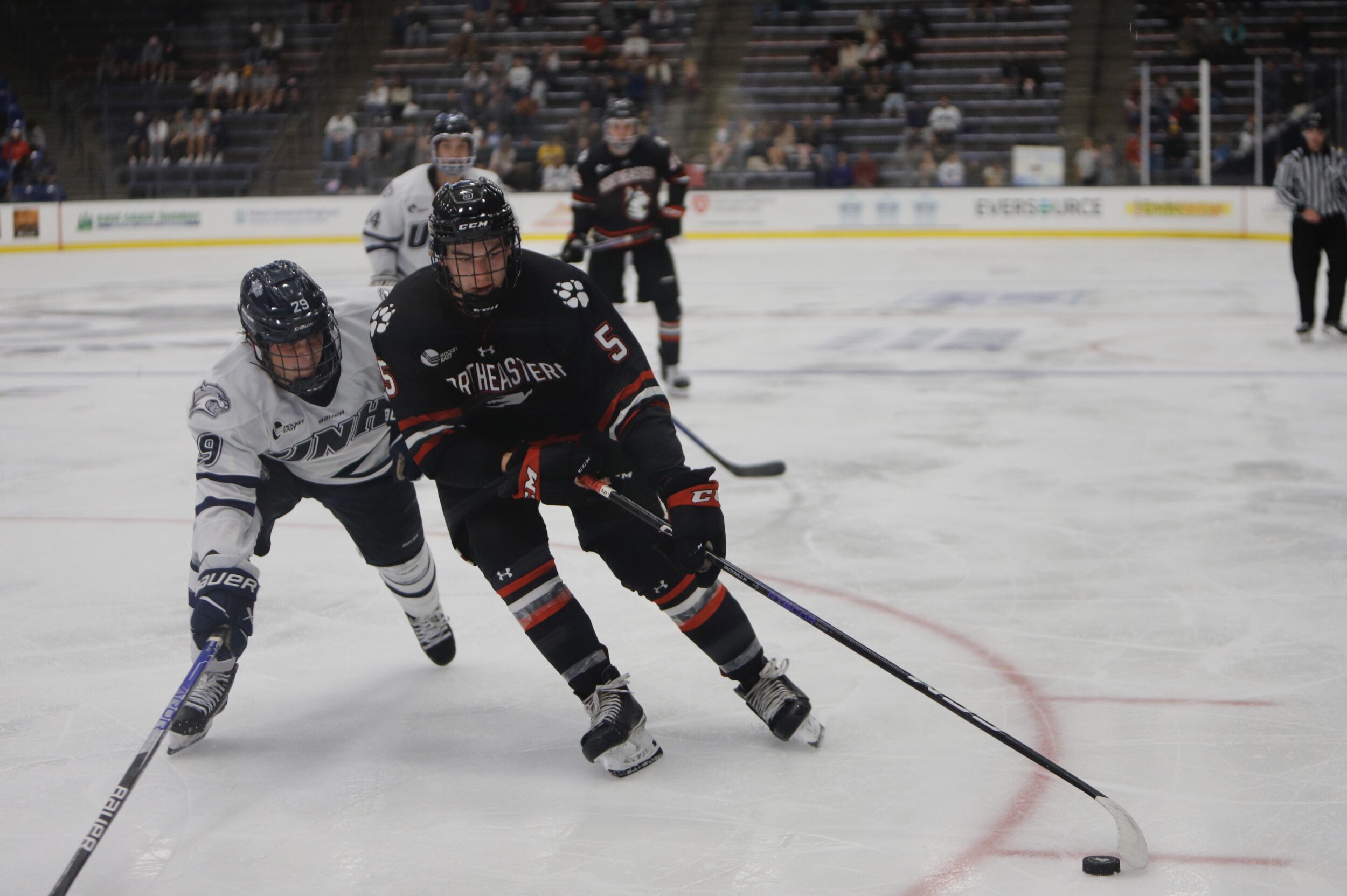 On the heels of a hard-fought season that left Northeastern at the top of Hockey East by just one point, the Huskies fell to Western Michigan in an overtime loss in the NCAA tournament March, drawing their 2021-22 season to a close.
The end of any season is devastating, but the Huskies' defeat marked the end of an era for the Northeastern blue line. Senior captain Jordan Harris, among the best defenders in recent program history, departed Northeastern this past spring, along with key graduate transfer Tommy Miller and steady presence Julian Kislin. Each left massive holes to fill, and left a lasting imprint on the program.
"When you have your captain working that hard, everyone else falls in line. It's actually amazing to watch the effort he puts in," said head coach Jerry Keefe back in March, following the season-ending defeat. "All of our seniors are like that, they put in the extra time, and what I like is we have younger guys that look up to them."
With some of their most valuable leaders on to the next stage of their careers, Keefe and the Northeastern staff brought in a collection of young, talented defenders to fill the space left behind. Freshmen Hunter McDonald, Jackson Dorrington, Vinny Borgesi, and Kyle Furey, along with Braden Doyle, who entered as a sophomore transfer from Boston University after playing seven games with the Terriers last season, started with the Huskies in the fall, and the group has made its mark since the beginning of the 2022-23 season.
"When guys leave, you always hope that the guys coming in can fill those roles," said Northeastern assistant coach Jason Guerriero, who joined the program this offseason. "I think the freshman class has done a really good job of filling those shoes."
The newcomers haven't been on their own while adapting to the team. Defensive veterans Jeremie Bucheler, Jayden Struble, Tyler Spott, Cam Gaudette, and James Davenport, who remained from last season, have all been there for support.
"The returners provide some good guidance for us to look up to," Doyle said, "We've got a really close group, great culture here. Every day, we're just pushing each other, just getting better, learning a lot from our coaches."
With 10 total defenders on the roster this season, the five additions have a large presence in the team's weekly pairings. Throughout most of the season, Borgesi has been featured on the first pair, leading the defense alongside Struble, with McDonald and Dorrington right behind him on the second.
"Honestly, it took some time to adapt," Bucheler said. "My first three years, the core was the same thing."
Bucheler spent all three of those years with fellow current seniors Struble and Spott, and recent graduates Harris and Kislin. After the 2019-20 season was disrupted due to the COVID-19 pandemic, two new defenders joined the team with minor roles. While the other few slots on the team rotated over the years, those seven players formed the majority of the defensive unit during the past two years, the only complete seasons played by anyone currently on the team.
Now, their absence has created big opportunities for the most recent class of defenders.
"Those guys are kind of thrown into the fire, playing big minutes," Guerriero said.
The newcomers' large role in the defense came as they began to adjust from their previous level of competition, which Guerriero said was a big challenge at first.
"The way we play might be different than the way that they played in junior hockey, and I think that a lot of the difficult part of making that jump from junior hockey to college hockey is that grind down low in your defensive zone and playing hard defense," Guerriero said.
All five newcomers spent time in the USHL, the country's top junior hockey league and a major pipeline into college hockey. Dorrington and Furey both spent one season in the league, with the Des Moines Buccaneers and the Youngstown Phantoms, respectively. McDonald and Borgesi played in the league for two seasons each, McDonald splitting time between the Omaha Lancers and the Chicago Steel, while Borgesi spent both of his years with the Tri-City Storm. Doyle played three years with the Dubuque Fighting Saints.
With a variety of backgrounds and physical abilities, each new player has also brought their own skill set to the table.
"A little bit has to go with certain players' identities," Guerriero said. "A guy like McDonald, he's 6'4", D-man, he's more of a steady eddy type that's gonna play hard, defend, play against an opposing team's top line and shut them down and play hard."
McDonald was named Hockey East Defender of the Week after the weekend series against BU where he tallied nine blocks and an assist. He was the first Northeastern player to receive the honor this season, showing early success from the new defensive personnel.
The abilities of the group aren't just confined to the defensive zone; in the team's opening game against Long Island University, both Doyle and Borgesi put pucks in the net to contribute to the Huskies' 3-2 victory, Borgesi with the game-winning shot in overtime.
"We're getting a little better in the O-zone, moving around, getting shots, getting shots through," Doyle said.
Doyle and McDonald now lead Northeastern's defense in points with eight apiece, consistently contributing to the front line.
"We're D that want to play offense and get up the ice," Bucheler said. "So every time there's a turnover in the neutral zone, I feel like we've been good at just turning it quick and then joining the rush after that."
The defense has taken a total of 109 shots on goal this season, about a fifth of the team's total shot count. McDonald has contributed 27 of these, the second highest of the defense after Struble's 29.
Along with the prominent offensive abilities, the young defenders bring a heightened level of physicality to the team.
"We have a structure and a system of the way we play and we want to be aggressive and we want our D to be in the play and up in the offense," Guerriero said.
This aggression has proved to be a setback at times, as the 12.6 average penalty minutes per game tallied so far this season far outpaces last year's 8.8.
"I feel like we have been trying to be more physical, but I think that a lot of our penalties have been controllables and undisciplined stuff," Bucheler said.
Despite the increase in time spent down a player, the team has maintained a decent penalty kill that currently lies near league average at 84.7%.
"The young d-corps has done a really good job with the penalty kill," Guerriero said. "I run the penalty kill, so I've noticed that they've done a really good job and I think they deserve a lot of credit for our success on that penalty kill."
It's not just the penalty kill where the defense has managed to hold their own. Despite a season record of 8-7-3, they're currently ranked fifteenth for scoring defense in the NCAA with an average of 2.44 goals scored against them per game.
"I think we've been really good in the D-zone, being hard on pucks, trying to stay consistent with our transition game, always moving the pucks up quicker to our forwards," Doyle said.
The defense has been tested time and time again this season, with injuries and disqualifications temporarily taking some team veterans out of various games.
"We have a lot of depth, which is just huge with our team, so we should be fine," Doyle said. "When guys fall due to injuries, other guys step up and get excited to play that role, so everything works pretty well."
Excitement alone won't keep a player in a role, however. Athletes heal from injuries and disqualifications are only temporary, so those stepping up must capitalize on their opportunity to stay in that position.
"It just gives guys that were on the outside looking in or that are out of the lineup a chance to get in the lineup," Guerriero said. "And then when they do get those minutes, it's up to them to perform and do the job, and if they can continue to do that, it's showing the coaching staff that these guys deserve more minutes."
With three months of college hockey now under their belts, some of them have already proven they are ready for that spotlight. In fact, in their most recent game, the entire weight of the defense fell to the newcomers after a game misconduct call against Struble late in the second period removed the only veteran in the night's pairings.
"They've done such a good job of playing hard and defending well, and I think that's the first thing that's the most important thing as a defenseman," Guerriero said.
The Huskies' defense has come out with some impressive stats to kick off the first half of their season, but heading into the new year, both players and coaches agree that if there's one thing that the unit needs to improve on, it's consistency.
"I think the one area we'd have to work out a little bit is maybe being more consistent overall," Bucheler said. "I think we just gotta keep our composure more and find a way to do that."
The season thus far has been a series of ups and downs. The team has proven itself against schools such as University of Vermont, University of Maine, and University of New Hampshire, but has fallen to teams like those of Boston College, Providence College, and Western Michigan University.
"Sometimes less is more, keeping it simple but being aggressive at the same time," Guerriero said, "If you notice a D, that's usually a bad thing because they're the last resort, so if they make a bad play, there's no one behind them."
With a current record of 8-7-3, the team looks to pick up more wins heading into 2023, and it's something that every player can contribute to.
"We've got a skilled D — a lot of good skaters, so everyone can make something happen out there," Doyle said.
With the amount of skill that each of the 2022 defensive additions bring to Northeastern, the future looks bright for the team.
"You think of how good they are now, but you [also] think down the road in two years or three years of how good those guys actually will be," Guerriero said.